Charleston City Council members revealed just how divided they are on racial issues Tuesday as they debated for hours about whether to formally apologize for the city's role supporting and defending the institution of slavery.
The two-page resolution proposed by Councilman William Dudley Gregorie passed by a close 7-5 margin.
Councilman Gary White was absent, and had notified council in advance that he would be away on a business trip. If one more "no" vote had been cast, White would have needed to break the tie at the next meeting. 
The narrow decision followed an outpouring of support from white and black residents, including business owners, artists and religious leaders from First Baptist Church, St. Michael's and Emanuel AME. The meeting attendance was at capacity with many others watching on TVs set up in Washington Square next to City Hall. More than 50 signed up to speak, and almost all of them urged council to pass it.
Mayor John Tecklenburg punctuated their comments with one of his most impassioned speeches yet as mayor, reeling off historical facts about the ways the city profited from and protected the institution of slavery.
"This city was so enamored with it, or so intertwined with it, that we even started a war — a civil war — in this city to fight over it," he said. "The vestiges of slavery and discrimination are still with us even today ... repentance is our way to put us back on track."
That wasn't enough to draw support from councilmen Keith Waring, Harry Griffin, Marvin Wagener, Bill Moody and Kevin Shealy — all of whom represent West Ashley, an area of the city that's 70 percent white.
Most of the councilmen who voted "no" said they didn't want to apologize for something they weren't a part of.
Keith Waring was the only one of four black councilmen who opposed it. 
He and Moody argued that they couldn't support the resolution because it didn't address today's racial inequalities that the city should be focusing on.
"It is an attempt to make us feel good with words, but not resolve our problems with results," Moody said. 
Waring went on to outline the ways he felt the city was failing to give black residents equal economic opportunities. 
Councilman Robert Mitchell, one of the longest-serving black council members who marched in the civil rights movement with Waring's father, agreed that the city needed to do more to address racism in all of its forms. But that wasn't a good enough reason to vote against the resolution, he said.
"We have to start somewhere, and if we start with this resolution, we as council members can make changes tomorrow on other things dealing with economic development and everything else," Mitchell said, drawing applause from the crowd.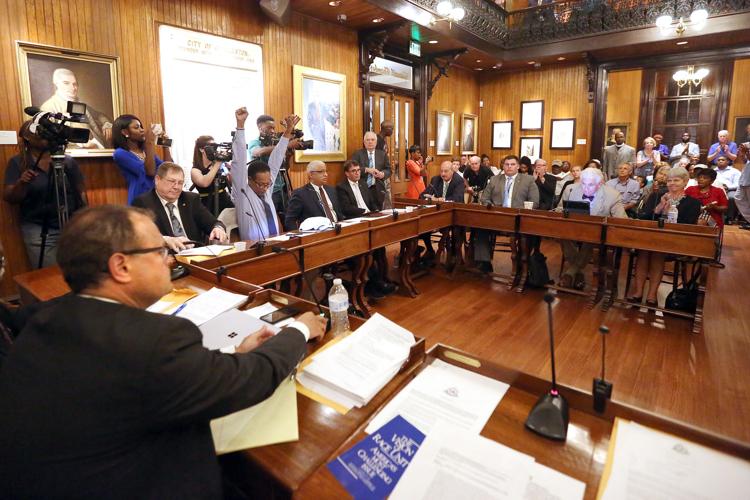 Griffin, the youngest on council at age 23, worked with Gregorie to draft the language of the resolution, then voted against it. When he announced his position, several in the crowd shouted, "What?"
Gregorie confronted him, saying he felt "misled."
"A lot of the language in this document came from you," Gregorie said.
Griffin said he wanted it to say the city denounced slavery, not apologized for it. The groans from the crowd grew louder as he explained.
"People in Charleston, the majority, are not in this room," he said. "The majority of Charlestonians that I talked to, from personal experiences, were not willing to apologize for something they did not take a part in."
Shealy and Wagener stayed silent during the debate. Reached by phone Wednesday, Wagener said Griffin had a point. He said about 20 people from his district asked him to vote down the resolution.
"We are all from West Ashley. Our world is different than downtown Charleston. Our constituency is different," he said. "If they're hollering and screaming 'No,' we'd be crazy not to follow their voice."
He said he worried an apology would open "a future door" for African-Americans to seek reparations from city government.
He also suggested that slavery was necessary.
"I have trouble apologizing for the rule of law as it existed at that time," he said. "It shouldn't have been, but it was, and it had to be to build the country at that point in time."
In the days leading up to the vote, Shealy suggested he'd vote against it but didn't want to state his reasoning. He didn't return calls or messages Wednesday.
After the self-avowed white supremacist Dylann Roof gunned down nine black worshippers at Emanuel AME Church three years ago, many in the community were inspired to confront long-standing racial gaps in Charleston.
Then-Gov. Nikki Haley called for the Confederate flag to be removed from the S.C. Statehouse grounds, a move that reverberated around the Southeast. Many communities pushed to remove or relocate their Confederate monuments and markers, but the state's Heritage Act made it almost impossible for South Carolina cities to do the same.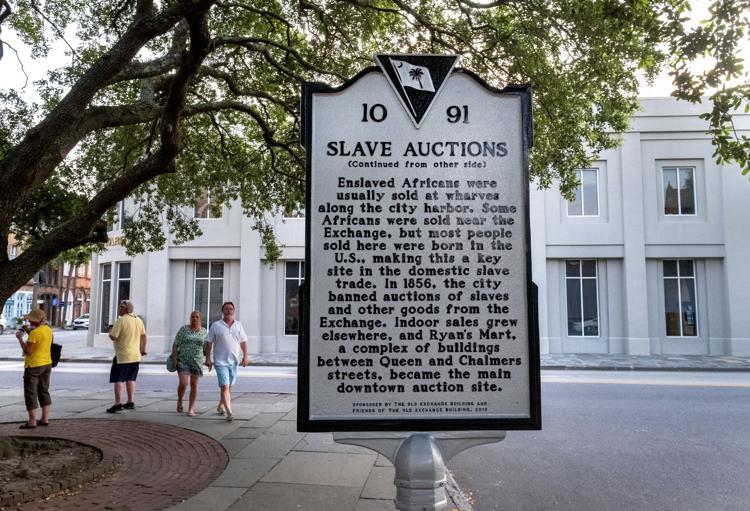 Mayor Tecklenburg made it one of his core goals to find other ways to acknowledge Charleston's history of racism and oppression, but Council has rarely agreed on the approach.
Council members were also divided when Tecklenburg brought forward the language for a new plaque he wanted to place in front of the John C. Calhoun statue in Marion Square. He wanted to add context to explain the politician's role as a proponent of slavery.
Moody said, while serving on the city's Commission on History, he wanted to remove the line that said slavery was a "crime against humanity." He worried it was too inflammatory.
Black council members opposed the whole concept, because they resented the fact that the monument couldn't be removed from the prominent public space. 
The plaque idea was deferred indefinitely.
On Wednesday, Tecklenburg said he remains committed to his original vision, but he knows it's not an easy win.
"There's a tension about the whole issue, I admit," he said. "Part of it, I'm convinced, is because people don't really know the whole story and the depth of the suffering ... and even the lingering effects of this on our culture."
Charleston, with its meticulously preserved architecture and history, has a duty to be transparent about its past, he said.