After telling detectives in November that he had sexually assaulted young boys in the North Charleston church where he volunteered, Jacop Hazlett made another troubling revelation: this wasn't the first time.
As a teen in Ohio, Hazlett had been jailed for molesting a younger boy. And when he later moved to North Carolina and began volunteering in churches there, his interactions with young people drew concerns from two congregations he joined, according to a recent lawsuit.
NewSpring Church leaders insist they knew none of this when Hazlett began volunteering in the children's ministry at their North Charleston campus last year. They expressed shock when he was accused of sexually assaulting at least 14 children during his nine months there. They said they had taken every precaution to prevent such crimes from occurring.
But this wasn't the first time that NewSpring — a Southern Baptist megachurch with 14 campuses across South Carolina — had counted accused child predators among its ranks.
It also wasn't the second time. Or even the third.
Since 2016, at least four men working in varying capacities for NewSpring have been accused of sexual misconduct with youngsters.
Each time NewSpring reckoned with the fallout from these allegations, the church was consistently measured in its response. Its leaders offered nearly identical explanations in every case: NewSpring vetted its staff and volunteers through an extensive screening process. The accused individuals had been removed from their posts. Evil was to blame.
Hazlett's case, however, raises fresh questions about the church's process for screening those who work with children and the systems it has relied on for pinpointing possible signs of abuse. Meanwhile, police and lawyers for the victims are investigating, trying to piece together how this accused molester was able to infiltrate the church and carry out his alleged crimes for so long undetected.
The Tree House
NewSpring, based in the city of Anderson in South Carolina's Upstate, has been recognized as one of the nation's largest and fastest-growing churches. In about a decade's time, NewSpring — with its roots in the Southern Baptist Convention — has added campuses in every corner of the state.
By 2017, the church had an average weekly attendance of more than 20,000 people and general tithings of nearly $41 million, according to NewSpring's annual report.
Every Sunday, the church caters to adults with weekly services that last a little over an hour. Children, meanwhile, have their own ministry, separate from the main worship area. It's marketed as a safe environment where adult volunteers guide children through activities like singing and dancing to praise music, small-group Bible studies and playtime.
"KidSpring is designed to teach kids about Jesus on their level in a safe, fun environment," NewSpring's website says of the ministry. "Each week, babies (through) fifth-grade kids are taught the Bible in a creative, age-appropriate way while building relationships with adult volunteers and peers."
For nine months, that is the role Hazlett, 28, assumed. But on the Sunday after Thanksgiving, problems surfaced that would soon land the volunteer in jail and draw renewed scrutiny to NewSpring.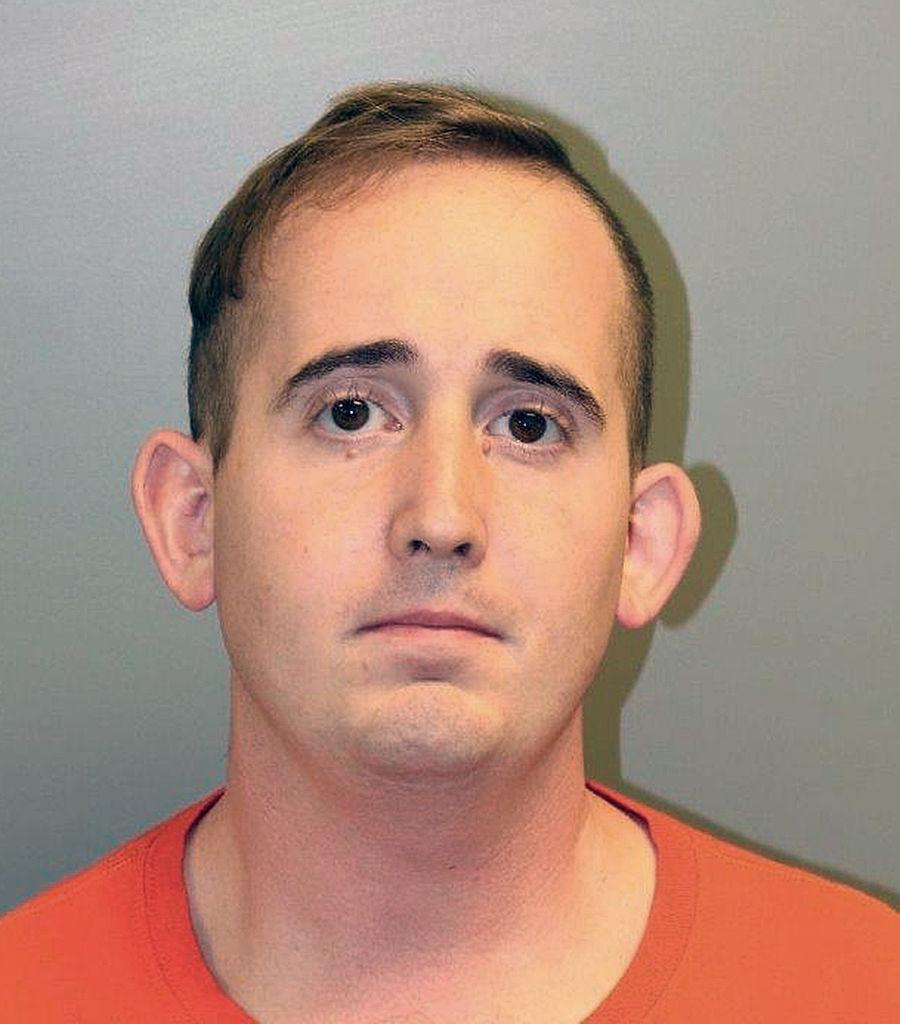 On Nov. 25, Hazlett was watching over a group of children — none older than 5 — in a portion of NewSpring's KidSpring ministry called the Tree House. During the session, Hazlett escorted a 3-year-old boy to the restroom. During that visit, he sexually assaulted the boy, affidavits show.
The following day, the boy's parents complained to NewSpring that Hazlett had an "inappropriate interaction" with their son, the church would later tell worshipers. Church officials decided to check their video surveillance system to see what had happened.
More than three dozen security cameras are situated in the rooms that comprise the children's ministry, according to court filings, including at least one camera that is trained on panel doors that open to the restroom where Hazlett took the boy. Footage from that camera showed Hazlett looking around to make sure no one was watching before he sexually assaulted the boy, according to an arrest affidavit.
Church leaders reviewed footage from the cameras dating back three months — as far back as their surveillance system has storage. After observing what NewSpring staff described as "inappropriate conduct by Hazlett," the church reported their findings to law enforcement, according to a letter the church sent to worshipers.
When Hazlett sat down with North Charleston detectives on Nov. 27, he told an investigator that he photographed and filmed many of the assaults.
Multiple attorneys and law enforcement officials who have reviewed footage of the acts characterized Hazlett as "impulsive." There were times, they said, where multiple children were pursued and assaulted in one day — some more than once.
Feeds from the security cameras are supposed to be monitored in real time by volunteers who are on the North Charleston campus, said Josh Slavin, a Charleston attorney representing several of the victims' families in a civil suit. That suit states that volunteers "either failed to monitor the live feeds or ignored the abuse that played out on the screens."
"It was all there to be seen," Slavin said.
Hazlett currently faces nine counts of criminal sexual conduct with a minor, as well as five counts of sexual exploitation of a minor. Slavin said additional victims have reached out to his office, and police are also investigating those allegations.
In a prepared statement, NewSpring officials said the incident occurred despite their best efforts to protect children.
The church also said it has plans to create a fund that will be made available to families who have accused Hazlett.
"We know this happened on our watch, and though we have taken great measures over the years to protect our children, evil found a way to breach our best efforts," the statement read. "This devastates us to the core."
Other problems
NewSpring took a nearly identical stance in recent years when other volunteers at the church were accused of similar crimes against children.
In April 2016, 20-year-old Leo La Salle Comissions admitted to investigators that he had fondled and kissed a 15-year-old boy "in a dark room" at NewSpring's Florence campus, according to a Florence Police Department incident report and affidavit obtained by The Post and Courier. He was initially charged with criminal sexual conduct with a minor but later pleaded guilty to a reduced charge of assault and was sentenced to three years of probation.
A month after that incident, 23-year-old volunteer Chaz McKinsey Wood admitted to molesting a 10-year-old boy who he met through his duties at the NewSpring campus in Anderson County, according to reports from the Anderson County Sheriff's Office. Wood was charged with criminal sexual conduct with a minor and committing a lewd act on a minor. He later pleaded guilty to a reduced charge of assault and received a 10-year suspended sentence and five years of probation. He also was required to register as a sex offender.
Another NewSpring Church associate, Caleb Lide Jordan, was ousted after he was charged with soliciting sex with a minor in February 2018. Jordan, who was a full-time employee at the North Charleston campus from August 2011 to September 2015, served as a church volunteer after stepping down from his paid position, a church spokesperson said.
The allegations against Jordan, a former youth pastor at NewSpring, involve an episode that occurred away from church grounds. NewSpring officials have worked to distance the church from Jordan's troubles while his charges remain pending.
"Jordan's employment with NewSpring was terminated in 2015 and any issues involving Jordan have nothing to do with NewSpring," church spokeswoman Suzanne Swift said in a statement.
The church brought on Hazlett a month after Jordan's arrest.
A serial volunteer
Like other volunteers who work with children at the church, Hazlett had to complete a rigorous screening program that included a criminal background check, a one-on-one interview and training, Swift told The Post and Courier in January.
Additionally, the church's vetting process includes a verification of the volunteer's Social Security Number and address history, a national sex offender search and another review to check for criminal convictions and the use of aliases, Swift said. NewSpring contracts out the background checks to an outside company called Protect My Ministry, which says on its website that it works with 25,000 religious groups across the United States.
Despite those efforts, problems in Hazlett's past still escaped detection before he was cleared to volunteer.
About 13 years ago, Hazlett, then 17, was accused of sexual misconduct involving a child while living with family in East Liverpool, Ohio. He admitted to "kissing and touching" a boy younger than 13 "between his legs," according to Columbiana County Ohio juvenile court documents.
He was charged as a juvenile with gross sexual imposition. He later pleaded "admission" (the equivalent of a "guilty" finding in juvenile court) to a charge of attempted felony assault and was not required to register as a sex offender, according to court documents shared with The Post and Courier.
Those documents are not considered public records under Ohio law, and they don't show up in a public search of that state's court records. It remains unclear whether the background checks employed by NewSpring would have uncovered evidence of this arrest.
As part of his unsupervised probation, Hazlett was barred from having any contact with the boy he confessed to assaulting, according to court documents. He was also ordered to continue professional counseling.
In June 2009, a year after accepting his plea deal, Hazlett was accused of violating his probation terms after he allegedly "approached (the victim) trying to entice him into a vehicle," court records show. The alleged violation, however, was ultimately dismissed.
In October of that year, Hazlett asked the court for permission to leave Ohio to attend the NASCAR Technical Institute in Mooresville, N.C., an automotive and motorsports training facility about 30 miles north of Charlotte. Hazlett moved there in early 2010.
While in North Carolina, Hazlett volunteered at two churches — Cove Church in Mooresville, "in or around 2011," and Elevation Church in Cornelius, during unspecified dates in 2014 and 2015, the lawsuit filed by Slavin states.
At Cove Church, one of his fellow volunteers "voiced concerns to leadership about Hazlett's interactions with youth," the lawsuit states.
Then in 2015, Elevation Church "moved Hazlett to an administrative volunteer role with no direct contact or oversight of kids specifically because … leadership had 'an uneasy feeling with how he interacted with supervised kids,'" the complaint states.
Eventually, the complaint continues, "Hazlett was dismissed from Elevation Church specifically because of the concerns about his interactions with children."
The lawsuit does not provide specific details of these "interactions," but Slavin said Hazlett's former associates described a troubling pattern of behavior that made them uncomfortable to leave children with him.
"There are red flags the experts talk about: Always insisting on volunteering with children, especially of a certain age, overly playful with kids, spending more time with kids than peers," Slavin said.
Representatives from the two churches did not return multiple phone calls and emails from The Post and Courier seeking comment.
Slavin's lawsuit alleges that NewSpring leaders never sought to speak with references at either church, though it is not clear whether NewSpring hiring officials were even aware of Hazlett's previous involvement there.
There were no criminal allegations lodged against Hazlett at either location.
NewSpring's North Charleston campus pastor, Ryan Kirkland, declined to be interviewed for this story through a spokeswoman, citing pending legal action and the ongoing criminal investigation.
But spokeswoman Swift said in November that NewSpring is open to tweaking its screening processes if needed based on information that surfaces as a result of the Hazlett case. She said the church was "evaluating (its) processes and procedures internally," adding that an outside consultant would be invited to "help us determine if any changes need to be made to help ensure something like this does not happen again."