As many as 4,059 South Carolina students might have to repeat the third grade next school year because they failed a reading test, thanks to a state law that seeks to address literacy problems early on.
Put another way: In a representative class of 30 third-graders from across the state, two children would face the prospect of getting held back.
When it comes to reading, South Carolina is a dark spot on the map. The state slid to 47th in the nation this year on the fourth-grade reading portion of the NAEP, a nationally standardized test dubbed the "Nation's Report Card."
By drawing a hard line at the end of third grade, a key turning point for literacy, state lawmakers hope schools can catch reading problems before they are compounded in the later grades. Though it remains to be seen if the tactic will work as 2018 marks the first year of the new third-grade rule.
It also remains to be seen how many students will really have to repeat the third grade. The 2014 Read to Succeed Act, which set the new cutoff this year, includes a list of seven "good cause exemptions" that could allow students to progress to fourth grade even if they scored "Not Met 1" — the lowest failing grade — on the reading sub-test of the SC READY assessment in the spring.
Students who have been in an English for Speakers of Other Languages program for less than two years, who have certain learning disabilities, who have received two years of reading intervention and were previously retained, or who submit a "reading portfolio" that demonstrates adequate reading skills can all be passed on to fourth grade.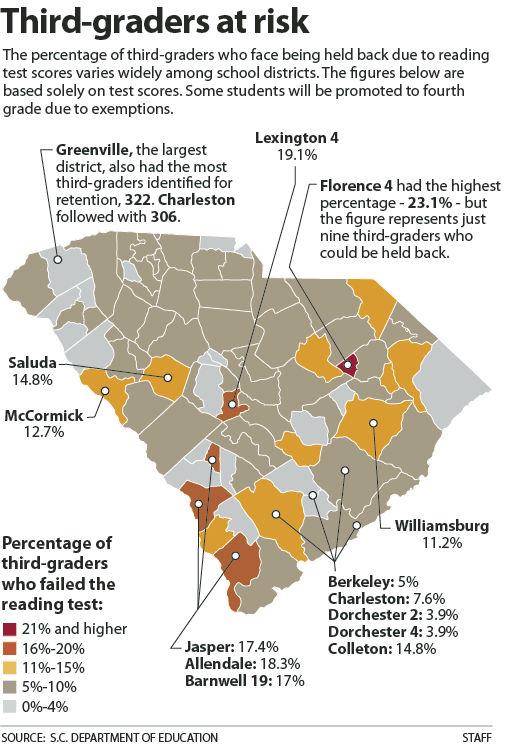 In the Charleston County School District, about 300 third-graders failed the reading test, according to a district spokesman. Of those students, 249 have good cause exemptions and can progress to the fourth grade.
The students who don't already qualify for an exemption still have one chance to move on: If they attend one of the five-week Summer Reading Camps taking place in districts across the state, and if they show they're hitting the mark on a literacy portfolio or test at the end of the camp, they can progress to the fourth grade this fall.
The reading camps, which the state funds through the Read to Succeed Act, are not just for students at risk of repeating the third grade. School districts can invite any students who might be in need of help.
And while the state sets minimum standards — hours of instruction, caps on classroom size — individual districts can add their own touches to the camps.
In Charleston County, as part of a broader push for literacy, school district leaders have given extra training to their teachers and literacy coaches in recent years through a partnership with the University of Florida's Lastinger Center. The district has paid $593,000 to the center over the past three years in exchange for training and help with the summer camps, which are taking place at eight school sites across the county. They're also using the Open Court phonics program as part of a pilot study in some schools.
During the camp at James Simons Elementary in downtown Charleston on Wednesday morning, teachers worked with small groups of one to four students at a time, doing hands-on activities and guided reading. Some have been handing students read-to-self phones, inexpensive plastic tubes that pipe the sound of a child's voice straight into their ear to focus on pronunciation.
They try to make it fun, too: Students get two recesses a day, and they participate in some enrichment activities like a portable planetarium that comes to the school.
Maggie McClary, a literacy coach at Memminger Elementary who serves as site coordinator at the James Simons camp, said parents and students were not caught by surprise when their children received invitations to the camp. Teachers have been reviewing students' test scores and progress throughout the year.
"There wasn't as much pushback from parents as I thought," McClary said. "Most of the parents were all for it."
Since its passage in 2014, the third-grade retention piece of the Read to Succeed Act has earned some critics. Paul Thomas, an education professor at Furman University, has been warning that similar programs did not produce lasting results in other states, including Florida.
Studies have shown that holding students back can be stigmatizing, and students who are held back are more likely to drop out of high school or have behavioral problems later on.
Thomas also predicts that the policy will disproportionately affect low-income and minority students. That remains to be seen statewide, but at least in Charleston County, it appears to be the case. 
Of the 51 Charleston County students who failed the test and did not receive a good cause exemption, 38 were black, nine were Hispanic or Latino, three were white and one student reported multiple ethnicities, according to the district. And all but four came from Title I schools, which are federally designated for having high levels of poverty.
"I would say it's horrible legislation with some good intentions, which is not that uncommon," Thomas said.
According to recent data, South Carolina school districts held back an average of 2.2 percent of students across all grades.