Thunderstorms on Friday dropped a half foot of rain on the Lowcountry, submerging thoroughfares during morning traffic, inundating cars and homes, and adding to the already hefty financial toll of flooding in Charleston.
Amid what government meteorologists dubbed an "unusual" emergence of slow-moving storms, more than 6 inches of rain pummeled communities from West Ashley's Avondale to the upper Charleston peninsula. Trained volunteers from a weather network measured more than 8 inches on Daniel Island and in West Ashley near Northbridge Park.
A flood warning for coastal areas from downtown Charleston to McClellanville stretched for 10 hours, long after the heaviest rainfall had ended. Crews worked throughout the day to tow 21 flooded cars from Charleston streets, a city spokesman said.
Friday's weather brewed a scene that has become common in the low-lying Holy City amid years-long efforts and millions of dollars already spent to alleviate the problem. The city estimated in 2009 that each major flood costs the community about $12.4 million in damage and lost wages, a figure that has likely grown with inflation. The costs are expected to add up to $1.5 billion over the next half-century.
Officials have acknowledged that more improvements are needed, but some waterlogged residents on Friday continued to gripe about a problem that they think has worsened with each passing storm.
When he heard a flash flood alert on his phone early Friday, West Ashley resident Ryan Morris and his wife started removing furniture from the back room of their home in the Byrnes Down neighborhood, just south of Savannah Highway. By 6:30 a.m., 3 inches of water filled the room. It was the fourth time this summer they have seen flooding in that room or in their garage.
"We both recognize that we live in the Lowcountry, and there is some flooding that happens," Morris said. "But we're experiencing it from all sides, and it's gotten substantially worse with each storm."
Floodwaters also submerged the Septima P. Clark Parkway, prompting authorities to block the crucial east-west link across the Charleston peninsula for nearly six hours.
Known widely as the Crosstown, the road has benefited from a drainage project that has staved off the sort of flooding that had been so common during summertime storms. But major weather events in recent years, including the record-setting October 2015 floods, still have caused headaches there. Coming phases of the project, though, are expected to bring further relief, city officials said.
The officials called Friday's downpour "extreme" and too much for current drainage systems to handle before flooding takes hold.
"When you have rain of 4 to 5 inches on the peninsula," said Mark Wilbert, Charleston's chief resilience officer, "we have a lot of drainage systems that are very, very old that were never designed for a rain of that magnitude."
On the parkway, motorists came to a halt. Commuters in suits and hospital scrubs opened their doors, stood on their floorboards and clung to their roofs to survey the scene, avoiding the knee-deep water. Many had to wait for the floodwaters to recede before they could resume their journeys.
Water seeped under nearby homes and lapped onto front doorsteps.
Not far away on Charleston's East Side, a woman emerged from her home, finding herself surrounded by floodwater. Officials have touted ongoing efforts to improve runoff and remove the stormwater with portable pumps in parts of the city.
But the woman said her neighborhood still floods, and she wasn't pleased.
"Something's got to be done," Chanta Davis said as she waded in brown water. "It's flooding like this, and we're the No. 1 city? That's not a good look."
'Unstable environment'
Forecasters had anticipated the rainstorms, and more are likely over the coming week.
The remnants of a stalled cold front combined with disturbances in the middle and upper levels of the atmosphere spawned Friday's storms, National Weather Service forecaster Carl Barnes said. The system fueled pop-up thunderstorms that crept along at a snail's pace and dumped massive amounts of rain.
"It was unusual for this time of year," Barnes said. "Usually we get showers and storms that pop up and go back down quickly. This let those storms become more focused on the area and become much longer-lived."
With the rain starting about 5 a.m. and continuing through the early rush hour, Barnes said, "the timing was just terrible."
The front will eventually move out, offering a respite of relatively dry conditions Saturday morning, the meteorologist said. But with very humid air still in place, Barnes said the risk of rainfall will remain elevated for at least another week, with nearly a 60 percent chance of rain every day — double the typical summertime threat. Some storms could be severe, adding strong wind to the torrential rain.
"We're going to continue to see unsettled weather," Barnes added. "It's ... because of that exceptionally humid air mass and unstable environment."
Commuter headaches
On Friday, several observers from the Community Collaborative Rain, Hail & Snow Network recorded more than 8 inches of rain on Daniel Island, where the storm seemed to set its sights. Cars were stranded on Seven Farms Drive.
Another observer measured 8.76 inches of rain near the Cosgrove Avenue bridge in West Ashley.​ "I've never measured this much rain," the volunteer said in the report, "except possibly during a hurricane."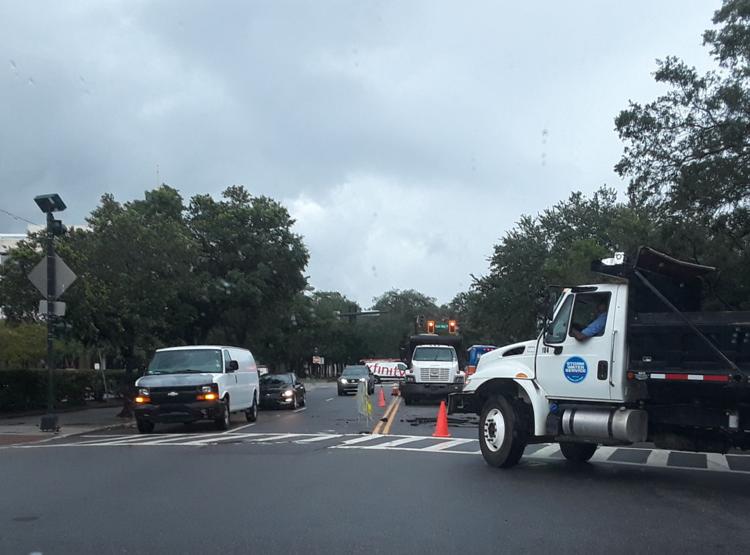 The results were noticeable:
Cars went under water on North Charleston's south end. Parts of the Union Heights neighborhood and areas near Bertha's Kitchen were flooded.
In Charleston, vehicles were inundated on portions of East Bay Street and Morrison Drive near the Arthur Ravenel Jr. Bridge. That's where the city recently installed one of 17 check valves to block tidal water from flowing backward through the drains and onto streets on sunny days. But the $400,000 measure, officials have warned, is no match for heavy rainfall.
Summer camp workers at James Simons Elementary School on Upper King Street reported flooding unlike anything they had seen there before.
Water leaked into a home on Nassau Street, where waist-deep flooding was reported to the Weather Service.
On the bustling Calhoun Street, a sinkhole swallowed several feet of a traffic lane near East Bay Street.
In West Ashley, flooding prompted the closure of a Charleston County Public Library branch. At least one home and some businesses also saw flooding, Wilbert said.
Wilbert urged residents to report any damage to the city.
"We would like to know if this is happening," he said.
At the height of the storm, the Charleston Police Department urged travelers to delay their treks to the downtown area. Commuters from West Ashley and North Charleston reported two-hour journeys that normally take 20 minutes.
Some West Ashley residents didn't make it. Many were forced to park, get out and walk the rest of the way to their destinations.
Motorists trying to reach the downtown area from West Ashley were being sent back to where they came from, and eastbound traffic on Interstate 26 was pushed through a U-turn that took drivers back to the highway.
'Really, really heavy rain'
Charleston officials called the storm an "extreme flash flood." They coordinated with a towing contractor to remove flooded cars from roads, they said in a statement. All public works crews also set out into the field, clearing drains and sidewalks in hopes to hastening the water's retreat.
But Wilbert said the speed of runoff for most of the city is dictated by gravity.
"These are really, really heavy rain events," he said. "We have gravity systems, and gravity systems take time to drain."
Though Friday's wet weather unleashed significant disruption, scientists say such events are rain-soaked reminders about the impacts of a warming planet.
Warmer air holds more moisture. When water vapor condenses and falls as rain, it releases energy in the form of heat. This adds even more fuel to storms, creating torrents like Friday's and other recent rain bombs. In fact, a recent study revealed that the Southeast already has experienced a 27 percent increase in the number of downpours since 1958.
Morris, the West Ashley resident, said flooding wasn't a problem in his neighborhood until the historic, deadly floods of fall 2015. Since then, Hurricane Matthew in 2016, Tropical Storm Irma in 2017 and a series of thunderstorms this summer have made flooding a fact of life. And he doesn't think a community drainage system that's designed to divert water into Wappoo Creek can keep up.
Morris said he believes in the effects of rising sea levels over the decades, but he has more immediate concerns.
"We're nervous about hurricane season," he said. "But to be honest, we're nervous about the next five days."
And this is why the crosstown is not moving. pic.twitter.com/zK4DdPxlIN

— Matthew Fortner (@MatthewFortner) July 20, 2018