In 1976, Elaine Herold was doing archaeological work behind Charleston's Heyward-Washington House when she unearthed a glass seal, marked "Wragg," among about 200,000 other artifacts.
In 2002, another excavation dug up about 10,000 other 18th and 19th century artifacts from under the house's stable building, including a glass fragment from an early monogrammed wine bottle.
Last year, Sarah Platt, who is working on her Ph.D. from Syracuse University, took a fresh look at that 2002 collection.
She happened to mention the bottle fragment to the Charleston Museum's Curator of Historical Archaeology Martha Zierden, who recalled something similar also boxed up in the museum's collection from the 1970s dig.
Intrigued, Zierden retrieved that earlier piece last month, then Platt slowly moved two pieces around each other.
They formed a single seal.
"When Sarah put the two together, we about fell over," Zierden said.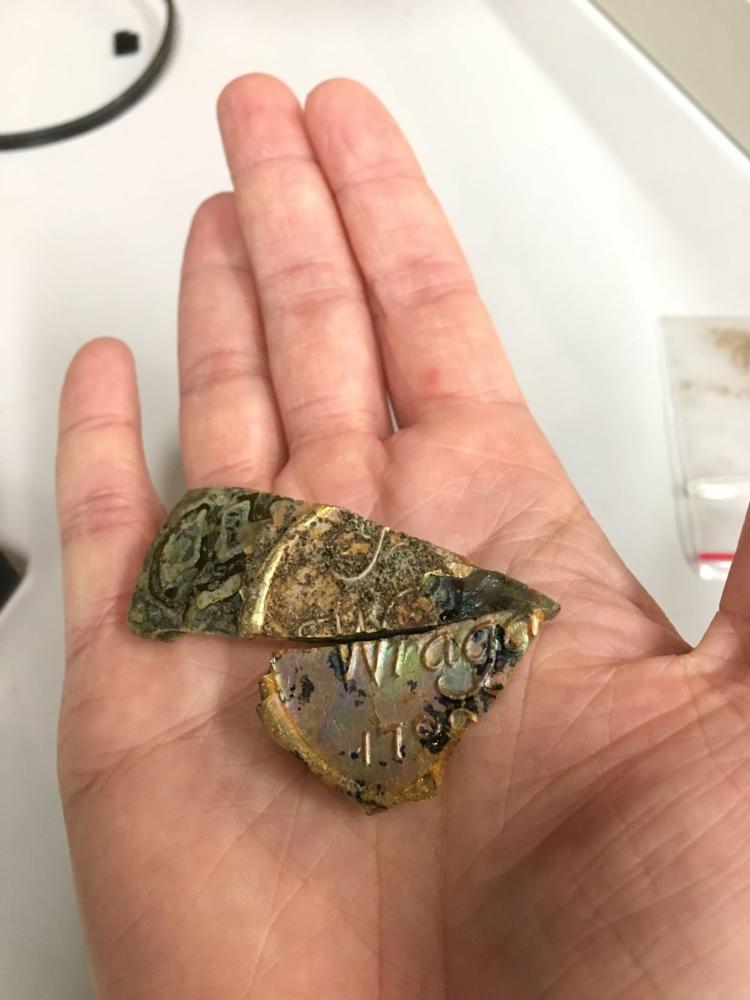 "It's pretty cool," Platt added.
The mended seal was almost 300 years old and had been broken, then buried in two different spots about 50 feet apart in the mid 1700s, recovered in archaeological digs a few decades apart, then stored on separate shelves inside the museum's large, private storage room.
In the 18th century, shortly after settlers founded the Carolina colony and Charles Towne, it was common for wealthy British colonists to have personalized seals made and affixed to wine bottles, most often with the owner's last name or initials and a date. The museum has nine of them on display, including an early seal of Francis Nicholson, South Carolina's first provisional governor.
The newly reunited Wragg seal, which dates from the 1720s — probably 1722 based on the shard — will be added to them soon, Zierden said.
Museum Director Carl Borick said the Wragg seal is the earliest of any in the museum's collection. While the seal appears to read, "J. Wragg," Zierden said it's still uncertain whose seal it actually was.
The Wragg family was prominent in Charleston before the Revolutionary War, and heirs of John Wragg planned the suburb of Wraggborough at the end of the 18th century, naming its streets after family members (John, Ann, Elizabeth, Mary, Judith and Henrietta).
"The story is not just the seal itself, but in the lesson it gives about the value of careful curation and new archaeological analysis," Borick said.
Archaeological work has been conducted at the Heyward-Washington House for more than four decades, and the materials still can shed new light on what is known about the Heywards and others who lived there, including slaves.
Platt's dissertation hopes to shed new light on the movement of people and objects at the Heyward-Washington site, now a house museum at 87 Church St. 
"It's coming to an old site with new questions," she said. Her research solely involves analyzing artifacts already uncovered, not digging for any new ones.
"It's a good story for why we keep this stuff, why we take care of it," she added, "This is an exciting discovery."
Meanwhile, it's still possible that other shards from the same bottle's seal are still out there, somewhere, possibly buried under ground or tucked in a small plastic box inside a cardboard box, on a shelf.