CROSS — The smokestacks of the coal-fired power plant reign over vast Lake Moultrie — by far the tallest thing in sight.
Some have called the stacks the symbol of Santee Cooper country, named for the utility that runs the plant and the lake. Company executives like to tout it as their flagship.
But Santee Cooper could well be on the chopping block, as state leaders mull its sale. And the Cross Generating Station, the largest coal-burning power source left in South Carolina, would likely be one of the next uncertainties — based on what its officials and other companies plan.
It could be "repowered" as a natural gas-burning plant. It could be shuttered.
Hundreds could lose paychecks that some commute long miles to earn. Coal-to-natural gas conversions can cut staff by around 90 percent, according to a 2017 report by the Institute of Electrical and Electronics Engineers.
The monumental smokestacks of Lake Moultrie would look more like ghosts, until they came down.
The expense
The financial debacle created while SCE&G and Santee Cooper oversaw building the now-defunct $9 billion V.C. Summer nuclear plants in Fairfield County has led to the sale of SCE&G. State legislators are considering a similar sale for Santee Cooper.
Sale or no sale, the owners will take a hard look at whether to keep burning coal.
"I suppose it's unquestioned that coal is the past and not the future," Charlie Condon, the Santee Cooper board chairman, said.
The board has put off making an assessment "whether to shutter the plant or not, go to natural gas or something else" until the Legislature decides about selling the company, he said.
"The board is very, very much attuned to the concerns about burning coal," Condon said.
The plant, like the utility, has been a large presence in the rural Lowcountry community since it opened in 1984. Today it has jobs to employ 240 people at hard-to-find wages in the area.
As an example, a recently posted spillway maintenance job at the plant required only a high school diploma, with mechanical experience. The pay scale ranged from $19.90 per hour to $24.85. A lot of people you talk to just outside the Charleston metro area have worked there or know somebody who has.
The Cross plant currently burns some 3 to 4 million tons of coal per year to generate about 9.5 million megawatt-hours, according to Santee Cooper officials. That's enough to power 822,000 homes, based on average usage, Santee Cooper estimates.
If the turbines suddenly went down, the drop in output would ripple across the East Coast power grid.
The Cross plant output is massive, in other words. And the place has that feel.
The 25-acre operation is an entire industrial complex to itself — dozens of buildings, tanks, boilers or emission-cleaning chambers. It takes 34,000 machines or other equipment to run the place. The hum is everywhere and rises to ear-plug level, depending on how close you get to the big machines.
The maintenance bill runs some $75 million per year, about one-third of that on pollution control alone.
But the whole complex comes down to a room the size of a football field where the feed of steam turns the turbines to power the generators. Yes, steam.
It's a striking thing about coal-fired plants that the coal fire doesn't directly turn the turbines. The coal is burned in huge boilers to heat up steam made from water from the lakes. The steam runs through pipes that run along the walls and drives the turbines.
The coal isn't shoveled into the boilers. It's pulverized and sprayed through a continual flame like an accelerant.
The coal comes largely from the Appalachian and Illinois basins, essentially the mountains from Alabama to New York and a large area just west of that. The heart of the region is the Kentucky and West Virginia coal mines.
Whether burning natural gas is cheaper than coal is a debated question. Usually it is cheaper. But sometimes economics can vary if there's a large enough demand-spike for gas, such as during extreme cold weather, according to plant manager Don Cribb and others familiar with the market.
"There are times during the year when natural gas commodity and transportation prices are extremely high or limited, or transmission access to import power to Santee Cooper's system is limited," said Santee Cooper spokeswoman Nicole Aiello.
"These times typically coincide with times when our customers' demand for power is the highest. Due to these constraints, all of Santee Cooper's generating plants are an important and necessary part of our ability to reliably serve customers," she said.    
An analysis by Pacolet-Milliken, one of the bidders for Santee Cooper, contradicts that. It says the cost of burning coal at the plant is $114 million per year above market cost, or what the electricity would cost buying it off the grid. 
The company provided the analysis to attorney Blan Holman of the Southern Environmental Law Center.
"The Cross plant is expensive. You could build and operate (an alternative) power supply, and it would still be cheaper than Cross," Holman said.
The emissions
Whether burning coal at the Cross plant is more polluting than natural gas comes down to a choice of poisons.
A study earlier this year at Stanford University suggested natural gas produces about as much carbon dioxide as a today's emission-scrubbing plant, but far less sulfur dioxide, nitrogen oxides and particulates, or soot.
Carbon dioxide emissions are considered the leading manmade cause of the warming air and sea. The other three are considered more directly dangerous to your health.
The Cross plant does a good job cleaning up what it can.
About 95 percent of the sulfur dioxide waste is removed by scrubbers, and much of the gypsum residue reused in wallboard products. About 90 percent of the nitrogen oxides is removed. About 85 percent of leftover coal ash, or particulates, is removed, and used in concrete blocks and similar products.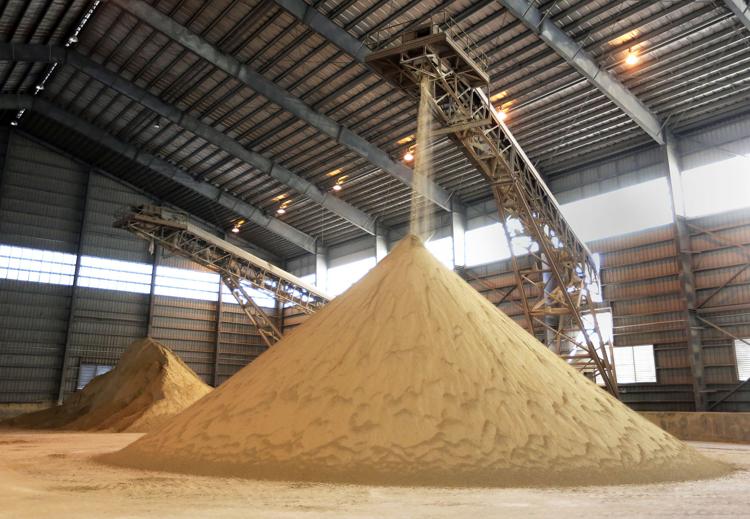 "It's difficult to do much better than we do," said Domenic Ciccolella, technical services superintendent. Cutting down those emissions much more would have an exorbitant cost for customers.
"We're always open to improvements and we have improved as we've gone along, but at the same time it's vitally important to adhere to what's realistic," he said.
The plant is keeping its emissions within required limits. It hasn't been cited for violations in the past five years, the S.C. Department of Health and Environmental Control said after being asked for records covering that time span.
But that doesn't mean it's clean.
Emissions vary depending on demand. But in 2018 Cross emitted 3,560 tons of sulfur dioxide — more than the state's other four coal plants combined. The plant emitted 3,564 tons of nitrogen oxides — more than twice as much as the next largest emitter, SCE&G's Williams plant in Goose Creek.
Cross also emitted about 9 million tons of carbon dioxide — as much as the other four plants combined, according to Environmental Protection Agency records reviewed by the Coastal Conservation League. There are few federal limits for carbon dioxide emissions when it comes to power generation.
All of those other plants — Santee Cooper's Winyah Generating Station, as well as SCE&G's Williams, Cope and Wateree stations — are within 100 miles of Charleston.
"Burning coal is so dirty that removing just some of the pollution still means they're spewing thousands of tons of harmful smog and soot-forming contaminants into Lowcountry air every year," said Alan Hancock, energy advocacy director for the league.
Cleaner, cheaper options are available, Hancock said.
Going to gas
Ask Cross managers why they haven't made some move to natural gas, and they'll tell you simply: there's no pipeline anywhere near enough to be cost-effective. But the market dynamics are changing.
Half the coal mines in the country closed in 2018, according to the U.S. Energy Information Administration. Meanwhile prices have been climbing incrementally.
Santee Cooper has reduced its dependence on coal-fired power from 80 percent to about 40 percent over the past decade.
South Carolina's electric cooperatives — collectively Santee Cooper's biggest customer — are pressuring the company to study if coal is the cheapest way to provide electricity to customers, asking whether the utility should quit operating at least one of the Cross boilers as well the Winyah Generating Station.
The companies nibbling at buying Santee Cooper also have or are moving largely to natural gas. Dominion Energy, which recently took over SCE&G, is one of a few companies already expanding natural gas pipelines in the state. Dominion generates 40 percent of its power from the gas and building pipelines is a revenue source for the company.
As a comparison, 25 percent of Santee Cooper's power is generated from "natural gas and oil," according to its 2017 report. About 10 percent of that is oil.
Dominion "envisions a future where a growing portfolio of renewables is supported by generation from low-emissions natural gas facilities," the company said in a FAQ to its new South Carolina customers. The company did not reply to a query whether it would consider running a natural gas line to the Cross plant.
The Pacolet-Milliken analysis concludes advocating "repowering" the Cross plant as well as Santee Cooper's Winyah plant with natural gas, along with buying smaller natural gas and hydroelectric plants.
"It would be a huge loss to lose that (Cross) plant," said Shane Keller, a former employee. "The jobs are a huge help not just to the area around the plant. That particular plant draws workers from past Florence."
Florence is 75 miles from Cross.