COLUMBIA — Uber's smartphone app will now send notifications to riders nationwide with safety instructions in the wake of the death of University of South Carolina student Samantha Josephson.
Uber announced the new features Thursday in USC's student union with university president Harris Pastides, who has been pushing safety in using ride-booking services, like Uber and Lyft, since Josephson was killed.
After riders order a car, Uber will now send them push notifications reminding them of safety steps they need to take before entering a vehicle, said Andrew McDonald, Uber's North America chief.
The push notification asks riders to check the car's license plate as well as make and model, and the driver's photo. The same reminder will appear on the app as the driver is on the way to the pickup site.
The notifications started Thursday in Columbia and should go nationwide by next week.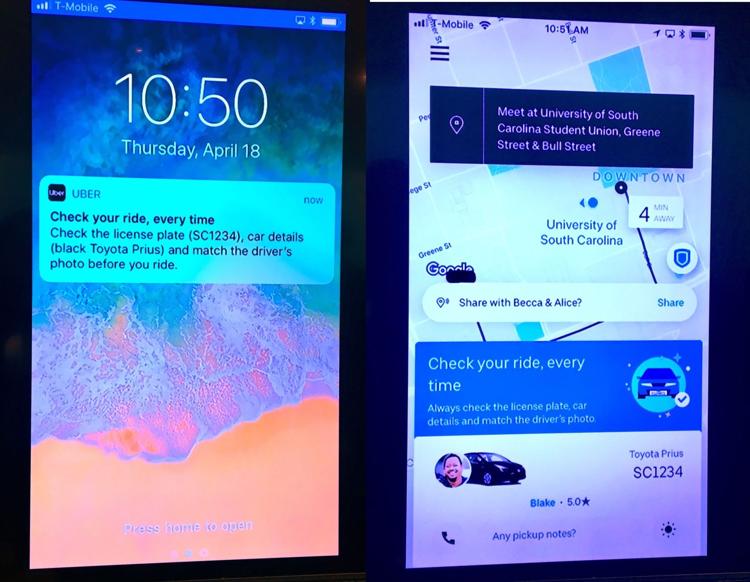 "Everyone at Uber is committed to keeping communities safe," McDonald said.
In the meantime, Uber is sending all riders an email with safety reminders, pushing safety awareness on its social media accounts and adding to its online tips that riders ask drivers either "What's my name?" or "Who are you here to pick up?"    
Uber also is taking out advertisements in college newspapers and on billboards near college campuses, and is giving $100,000 to a national college law enforcement group to promote safety efforts, McDonald said. 
Pastides said Uber contacted university officials about the new safety measures. USC has not spoken with other ride-booking services, including Lyft. 
"We must ensure nothing like this ever happens again," said Celia Cui, a member of USC's graduate student association. "This senseless tragedy has helped inspire this and future efforts to ensure greater safety for all of us."
Josephson, a 21-year-old senior, was killed last month after getting into a car she thought was her Uber ride after an evening out with friends in Columbia's Five Points. Her body was found in a field more than 60 miles east of Columbia in Clarendon County.
Nathaniel Rowland of Clarendon County, who was not an Uber driver, was charged with murder and kidnapping the day after Josephson disappeared when Columbia police saw a car matching the one that picked her up.
Her blood and cellphone were found in the car, authorities said. Rowland has a hearing Monday.
Josephson's parents will come from New Jersey to Columbia next month to receive her degree at USC's commencement.
The Josephsons also launched a website, whatsmyname.org, to raise awareness about ride-booking safety.