MOUNT PLEASANT — Costly plans to relieve traffic on S.C. Highway 41 have pitted residents of burgeoning subdivisions against families with properties along that road since the 1800s, and now the fate of Charleston County's largest park is also in question.
The two-lane highway in once-rural northern Mount Pleasant is now lined with large residential developments that together have thousands of homes — Park West, Dunes West, Rivertowne, Planters Pointe, Horlbeck Creek and others. 
It also runs through the middle of the Phillips Community, an African-American settlement community founded in the late 1800s by freedmen, including some who were formerly enslaved at Laurel Hill Plantation.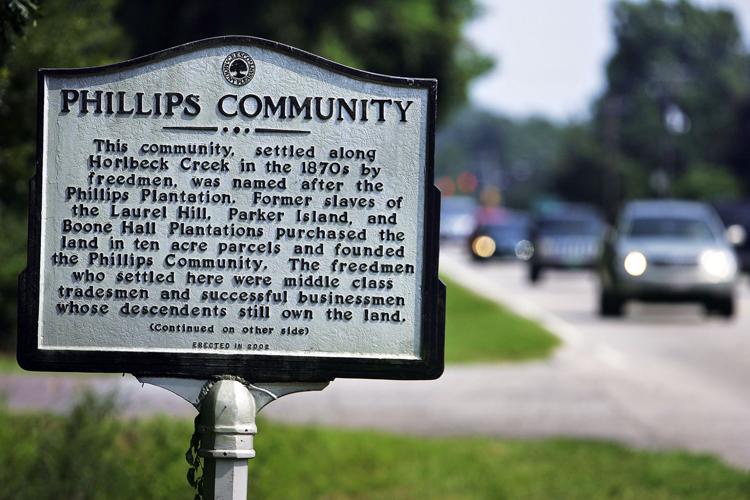 The big question, as Charleston County refines a $132 million plan to relieve traffic, is this: Who will be inconvenienced or even lose property as existing roads are widened and new ones potentially built near existing homes? 
The best plan, Dunes West resident Anna Allen told Mount Pleasant Town Council members at a meeting Monday, would be the plan that impacts the fewest people.
Allen and other subdivision residents, along with Mount Pleasant's elected leaders, would prefer to see Highway 41 widened from two lanes to five, from U.S. Highway 17 to the Wando River. The Phillips Community is adamantly opposed because its residents, many of whom are related, live on both sides of the road and a five-lane highway would cut their community in half.
"We sure don't want that," said Richard Habersham, a Phillips Community leader. "Our thing is, there's got to be a solution, but don't put it all on us."
The two remaining options, known as alternatives 5a and 7a, would not five-lane the highway through Phillips. Instead, those plans call for routing a bypass of sorts through at least some of Laurel Hill, which is now Charleston County's largest park, and through the subdivisions Park West, Dunes West, and possibly Ivy Hall as well.
"Alternatives 5a and 7a directly impact thousands of homes and a county park," said Catherine Barnard, a Dunes West resident.
Beenya or Comeya?
Habersham said several historic African-American settlement communities in the East Cooper area have already been damaged by Mount Pleasant road projects, including the widening of U.S. Highway 17 and the creation of Hungryneck Boulevard.
"I've been here, before you ever came here, and you are causing the problem," Habersham said. "That's the way we look at it."
Here are the current three plans being studied for eventual federal review:
Alternative 1 would widen Highway 41 from two lanes to five, from Highway 17 to the Wando River bridge. The greatest impact would be in the Phillips Community, which could be an issue during the federal review process.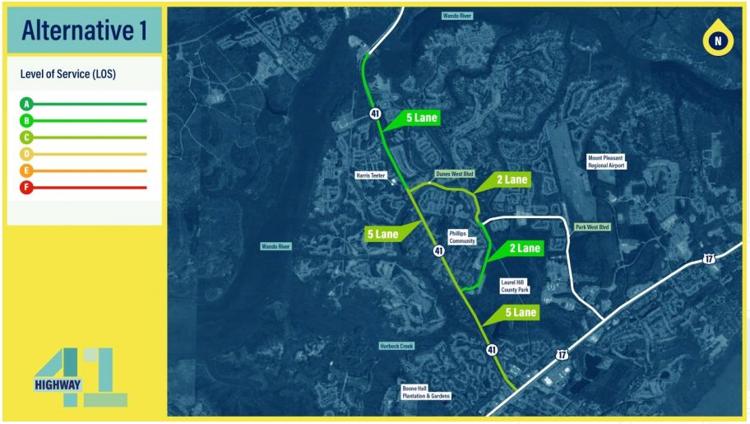 Alternative 7a would route a five-lane bypass around Phillips, through the Park West/Dunes West subdivisions, and across a portion of Laurel Hill County Park in order to limit the impact on Bessemer Road, where new homes continue to be built. Highway 41 would be widened to three lanes through Phillips, and five lanes elsewhere between Highway 17 and the Wando River.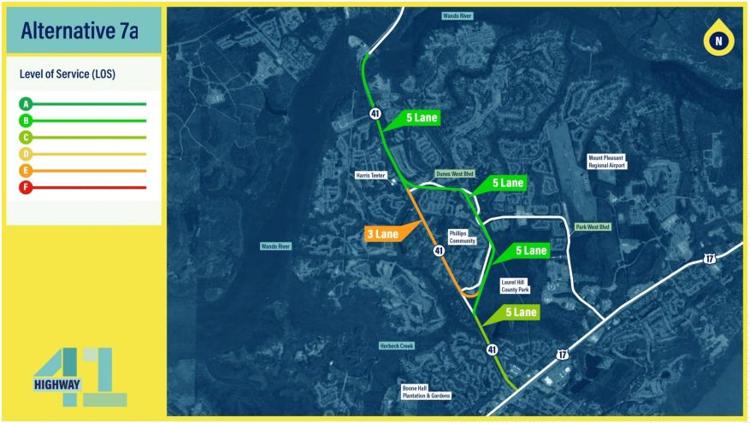 Alternative 5a would create a new five-lane road from Highway 17 that would follow a power line easement through the middle of the Ivy Hall subdivision, and Laurel Hill County Park, and the Park West/Dunes West subdivisions. Then it would connect to Highway 41 just before the Wando River bridge.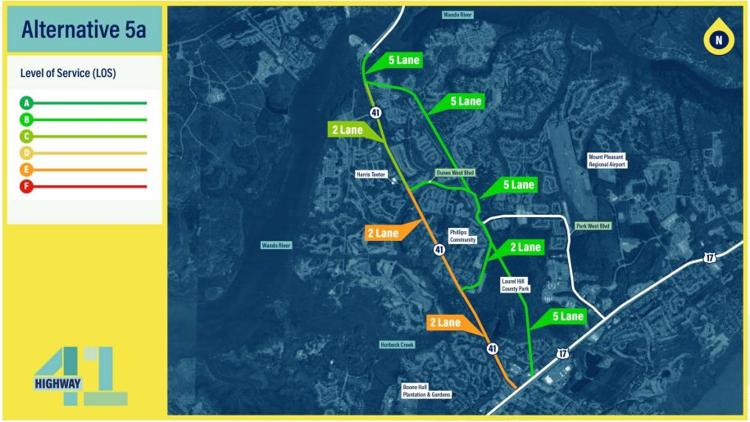 Highway 41 has generated controversy since its construction decades before the Civil War, and for similar reasons — the conflicts between ease of transportation and impacts on existing land owners.
According to a 2014 article by Suzannah Smith Miles in the Moultrie News, plantation owner John Milner Phillips petitioned the state in 1846 to "disallow the proposed road being planned through his plantation 'to the ferry of James Gregorie.'"
The road, now Highway 41, was built despite his protests.
A clash of laws
The Phillips Community is a part of the Gullah Geechee Cultural Heritage Corridor, which is a National Heritage Area. The community is also eligible for National Register of Historic Places.
According to Charleston County report for the Highway 41 project, that means "federal agencies must consider the effects or impacts of their undertakings on NRHP-eligible ... or otherwise significant cultural resources and take measures to avoid, minimize, or mitigate any adverse effects."
Meanwhile, the town of Mount Pleasant has some authority over what happens on town-controlled roads and rights of way, and could potentially use that authority to push back against options that would divert traffic through the subdivisions. That possibility was discussed at a Town Council committee meeting Monday.
Mayor Will Haynie asked the town's lawyer if Mount Pleasant could block Highway 41 options that it doesn't like. Attorney David Pagliarini said that if the plans involve town-owned roads and public rights-of-way, indeed the town could.
"This is statutory law," he said. "This is not something novel or complicated."
However, town officials worried that if they block two of the three options proposed for federal review, that could derail the road-planning process because there must be options. When the town objected to earlier road alternatives that impacted the subdivisions, the county came up with new and slightly different ones that are now under study.
"I would suggest that we let the process play out the way it is supposed to, for legitimacy's sake," said Councilman Bob Brimmer, who lives in Park West.
The town's frustration with Charleston County and the half-cent sales tax program that is funding much of the work was evident.
"I hope the next time the county comes and wants a tax increase, that we'll remember this," Councilman Joe Bustos said.