THE GATHERING
Two different North Charleston churches plan a unique Easter Service together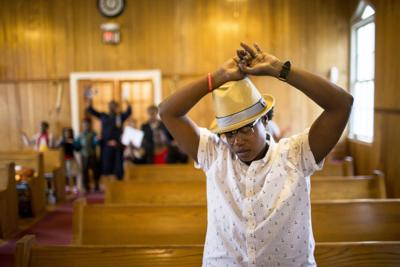 For believers, Easter is the ultimate new beginning, the day Jesus rose from the dead. 
And along North Charleston's Remount Road — a gritty commercial strip that serves working-class neighborhoods, two very different churches will come together Sunday in hopes of a new beginning all their own.
Enoch Methodist Church is a black congregation. Aldersgate Methodist Church is white. Pastors Victoria Richardson and Erik Grayson don't care.
They've spent the past year and a half abandoning tradition in an effort to create a contemporary service. The white man and black woman believe this new worship service, which they've named "The Gathering," will attract new believers of all backgrounds.
This may be the first service like this, as far as they know.
"Maybe because it's so hard," Grayson said. 
There are a lot of Christian churches that often don't see eye to eye on matters of faith.
Though both are under the same umbrella of the United Methodist Church, clear divisions exist between the two congregations that worship only a mile apart.
Inside Enoch, communion is monthly. At Aldersgate, it is weekly, with a gluten-free option.
One's "blood" is grape juice; the other's wine.
Sermons infuse evocative call-and-response here but are more scripted there. 
Easter, of course, is the most appropriate time for a fresh start, a time to try to set those differences aside.
"There is only one God," Richardson said. "So why can't it only be one service? For one people? At one time?" 
From death, a new beginning
Inside the wood-paneled Enoch chapel, Richardson shouts and sings as her two granddaughters echo her words with soulful organ and drums. About six years ago, after a long battle with sickle cell anemia, Richardson's daughter, the girls' mother, died at the age of 36.
The moment shook Richardson and made her angry but Enoch's members helped her keep her resolve to preach. A year later, however, the Huger native was dealt another blow.
Her two grandsons, Kelvin, 17, and Matthew, 19, were driving to church on Sunday morning — the week before Thanksgiving — when their car collided with another. Both young men died. 
Richardson returned to an Old Testament verse she often has leaned on, in Proverbs 3: 5-6. 
"Trust in the Lord with all thine heart; and lean not unto thine own understanding.
"In all thy ways acknowledge him, and he shall direct thy paths."
That same month, Grayson practiced his sermons inside Aldersgate. Then 24, he was fresh out of seminary at Duke University. The Easley native had asked to work with the poor, and his Remount Road placement was perfect. 
Grayson found inspiration for working with his new community in Revelations 7:9. 
"After this I looked, and there before me was a great multitude that no one could count, from every nation, tribe, people and language, standing before the throne and before the Lamb."
Just a few months into his new job, however, he suffered a tragedy of his own. He was sitting in the church's red brick office when he learned his mother, a school teacher in Easley, was missing. Later that night, her body was discovered in North Carolina. Her husband, Grayson's stepfather, killed her before killing himself.
Grayson was the oldest of five siblings, so he shouldered the funeral arrangements and the task of settling his mother's estate.
The two pastors, responsible for the worship of several families in two very different communities, were reeling. Grayson and Richardson already knew each other and soon sought each other out: Their shared grief mattered more than any difference in age or race.
Their blood, Richardson said, was the same color.
In 2015, they met for lunch at a barbecue spot on East Montague Avenue. They sat at a picnic table outside and ordered their favorites: collards, mac and cheese, cornbread. And sweet tea.
It was one of those meetings where two very different people met, broke bread and left with a palpable sense that their connection was meant to be, that it signified something important, that it was guided by a higher power.
Their server came by and mentioned the day's featured dessert, "pork and beans cake."
Richardson made a face. Grayson said, "Let's try it."
'Worship is so much more'
The two preachers kept meeting and consoling each other. Months later, as Grayson neared the end of his first year of ministry, a car drove down Remount Road, between the two churches, with a brake light out.
During the traffic stop, a white police officer, Michael Slager, raised his gun. A black man, Walter Scott, ran, and was hit in the back with five bullets. A bystander captured it all on video, and North Charleston became the latest flash point in a nation grappling with the issues of race and police use of force.
Grayson was dumbfounded by what had happened so close to Aldersgate, which sits in an area that is improving and diversifying but still strongly associated with past crime.
At this point, he had gotten to know several members of Enoch's congregation. He had a conversation with a mother.
"What is the black community feeling right now?" he asked. 
He said this was her answer: "We are terrified. I am terrified that my son will be next."
Yet again, Richardson and Grayson were faced with finding meaning in events beyond their control, events that seemed utterly senseless. Tears were shed at vigils. Chants were yelled at protests.
The pastors believed God intended for them to do more. 
"Worship is so much more important than one-time events," Grayson said. "You get to know each other. You get to know each other's fears and hopes. You don't just get to pat each other on the back and say, 'You did a good thing.'"
Easter is a popular time for churches to offer joint services, said Millie Nelson Smith, the church's Congregational Specialist for African American Ministries in South Carolina. But they are usually one-time events. 
A recurring joint service, like The Gathering, may be unprecedented.
"Charleston is that area that has had those experiences on the outside that have already conditioned people to think, 'We need to do something differently,'" she said. "Then two pastors of two different races have their own tragic story. ... The ground is ripe and the soul is ready."
Richardson agreed. 
"God had me in Charleston and he sent Erik to Charleston," she said. "The relationship would have to come from God. The only way it can come from God is if we allow God to give it to us." 
'This is new beginnings'
About a year and a half ago, leaders from both churches sat down and began imagining what a combined service might look like. Both congregations were grappling with declining membership — Enoch more so than Aldersgate.
Other Methodist churches have created contemporary services to try to attract more members, so Aldersgate and Enoch had those examples. That's not to say the transition from a traditional service was welcomed by all: Both congregations lost a couple of members who were unhappy with the idea. 
But most were eager to worship together. Leaders from both churches formed a "design team" and participated in a retreat at St. Christopher on Seabrook Island. They met on Monday nights at church and eventually at Grayson's home. Richardson cooked.
Decisions — from the length of the service to what music to play — triggered boundless conversations about faith and race.
Grayson learned that at Enoch, their Sunday morning worship can last for hours and revolves more around ownership of identity and resistance.
Richardson learned that at Aldersgate, Sunday services last about an hour and revolve around a lesson from Grayson's methodical sermons.
In an effort to research each other, members from each church began attending services at the other. Eventually, Richardson and Grayson preached from the other's pulpit. 
Richardson learned that Aldersgate does not draw attention to new members, and latecomers can quietly slip in the back. At Enoch, she asks new members to stand and introduce themselves. Even if they come an hour late. 
On Monday, days before the service, the design team finalized assorted last-minute details. Aldersgate typically offers "kidsgate" — a place where restless children can go during service so their parents can fully participate. At Enoch, children sit in the pews and play pattycake while Richardson preaches.
"How do we know the children won't get something out of this service?" Richardson asked. 
"That's true," said Judith Pfaehler, of Aldersgate. 
They agreed to include a nursery for infants and toddlers and leave the children's retreat optional to parents.
Grayson suggested that The Gathering's welcome be led by two Aldersgate members, Matthew and Haley Husband, who recently gave birth to a newborn. 
"Having a young couple, with a newborn baby — even bringing the baby up there — welcoming everyone, and showing, like, this is new beginnings," Grayson said. "It's Easter Sunday, God's creating new things."
The others smiled wide. 
"Y'all are oohing and aahing," Grayson said. "I assume you like that?" 
Everyone nodded. 
'It's not a competition'
LaToya Bolden, a youth director at Enoch, hopes the joint service will create a movement within North Charleston. 
"Everyone can come together under this umbrella, worship together, eat together," she said. "We can rebuild this community." 
On Sunday, Grayson will deliver The Gathering's sermon, and Richardson will lead communion. Aldersgate, the larger and more visible of the two churches, plans to host the first joint Gathering service. But its chapel is still under construction, so the service will be in the courtyard under string lights. 
Next month, when The Gathering next occurs, the pastors will flip roles. In August the churches hope to begin offering The Gathering service every Saturday evening. 
On Monday, Grayson admitted he was nervous. 
"Pastor, you can preach circles around me," he said to Richardson.
Richardson laughed and shook her head. 
"It's not a competition," she said. "The word is the word. ... We just gotta do what we gotta do to get the word to others. That's why we are called." 
While no one is certain exactly how many will attend their first Gathering or how the many members may receive it, both Grayson and Richardson said they already feel blessed by congregations whose members have become like family.
And while the first service has not been held, both sense something significant already has come to life.
Reach Hannah Alani at 843-937-5428. Follow her on Twitter @HannahAlani.