Massive ships delivered nearly a million shipping containers in 2018 to Wando Welch Terminal, where the large steel boxes are mounted on trucks heading to Interstate 526 and beyond.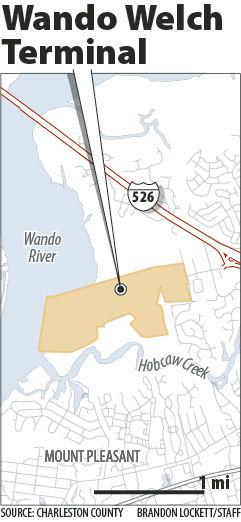 That number is expected to grow substantially, by about 40 percent, in years to come. Meanwhile, trucks that use the port compete for road space with I-526 motorists, Mount Pleasant subdivision residents and customers of local businesses ranging from gymnastics studios to brew pubs. 
The Wando port handles 75 percent of the shipping containers that arrive in Charleston. Even after the new Leatherman Terminal opens in North Charleston, the volume coming into Wando is expected to grow over the long term.
With no rail access east of the Cooper River, the containers from a single ship take their next journey on thousands of trucks. The trucks first head east on I-526 to reach the port — across a bridge that was closed for weeks last year for repairs — then back out to the highway. 
Plans to efficiently move the growing number of boxes will play an important role in the region's traffic and the port's success for years to come. The State Ports Authority recently relocated its headquarters to Mount Pleasant, and the town sees the Wando port area as an economic development hub. 
"We're trying to do things that grow our volume without increasing truck traffic — the barges and the rail," said Barbara Melvin, SPA's chief operating officer.
To deal with truck traffic, Mount Pleasant has developed road improvement plans that could cost more than $7 million. The SPA hasn't offered to pay for any of the road work but hopes to eventually use barges to send some containers from Wando to the Leatherman Terminal, to be loaded on to trains.
However, the barge plan won't work until both the Leatherman Terminal in North Charleston and a rail transfer facility there are built. Currently, the barge plan is under federal review for permitting.
Dealing with the traffic
Most of Mount Pleasant's road improvement plans for the area are unfunded.
At a key intersection near the port, the S.C. Department of Transportation concluded the roads aren't busy enough to warrant traffic lights, town officials said.
Sally Bohnstengel lives in Hidden Cove, a large subdivision adjacent to the port that has one entrance — the intersection of Long Point Road, Hidden Boulevard and Shipping Lane — where the state says traffic signals aren't justified.
"Daytime, it's crazy," she said. "In the morning, if there's a backup, there can be trucks in two lanes from the terminal back to 526."
And that can prevent motorists from getting in the left lane, to turn in to her subdivision.
"It will stack up all the way back on to 526 and on to the bridge," said Richard Lauve, president of Hidden Cove's neighborhood board of directors. "Our prayers are that it won't take a fatality for the town and DOT to agree that we need a light."
"I'm not a port official, but it doesn't make sense to me that they spend this time developing this side of the Wando, when they have the Hugh Leatherman Terminal coming," he said.
The SPA expects both the Wando and Leatherman terminals to eventually handle the equivalent of 2.4 million 20-foot shipping containers each year, Melvin said. That translates to roughly 1.4 million actual containers, at each terminal, because most boxes are the 40-foot size.
Barges, according to the authority's Corps of Engineers permit application, could be used to move 200,000 containers from Wando to the Leatherman Terminal and the planned rail hub there. That's less than half the long-term increase in containers expected at Wando.
In the short term, container volume could dip at Wando when the first berth at Leatherman opens in 2021, Melvin said.
Back on Long Point Road, where state officials said an additional traffic light isn't needed, an alternative Mount Pleasant considered is for a large traffic circle at Shipping Lane. That would cost $4.4 million more than traffic lights, however.
During the next two years, the town plans to focus on a different intersection between the port and the interstate. The town plans to widen Wando Park Boulevard and realign the existing intersection there with Long Point Road and Hobcaw Bluff Drive.
Longer-term plans call for blocking off left-turn access to Long Tree Drive, where many medical offices are located, and creating a connector road to Hobcaw Bluff Drive. Like the left turn into Hidden Cove, the left turn into the medical complex is complicated by heavy truck traffic. 
"You have all those trucks coming off the interstate and people trying to get over to turn left on to Lone Tree," said Paul Lykins, Transportation Infrastructure Division chief for the town. "There's a special situation there, with the amount of truck traffic mixing with residential traffic." 
"We're looking at these improvements (related to) the SCDOT doing something with the interstate," he said.
The state is already planning to widen I-526, from Mount Pleasant to North Charleston, but that's many years away. The idea of creating direct access to the port, from the interstate, is an idea the town and residents of Hidden Cove have mentioned.
Most traffic on I-526 is not port-related, Melvin said, "and it's up to the state to provide adequate infrastructure."
"We should be able to responsibly grow," she said.
Port may extend hours 
The SPA may extend the hours trucks can access the port, in order to spread out the traffic, Melvin said. Similar steps were taken when the Wando bridge was closed for repairs, and Saturday hours were added as record containerized cargo growth in recent years added to the number of trucks visiting Wando terminal.
Currently the gate at Wando operates from 6 a.m. to 6 p.m. on weekdays, and 6 to 5 on Saturday.
"We'll look at midnight to 5," Melvin said. "We'll look at 3 a.m. to the current closing time, which is 6."
Next door at Hidden Cove, Lauve said he hopes the port will first address increasing noise from the operations there.
"Our response is going to be, until you study noise, we are probably going to be opposed," he said. "There have been times when I can't sleep all night long."
Extending gate hours could help with traffic, but welcoming trucks at midnight or 3 a.m. could potentially increase noise complaints, not just next door but in subdivisions across Hobcaw Creek, such as I'On.
Reducing traffic by extending gate hours can also be thwarted by realities such as federal "hours of service" rules that limit how long a trucker can stay on the road.
Truckers want to make as many trips to and from the terminal as possible within a day, and if warehouses and distribution centers aren't extending hours as well, truckers could end up waiting while their hours of service clock ticks.
David Wren contributed to this report.