At mid-afternoon Thursday the core of Tropical Storm Michael was south of Greensboro, North Carolina and racing to the northeast at 23 mph.
A wind gust of 55 mph was reported at North Myrtle Beach. Tropical storm warnings continued from Edisto Beach to the north.
But the warnings were discontinued inland from Dorchester County to the south. Winds were at 20 mph or less and gusts no more than 30 mph over much of the Charleston area.
"Winds have peaked and should slowly but steadily fall," said Charleston-based meteorologist Shea Gibson with the private company WeatherFlow earlier in the day. "Moderate to somewhat strong wrap-around westerly winds may keep things gusty through tonight."
The rain had quit for much of the Charleston area except for light showers in Dorchester and Berkeley counties, according to the National Weather Service, Charleston. Forecasters earlier discontinued a tornado watch.
Winds gusting 50-60 mph across parts of Charleston and Berkeley Counties. Peak gusts recently reported include 52 mph at @iflyCHS and 57 mph at the Folly Beach Pier #chswx #scwx

— NWS Charleston, SC (@NWSCharlestonSC) October 11, 2018
"This storm is moving pretty quickly now. We think things will begin to improve this afternoon," said Weather Service meteorologist Steve Rowley earlier. "It will be pulling away and things will be getting pretty tranquil."
More than 72,000 people were without power in South Carolina, said S.C. Emergency Management Division spokesman Derrec Becker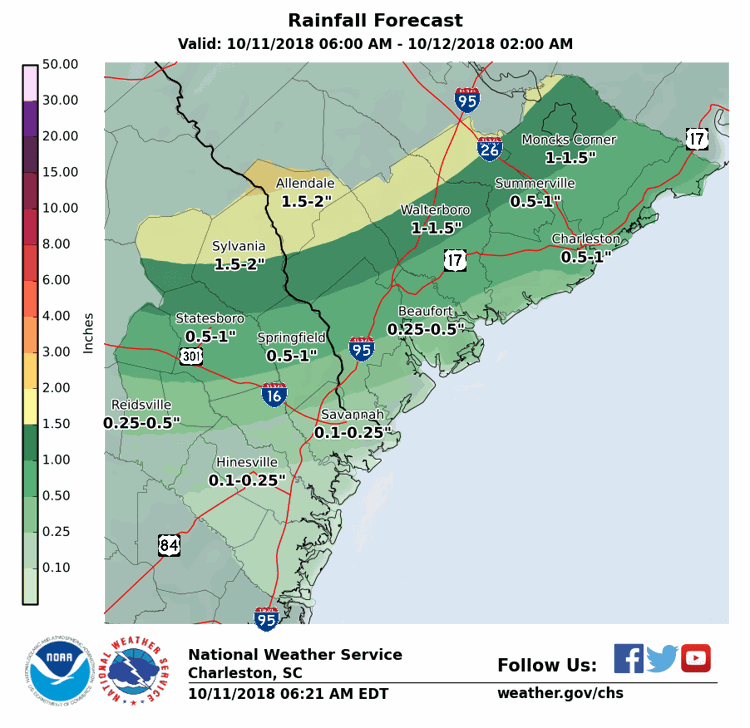 Further inland, Weather Service forecasters continued to warn of the possibility of damaging winds, but winds were settling there too. Remaining rain bands from the storm were moved through the Pee Dee region. 
In the aftermath of the storm, the Charleston weekend looks seasonally mellow, with overnight lows dropping into the 50s away from the coast.