As South Carolina deals with a pandemic that led to unprecedented steps to stop the spread of the coronavirus, the state was struck by an estimated nine confirmed and suspected tornadoes early Monday morning that killed nine people in small towns from the Upstate to the Lowcountry.
Five people died in rural Hampton County, 60 miles northwest of Hilton Head Island, S.C. Emergency Management Division reported. Three of the dead were a family that lived in Nixville, a small community just east of Estill.
On the opposite side of South Carolina, a 77-year-old security guard died at the BorgWarner auto-parts manufacturing plant near Seneca, the hometown of U.S. Sen. Lindsey Graham. 
A 46-year-old Walterboro woman died in a home smashed by a fallen tree.
And an Orangeburg County couple died in a tornado with winds the equivalent of a Category 4 hurricane.
The unusual wave of tornadoes was part of a powerful storm that swept through the Deep South over Easter weekend. More than 30 people were killed in the storms that stretched from Louisiana into the Appalachian Mountains, The Associated Press reported.
Monday's storm was the state's most severe weather event in 12 years with several long-track, violent tornadoes streaking across South Carolina over a six-hour period, said Rich Okulski, meteorologist in charge at National Weather Service office in Columbia. 
Some tornadoes are estimated to have traveled as much as 50 miles across the state, which Okulski called a "rare situation."
He did not have a precise number of tornadoes that swept across South Carolina, but National Weather Service offices confirmed six tornadoes so far. Another three are likely to have taken place based on weather service and local emergency management reports.
The tornadoes could have been worse if the weather front struck during the afternoon hours with warmer temperatures, Okulski said. 
Nearly 300,000 customers lost power at the height of the storm that also dumped rain, including almost 3 inches in North Charleston. Hundreds of homes were damaged and 2,500 trees cluttered state roads, including Interstate 26 near the Volvo plant in Ridgeville and Interstate 95 near Walterboro, state officials said.
Gov. Henry McMaster said he is issuing another emergency declaration for the tornadoes to help pay to clear roads, repair power lines and fix damaged homes and buildings.
He spent several hours touring the damage in Oconee and Orangeburg counties on Monday, saying he was surprised by the devastation despite seeing the havoc from hurricanes in recent years.
"We have a new disaster on our hands … (tornadoes) did a whole lot of damage. It is quite something to see," the governor told reporters. "The destruction is enormous, big oaks trees ripped up, houses smashed, everything smashed."
The natural disaster struck when the state was prepared for an emergency. South Carolina has been in a state of emergency for the past month to fight the COVID-19 outbreak that struck more than 3,400 South Carolinians, killing more than 85. 
In Pickens County, where a confirmed tornado struck, council Chairman Roy Costner III said its county emergency operations center was already running.
"So they were quick to respond to everything. I am so thankful that we've got an early warning in place, because we literally had 10 minutes to prepare," he said. "I guess the one thing about this whole pandemic is it's drawn us closer together to communicate more, so we are talking constantly."
In Walterboro, homeowners wore latex gloves and masks, the staples of personal coronavirus protection, to trim neighbor's trees and pick up branches hours after a reported tornado ripped through town. 
"Our first responders and firefighters have had their hands full with COVID-19," Walterboro Mayor Bill Young said. "But we'll get through it. People are leaving their homes to help out. We're resilient like that."
But the coronavirus remains despite the severe weather.
People displaced from homes in the storm will be sent to hotels rather than communal shelters like those at schools, S.C. Emergency Management Division director Kim Stenson said. Many hotels have rooms available because of travel restrictions. 
McMaster said workers and volunteers still should follow social-distancing rules to prevent the spread of COVID-19.
"It doesn't care if the trees are knocked down or if the power is off; it doesn't (make) any difference to the virus," the governor said. "We still must protect ourselves."
The tornadoes struck an area 270 miles wide across South Carolina, with heavy-hit areas in Hampton, Colleton, Berkeley, Orangeburg, Oconee and Pickens counties.
Hampton County
Little initial information about the five fatalities came from official sources in Hampton County, one the state's most sparsely populated counties that's two hours west of Charleston.
The county coroner did not release identities Monday of the victims of what's believed to have been a powerful tornado. State officials are sending in extra road crews to clear debris.
"In Nixville and Estill, we're looking at serious devastation in those areas," Hampton County Council Chairman Clay Bishop said. "There's numerous houses destroyed."
On Turner Expressway in Nixville, a tornado tore through the Ginn Hill family property early Monday morning.
Several of the large family's trailers, photos, furniture, cars — gone.
Into the afternoon, men with chainsaws took to the fallen limbs while others picked through the remains.
Angie Ginn found her sister-in-law Donna, her husband Jim and their daughter Kayla Breland dead after the tornado.
"I found them dead in the field," Ginn said, a piece of their trailer not far away. "They were laying all right there."
Ginn said her husband's brother Jim Breland was sweet and laid back. She'd never seen him upset in the 37 years she'd known him.
Donna was happy-go-lucky, Ginn said. She was the life of the party.
Kayla was quiet, Ginn said. Her birthday is in October.
"We just ask for prayers," Ginn said.
Ginn said she's never experienced anything like the tornado that sliced through her family's corner. She was watching the news last night, about something bad going on in Louisiana. She said her heart broke for them.
At 6:15 a.m., her phone toned a warning about the tornado, telling her to take cover now. Her husband Cam was about to head out the door for work, but he couldn't open the door. The wind was that strong.
Ginn pulled her husband and her grandson into a closet to wait out the tornado.
"You could hear glass cracking, the trees crashing," Ginn said. "It sounded like a train coming."
A brown brick house close to where the Breland family was found, Arlene Jobe and Keven Gill walked through the remains of their home. Gill said he's lived there 26 years.
The tone went off on Jobe's phone, Gill grabbed Jobe and pushed the two into their bathroom.
Jobe said the hurricane sounded like a freight train coming through.
Their roof was torn off, including part of the roof and ceiling of the bathroom where they were hiding.
Outside, a covered carport was torn off, their truck flipped over crashing into the corner of their bedroom.
Jobe and Gill said they'll be staying in Walterboro, receiving assistance from the Red Cross.
By the afternoon, the Ginn family has cleared about half the debris away.
Nixville Baptist pastor Rev. Allan Kircher was there, too.
"It's just total devastation," Kircher said. "We lost a few good members of the church today."
On Monday, the last thing on anyone's mind was the coronavirus, Kircher said.
In nearby Barnville, Jimmy and Sherry Smith lost their 2,900-square-foot home on Lento Road.
Years ago, Jimmy's brother gave the couple a claw- foot tub. That tub is where Jimmy, Sherry and their golden retriever Gibbs hid while the tornado tore through their home, knocking them over and out of the tub.
True to other's description of a tornado, Jimmy Smith said it sounded like a train.
Sherry Smith crawled out after the storm passed, falling into their pool.
The three will be staying with family nearby, Smith said.
Despite the major destruction, there's been some moments of hope, Bishop said.
At one destroyed residence, crews pulled a child from under a mattress. The child was alive.
"It's a time of devastation, but we've been blessed," he said. "It's not as bad as it could have been."
Orangeburg/Barnwell
A strong tornado plowed through Orangeburg and Barnwell counties, killing two people and injuring seven others while damaging homes and throwing trees onto roadways.
A husband and wife — Gerald Lee Chavis, 63, and Doris Hoover Chavis, 68 — were found dead outside their ripped-up Preserver Road home near Livingston, a town of 127 just west of Orangeburg, Orangeburg County Coroner Samuetta Marshall said.
The National Weather Service in Columbia identified a "long track tornado" rated EF3, just steps below the strongest intensity level, with winds of 140 mph on Preserver Road near Livingston. The tornado reached into Calhoun and Barnwell counties.
Orangeburg County crews rescued survivors from damaged or destroyed structures, Orangeburg County Emergency Services Director Billy Staley said. 
Barnwell County Emergency Management Director Roger Riley said the Williston-Blackville area was hit hard.
"That's going to be our biggest issue, people without power for a while," he said.
Seneca
A confirmed tornado around Seneca hit at about 3:30 a.m., damaging a building at the main entrance of the BorgWarner plant where security guard Jack Harvill of Walhalla was working, the Oconee County coroner's office said.
He died in what National Weather Service officials said was an EF3 tornado that packed 160-mph winds along a 16-mile track.
Harvill was one of four employees at the plant running on reduced shifts due to coronavirus restrictions, a company spokeswoman said.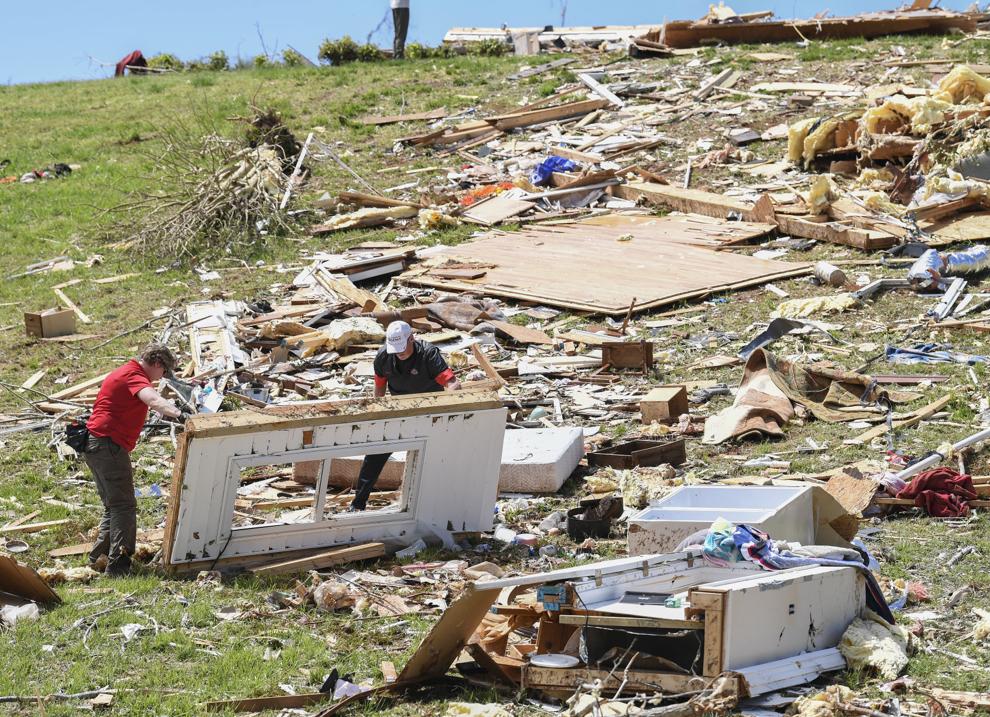 Seneca City Administrator Scott Moulder said damage is widespread in this community of 8,100 people, including destruction to several churches and the municipally-owned electrical system, which took a "huge hit."
"We're seeing quite a bit of damage that extends all the way through town," he said. "It looks like this tornado jumped up and down where it traveled through, so you see some areas where there's devastation and others that can be rebuilt."
Cars were overturned, and some homes have been "picked up and laid down" as the tornado passed through, Moulder said.
Seneca Mayor Dan Alexander established a curfew Monday night due to downed power lines and dozens of unsafe structures and to ward off potential looters, Moulder said.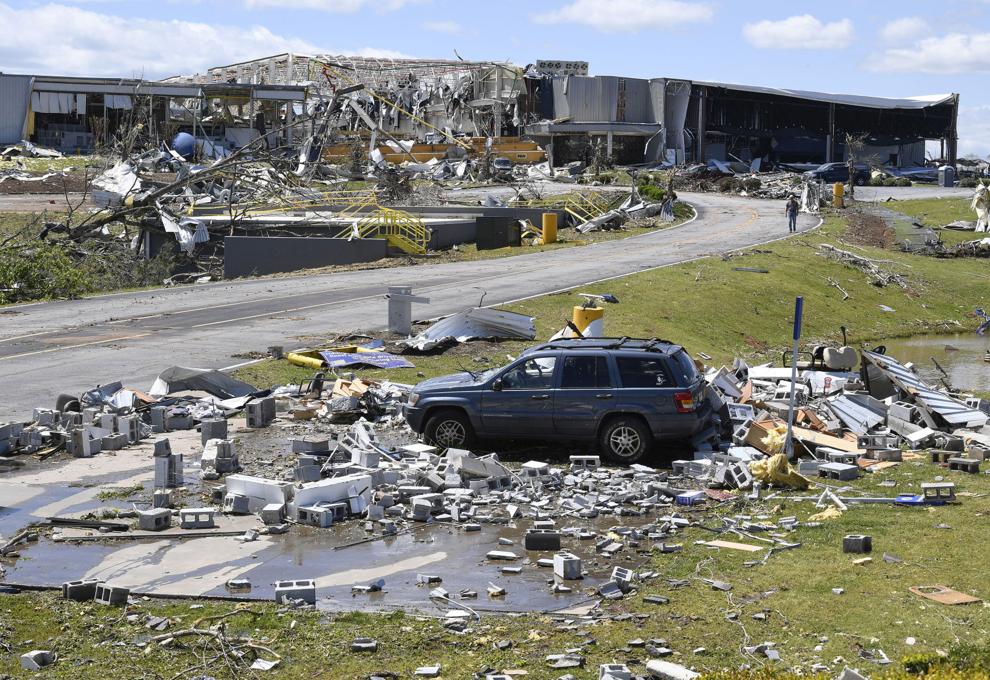 "Thinking about all my friends and neighbors who are suffering," Sen. Graham tweeted about his hometown. "The power of nature is enormous."
The damage in neighboring Oconee and Pickens counties was bad enough to force nearby Clemson University to suspend online classes, being held during the outbreak on Monday.
Pickens County had a pair of tornadoes — a confirmed EF2 with 120-mph winds struck an area northwest of Greenville starting in the Pumpkintown community and an EF0 with 80-mph winds ended outside Easley.
"Never seen nothing like it," said Jim Nixon, who runs a bait shop at the Laurel and Hardy Fishing Lakes in Marietta northwest of Greenville. "We got stuff tore up everywhere, the whole mountaintop just cleared; it's a disaster."
Walterboro
A likely tornado damaged buildings and knocked down trees and power lines around Walterboro in Colleton County at about 7 a.m. 
Ethel Griffin died when a tree fell through bedroom at a home on Barracada Road.
Airplanes at the Lowcountry Regional Airport where scattered, smashed and flipped over like red plastic cups at a college football tailgate.
At least a dozen airplanes had been destroyed after tornado-related wind whipped through the region on Monday morning.
Many of the hangars had their roofs ripped off and owners began to arrive on the tarmac to assess the damage done to their aircraft.
Billy Carter, a lifelong Walterboro resident, had two of his planes crushed and flipped by the storm.
"My daughter woke me up and said there was a tornado warning," Carter said. "I got dressed and came to the airport and here they are, smashed."
There hasn't been a storm like this in Walterboro's history.
Tommy Rowe, the airport manager, said he is still trying to wrap his head around the destruction.
"It's the worst I've ever seen," he said. "I have no idea how much we're talking, probably millions, in damage."
Nearby, downtown Walterboro was beaten and bruised. Power lines and branches were scattered on all the main roads leading to downtown.
The Floyd Buckner Building, which once housed the Colleton County School District, but now is used to keep county records, was severely damaged, with debris sprinkled like confetti in the streets. 
Colleton County Administrator Kevin Griffin shared a video featuring a 40-second barrage of wind that ripped out walls and the roof. He called the damage a "total loss." 
Trees whipped by high winds covered Interstate 95 near the Walterboro exit where a tractor-trailer overturned, according to the S.C. Highway Patrol. 
Amy Coleman heard the tornado siren, grabbed her family and ran to the corner of a bedroom in their Walterboro home where they have lived for six weeks. A giant tree in their front yard looked like it had exploded in the tornado. 
"It sounded like a train," she said. "But as soon as it hit, it was over."
Moncks Corner
Areas near Moncks Corner in Berkeley County were struck by two possible tornadoes around 7:30 a.m., the National Weather Service said.
Heavy damage from downed trees were reported in the Fairlawn Barony and Cedar Island areas as well as Highway 402 in the Rectory Hill area, Berkeley County Sheriff's Office Chief Deputy Jeremy Baker said.
Fairlawn was filled with downed branches and power wires. In a time where social distancing seems to be on everyone's mind, many streets were packed with utility workers, police and residents trying to pick up the storm wreckage that flew into their lives overnight.
Like Erin Brooks, whose roof was lifted clean off above the heads of her husband and three girls as they took shelter. Her front lawn was speckled with yellow insulation that nearly resembled dandelion puffs.
"We just felt this intense pressure," Brooks said. "Our ears were popping. The house was shaking. It felt like it was being pushed from both sides … it's surreal. It hasn't sunk in yet that it happened."
For some, when sheltering in place is so important, their homes have been taken away from them, forcing them to find other arrangements for quarantining amid the coronavirus.
Chris Bradshaw, an employee at Volvo, had a massive tree crash into his kitchen. It also nearly crushed his son, who was asleep on the top bunk of his bed in the nearby room. His son walked away with a black eye and some scrapes.
Even as his family and friends helped collect dishes that were nestled between branches on his kitchen island, he found something to be grateful for.
"I can't imagine if this happened to someone who just got laid off," Bradshaw said. "All of this, the storm, the coronavirus … it weighs on you. Everyone is away from everyone. And now I've got people showing up to help me. It's emotional."
A tornado has hit this exact neighborhood before in 1998 when an EF2 tornado struck, injuring nine people.
For some, there was some optimism.
Rebecca Bryant had nearly a dozen friends and family arrive on her front lawn on Monday morning to help clean the debris.
When she heard the tornado was coming, she prepared for the worst. She grabbed wedding rings and put them on her fingers. She placed her son in the bathtub with a comforter on his head.
"I was praying louder than the storm," Bryant said. "And it passed."
As crowds of volunteers came by to help her pick the pieces of her home, the coronavirus disappeared for a moment.
"I forgot all about it," she said. "I was hugging my neighbors. The virus didn't matter when this storm hit."
The Beaches
Tornadoes appeared to scrape along the beaches from Colleton to Georgetown counties. 
An EF1 or EF2 tornado hit the ground on Edisto Beach damaging homes on the oceanfront road, Myrtle Street, the National Weather Service said.
The weather service is looking at possible tornadoes that damaged homes on Kiawah Island and Litchfield Beach, said Okulski, the Columbia head meteorologist. 
He said tornadoes hitting beaches was unusual, which was part of the reason why this was the state's most severe weather event in a decade.
"Normally, the ocean protects the immediate beach from getting significant tornadoes. Not this time around," Okulski said.
There also was a report of a possible EF1 tornado west of Georgetown. And the weather service is looking at possible tornadoes in Horry and Marlboro counties, Okulski said. 
Fleming Smith and Seanna Adcox contributed to this report.