COLUMBIA — It's pitch black, the darkness pierced only by the glare of exploding bombs and the streaks of red-hot light that won't stop bursting from the ends of three M240 machine guns. On the ground, Eric Shepherd lies prone, afraid to lift his head.
Shepherd wants to be a soldier. But to cap his 10 weeks of basic training at Fort Jackson, he and his fellow Army trainees must pass this part of a final test — a simulation of a nighttime invasion staged in the woods of the 52,000-acre base.
It's one leg of a new course that all Army trainees must complete. Over four days, the course tests recruits on virtually every aspect of their training — including patrols, obstacle courses, hand-to-hand combat and more than 45 miles of marching.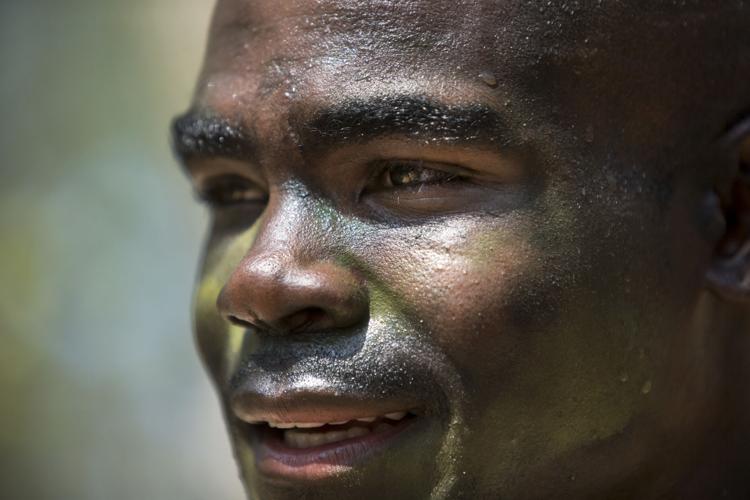 The course is part of the Army's response to a call from leadership for tougher, more physically fit soldiers prepared for a future that's likely to include large-scale conflicts requiring constant movement.
It's also intended to address the Army's concern that an emerging generation of trainees grew up with less exercise and are less attuned to discipline.
The Army calls its new training course The Forge, akin to the final stage of hardening a metal. Like the similarly challenging Crucible for Marines, completing The Forge is now a prerequisite to becoming a soldier.
Trainees leave their barracks at midnight and return after 96 hours of missions with light rest. They sleep on the ground in the woods and eat packaged Army meals.
Army leaders said it stands to become one of the military's most grueling tests.
"This is tough," said Maj. Gen. Pete Johnson, Fort Jackson's commander. "It's everything you hated about summer training for football — all that on steroids."
The simulated invasion, for instance, is designed to feel like a real ambush. Amplifying the noise of heavy machinery, drill sergeants blare canned battle sounds from large speakers.
Nicknamed the "Normandy Invasion Course," the simulation is no Omaha Beach — machine gunfire is pointed away from the trainees and the explosives are contained. But Shepherd and his platoon must advance 100 meters by crawling through thick sand.
"It's like Armageddon," Shepherd said. "But you have to just not get into your feelings about what you're doing. You just got to do it."
Rolled out this spring at Fort Jackson, the Army's largest training center, The Forge is expected to extend to every Army recruit across the country in the summer.
"It all starts right here," Johnson said. "This is the foundation of the Army."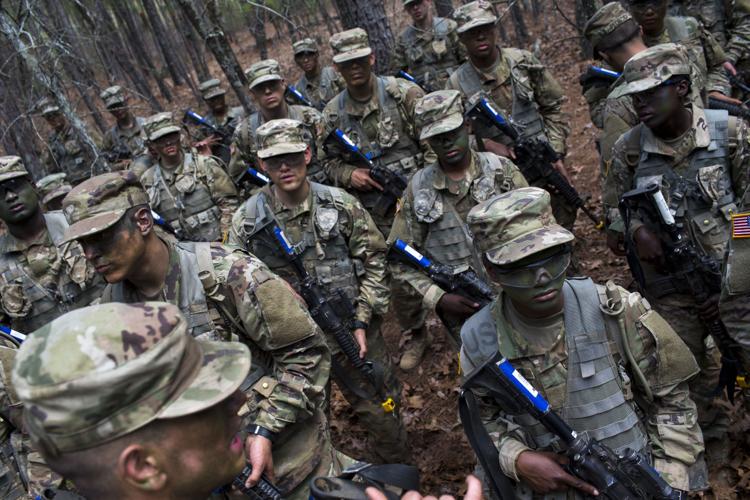 Tougher training
Shepherd, a 26-year-old deputy with the Richland County Sheriff's Department, wants to follow his dad, Rudolph Shepherd, a veteran who fought in Vietnam.
"I just like to serve people," the younger Shepherd said.
He is one of the roughly 800 members of Fort Jackson's 3rd Battalion, 39th Infantry. 
The Army created The Forge as part of more intense training requirements. Over the past several years, Army officers have reported in surveys their concern about a lack of discipline among new soldiers. They were showing up late, failing to tuck in their shirts.
In some respects, The Forge highlights the same hardened approach that drill sergeants took to whip draftees into shape for combat during the Vietnam War.
Some say basic training for large-scale combat has waned over the past two decades with the U.S. strategy of counterinsurgency during the wars in Afghanistan and Iraq. Future conflicts are likely to be staged differently, said Lt. Col. Chuck Slagle, a Fort Jackson battalion commander.
"It's going to be austere," he said. "You're going to have to move to stay alive."
The Army added a fitness test in Summer 2016 to gauge the level of training needed to get a recruit in top shape. The four-part test included a standing long jump, medicine ball toss, dead lift and shuttle run.
Results from that testing published last year showed that, for an out-of-shape member of today's youth, it could take as long as 17 weeks to train them, Slagle said.
Now, recruits are expected to be in better physical shape by the end of their 10 weeks at Fort Jackson. On the standard Army fitness test, recruits will have to do more push-ups and sit-ups, plus a faster 2-mile run.
Still, some recruits aren't ready for The Forge after their 10 weeks. Recruits who fail to finish are cycled back into basic training with another battalion, with a chance to try again.
Drill sergeants evaluate all recruits before sending them in. Among the 820 trainees in Shepherd's 3rd Battalion, sergeants turned away 74. 
The Forge began at midnight April 2. Shepherd packed his sleeping gear, a change of clothes, underwear, socks, his helmet, a toothbrush, deodorant, razors, a washcloth and a towel.
He lugged his 40-pound rucksack for The Forge's opening 10-mile march from the barracks into the woods. Sweat and friction on long treks can ravage feet, so Shepherd had wrapped bandages around each of his toes and taped his socks.
Other trainees didn't come as prepared. By the end of the second day of The Forge, four members of Shepherd's battalion had to be removed for medical issues. They all had badly peeling blisters.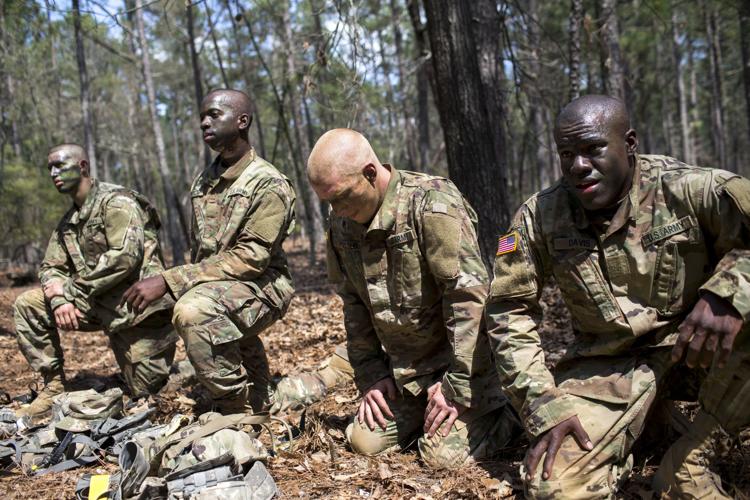 The hardest part
After the march, Shepherd and his squad slept in the woods. They rested about four hours.
They woke up with a new mission. This one began with the sound of a flash-bang grenade going off.
It was another simulated battle. But in this one, the squad had to care for an injured soldier. They rubbed their hands over an Army dummy, as if they were checking a soldier's body for blood. They dressed an exit wound. They called in a medical evacuation.
They had four minutes to drag the 150-pound dummy through the terrain nearly the length of a football field and load him onto a van.
Then comes the nighttime Normandy Invasion Course. The simulation is so intense that drill sergeants join the trainees as they crawl amid the live machine gunfire and explosives.
"It's designed to bring them together as a team," Sgt. 1st Class Nathaniel Otte said. "They know — they're not going to get through this by themselves."
The day still isn't over. Drill sergeants arranged a stack of heavy equipment that needed to be lugged to the next point.
It takes a squad of six to carry a 70-pound pallet, meant to simulate a long rectangular weapons box. Another 70-pound box requires four trainees to carry it. Other recruits take turns lugging a 20-pound ammunition can and five 40-pound water cans.
Their journey at the end of a long first day? Five miles.
Drill sergeants said this is likely the toughest part of The Forge. Some of the trainees began to crack.
"I just want sleep!" they yelled.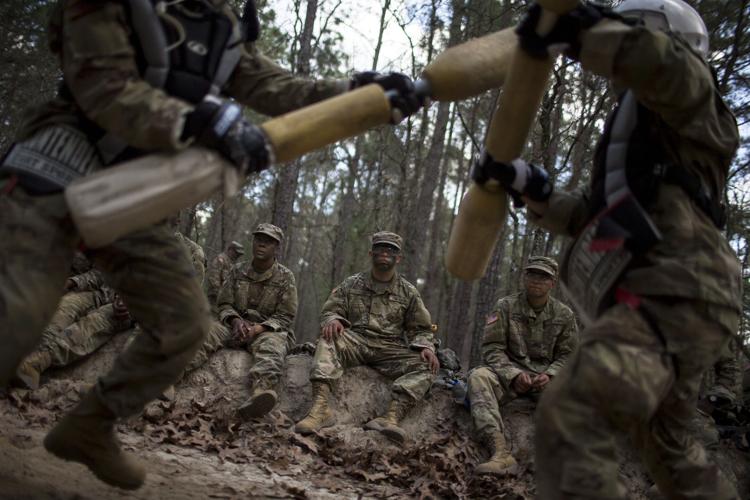 Prepared to fight
The trainees slept about five hours before beginning the second day with hand-to-hand combat. To simulate a close-quarters rifle fight with an enemy, recruits are paired up for two-minute competitions using pugil sticks, a long pole with padded foam ends. 
For his bout, Shepherd was paired with Najee Roman, a bulky 20-year-old recruit from Philadelphia, a city filled with fighters. A partner helped Shepherd put on a chest protector and snapped a white football helmet around Shepherd's head.
Shepherd used two hands to grip his stick.
Swinging his stick from right to left, he landed two quick blows to Roman's body. Then two big, overhand swings land with a smack across Roman's helmet.
"There you go," a drill sergeant said.
But after a day-and-a-half of almost nonstop marching, fatigue kicked in. By the end of their round, Roman had backed Shepherd against the bank of the dirt road. Shepherd's breaths came in heaves. He crouched over. Roman swung from his left, landing two shots to Shepherd's head.
One more hard, two-handed push from Roman forced Shepherd to the ground. He lost the bout.
Afterward, he said he still felt ready for the next mission.
"The Army has really shown me that our body is capable of more than what we think," he said.
The Forge was long from over.
Next, the squad faced a mass casualty exercise. After a simulated ambush, six injured soldiers required a medical evacuation. Four of them were Americans, with minor injuries. Two were more severely injured enemies.
The evacuation truck only had room for four.
Pugil competition of The Forge combat exam at Fort Jackson
Trainees of the 3rd battalion and 39th infantry participate in the pugil competition of The Forge basic combat exam Tuesday, April 3, 2018 at Fort Jackson. The facets of the Forge are physical fitness, combat training, first aid, signal communication and shooting rifles using iron sights that began Sunday at midnight.
"It leads into an ethical dilemma," Slagle said. "Who goes first? Are we going to put the Americans on and forget the enemy?"
To make room for the injured on the truck, the Army offloaded the same stack of heavy equipment the recruits had already lugged five miles the night before.
Now, the two sets of 70-pound boards, the 20-pound ammunition can and the five 40-pound water cans would need to lugged again. This time, more than 4 miles to the next point.
"You have to do your part," Shepherd said. "As long as we all have that mindset and as long as we work together, we get it done, someway, somehow."
Before The Forge was over, Shepherd and his squad still had another round of hand-to-hand combat training, two obstacle courses and a rifle shoot in an ambush line.
The Forge ends with a ceremony.
"At that point, they're not called trainees anymore," Slagle said. "They're able to wear the Army beret. They put on the U.S. Army patch.
"By that point, they've earned it."