Utility workers scrambled to protect a coal ash pit from a rising river near Conway on Monday as Florence's floodwaters swamped two similar sites in North Carolina, raising fears of potential contamination from chemical-laden waste.  
The ash is a potentially toxic remnant from decades worth of coal burned to generate power in the Carolinas. Laced with heavy metals and arsenic, it poses a significant threat to rivers, wildlife and public safety if it escapes the pits, lagoons and basins in which it has been stored, environmental advocates say.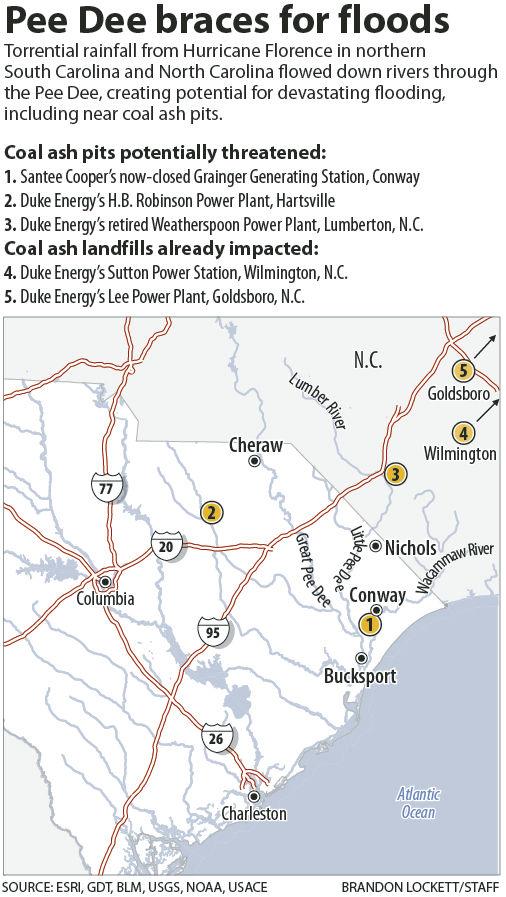 Consider that a massive leak from a Duke Energy plant near Eden, N.C., four years ago coated 70 miles of the Dan River with sludge peppered with arsenic, selenium, lead and other contaminants. One study put the environmental, health and recreational costs associated with the spill at nearly $300 million. 
That spill involved 39,000 tons of coal ash — just a fraction of the material contained in the utility basins and landfills that now lie in the path of swollen rivers and creeks still rising from the torrential rains Hurricane Florence dumped during its sloth-like march through the Carolinas. 
Over the weekend, flooding led to the partial collapse of a coal ash landfill at Duke's shuttered Sutton Power Station near the epicenter of the storm in Wilmington, N.C., displacing an estimated 2,000 cubic yards of ash, enough to fill about two-thirds of an Olympic-sized swimming pool. At Duke's H.F. Lee Power Plant about 90 miles away, near Goldsboro, the rising Neuse River invaded three old coal ash dumps capped with soil. Duke insists neither site presents a threat. 
Floodwaters from the Tar Heel State are expected to drain into South Carolina's already saturated Pee Dee Region over the next several days, bloating tributaries such as the Waccamaw River, which passes Santee Cooper's now-closed Grainger Generating Station and its large ash pits. The latest forecasts show the river could reach nearly 19 feet by Saturday, breaking the record set in 2016's Hurricane Matthew by more than a foot and placing it dangerously close to pits, which hold 200,000 tons of coal ash.
"The latest projection would put the river close to, but still below, the top of some sections of dike," said Mollie Gore, a Santee Cooper spokeswoman.
Fighting off floodwaters
Still, the utility is taking no chances. Work continued Monday to reinforce the site and get materials in place to plug potential leaks. Dozens of workers manned heavy equipment throughout the property as dump trucks continued to ferry in sand and other materials. Large pumps hummed as workers poured water in storage ponds to balance pressure on the other side of the dikes as the river rises.
Waccamaw Riverkeeper Cara Schildtknecht said Santee Cooper has been keeping her group informed every step of the way and mounting an all-out effort to secure the site. A coal ash spill would be devastating to the Waccamaw, degrading its water quality, fouling its sediment with heavy metals and potentially infecting the food chain it supports, she said.
"It would be awful," she said. "We definitely don't want to see that happen, Santee Cooper doesn't want that to happen and they are doing their best to prevent it."
The Moncks Corner-based utility has removed nearly 90 percent of the 1.5 million tons of coal ash that once resided at the site, Gore said, and the remainder should be gone by the end of the year or early 2019. 
While that's commendable, the material that remains can still prove a dire threat if there is a breach, said Frank Holleman, an attorney with the Southern Environmental Law Center, which spearheaded a lawsuit that precipitated the Grainger cleanup. A major concern is the high amount of arsenic, a known carcinogen, that would likely be injected into the river, he said.
"The same threat was there during (Hurricane) Matthew, but Santee Cooper was then able to avoid a catastrophe and, in the two years since, has accelerated the ash removal," he said. "But this flood could well be worse than that."
Other threats
Holleman is also concerned about the potential flooding impact on two other Duke Energy sites, the Robinson Power Plant in Darlington County and the retired Weatherspoon Power Plant near Lumberton, N.C. About 3.2 million tons of coal ash are located at Robinson; another 2.2 million tons at Weatherspoon, not far from the Lumber River, according to Duke.
Holleman said the Robinson plant sits along Lake Robinson, close to rural Chesterfield County, which has seen massive flooding since Florence dropped 20 inches of rain on its doorstep. Serious concerns have lingered for years about whether the dam protecting the coal ash basin there could withstand a major flood, he said.
Floodwaters have already made their way into a cooling pond at the Weatherspoon plant, Holleman said. If they swamp the ash basin as well, contaminated water could end up in the Lumber River, which flows into South Carolina, ultimately joining the Little Pee Dee River as it courses into the Waccamaw and Winyah Bay, he said.
Erin Culbert, a Duke Energy spokeswoman, said the utility is monitoring both sites but no sees immediate threat to either location. There is no indication flooding is impacting Robinson at all, she said. At Weatherspoon, water from an adjoining creek did get into a cooling pond that contains no coal ash, but that water has already begun to recede. As for the ash basin on the property, "we don't have any concerns about it," she said.
Duke has also downplayed threats from the breach at the Sutton plant near Wilmington. The Associated Press reported that Cape Fear River Watch, an environmental advocacy group, released images that show cascades of gray-colored water spilling from at least two breaches at the landfill and flowing toward Sutton Lake, the plant's former cooling pond, which is now used for public recreation, including fishing and boating. Sutton Lake drains into the Cape Fear River.
Culbert said she has seen the photos and the gray water appears to be sandy material from a section of the landfill that is under construction, not ash. Most of the 2,000 cubic yards of ash that were displaced by a collapsing slope there were caught in a retention ditch, though some rainwater that may have come in contact with the ash might have reached Sutton Lake, she said.
"We do not see this as a concern for the environment or the public," she said.
Andrew Brown contributed to this report.