COLUMBIA — Some 10,000 teachers and supporters assembled on a school day Wednesday in South Carolina's state capital to protest, march and speak for improved working conditions.
The turnout matched one of the largest Statehouse crowds in recent memory. About 10,000 also turned out in 2015 to watch the Confederate flag being removed from the grounds.
If there was one slogan that summed up the frustrations and aspirations of the day it was a chant that teachers repeated again and again, thundering at the base of the Statehouse steps: 
"We teach. We vote."
The teachers, organized by the teacher advocacy group SC for Ed under the social media hashtag #AllOutMay1, have been asking the Republican-controlled state Legislature for higher wages, smaller classroom sizes, more mental health counselors in schools and full funding of the state's promises to students.
With just a week-and-a-half notice, the protest movement swelled in numbers, forcing seven school districts to cancel classes due to a lack of substitute teachers.
"It is powerful to feel positive about education again," said Dottie Adams, a teacher at Hand Middle School in Columbia and an SC for Ed board member. "We have been beaten down, and today felt like a shot in the arm. We're in this together. This is the beginning."
On the march
Teachers used personal leave days to go to Columbia for a single day, unlike the teacher strikes and walkouts that shut down schools for weeks at a time last year in other states, including West Virginia and Oklahoma.
The seven school districts and single charter school that closed serve a combined 123,000 students, or about one of every six public school students in the state. Some of the students from those districts took the day to protest with their teachers, including several teacher-cadets from Ashley Ridge High in Summerville and Spring Hill High in Chapin.
The project, Minimally Adequate, is the result of an eight-month investigation into South Carolina's troubled education system, which ranks among the nation's worst.
"We're future educators too, so this affects us," Kyle Fersner, a senior at Ashley Ridge, said.
Sage Wright, an eighth-grader at Palmetto Scholars Academy in North Charleston, traveled to Columbia with his father, teacher Junius Wright. He carried a cardboard protest sign that read, "My dad is a teacher and I qualify for Medicaid."
The protest spanned generations, including some participants who remembered a time when South Carolina's workforce was less docile.
Louise Brown, one of the invited speakers on the Statehouse steps, participated in the Charleston hospital strike of 1969, when black nurses fought for better pay and working conditions as well as collective bargaining rights. That strike marked one of South Carolina's tensest moments in the civil rights era.
"I'm seeing the same thing today: overworked and underpaid. ... I think they have a right to be out here," she said as she walked into the crowd.
Messages from the top
The protest began with participants gathering at the S.C. Department of Education office, two blocks from the Statehouse in downtown Columbia. State Superintendent Molly Spearman, who has condemned the protest, was not present. She said she would be substituting at a Midlands school for the day.
Spearman's name came up often in speeches and protest signs. The Republican superintendent, who is a former teacher, rankled teachers statewide Monday morning when she joined a chorus of top Republican leaders criticizing the planned protest, saying, "I cannot support teachers walking out on their obligations."
During a speech, state Sen. Mike Fanning, D-Fairfield, accused Spearman of bullying teachers.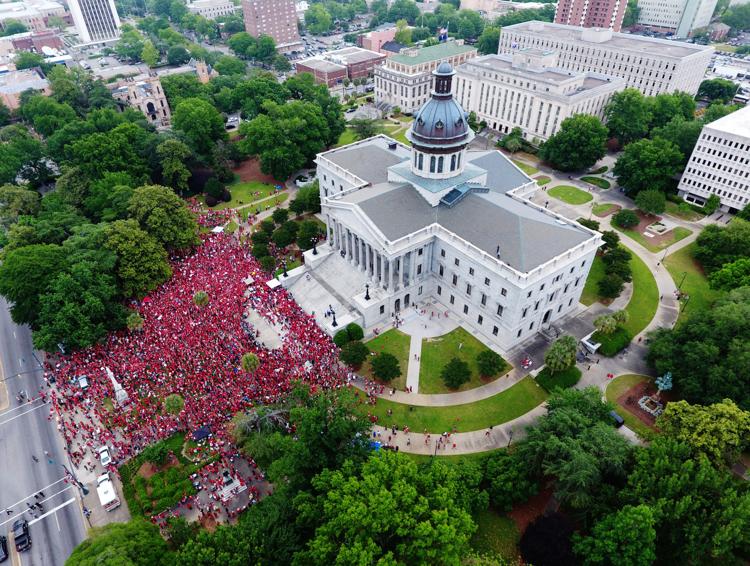 At 9:45 a.m., protesters marched the two blocks to the Statehouse. The Soda City Brass Band brought up the rear, providing a jazzy accompaniment as the crowd surged onto the manicured Statehouse lawn.
At a booth near the center of the action, protesters were given contact information for their state legislators. "Feel free to contact them, daily," a volunteer said.
Speakers took turns giving speeches on the Statehouse steps, including CNN political analyst and former state Rep. Bakari Sellers, several teachers and students, and Sariah McCall, a former Charleston County teacher whose resignation letter was widely circulated after being published in The Washington Post.
In a speech rich with biblical allusions, Sen. Fanning compared the teachers' protest to the Israelites who wandered in the wilderness for 40 years. Fanning, one of the few state legislators who joined the teachers, was highly critical of the Republican-led effort to overhaul the state education system this year.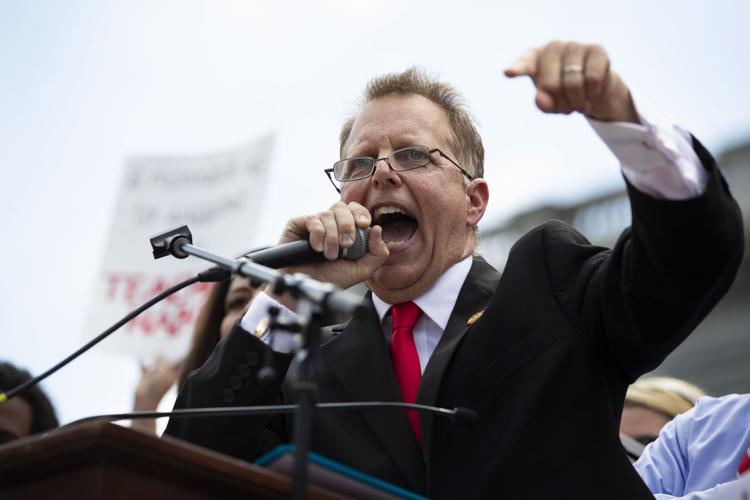 "We're going to march around the Statehouse just like Joshua led the battle of Jericho," he said. "I want you to yell so loud those Statehouse walls come tumbling down."
The teacher action drew the attention of at least eight candidates seeking the Democratic nomination for the presidency in 2020. Sen. Kamala Harris of California held a roundtable event with teachers Tuesday in West Columbia, and Sen. Elizabeth Warren of Massachusetts spoke with SC for Ed organizers via a conference call at noon.
South Bend, Ind., Mayor Pete Buttigieg, Beto O'Rourke of Texas, Sen. Bernie Sanders of Vermont, Sen. Cory Booker of New Jersey, Julián Castro of Texas, and former Vice President Joe Biden tweeted messages of support for the teacher rally. "This can't wait any longer," O'Rourke wrote.
Said Biden: "Teachers around the country and in South Carolina deserve to earn a living wage and have smaller class sizes so that America can continue to out-educate and lead the world." 
Quiet in the House
There was far less activity inside the Statehouse. Some lawmakers came to the doors at the top of the steps to gawk. A few went outside to listen for a few minutes before coming back in.
House Speaker Jay Lucas, a Republican from Hartsville, said in an interview he was frustrated that the legislative process had ground to a halt. A massive education overhaul bill stalled out in the Senate last week, meaning that any major changes to the education system or its funding formula will likely have to wait until 2020.
Lucas said he wants to continue hearing teachers' input, but he worries their rally will backfire.
"What I worry about with the rally itself is that support in the House will begin to erode for education reform, something none of us wants to see," Lucas said. "We are desperate for input from anybody who can help us with these issues ... A lot of energy outside could be better directed."
The state budget for the 2019-20 fiscal year will likely include a raise of 4 to 10 percent for all teachers, with newer teachers receiving the larger raises. None of the funding inequities that were highlighted in a landmark 2014 S.C. Supreme Court decision, Abbeville v. South Carolina, have been addressed.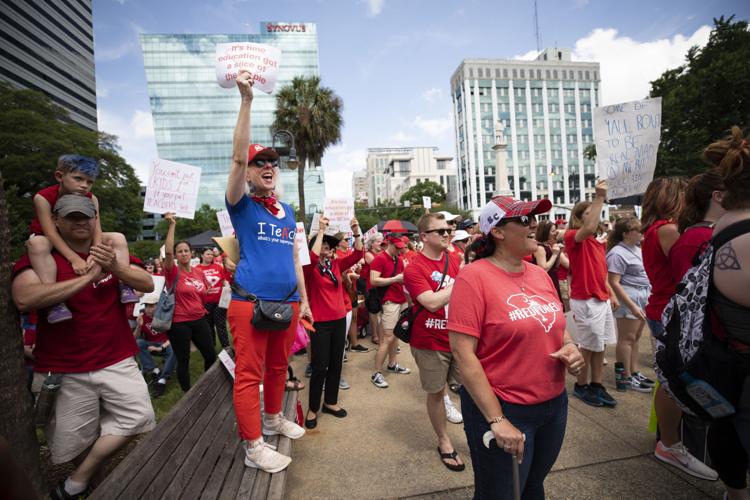 Like Spearman, Republican Gov. Henry McMaster invoked the scorn of teachers this week when he said in a statement that "teachers leaving their classrooms sends the wrong message to students." 
While McMaster said he wanted teachers to stay in school, he said the rally would be "helpful" in demonstrating the energy around the issue to state lawmakers. 
"I'm frustrated, they're frustrated, parents are frustrated, everybody's frustrated," McMaster told The Post and Courier in his Statehouse office while the roars of the rally could be heard outside. "I think everybody knows we have to fix our weak spots in education or we risk losing a lot."
McMaster reiterated his calls for the Senate to pass a bill as soon as possible so that lawmakers could work out any differences between that and the House proposal this year.
It was not immediately clear what portion of the crowd consisted of teachers. Teacher organizer Nicole Walker said the protest had 6,672 RSVPs on Eventbrite as of Wednesday morning, a figure that included both teachers and supporters. The state Department of Public Safety's estimate at 11 a.m. placed the total number of participants at 10,000.
"We will absolutely be planning a follow-up rally for the fall," Walker said, "and we hope the Legislature will understand that the tardy bell has rung."
Seanna Adcox, Jamie Lovegrove, Andy Shain and Mikaela Porter contributed to this report.