MOUNT PLEASANT — The gated Dunes West community's property owners association has announced plans to take traffic enforcement into its own hands, threatening to sanction residents if they or their guests are caught speeding.
"The Mount Pleasant Police Department alone cannot protect our residents from the dangers of speeding vehicles, or encourage drivers to drive more safely on our private roads," wrote Tom Boyer, president of the Dunes West Property Owners Association Board, in a letter posted on the association's Facebook page.
The plan immediately drew critical comments on Facebook from dozens of residents, such as: "Poorly developed plan with zero community input" and "I'm pretty sure this is not legal" and "This is absolutely insane!!"
In an online poll within the community, more than 90 percent of those responding opposed the plan.
"Everyone's got their blood pressure up, since yesterday afternoon," resident John Heaney told The Post and Courier. "I think what upset a lot of people was the suddenness, and after the announcement, the imperiousness of the board."
Under the announced policy, repeat offenders could have the bar codes that residents use for gate access suspended. That means they would have to wait in line for a security guard to allow them into the community.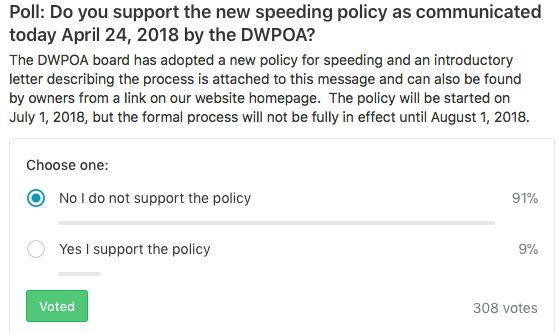 Boyer, Community Manager John Watkins, and board Vice President Chris Orza did not respond to telephone messages seeking comment.
"I think it's going to be a legal question, how far they they can go with this," said Mount Pleasant Police Lt. Pat Carter. "We're not saying they can't, or can."
What homeowners associations can and cannot do is generally covered by the covenants and restrictions that residents agree to when they buy or rent in such a community. An association couldn't issue a traffic ticket but could fine a resident for violating rules prohibiting overnight on-street parking.
"While a property owners' association may be able to assess and collect such fines and penalties, such action would be strictly a private matter between the association and the violator," the S.C. Attorney General's Office said in a 2001 opinion about traffic enforcement.
The Dunes West plan calls for sanctions against owners if they, their guests, or their tenants speed.
Carter said the department has put radar detectors in Dunes West to collect data about speeding and did not discover big problems there.
He said police departments in South Carolina aren't allowed to issue speeding tickets based on electronic monitoring and photographs, as the Dunes West association proposes.
"As a police department, we have to witness it," Carter said. "The ticket cameras, like you see in other states, have been struck down in court in South Carolina."
The Dunes West Association announced that it would use "an electronic speed measuring and recording device" to monitor speed on the community's private roads, and photograph offending vehicles and their license plates.
A first offense, by a resident or their guest or tenant, would bring a warning to the property owner. After that, the association threatened to suspend all bar codes — the codes that allow residents to avoid waiting in the security line at the entrance gate — for the offending household.
Town Councilman and attorney Kevin Cunnane lives in Dunes West. He declined to offer an opinion on the association board's decision but said he trusts the police to handle speeding.
"I'd prefer to let the professionals handle it," he said.