Almost four decades ago, the city of Charleston got serious about collecting parking tickets: It computerized its records and bought its first locking metal boots to immobilize cars until their owners paid up.
Parking downtown hasn't gotten any easier since.
Altogether, downtown motorists discover about 400 parking tickets on their windshields each day. And this time of year is when the parking crunch is felt anew, as grade schools and colleges start back up and locals return from vacation.
So here are 20 things to know while navigating Charleston's ever-evolving parking scene:
1. Relax and realize you might not be able to park close by. In fact, if you see an empty on-street space a block or two before your destination, consider taking it. You might find a closer spot, but you also might kick yourself for passing it up.
2.  Don't ignore parking tickets. It might have been possible decades ago to let a few slide, but the city will boot cars or trucks if they have accumulated $200 or more in unpaid tickets.
3. Pay on time. Missing the city's deadline adds between $9 and $20 to the fine.
4. Consider appealing. Those who feel they were ticketed unfairly, or who simply hope for a mulligan, can seek a hearing at the city's offices at 180 Lockwood Blvd. But there's an associated cost; The wait can be 30 minutes or longer. How much is your time worth?
5. Mind the markings. A yellow-painted curb means parking is a no-no there, and cars parked outside the painted parking lines also may face a $10 ticket — the cheapest ticket the city issues, but still.
6. Mind the signs. Residential streets (without parking meters) are fair game, and nearby signs will explain whether the limit for parking there (without a residential sticker or guest permit) is 1, 2 or 4 hours.
7. If parking in a one-hour neighborhood zone, you probably have 90 minutes. If the restriction is for 2 hours, you're probably fine for 2½ hours. Parking enforcement officers are diligent, but they are not able to track the exact time you park on a neighborhood street. Consider the limit a suggestion, not a hard deadline. But know the more you push it, the more you risk a ticket.
8. Mind street-sweeping signs. Currently, several neighborhoods (west of King Street, between Broad Street and Hampton Park) prohibit on-street parking on certain dates so city street sweepers can do a better job. This only applies one day a month, on different days in different neighborhoods. Unfortunately, these streets are largely empty on those days (and therefore a tempting place to park). But such tickets cost $45, and your vehicle could be towed at your expense.
9. Don't block the sidewalk. Even if you have a homeowner's permission to block their driveway, you run the risk of a $45 ticket if you block the sidewalk (because it limits handicapped access).
10. Downtown workers have a new option. The city's new HOP shuttle runs from Morrison Drive and Conroy Street to various sites downtown. Designed for city hotel and restaurant workers, it can be used by anyone. Parking is $5 a day; the shuttle is free.
11. Sunday morning is easy parking. To help downtown religious institutions, the city allows some free parking Sunday mornings inside certain garages. Parishioners can ask their church leaders for details about this.
12. Don't feed the meter. The whole idea behind parking meters is to generate turnover in front of businesses, and enforcement officers keep track.
13. If you're parking in a neighborhood, you can move your car from one space to another to avoid a ticket for staying there longer than the one-, two- or four-hour limit. Enforcement officers don't use chalk to mark tires there. Instead, they track a vehicle's license plate and the relative position of the valve stems on its tires.
14. Disabled people have help: State law allows those with a handicap placard to park for free at any time on city streets and in its lots and garages, but this doesn't apply to privately owned lots (such as the two surface lots off King Street, just south of Calhoun, that used to be managed by the city but now are managed privately).
15. Don't worry about change. City parking meters were retrofitted recently to accept credit cards, and they also still accept SmartCards, which provide a refund for time not used. (SmartCards are for sale at 180 Lockwood Blvd. and at the Charleston Visitor Center, 375 Meeting St.)
16. Don't park facing the wrong way. All cars parked on city streets must face the direction of traffic, per state law. Those parked in the wrong direction may get a $22 ticket.
17. Move your car at least weekly. Even those with a residential parking sticker must move their car once ever seven days — or an officer might consider it abandoned. Downtown residents going on a long vacation may notify the Charleston Police Department to let them know.
18. Look for commercial loading zones in the evening. These on-street spaces are restricted only to vehicles identified by commercial markings and bearing a commercial license plate that are loading and unloading, usually between 5 a.m. and 7 p.m. (check the sign). Outside that time, they're fair game for the rest of us.
19. City garages are a relatively good deal. Recent changes to the city's parking meters make them no cheaper than city garages, which already have been charging rates well below some privately owned parking lots. The city also offers some breaks, such as flat $5 deals after 5 p.m. at the Visitor Center and 93 Queen St. garages.
20. There are rules for bikes, too, at least on King Street. It used to be OK to lock your bike to a King Street parking meter or sign, but that's now a no-no since the city provided on-street bike corrals.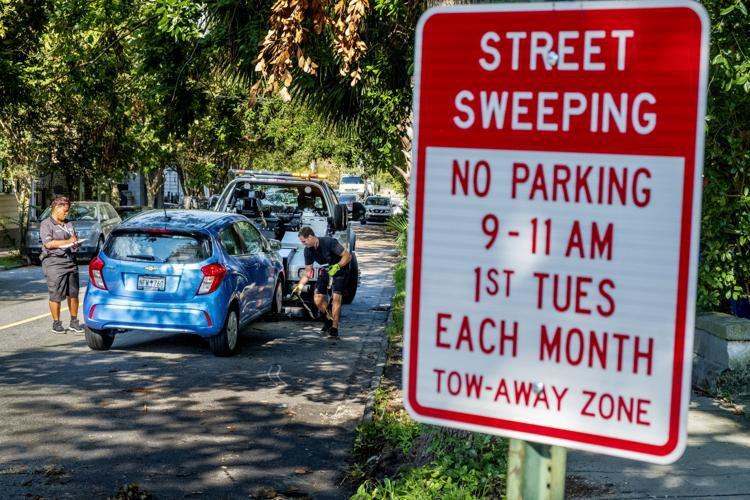 Parking history 
Newcomers arrive daily and join the locals in trying to find the closest, cheapest and safest place to leave their car.
They aren't the only ones trying to get their arms around the city's parking picture. The city recently hired a consultant to do a peninsula parking study — the first comprehensive study in 20 years — that will delve into its number of on-street and off street spaces and what parking might look like here in 10 years.
City Transportation Director Keith Benjamin said the study — which will involve a major public input session this fall and could be done by year's end — also aims to evaluate how public transit and housing plans affect parking needs.
"As long as decisions are made in separate boxes, it's going to be harder for every citizen ... to see why X solution was come to and how it does or doesn't benefit them," he said. "I think there's efficiencies about our parking that have not been executed yet."
The city recently doubled its parking rates at its 1,700 parking meters to $2 an hour, and they're now enforced until 10 p.m., four hours longer than before. The new study will shape further city decisions about parking rates, new garages, supply of on-street parking, park and ride programs, and residential parking rules.
The crunch is compounded a little by a plethora of cars and trucks with commercial license plates, which some feel leads to abuse of the city's loading zones. 
For the city, parking is big business. Last year, it netted more than $20 million, mostly from city lots and garages. Only $1.4 million came from parking meters and metered lots.
That doesn't include income from parking citations or the more than 12,000 residential parking permits sold in a year.
For those new to parking here, mistakes are inevitable. Claire Walters of Queen Street recently found her silver Jeep being hooked up to a tow truck because she had forgot it was the one day each month city streetsweepers come through.
"Luckily, I got to the car fast enough that with a $50 fee, I could get it unhooked before it was towed," she said. "With it being summer, I lost track of the days."
Walter notes the city used to send someone down her street with a megaphone urging people to move their cars on streetsweeping days.
That's not done anymore, so the following advice can serve as a sort of different of warning for people eager, like Walter, to minimize their parking pain.