Over the years, residents of Enston Homes apartments have weathered termites, poor ventilation and floodwaters that have swallowed several of their cars whole.
But the real crisis arrived with the mail a few weeks ago: letters notifying some that they were getting kicked out of the affordable housing property on Huger Street.
Now, everyone's worrying who will be next, and how soon they might need to find another place to live. 
Officials with the Charleston Housing Authority, which owns the property, say the 13 two-story duplexes need substantial structural repairs that can't be done while people are living there. But they have repeatedly said they can't answer residents' questions about the process because the company overseeing the renovations hasn't signed a contract yet.
For some, the vagueness is almost as stressful as it is for those who have already been told to move out. Most of the two-bedroom units are priced around $925 to $950 a month, according to multiple residents. Finding anything else in that price range is next to impossible on the peninsula these days, with most apartments in the area going for $1,600 a month or more.
One young couple living in one of the Enston apartments, Alexis Collins and Granger Ratterree, who both work downtown, received a letter in early July notifying them they'd have to be out by Aug. 31. A few weeks later, on July 20, Collins' Volkswagen Beetle was flooded and possibly totaled thanks to the area's poorly drained streets.
"If my car is a total loss, I'll have to find a new car and a new apartment at the same time," she said last week.
Ratterree said the couple would probably want to move out soon either way because the termites have gotten so out of control that they have to tape up holes in the wall to keep the pests from getting out and flying around the apartment. But up until a few weeks ago, they had no idea the unit had these issues, and now they're being thrown into the housing market on short notice.
"It's almost August, which is the time when students come back and everything has more or less been signed. What's left is either very expensive or not centrally located," Ratterree said on Friday. 
Others are worried they'll be in the same situation soon.
Margaret Tilson, 62, moved into her unit four years ago after going through a divorce. She owns and operates a home cleaning service but often worries if she'll even be able to find another home of her own if she's asked to leave Enston Homes.
When a flood last year wrecked her new car while it was parked outside her apartment, it also damaged her finances, making it difficult for her to get her credit score back to normal. Now, landlords at other apartments are saying her credit means she'll be required to pay double the security deposit, a sum of $6,000 on one property downtown. It's insulting, she said.
"I am a trusted servant of this community," she said. "I contribute to the economy here." 
Long-standing problems
The Charleston Housing Authority built the 13 brick duplex apartments on Huger Street in 2007 as workforce housing, which is different from public housing because it's not subsidized with federal funds. The rent is just priced lower than the market rate to serve people earning less than the median income.
Shortly after they were built and leased, the authority found out some of the units had termite problems. Inspections revealed that the soil under the properties hadn't been treated for termites. Making matters worse, the buildings weren't properly ventilated, and therefore retained moisture — creating a perfect breeding ground for termites and a host of other issues, according to Don Cameron, executive director of the authority.
The authority ended up suing all the contractors and subcontractors involved in the project in 2012, which was ultimately mediated and settled for $4 million about a year ago. That will more than cover the cost of the repair work, which is expected to cost at least $771,000. 
Cameron said people were allowed to continue living there because it wasn't an unsafe environment. 
"In no cases was it any sort of life and safety issue. But at the same time, it was clear that the problem was going to get worse and as time went by it would accelerate in the interior of the building," he said.
In 2017, annual leases were not renewed because the authority planned to begin making the repairs by fall of this year. Residents say they don't understand why they were never informed of that. 
"It's absurd I was allowed to move in while the lawsuit was going on and they had these termite issues," Ratterree said. "None of that was made aware to me before or after I moved in."
Where will they go?
Residents in the authority's workforce housing properties don't have the same legal protections as those living in federally subsidized housing. They don't have formal tenant boards to represent their interests, for instance.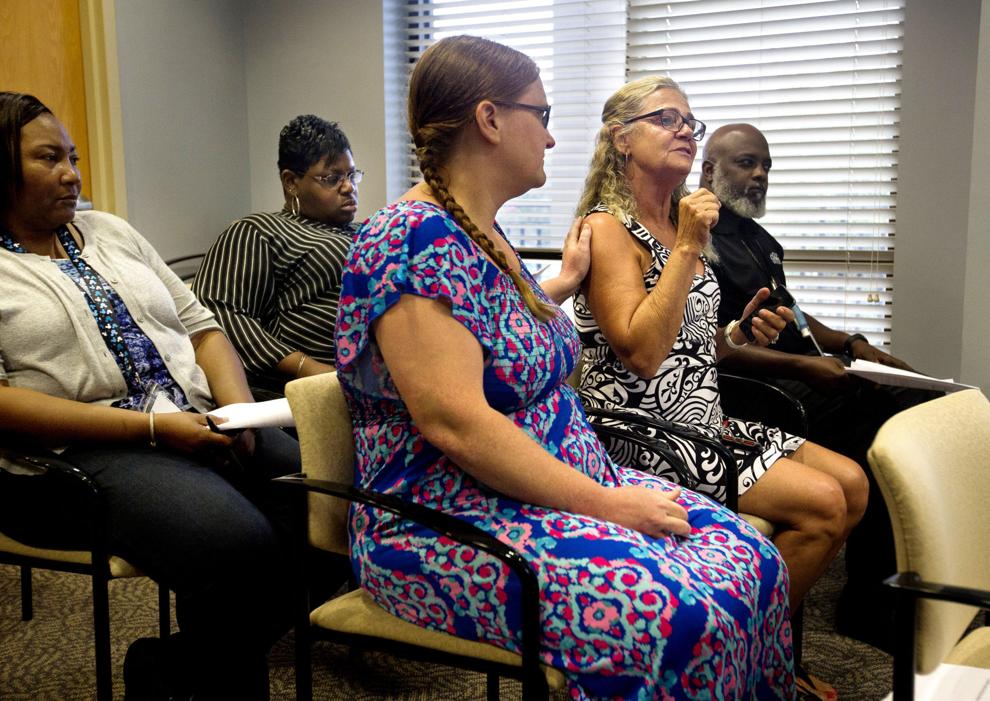 But Margaret Tilson and another resident, Sara Miller, are working together in an effort to make the authority more responsive to their concerns. 
They went to the authority's board meeting on July 23 to demand that staff meet with the Enston residents in the next 30 days and explain what's going on. Cameron said he's making sure it's scheduled by the end of August.
Miller, 38, works at a publishing company in Mount Pleasant. She moved into the Enston Homes four years ago after getting priced out of another apartment complex on the peninsula.
Her arms are badly bruised from trying to push her Honda Civic out of the water during the recent flood, but she was too late to save it.
Now, she's driving a rental car waiting to see how much her insurance company will cover. If she has to leave Enston Homes, she's pretty sure she'll have to leave the peninsula, where she's lived for 16 years. She said it's even worse for some of her neighbors, who are single parents or elderly people just trying to make ends meet.
"All of the residents of the Enston Apartments are in the area between making too much money to qualify for government assistance and too little money to afford to live here in Charleston — anywhere in the metro area, not just downtown," she said in the meeting. 
Cameron said late Monday after the story was published online that the plan is to only move people out of four or five units at a time. The first group would have to leave the property, but the rest of the residents would be able to move into the renovated units while theirs are repaired. When all the work is done, the initial group could return to their units, but there is no specific date when they could come back.
None of this information was explained to the residents in the written notices they received, nor was it provided to the newspaper in earlier interviews.