In the time it will take for South Carolina's stockpile of weapons-grade plutonium to decay, you could repeat most of human history, starting back in the Stone Age.
By the time its byproducts lose the explosive potential to be used in nuclear weapons, some 7 billion years will have passed. The Earth itself will have doubled in age, and then some.
The U.S. government will officially decide in the next few years where the plutonium — the metal used to trigger nuclear weapons — will spend that eternity. And when it does, it will ask another part of the country to bear a profound burden: to house thousands of barrels filled with scraps of the Cold War and America's nuclear arms race, a legacy that may well outlast our civilization.
That question will soon be posed to New Mexico, where the U.S. Department of Energy has excavated cavernous vaults deep below the ruddy soil in the state's southeastern corner. The government hopes it will eventually hold tons of plutonium it has decided it no longer needs — enough to build a few thousand bombs the size of the one dropped over Nagasaki, Japan.
If New Mexico says yes, the Energy Department will bury some 20,000 steel drums deep underground there, in a ribbon of salt as thick as Charleston's Ashley River is wide.
If it says yes, trucks will carry the plutonium load by load down Interstate 20 for the next three decades, and workers will lower it almost half a mile underground, where it will await its final fate: the mine's slow collapse, and salt entombing it forever.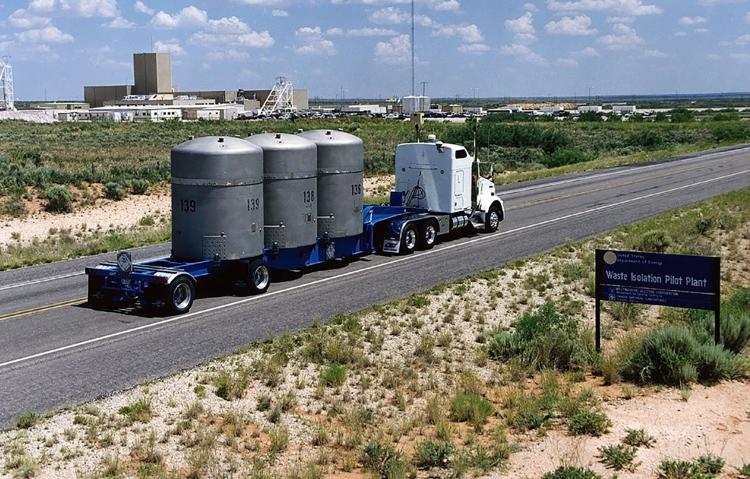 And if New Mexico says yes, South Carolina will secure a new home for a nuclear stockpile it was wary of taking in the first place.
The problem is, New Mexico isn't sure if it will say yes.
A new path
The U.S.'s policy for disposing of plutonium has been in limbo for years.
Congress had long planned to burn the material in commercial power plants, altering its atomic structure and making it harder to use in bombs.
But the Energy Department's project to convert plutonium into reactor fuel was deeply flawed: It started building a factory to do that work before it had a complete design, and it later discovered that finishing the plant would cost billions more than expected and stretch into the middle of the century.
So the department proposed an alternative. It would convert its plutonium into a fine powder, and it would hire dozens of people in South Carolina to dilute it by hand, working in shifts around the clock.
They would blend it with a secret combination of chemicals called "stardust," designed to make it difficult to get the plutonium back out. When mixed with plutonium, stardust is said to foam up, create a gel and harden like concrete. Department officials have said the final product looks like sand on the beach. They've said it would save billions of dollars.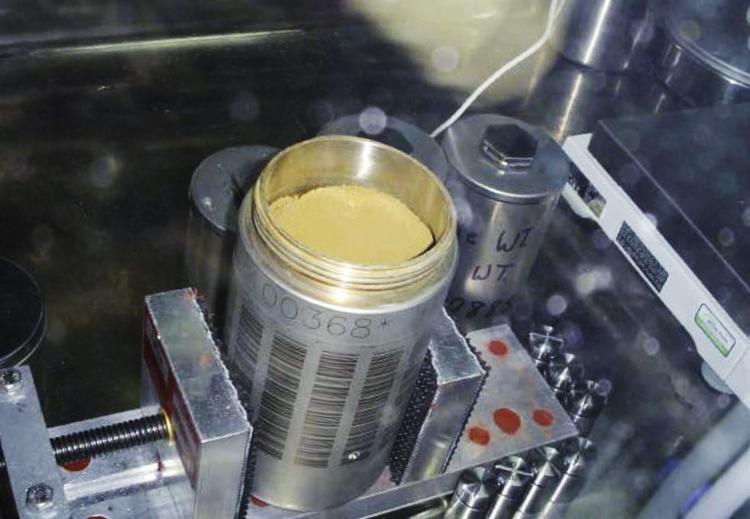 Still, at the urging of South Carolina's congressional delegation, federal lawmakers resisted that idea. They feared other countries like Russia wouldn't believe the plutonium was gone for good. And they didn't want to let go of the fuel-making project, which employed more than 1,000 workers at the Savannah River Site, a federal installation on the state's western edge.
Congress finally changed course in 2017, allowing the Energy Department to kill the fuel project and send construction workers home. The agency did so last year.
But lawmakers haven't fully embraced the Energy Department's proposal to blend plutonium with stardust. They have voted to let the department develop more detailed plans and start buying equipment that will take a few years to build, but they haven't faced the more expensive budget requests that will be required to run the program at full capacity. A House committee ordered a report this year on the project's costs and hurdles, even as it voted to fund its design.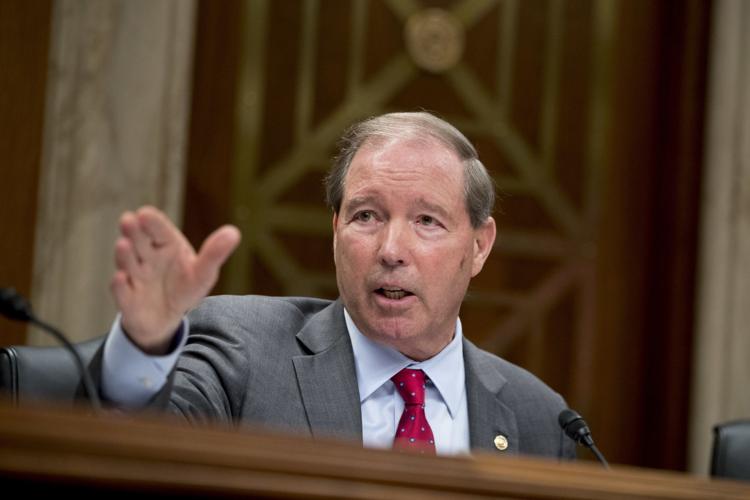 U.S. Sen. Tom Udall, D-New Mexico, holds a key position in the program's future. He is the state's senior senator, and he sits on a Senate panel that steers the Energy Department's budget and decides which of its projects get funded.
That's important because Udall doesn't support the idea of sending plutonium to his state.
When New Mexico gave the Energy Department permission to build a salt mine for radioactive waste, the federal government set limits on how much waste it would take and what kinds could go there. It also projected that the site would stay open for only a few decades.
The government's plutonium plan would require an extension, and the facility, which is known as the Waste Isolation Pilot Plant, or WIPP, risks running out of space before all the plutonium gets there.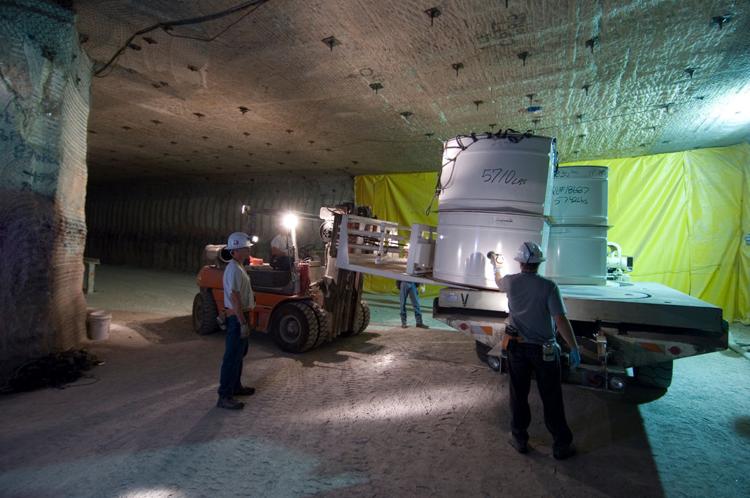 Udall is concerned about WIPP taking diluted plutonium it wasn't initially designed to take and the "long-term implications of WIPP accepting new waste beyond its capacity," his press secretary, Annie Orloff, says. The state's junior senator, Martin Heinrich, did not respond to requests for comment.
Udall's leeriness sounds a note of caution for the prospects of the Energy Department's plutonium plans.
And even if Congress overcomes his reluctance, the federal government will still need to convince the state of New Mexico.
An eternal decision
It has been five years since the Department of Energy began floating the idea of burying plutonium in New Mexico, and a year since it gave up on plans to burn it as fuel.
But the state of New Mexico and the Department of Energy have not been in close contact about the federal government's new plans, state officials say.
The federal government "has not sought the state's opinion on this proposal" and Gov. Michelle Lujan Grisham "has not been consulted" by the Energy Department since taking office in January, said Maddy Hayden, a spokeswoman for the New Mexico Environment Department.
A spokesman for the federal Energy Department said the agency had not had formal talks with New Mexico officials, but it has had "a number of discussions" informally with state staff.
In the meantime, New Mexico officials say they haven't taken a position on burying diluted plutonium in their state. And they say they won't until the Energy Department consults them.
The state will have a say on the issue eventually. The New Mexico Environment Department will decide next year whether to renew the government's permit to dispose of waste at WIPP. And the Energy Department will need to make changes to its permit in order to send all its plutonium there, according to government studies of the plan's viability. That will give the state another opening to weigh in.
When that happens, New Mexico will do what it has done since the days of the Manhattan Project. It will weigh the benefits of federal money and jobs flowing into one of the nation's poorest states against the long-term impact of hosting its nuclear work.
Policymakers often feel the acute urgency of bringing high-paid work to New Mexico, said state Rep. Angelica Rubio, chair of the New Mexico Legislature's Radioactive and Hazardous Materials Committee. The state has the nation's second-highest poverty rate and one of its highest rates of unemployment.
Rubio says the state has long fallen into a habit of thinking, "'We don't have enough to provide for our people, so let's bring in all the nuclear.' That's just been our history over the last 80 years."
In Carlsbad, a city of about 29,000 near the WIPP site, John Heaton says he'll take the jobs.
Heaton, who chairs the Carlsbad Mayor's Nuclear Opportunities Task Force, is the region's top nuclear-industry booster. He supports expanding the mine and its lifespan, deepening the area's role in cleaning up the nation's nuclear weapons complex.
He says he's undeterred by the prospect of bringing plutonium to WIPP, because WIPP has already taken plutonium. The Energy Department's method of diluting plutonium has been used before, and a few metric tons of the stuff have already made it to New Mexico.
"It's nothing really new for WIPP," Heaton said. "From Carlsbad's position, we really have no concerns about it. It's no different than anything we're presently taking, and no different than what we have taken before."
But the state is not of one mind.
Nuclear watchdogs like Don Hancock, administrator of the Albuquerque-based Southwest Research and Information Center, argue that WIPP was intended to clean up detritus from nuclear-weapons factories and labs, like contaminated clothing and tools. It wasn't supposed to take the material they produced.
"The understanding was that it's a limited amount of stuff and we knew what was coming. DOE likes to call it gloves and booties," Hancock said. "Gloves and booties are not surplus weapons-grade plutonium."
Former U.S. Energy Secretary Bill Richardson agrees. He angled for environmental protections at WIPP as a congressman, he cleared the first waste shipments to WIPP when he ran the Energy Department in the late 1990s, and he went on to become the governor of New Mexico.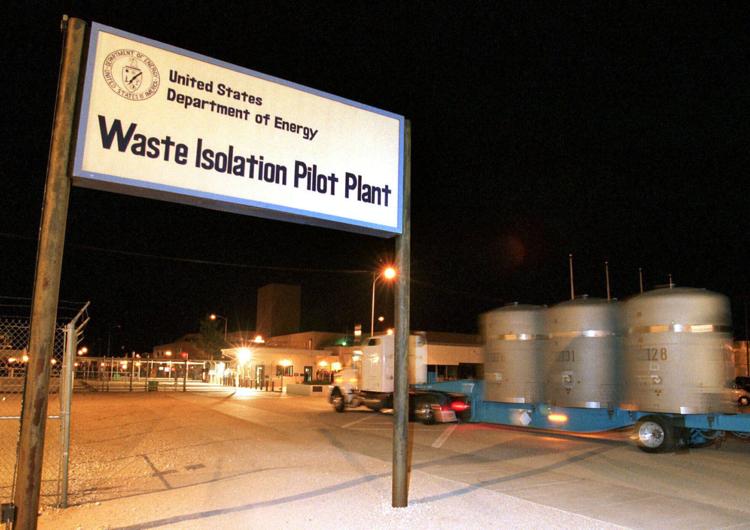 "The deal I made was that it would be a repository for low-level transuranic waste. That's it," Richardson said. "DOE wants to site plutonium at WIPP, take it out of South Carolina — I said no … New Mexico has done its share of low-level transuranic waste. We contributed to the waste problem positively by having the facility."
What's more, Hancock says, the U.S. doesn't need to rush into a decision about the plutonium it no longer needs. It's storing tons of plutonium it might want in the future, so it will pay to safeguard huge amounts of material no matter what.
And by pressing forward now, the government is foreclosing on putting it someplace else.
A hot potato
WIPP was supposed to be a demonstration for the rest of the country, a test run to see if nuclear waste could be buried in salt elsewhere.
It wasn't meant to become America's only nuclear repository — "pilot plant" is in its name — yet today it is. Watchdogs say that by tabbing thousands of barrels of plutonium waste to go there, the Energy Department is reshaping the mine's purpose.
"What it (implies) is quite dramatic expansion of the Waste Isolation Pilot Plant or another WIPP-like facility somewhere," said Jay Coghlan, director of Nuclear Watch New Mexico, another watchdog group.
Energy Department officials have left open the possibility of building another mine for nuclear waste, and geologists have identified salt deposits all over the country, from the Southwest to the Gulf Coast to the Northeast. Former Energy Secretary Ernest Moniz told Congress in 2016 that America's surplus plutonium didn't necessarily all have to go to New Mexico.
The Energy Department is also considering the possibility of moving South Carolina's plutonium stockpile to a new underground bunker in the panhandle of Texas, The Post and Courier and Aiken Standard reported this year. The department's nuclear-weapons agency says it has finished a conceptual design for the facility, and it expects to advance the plan within the next year.
Still, that would only be a temporary measure, not the material's final resting place.
The U.S. has no immediate plans for another nuclear-waste mine, and the material in nuclear weapons has historically inspired fierce resistance from its prospective hosts, setting off a nationwide game of hot potato that has so far ended in New Mexico.
And in New Mexico, the Energy Department is handling the possibility of plutonium disposal the way it has long handled nuclear waste, said Richard Muller, professor emeritus of physics at the University of California at Berkeley. It has looked to scientists and policymakers to lead the search for permanent repositories, only later consulting the states and communities that will be asked to house them.
"They come up with a plan and then they reach the stakeholders and try to convince them," said Muller, who is now chief technology officer of the nuclear waste disposal startup Deep Isolation. "If you're going to ship it to the WIPP site, you certainly have to talk to people at the WIPP site. You have to talk to the local community at the WIPP site. You have to talk to the state."
When the Energy Department looked to South Carolina around the turn of the century to store surplus plutonium just temporarily, the state's governor threatened to lie down in the highway to block it. He dispatched troopers to look for inbound shipments and tried to ban them until a federal judge told him his resistance was unconstitutional.
It still inspires outrage nearly two decades later among politicians who insist that it leave.
"Here's what the Trump administration owes the people of South Carolina: Get this stuff out of here," U.S. Sen. Lindsey Graham, R-South Carolina, told The Post and Courier this summer. "I don't care where it goes. Just get it out of here."
South Carolina has sued the federal government to push for its removal, and it has managed to win a court order to have one metric ton of plutonium taken out. The state is likely to sue again in 2022, when the federal government officially misses a deadline for the entire stockpile's removal.
When the department followed that court order by quietly sending a half metric ton to Nevada last year, officials there sued. One of its senators blocked Energy Department nominees from taking office until the agency promised to ship it out. Even then, the state decided to keep pressing its lawsuit, deciding that a promise wasn't enough.
Both South Carolina and Nevada fear being stuck with plutonium indefinitely, and they have waged all-out battles to avoid that fate. Under the government's current plans, it will eventually leave them after a stay measured in years or decades.
Then it will be bound for New Mexico, where it will stay for millennia.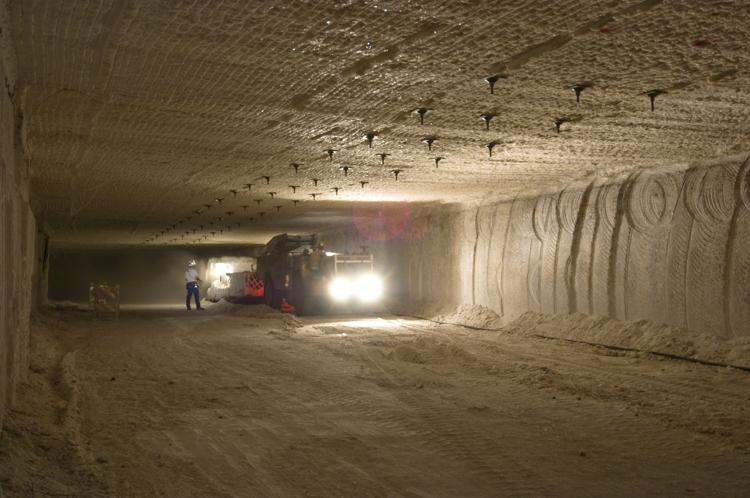 A long decay
The Department of Energy grappled in the early 1990s with just how long WIPP's legacy would survive.
It hadn't decided yet that plutonium should spend an eternity in the New Mexico desert, but it knew that America's other nuclear waste would persist as long as anyone could comprehend. And it worried that some far-off civilization would find WIPP without understanding the invisible danger of radiation inside.
So it convened teams of thinkers — anthropologists and astronomers, writers and designers — and it gave them a mind-bending charge: to develop a way of warning the future about the profound danger deep beneath their feet, to urge them not to venture into these atomic ruins. They were asked to make their message last 10,000 years — almost twice as long as recorded history.
They considered building a field of giant concrete thorns to scare off explorers, but feared creating an accidental tourist attraction. They considered a series of cartoons explaining radiation, but feared they could be misinterpreted. They considered writing out messages but feared language would evolve and render them meaningless.
So their proposal was to try several approaches, and hope that at least one worked. The area around WIPP will be marked by tall granite markers, engraved with warnings in seven languages and pictures of faces in horror and sickness. A stone structure at the center will carry more detailed information. Tablets bearing more warnings will be buried around the area in case someone starts digging.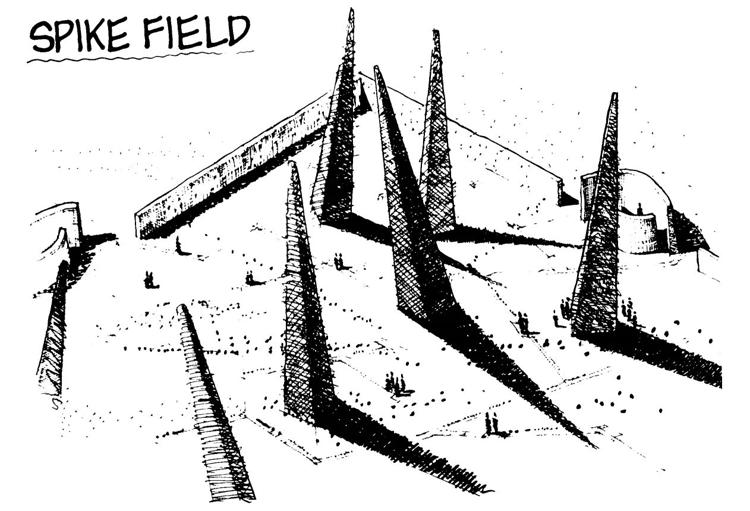 The design team's hope was to create a foreboding place, one that conveyed a dark tone about America and the nuclear age. In a government report, they described the message they intended:
This place is not a place of honor … No highly esteemed deed is commemorated here … This place is best shunned and left uninhabited.

When the calendar reaches the year 12000 — around the end of the team's 10,000-year mandate — the plutonium underground will be less than halfway through its first half-life.
The stockpile that currently sits in South Carolina will still be more than 200,000 years from completing its transformation into a potent type of uranium that is capable of powering cities or destroying them.
And when it reaches its final, stable form in roughly 7 billion years, it will no longer matter what message the U.S. sought to convey.
By the time the last remnants of the Cold War's legacy are gone, scientists believe life on Earth will be extinguished, already lost to the dying, expanding sun.