The focal point of the University of South Carolina's new logo is not a palmetto tree, a stylized silhouette of the campus's historic Horseshoe, or even a ferocious fighting gamecock.
It's the word "of."
The new logo may help resolve a longstanding identity crisis at South Carolina's flagship university which often is confused with the University of Southern California in Google searches and in conversations across state lines.
Alumni have for years claimed they are the rightful owners of the acronym "USC," pointing out (sometimes after a drink or two, sometimes quite loudly) that they were a college before California was a state.
When pressed on the details, a knowledgeable alumnus might concede that South Carolina College did not re-brand as the University of South Carolina until 1866, 16 years after California was admitted to the Union. But it still predated the founding of the University of Southern California by 14 years.

Some simply call it "Carolina," but again confusion can reign: Which Carolina? North or South?
The university's communications department announced the new marketing and monogram logo via Twitter on Wednesday, then spent the day fielding a mix of praise, outrage, nitpicking and saucy GIFs.
"This better be a joke," tweeted sophomore Jack Hornsby.
"I just don't really understand why they moved from a recognizable, more individual design to a seemingly lazier, boring version of the same thing?" said 2017 graduate Erika Ryan.
Patrick Ellis, speaker of the university's student senate, said he liked the logo tweaks.
"They're really crisp," the junior political science major from Hampton said.
Some said they loved it. Others lamented the font choice. Still others asked when they could buy the logo on a sweater and speculated that the whole thing was a research project designed to gauge reactions.
It was no experiment, though. J.C. Huggins, an alumnus himself and director of brand strategy for the university, said the new academic logo is part of a broader "brand refresh" that will be rolled out later in the year.
After conducting interviews and research using in-house staff, the university inked a $238,000 contract with an Ohio-based branding and marketing company called Ologie. The new set of logos, which included slight tweaks to the formal and marketing logos, cost about $25,000 in all and represented a small portion of the contract.
"Once you get outside of the state of South Carolina, there's brand confusion, and this naturally addresses that in a way that furthers our desire to be proud of our position as the flagship university of South Carolina," Huggins said.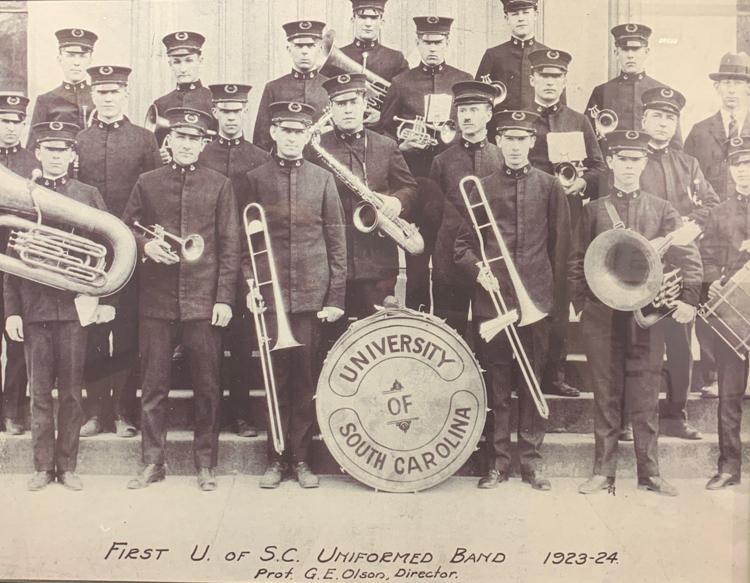 Huggins also contends that the "of" isn't really all that new. The university has included it in its social media accounts, including its Twitter handle @UofSC, for 10 years now. Huggins said the earliest reference he could find to UofSC actually dates back to a caption on a photo of the University of South Carolina marching band from 1923.
Still, at least one famous alumnus seems unlikely to swim with the current on matters of style. In his May 2013 commencement address at his alma mater, Hootie and the Blowfish frontman Darius Rucker closed with an encouraging word of defiance.
"Speak well of USC," Rucker told the cheering crowd. "When somebody says to you, 'The real USC is in L.A.,' you tell them that we were a school before they were a state. When they tell you the real Carolina is in North Carolina, you laugh at them."
Andy Shain contributed to this report.