The beach might be running out of sand, money and time.
Nearly every developed strand on the East Coast has been renourished, many of them repeatedly. And each time a storm such as Hurricane Matthew wracks one, the need increases. Nearshore sand that is fine enough and clean enough for renourishment is found only in shallow pockets that don't replenish quickly. Costs also are soaring and federal legislators have begun pulling back the funding they have provided, largely because of the cost.
Local voters soon could be left to decide whether they want to pick up the tab for millions of dollars in recurring costs for their beaches.
"There are going to be winners and losers," said Rob Young, a coastal geology professor at Western Carolina University. "Some communities won't be able to afford it."
But coastal engineering groups say beach towns are such a tourism revenue generator that the money will continue to be there to pay for renourishments.
"Yes, it is expensive, with infrequent projects on the order of tens of millions of dollars," said Nicole Elko, South Carolina Beach Advocates executive director. "But the reason most communities continue to renourish is simple economics."
Nationwide, beaches bring in about $25 billion annually, she said, including $2.4 billion in South Carolina.
States such as Florida, Louisiana, New Jersey and Delaware have dedicated annual funding sources for beach preservation to supplement federal and local dollars, she said.
Even if there is money, there might not be sand. In the Southeast alone, some 425 million cubic yards of sand have been spread in the past 30 years - the equivalent of a 600-mile long beach with sand two feet deep. Offshore shoal sand has been depleted to the extent that the federal government is paying to inventory the supply off 13 Atlantic Coast states.
Lowcountry barrier islands are fed sand by longshore currents, that sideways sweep of water near the beach.  They tend to erode and reform because of the tug and pull of inlet tides. The sand carried in those currents comes largely from "upstream" river deltas, or deltas to the north. In recent years, that flow has been disrupted by everything from jetties to upstream dams.
"I think most folks have this belief that there's nothing but sand out there (off the beach). That's just not true," Young said. Most of the coast has a veneer of "modern" sand that has drifted over a rougher bottom. 
The S.C. Department of Natural Resources just won one of the federal grants to look for fine sand in federal waters more than three miles offshore. In the Lowcountry, Folly Beach and Isle of Palms are among towns searching for new sources of that sand because offshore dredging is the most economical way to conduct large scale renourishments.
Erosion-plagued Folly Beach faces another round of doing just that, three years after completing the last one with rocky sand from a depleting offshore borrow shoal. The city has spent a total $55,782,638 in combined federal and local funds since its first project in 1996, according to the Army Corps of Engineers, and that's before Hurricane Matthew.
The cost to renourish has climbed 200 percent since the 1990s to $30 million for the 2014 work, and city voters in December authorized a 1 percent increase in the accommodations tax in a referendum. The new tax on overnight visitors is expected to generate only $320,000 annually.
The city will need every penny of that. So far, federal money has paid the bulk of the city's renourishment costs because the Charleston jetties have blocked the longshore flow of sand that would have helped resupply the beach. After Matthew, city officials are pleading with federal agencies to fast-track the next renourishment because of a situation Mayor Tim Goodwin described as critical.
Isle of Palms has to renourish its entire five-mile strand, long thought to be mostly gaining sand, after a series of small projects shored up trouble spots along both of its volatile inlet ends. Edisto Beach was working through the permitting process for renourishment when Matthew pushed much of its remaining beach onto Palmetto Boulevard behind damaged beachfront homes.
The cycle has been repeated up and down the coast since the first big-time project in 1923. Few of the replaced beaches last much longer than five years, according to the Florida-based Journal for Coastal Research. In the Southeast, the coast itself is gradually eroding and being pushed back by rising seas and persistent storm tides.
More than $300 million had been spent on renourishment in South Carolina by 2010, according to a study by Coastal Science and Engineering. 
Worse, there's an impression among some that most projects in South Carolina are funded largely with federal tax dollars. But only Folly, Myrtle Beach and Hunting Island have conducted renourishments that qualified for the federal money. Other beach towns, such as Isle of Palms, pay for them on their own or with state money. The city has paid more than $13 million for spot renourishments since 2008.
The beaches are so fragile that the damage from Matthew led state regulators to approve emergency orders for property owners along the coast to shore up the beaches with trucked-in inland sand, to scrape sand from beach stretches where it is fuller or to pile sandbags. "Blanket" orders, or orders to allow the work at all beachfront properties, have been issued for Folly Beach, Isle of Palms, Hilton Head Island, Pawleys Island, Litchfield Beach and Garden City.
The solution Young sees is to quit renourishing as a reaction to erosion crises and begin managing the beaches as a whole, focusing efforts on erosion hot spots or highly developed tourism hubs or both.
"We need to talk about whether to continue to renourish everywhere and how to go about it," he said. "It just gets to be a lot more tenuous a practice for these smaller resort communities. Whether a community can afford a beach renourishment should depend on the economics of that community."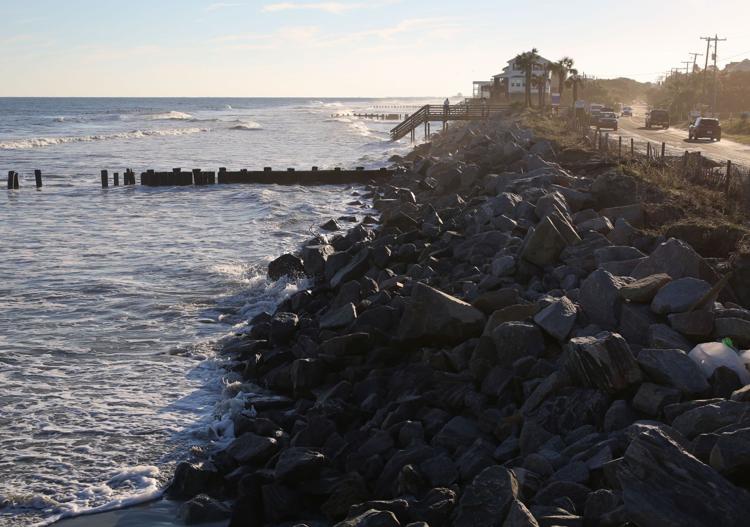 Smaller communities should start pulling back properties from the eroding beach, changing the development footprint a bit at a time as properties become damaged or destroyed by erosion or storms. 
"If you don't order them out, make them do it right to stay and pay the cost," Young said. "We spend a huge amount of money at the coast and we have no plan. The reality is we can't hold every shoreline in the United States in place. Every coastal erosion problem we have is going to get worse and not better."