LAURENS — The Rev. David Kennedy is not sure what he will do with the old theater building that his church has owned since 1997, but at least now he can start to think about it.
Maybe it will become a small museum that presents the horrors of slavery and Jim Crow. Maybe it will become a shared event space. Maybe the perfectly named New Beginning Missionary Baptist Church, which has moved — not always by choice — several times over the years will make a new beginning in the old Echo Theater.
For now, the property, located in the town's commercial center, is dust-filled and dilapidated, with only a few reminders of what went on there for nearly two decades. A small Confederate flag sticker remains affixed to the marquee. The name of the store that once occupied the building can be discerned through the sweeping scratch marks on the glass door.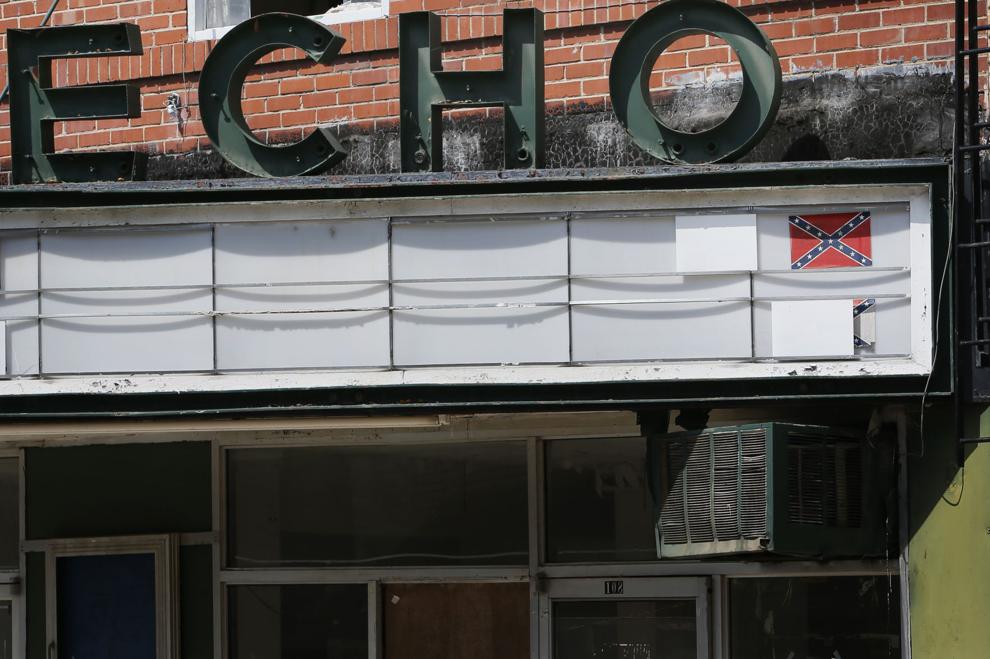 The Redneck Shop once sold Confederate merchandise. In a twist of fate, the deed to the building was transferred to New Beginning Church in 1997, but its black congregation and activist preacher could do nothing so long as the store proprietor, John Howard, remained alive.
A legal stipulation in the deed had created a "life estate" that protected Howard, who continued to run the shop rent-free despite the change of landlord.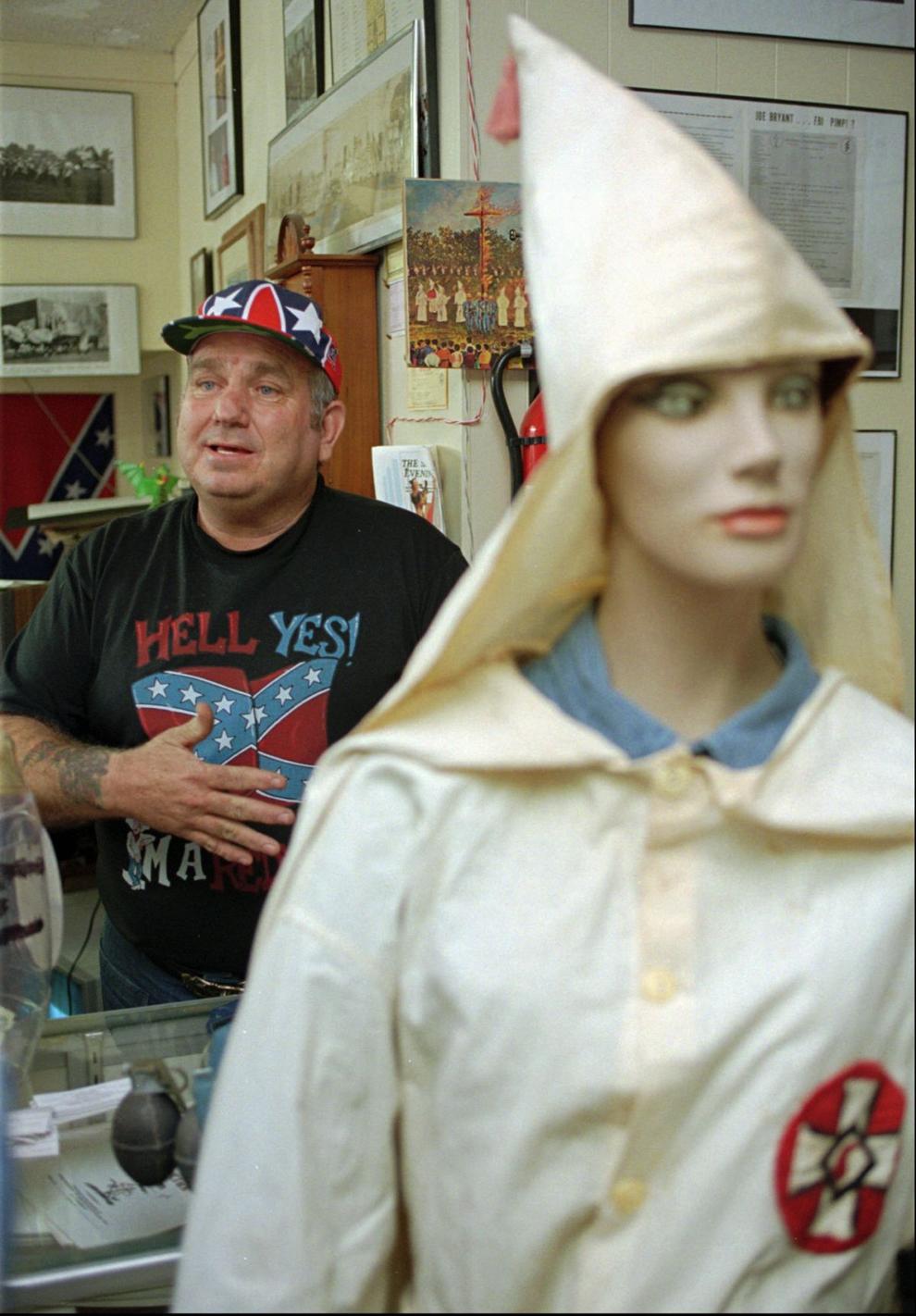 Howard died on Sept. 6 at age 71, bringing the Redneck Shop saga to an end and inviting Kennedy and his supporters in Laurens to imagine a new story for their small community that has struggled with racism and misunderstanding.
The confrontations between Kennedy and Howard — the threats, the name-calling, the protests — have stopped, but many say racial discord persists in Laurens, and Kennedy's efforts to bring it to light continue to meet resistance.
Refusing the mask
Howard, a member of the Ku Klux Klan, was a white supremacist who resented Kennedy's protests and continued to operate the Redneck Shop until 2012, even though bad health kept him from having regular hours.
The store displayed Confederate flags, Klan robes and hoods, clothing imprinted with the Stars and Bars and other memorabilia of the Lost Cause. Howard hosted Klan and neo-Nazi gatherings in a back room. Through the turn of the 21st century, this former mill town continued to display the relics of Jim Crow and nurture racially charged sentiments, according to residents black and white.
Still today a monument stands in front of the courthouse "in memory of the boys in gray," erected "by the citizens of Laurens" in 1910, just three years before Kennedy's great uncle Richard Puckett was lynched at a railroad truss on Aug. 11, 1913. The frayed rope used to kill Puckett hung from a steel beam until 1985.
In all, 185 black men were lynched in South Carolina from 1877 (the end of Reconstruction) to 1950, according to the Equal Justice Initiative. Eleven were killed in Laurens County. So it's understandable that blacks in town objected to the Redneck Shop when it opened in the 1990s.
Kennedy, accustomed to public protest over racial issues since he was a child, has organized anti-drug marches, challenged restaurant owners and police officers over race-related issues, defended victims of injustice, burned Confederate flags and used his bullhorn to denounce those he considers racist.
He remembers when he was child and a group of white boys taunted him by flashing their naked front sides from a bluff near the projects where he grew up. He called for his grandfather, Albert Garlington, a large, tough man he admired and respected, a man who never hesitated to administer discipline and teach important life lessons. The young Kennedy assumed his grandfather would put those boys in their place.
Instead, Garlington stood there, glaring at them, then told them in measured tones to go on home. His grandson was dumbfounded and confused. Kennedy could not fully appreciate the dangers of being black in Jim Crow America.
"I was so disappointed," he said. "Why was my grandfather, a strong man, afraid? I hated thinking of him like that."
Kennedy decided early in his life to reject such deference, to refuse meek assent to the rules of segregation and white power.
"I don't wear a mask," he said.
Something positive
In 1997, things came to a head at the Redneck Shop, precipitated by the transfer of a deed.
Howard in 1994 had gifted the deed to the Echo Theater to a young protégé, Michael Eugene Burden. Things went south between the two men after Burden met and married Judy Burden a couple years later. She was part Native American and uncomfortable with the Klan, she said. She encouraged Burden to choose. "It's either that or me," she told him.
Angered, Howard evicted Burden and his new family from the basement apartment they used. Burden turned to Kennedy, his foe, for help, and he sold the deed in April 1997 to the black preacher for $1,000. In a deposition from a 2009 lawsuit challenging Howard's attempt to transfer the deed a second time, Burden said he didn't remember the details of the first transfer, saying he was likely under the influence of drugs or alcohol. But a judge determined the initial transaction was proper and binding.
The deed came with an important stipulation: Howard would be permitted to operate the shop, rent-free, until the day he died. New Beginnings Missionary Baptist Church now was landlord of the Redneck Shop but could do nothing other than organize protests.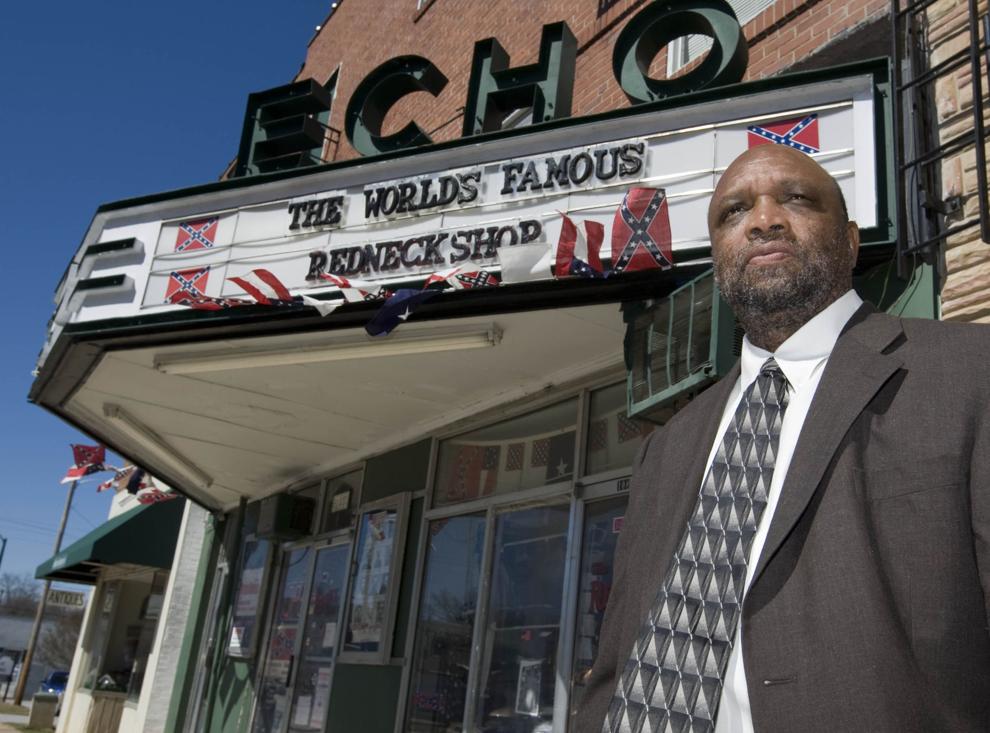 The ruckus in the town's central square troubled some merchants. The protests were disruptive. On one occasion, SLED officers positioned themselves on the second floor of a nearby shop, where they had a clear sight line to the theater building.
Some in town thought that ignoring the Redneck Shop was the best strategy, according to Sharon Barnes, owner of Picture This Frame & Art, located around the corner. She visited the Confederate memorabilia store once and found it museum-like. It was Kennedy who blew things out of proportion, she and others said.
Debbie Campbell, owner of the Capitol Theatre and Cafe, said race relations have improved in Laurens.
"Blacks and whites are mixing more these days than ever before," Campbell said. Conflict arises only when Kennedy and other protesters make race an issue. Still, she's relieved that the Redneck Shop is defunct.
"No town needs something like that," she said.
Jonathan Irick, executive director of the Main Street Laurens USA merchant association, said it was easy for some merchants to pay little attention to the Redneck Shop because of its position just off the square. Few raised objections, he said.
Now that the property is available for redevelopment, Irick hopes it can be turned into something that benefits the community.
"There would be a strong interest locally to get something positive in there," he said.
Fear takes hold
During their year together free from the Klan, the Burdens attended New Beginnings Missionary Baptist Church and sought comfort among its members. Michael Burden, who according to legal documents had secured the deed to the Echo Theater building thanks to "a mutual friendship thing," told his wife about the sense of obligation he felt toward his mentor. Burden could not be reached for comment.
In August 1998, Burden was arrested on larceny charges and sentenced to prison that February. He spent nine years at the minimum-security Northside Correctional Institution in Spartanburg. After his release, Howard took him in, Judy Burden said, and soon after that he filed for divorce.
Today, Michael Burden is a truck driver in Texas, and Hollywood will soon release a feature film about the Redneck Shop saga called "Burden," written and directed by Andrew Heckler and starring Forest Whitaker, Usher, Tom Wilkinson, Tess Harper and Garrett Hedlund.
Judy Burden and Kennedy remain friends.
"He's a really wonderful man," she said. "You couldn't ask for a better person."
Her opinion of Kennedy has not endeared her to other whites in town.
"It's really been rough," she said. "I've had people spit on me, call me a n-word lover. It's been unreal. Some people you'd think were your friends, but when they find out, turn into a different person."
She said her neighbors misunderstand Kennedy. "He's just trying to change things for the better."
But that's not the view of many whites in Laurens. His aggressive activism rubs people the wrong way. He has been vocal about all kinds of issues. When his church was on Main Street, its windows were broken by vandals, Kennedy found Confederate stickers on the door and sometimes encountered dead snakes, cats or rats that had been tossed inside.
On Aug. 14, 2012, when he operated out of a makeshift church on S.C. Highway 127, the building burned to the ground. The fire started in an exhaust fan and an investigation revealed no criminal intent, but some of the town's African Americans remained suspicious. In any case, fear once again took hold among black worshipers, and fewer showed up to Kennedy's Sunday morning services, he said.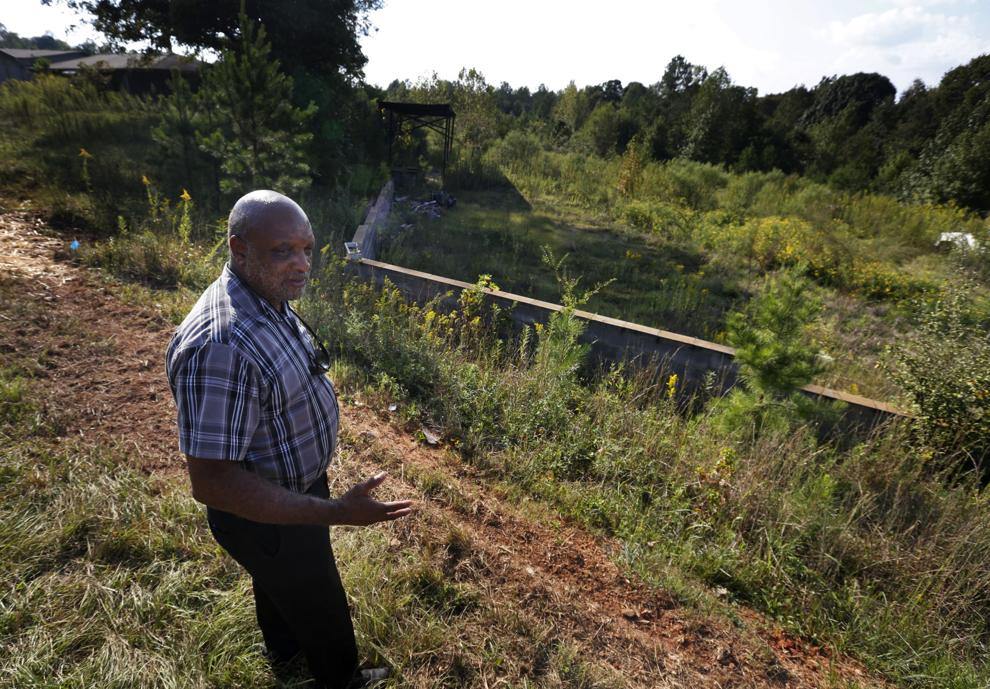 For and against
Recently, Kennedy backed Laurens County School District 55 Superintendent Stephen G. Peters, who is black, and threw his support behind a bond referendum that would have raised up to $109 million and resulted in a new high school. School officials said the school was needed to relieve overcrowding and to modernize classrooms.
The proposed bond issue would have increased property taxes in the county about $450 a year for homeowners under 65 with property whose fair market value is $200,000. It met with instant opposition among most whites while most blacks supported the measure, according to Kennedy and Peters.
Dianne Belsom, founder and president of the Laurens County Tea Party, led the "Vote No" campaign. She said the concern among opponents was purely financial. Median annual income per household in Laurens County is just $38,000, she said. Residents did not want to pay higher taxes.
"This was not about race for anybody," Belsom said, referring to Kennedy's protests. "Personally, I feel like they were desperate to get it passed, and they made it a racial issue to galvanize the black vote."
When she attended a NAACP meeting and heard Kennedy speak of Laurens' racist history and lack of progress, Belsom bristled, she said.
"I thought it was bull crap. Instead of celebrating the gains we've made, he's just a race-baiter stuck in the past. ... I feel like it was despicable that (the referendum) was made into a racial issue, and leaders on the other side did nothing to squelch that. Things would have simmered down."
Belsom has lived in Laurens for 17 years and always felt that people got along, she said.
"I'm sure there are people out there who are racist, on both sides. ... That's always going to exist to a small degree," she said.
But she disdains public displays of bigotry.
"I refused to patronize the Redneck Shop," Belsom said. "I used to boycott that place, I used to pray for that place to close. I want there to be racial harmony. I'm actually really brokenhearted."
Wrestling the pig
The referendum initiative prompted much more than taxpayer push-back. State Rep. Mike Pitts called for an investigation of the school district and of Peters, questioning whether school officials had bought votes.
"The race card is the final play of liberals when they know they are losing," Pitts wrote on Twitter. "Before this is over Dr. Stephen Peters will have racially divided this school district just as Barack Obama divided our nation."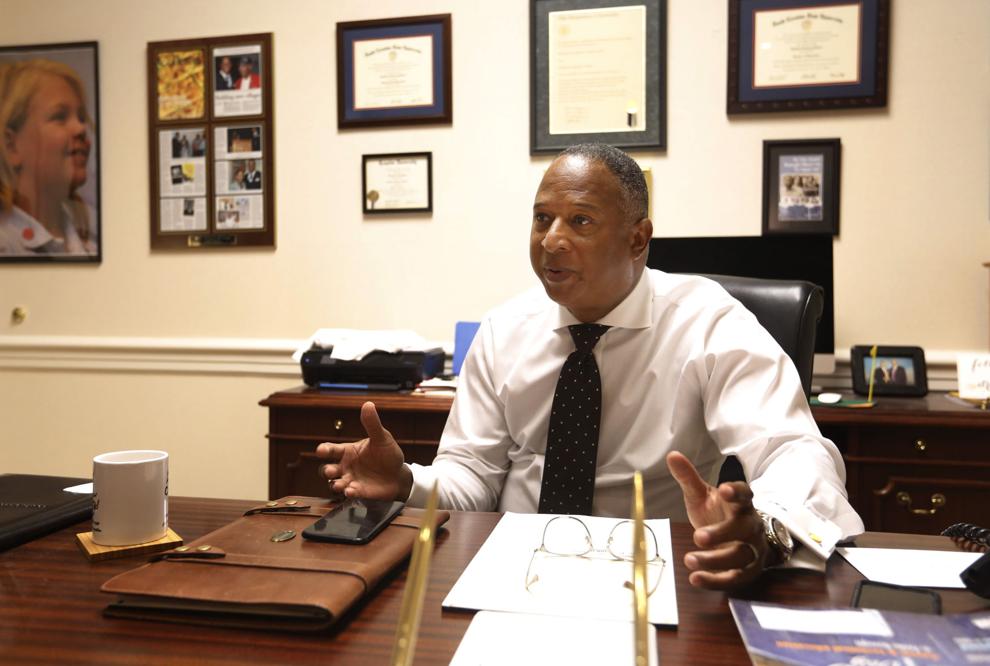 Other social media posts referred to Peters disparagingly. A newspaper ad was published calling for Peters' resignation, noting that ACT scores had slipped the year before Peters assumed his post.
Barnes, owner of Picture This, offered four signed prints of Robert E. Lee, Stonewall Jackson, Nathan Bedford Forrest and J.E.B. Stuart, double matted with foam core backing, ready to be framed, "to the first person who comes by my shop ... with signatures of 100 people who's (sic) residence is in Laurens District 55, stating that they will vote NO on Sept. 5." The prize was worth $75.
Meanwhile, Kennedy protested with his bullhorn outside Belsom's home, and "Vote Yes" campaigners offered free fish dinners to people who could prove they cast a ballot. It got ugly.
Peters tried to remain calm in the midst of the storm, but he felt unsafe in Laurens, he said. Public criticism was one thing, but name-calling and intimidation was unacceptable.
"Some here could have stopped it, but didn't," Peters said. "It's like wrestling with a pig: you both get muddy, but the pig loves it."
The proposed bond issue was defeated on Sept. 5, with 77 percent voting "no." Voter turnout was about 37 percent. The Sept. 25 school board meeting became so contentious that law enforcement officers had to intervene. During the meeting, it was announced that Peters was taking an indefinite leave of absence for family reasons, effective immediately.
In conversation
Peters and Kennedy both are outspoken, even forceful in their rhetoric. They are wholly dedicated to addressing social inequity, each in his own way, and both provoke heated resistance from whites.
Kennedy's church now is located in Clinton, a few miles east of Laurens. The building is a former gun shop and shooting range, but thanks to renovation work has the smell of the new. A restaurant operates on the property. About 50 people join Kennedy for worship on Sundays.
Years ago, Charleston attorney Susan Dunn met Kennedy through Carolina Alliance for Fair Employment when they were working on labor issues. They became friends. Kennedy asked Dunn to fill in for him one Sunday several years ago because he needed to be at a protest in front of the Redneck Shop. She obliged.
Dunn said the preacher-activist is dedicated to the Laurens community, both blacks and whites. "His heart is in that place," Dunn said. "I think he sees his calling as a kind of prophet, and the job of a prophet is not to make people feel good, it's to speak truth to power."
So when black residents complain about racism, she said, whites should listen.
"People often just don't get the fact that when there is a power difference between two sides, when one side is scared of the other, and that side dismisses such concerns, it's a refusal to be in conversation, a rejection of one's neighbors," Dunn said.
Kennedy can't guarantee that racism in and around Laurens will end, but he can promise he won't run from it. And now that he's in full control of the Echo Theater, he can promise something else:
"I can say there will be no more racist ideas or business taking place in that building."