When Hurricane Matthew smacked into the South Carolina coast in 2016, the worst was yet to come for Nichols. 
As its fringes meandered over the North Carolina border, Matthew unleashed a deluge of rains that breached the dams in more than a half-dozen lakes upstream of the tiny Marion County town.
Nichols is straddled by the Little Pee Dee and Lumber rivers, and by the time the flood reached the town, the rivers might as well have been one stream — running 4 feet high down the streets. Within a matter of minutes, floodwaters were chest deep in the homes of most of the 400 residents, who were mostly low- to middle-income workers and retirees.
Rescuers spent the night in boats pulling people to safety. Nine of every 10 residents were forced to abandon their homes in a flood they never saw coming.
An earlier warning "would have been critical to us," said town clerk Sandee Rogers.
River gauges have since been installed upstream of the town, which is still pulling itself back together. But a group of scientists with the National Water Center is now trying to create a more comprehensive model of river flooding — combining information about how water moves in the landscape, how much rain is projected to fall and, eventually, how the tides might stop downstream flow in its tracks.
"These models are the next generation," said Ed Clark, director of the Tuscaloosa, Ala.-based center. 
But the business of predicting river flooding in enough time to warn vulnerable people, especially in a coastal zone, is a tricky one.
Translating that information to the public can be even more complicated, especially because every storm affects the landscape differently, emergency managers said.
Flooding surprises
Today, Nichols has won a $1.5 million grant for a hydrology study to recommend flooding safety improvements such as retention ponds. With the help of donations and grants to rehabilitate homes, 60 percent of the residents are back.
The larger industries are up and running, but mom-and-pop stores are gone from the modest downtown.
"I think there is a little more hope," said longtime resident Katherine Battle. "(But) it's very sad. There's no downtown anymore. Things are moving very slowly. There are a lot of people who aren't coming back."
It's not the only place that's been inundated in the past three years, as South Carolina was lashed by historic floods in 2015, by Matthew in 2016 and by Tropical Storm Irma in 2017.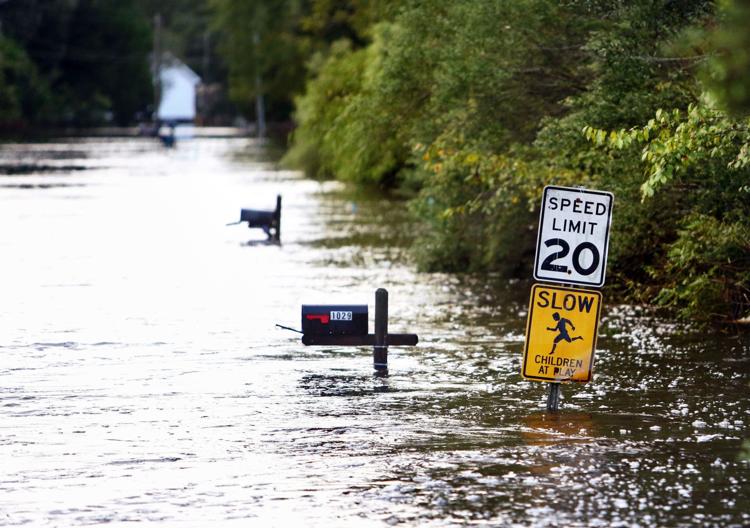 Generally, emergency managers know what areas are prone to being flooded, both from tools like FEMA flood maps and from knowledge of prior storms.
Variables on the ground can throw a wrench in both forecasts and conventional wisdom, however. If a dam fails or storm drains are blocked, the situation may change quickly.
And as the coastal zone continues its rapid development, with some cities, like Charleston, allowing homes in flood plains, the situation becomes even more complicated.
"Floods are a profoundly localized impact," Clark said, adding that most communities have told the water center they need actionable information in street-by-street detail.
The 2015 event, remarkable in part because it caused catastrophic flooding around Columbia and other areas of the Midlands, surprised some in the Lowcountry, too. Neighborhoods along the French Quarter Creek in Berkeley County that were never known to flood before went under.
"It's weather. You can't 100 percent accurately predict what its going to do," said Ben Almquist, director of emergency management for Berkeley County. "That's always the situation. It's always going to be constantly developing."
Sometimes, he said, one of the best tools available is getting reports from on the ground, especially from emergency responders in the community. 
Coupling models
The model Clark's office is developing is run on a supercomputer, the kind of technology that's been fueling weather forecasters' predictions for 20 years but that hasn't been applied to hydrology in the same way. 
Eventually, Clark said the hope is that the office will be able to translate the flooding projections into a map that would pinpoint exactly where rivers might overflow.
The center already has a national map that shows streamflow, but adding the complication of tides — which push and pull on coastal waterways — is a work in progress. They're such a big factor in part because a high tide acts as a wall of bricks that makes the slow drainage along South Carolina's relatively flat coastline even more sluggish.
NWC scientists are working on integrating tidal information into forecasts for the area around the Delaware River right now, and may turn to the Carolinas next.  
Right now, the National Weather Service has regional river flooding forecast centers that use information from U.S. Geological Survey river gauges. But those predictions don't couple hydrologic, atmospheric and tidal models in the same way as the national water model, Clark said. 
The USGS has been ramping up some of its efforts, too, and now has rapid-deployment river gauges that can be placed and transmitting real-time information in less than an hour. Still, South Carolina is lagging in the amount of permanent gauges it has compared to the rest of the East Coast, according to John Shelton with USGS.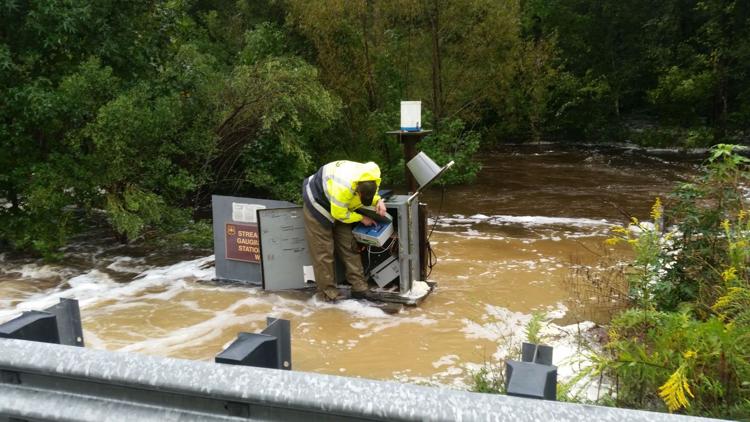 Jason Patno, director of emergency management for Charleston County, said he thought that local officials received "timely and accurate information" before the 2015 floods, the last event when they were primarily concerned with river inundation. 
Still, he said, models that combine multiple factors into a flooding prediction could be useful. 
"I think that any time we can factor in different sources of information ... that gives us a better understanding of what the potential is and the extent of damage that may be caused," Patno said.
Randy Webster, head of emergency management for Horry County, said that since Hurricane Floyd, emergency managers have a good understanding of what areas are vulnerable to flooding, like the Rosewood neighborhood along the Intracoastal Waterway. It's just upstream of where the waterway dumps into the Waccamaw River, a point that can get backed up easily.
The real challenge is convincing people that might have avoided flood waters in the past that they're vulnerable in the next storm, Webster said. A map that predicts flood waters' full reach might change more minds in the next major storm.
"There's a misconception out there that if it didn't flood this time, it never will," Webster said. "Some people got a wake-up call with Matthew."