AUGUSTA — Amen Corner, azaleas and tradition in full bloom, is famed in golf and framed as art. But it's not the only part of a trip to the Masters that makes Augusta National Golf Club a step back in time.
No texting, please.
No Facebook posts or Twitter chatter.
Instagram?
Snapchat?
What's that newfangled stuff?
No cellphones allowed, still, at America's greatest sports venue. Banning cellphones would be unheard of at football games, baseball games or other big sporting events. They have been permitted everywhere else on the PGA Tour since 2010. The British Open encourages cellphone use with helpful apps.
But the Masters remains, as Augusta National Chairman Fred Ridley proudly stated this week, "an outlier."
Not that that's such a bad thing.
"It's nice, isn't it?" four-time Masters champion Tiger Woods said before the tournament began Thursday.
Augusta National's cellphone policy is grounded in the simplicity of limiting distractions and keeping the focus on golf.
Penalty for violation: ejection (harsh if you paid the going rate of $2,300-$2,500 for a Thursday or Friday badge on the secondary market), loss of ticket-buying privileges, perhaps a lifetime ban.
Imagine a retro-world in which people are not obsessed with capturing the moment and posing for selfies. Instead, more conversation.
And lots of people habitually reaching for pockets or belt clips only to come up empty.
"It's the fans coming out and experiencing such a perfect golf course, being able to actually watch golf," defending champion Patrick Reed said. "Not sit there and try to take photos or video people as they are hitting golf shots. They actually get to experience it."
There are phone banks placed at the front entrance across from the expansive gift shop and at various other spots on the course. They allow for toll free long distance calls, local calls and credit card calls.
The phone banks were not overcrowded Wednesday or Thursday.
"I didn't miss (a cellphone) at all but it could have maybe been a problem if I forgot where to meet up with my daughter," said D.J. Sanderson, a patron from Atlanta. "But they make sure you're aware of their policies here."
Billy Payne was asked about the club's policy in 2017 in his last state-of-the-Masters address as club chairman.
"I just don't think it's appropriate," Payne said. "The noise is an irritation to not only the players (but) the dialing, the conversation … It's a distraction. And that's the way we have chosen to deal with it."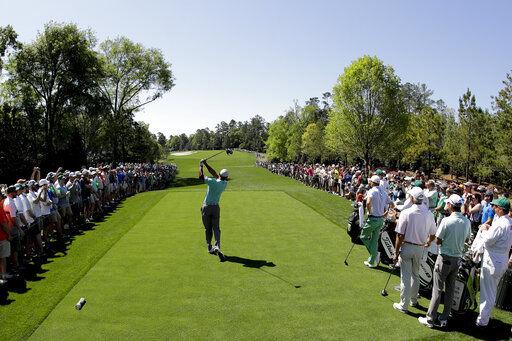 Cellphone dependency was a thing then, more so now.
That only strengthens Ridley's resolve.
"I don't believe that's a policy that anyone should expect is going to change in the near future, if ever," he said Wednesday. "I can't speak for future chairmen but for myself, I think we got it right."
Players and media, too
Patrons can bring non-phone cameras on practice days Monday through Wednesday but not for competitive rounds.
Along with cellphones, electronic beepers, laptops and tablets are prohibited.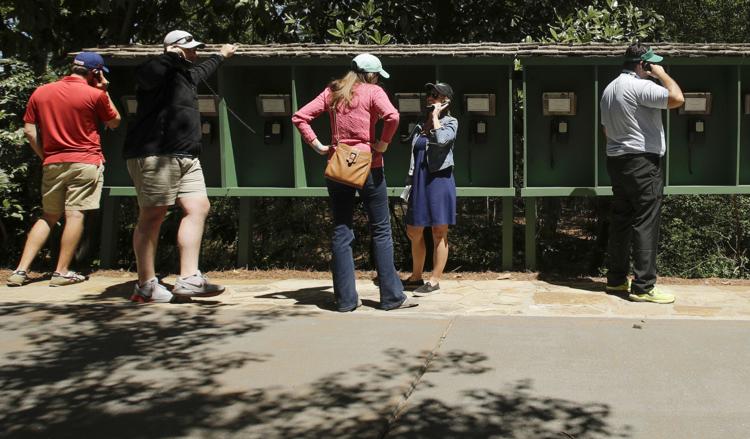 Augusta National makes the message clear on signs, handouts, on its website and in official communication with patrons: "Violation of these policies will subject the ticket holder to removal from the grounds and the ticket purchaser to the permanent loss of tickets."
The rules also apply to credentialed media.
And participants.
"I always like no cellphones," said Brooks Koepka, a 27-year-old who has won three of golf's last seven major tournaments. "You don't have to deal with text messages. It's nice to put it away a bit."
But Susan Carlos of Norfolk, Va., said Wednesday she would have liked a cellphone on the course to show her friends "how much fun it was to be here and see all the famous golfers."
Phil: Augusta will change
There are mixed feelings among top players, too.
Rory McIlroy, in pursuit of a Masters victory that would complete a career "grand slam" of major tournament wins, noticed again this week that people at Augusta "don't constantly have their face in the device."
McIlroy found it all refreshingly in line with the book he's reading, "Digital Minimalism: Choosing a Focused Life in a Noisy World" by Cal Newport.
"I think it's cool to see that Augusta has upheld that tradition," McIlroy said. "I think it's a great thing."
Phil Mickelson, a three-time Masters champ who will play in his 100th Masters round on Friday, thinks fans are smart enough to handle smart phones.
"I've kind of changed my thought on it," Mickelson said. "I think it's really been a good thing for the Tour and I think at some point the knowledge base of the fans here will be such where they will be able to have their phones and, because they will have it on silent, it won't affect play at all."
But don't set your cellphone alarm to a policy change at Augusta National anytime soon.