WASHINGTON — On the eve of fired FBI Director James Comey's appearance before the Senate Intelligence Committee — one that many feared could implicate the administration with obstructing justice — Republican Lindsey Graham was working out at the gym.
Then he got a call on his personal cellphone.
On the other end of the line was President Donald Trump.
"Sometimes he calls because he's frustrated," Graham, South Carolina's senior senator told The Post and Courier. "Sometimes he calls because he's got an idea and wants to bounce it off me."
Graham intimated that, on this occasion, Trump was calling to vent.
"He's frustrated that this (Russia) investigation keeps going because he knows he didn't do anything wrong," Graham recalled of their conversation. "I told him, 'There's a process here, you're just going to have to let it play out.'"
It's rare to hear about a president using a senator as an emotional sounding board, but even more remarkable is that Graham and Trump have any relationship at all.
Two years ago this July on the presidential primary campaign trail Graham called Trump — his then-rival for the GOP nomination — a "jackass." Trump retaliated by reading Graham's cellphone number on national television.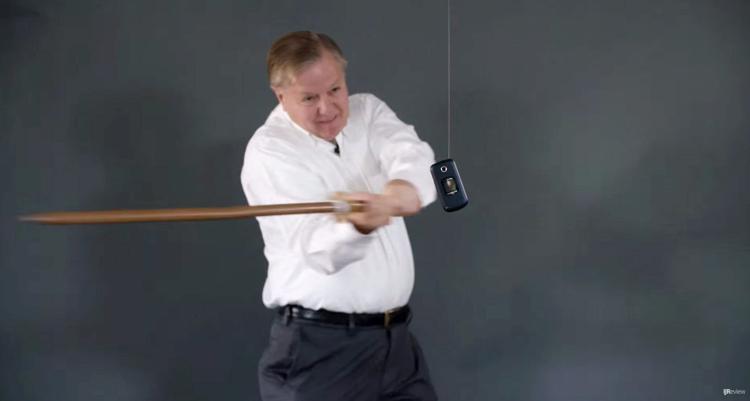 Considering Graham called Trump variations of being a "race-baiting, xenophobic, religious bigot" for the remainder of the campaign, it seems nothing short of remarkable that the two men now talk on the phone regularly and have met in person at the White House at least twice so far.
Graham hasn't let Trump off the hook completely. He recently called the president "rude and crude" and "a lot to deal with." And Graham refuses let the Russian investigation fall to the wayside despite Trump's protests.
Yet for those who came to see Graham as a folk hero in his unrelenting criticism of Trump during the campaign, there's a sense of disappointment, even betrayal, that he's backing off.
"I had come to personally trust that he'd be the voice of reason for his party in regards to Trump," said Vanessa Moody-Laird of Indivisible Charleston, a subset of a national anti-Trump organization that formed early this year.
Trump is unlike any president before and even Republicans who watched in horror as members of their party fell in line behind him might now be wary of Graham's softening.
But those who know Graham say it shouldn't be surprising, adding the pragmatism he's applying with Trump is one he's applied to every political alliance he's ever formed.
'I ran out of bad names'
This isn't the first time Graham has partnered with a president under unlikely circumstances.
In 2000 when George W. Bush won the GOP presidential primary, operatives told Graham his "career was over" for backing his best friend, U.S. Sen. John McCain of Arizona. Yet after the Sept. 11, 2001 terrorist attacks, Graham became an important ally for Bush, someone who could help sell congressional colleagues on proposed troop surges in the Middle East.
In 2008, McCain won the Republican nomination but lost to Democrat Barack Obama. Graham, who fought fiercely for McCain throughout the campaign, began mending fences with Obama as early as the presidential transition period, and soon became a partner in ultimately unsuccessful efforts to overhaul the nation's immigration system.
During the second half of 2015, Graham ran for president himself. He laughed recalling just how bad things got between him and Trump, his then-rival.
"I ran out of bad names to call him," he said. "But I'm not so prideful that, when it's over and I lose, I don't try to help people who did win because it's the only way America can survive.
"And what do you find? You find that (Trump) has the best national security team since I've been around," Graham added. "I see a wonderful opportunity to rebuild the military I never saw with Obama. ... It's the damndest thing in the world."
Meanwhile, Gov. Henry McMaster, the first highest-ranking elected official to endorse Trump during the primaries, said Trump has learned something about Graham, too.
"Sen. Graham is one of my best friends. My children call him 'Uncle Lindsey,'" he said. "I told then-candidate Trump that Sen. Graham has a great sense of humor, he is a happy man, and he is one of the most thoroughly knowledgeable people about the military and foreign affairs that we have in this country. I also said he will, just like then-candidate Trump, speak his mind, so not to be surprised if Sen. Graham says things that others might not say. Mr. Trump understood that."
'Can't have it both ways'
Graham called his relationship with Trump "mutually beneficial."
For Trump, Graham said "there's nothing better than having a former critic as an ally. And what did I get out this? I get a reputation that I'm not gonna be told what to do. I'm independent when it comes to doing what I think is best for the country."
Having the ear of the president also benefits Graham's legislative agenda, from parochial priorities like funding the Port of Charleston to foreign policy matters, like being more bullish in confronting enemies abroad.
"Clearly right now Lindsey wants or need something from the president and he knows the best way to get something from the president is to butter him up a little bit," said longtime South Carolina Democratic strategist Tyler Jones. "I don't know what that is. He probably wants to bomb some random country."
But even if Graham is capitulating, Jones doesn't fault him for it. Neither does Dick Harpootlian, another veteran Democratic operative in the Palmetto State.
"That's reality. That's practical. I don't see him compromising his core principles to work with Donald Trump. However, I do see him trying to find common ground," Harpootlian said. "That's what we call an effective, rational elected official."
Not everyone agrees. The social media abyss is full of angry Trump opponents who accuse Graham of choosing party over country. At a recent town hall, Graham confronted opponents by telling them he won't become "less conservative" no matter how loud they scream.
Trav Robertson, the newly minted S.C. Democratic Party chairman, said the problem is that Trump is not any ordinary president. For Graham to back Trump, Robertson said, is to normalize someone who might have obstructed justice in efforts to quell an investigation into whether his inner circle interfered with the 2016 campaign.
"A lot of people expected (Graham) to continue to pursue the persona of being a maverick, and you can't be the maverick and at the same time, soften your stance on a president who sold out democracy," Robertson said. "You can't have it both ways."
'Magic of being me'
There are also, of course, political considerations for Graham.
In South Carolina, voters cast ballots for Trump over Democrat Hillary Clinton by 16 points. Graham is up for reelection in 2020, just like Trump.
If the two men continue working together and public sentiment toward the president in the Palmetto State stays positive, Graham could have an easier time sailing to victory than he did in 2014, when he had to fend off six primary challengers all furious for his willingness to work with Obama and congressional Democrats on immigration.
But with chaos seeming to follow the Trump administration at every turn, that scenario is far from guaranteed.
"I don't know how this thing plays out," Graham said. "I don't know if Trump's going to be popular. He's liable to do things most Republicans wouldn't do. I can't tell you the differences that will get me on the wrong side of him.
"I respect his victory. President Trump is my president," he said. "But if I abandon what I believe, then I will lose the magic of being me."