When word of an 11-year-old boy assaulted at a North Charleston convenience store reached social media, hundreds of people quickly chimed in.
The boy, who is black, entered Uncle Sam Mart in the Chicora-Cherokee neighborhood looking for boiled peanuts and left with a sprained ankle, his mother said, after a clerk allegedly kicked him in the leg. Police charged the man with assault and battery.
The incident Friday was the latest wrinkle in a strained relationship between some residents of predominately black neighborhoods and the convenience stores that serve them on the southern end of North Charleston. Protesters have labeled the businesses as Arab or Middle Eastern stores and accused them of being "predatory" of the black community.
One local store owner said he's baffled as to why it's turned into a matter of race and ethnicity. The man said the comments directed at his store and others are hurtful.
Reactions to the assault at Uncle Sam Mart flooded in on Facebook. Arabs are "getting out of control," one person said. Another chimed in saying they "need to go back to their country." And another person advised the boy's mother to call immigration authorities.
The incident reminded some people of a scuffle at another convenience store in the city earlier this spring. In that case, bystander video showed employees armed with a gun and a sword as they detained and roughed up a black shoplifting suspect.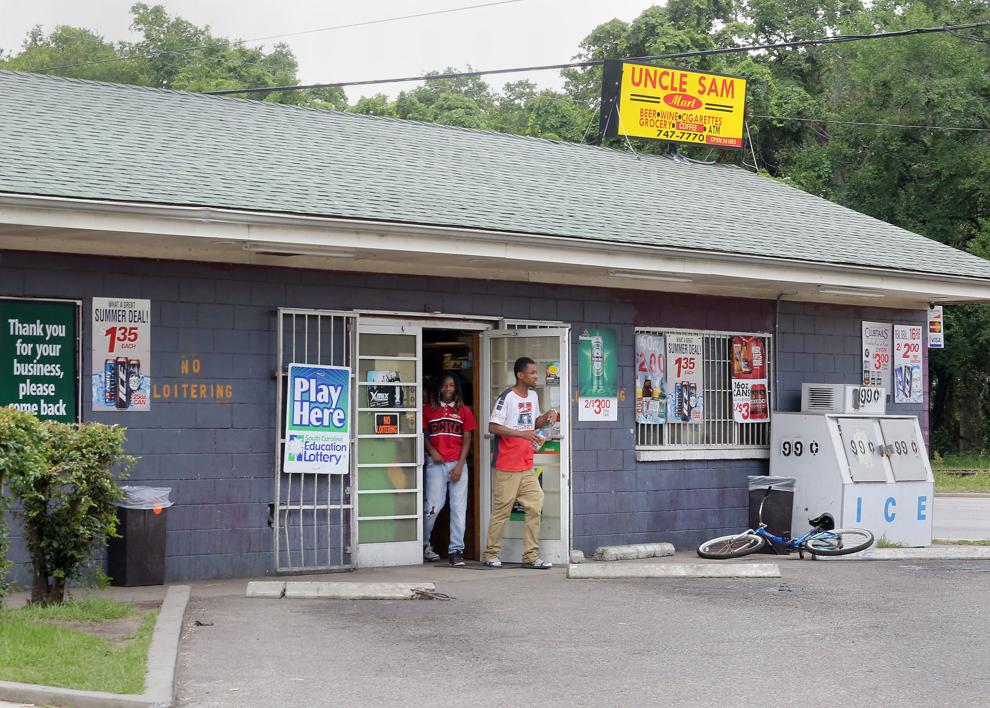 "When I talk to people, I'm not talking about color or race," said Alex Shedid, the owner of Andrew's Discount Market, where the shoplifting incident was videotaped in March. The employees shown in the video were not charged and have since left their jobs. "We communicate with the people like family."
Community activists have been outspoken in alleging that local convenience stores take advantage of poor black customers who rely on the businesses for their everyday needs. In the earlier incident, National Action Network state president James Johnson questioned whether the store owners are in America legally and said the business's employees "need to go back to their country where their laws are different from our laws."
Accompanied by relatives of the shoplifting suspect, Johnson spoke broadly in April as he accused "Arab" and "foreigner" stores in the North Charleston area of taking money from the black community and not investing back into it. He has since softened his stance.
Critics say such stores feed people's addictions and habits by selling beer, wine and drug paraphernalia. 
"It's almost like those stores have the same impact that a crack house has in the neighborhood," said Johnathan Thrower, a North Charleston resident who goes by Shakem Akhet and has been active in recent protests outside Uncle Sam Mart.
Not all black residents, though, see a problem with the businesses. To Jacquez Arline, it's an issue of divisiveness and negativity within the black community.
"The Mexicans come together. The Arabs come together," he said. "A lot of (black) people, they've been in the community all their life, and they can't adapt to it."
On Wednesday, a black woman and a Hispanic man worked at Shedid's store in the Dorchester Terrace neighborhood. A longtime customer, a black woman, paused to talk with him about her mother as she placed four beers on the counter.
Shedid, whose family is from Egypt, was born in New York. His wife is black.
"America is not only for me, not only for you. It's for everyone," he said.
Owners of several other area convenience stores, including Uncle Sam Mart, either declined to comment or didn't respond to The Post and Courier's interview requests. One business owner said, "It's a black thing" but wouldn't elaborate.
Other cities have seen clashes between the two minority groups on a larger scale. In the Detroit area, Arab-American business owners and black residents now have a "loose-knit" bond after overcoming more than a decade of tension, said civil rights advocate Nasser Beydoun.
Beydoun, chairman of the Arab American Civil Rights League and former director of the American Arab Chamber of Commerce based in Dearborn, Mich., said their success in improving relationships involved educating businesses on best practices and working with the black community.
"Working together and getting to know each other and helping each other build a better future is the best way to overcome the ignorance and racism on both sides," Beydoun said.
Ruby Abid, with the Central Mosque of Charleston, said wrong assumptions cut deep and show the need for a more thorough understanding of one another. It is not known whether the store owners or employees are Muslim.
"There are good and bad in all countries and in all religions and in all cultures and in all races. ... It doesn't mean that they are all bad," she said.