Last weekend, Jason Schall went catch-and-release fishing. This time of year, the lifelong Charleston angler knows what he'll catch: baby sharks.
"We caught more than a hundred small sharks. You can drop a line in the water and you'll have one on your line before a minute is up," Schall said.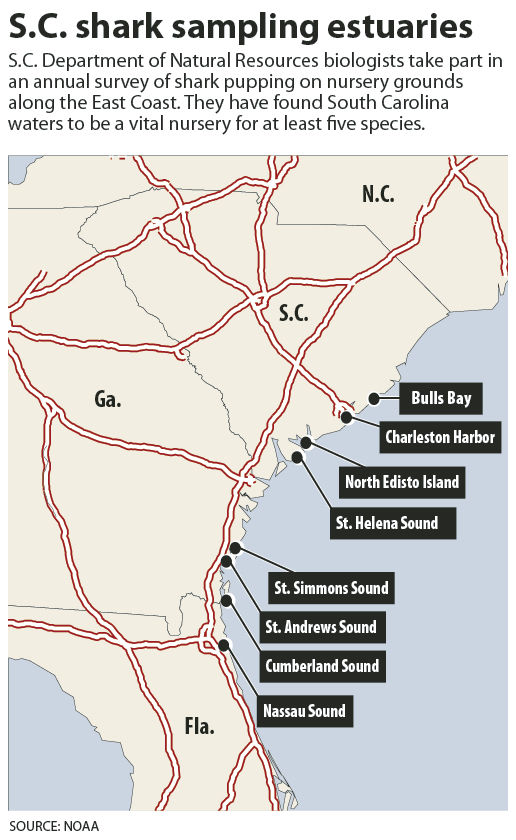 South Carolina estuaries right now are churning with tens of thousands of "pups" — young sandbar sharks, fine toothed sharks, black tipped sharks, Atlantic sharpnose sharks, scalloped and Carolina hammerheads. The local waters, it turns out, are a vital breeding ground for at least those five species. 
They were born in the last month or two, as fully formed sharks 12 to 20 inches long. They grow an inch per month. And this year, the breeding evidently went very well.
"There's a large bunch of pups. Certainly more than normal," said Joel Campbell of Charleston Gigging charters.
An ongoing federal survey has found the sharks give birth virtually everywhere on the coast it has sampled — Bulls Bay, Charleston Harbor, the North Edisto River inlet near Seabrook Island and St. Helena Sound.
The estuaries are the center of near-shore breeding for sharks for the entire Southeast and Gulf of Mexico, said S.C. Department of Natural Resources biologist Bryan Frazier.
In addition, wrongly supposed man-eaters lemon sharks, bull sharks and other species are known to give birth here. They're all taking advantage of the rich estuary schools of food fish.
DNR takes part in the annual survey, which this year tagged nearly 3,000 sharks along the East Coast to study their behavior and movements.
"We're trying to track the abundance of the species, so we can manage them better," Frazier said.
Manage them, you say? For what?
The presence of apex predators like sharks has been shown to be critical to keeping ecosystems healthy. Meanwhile, sharks themselves have become an invaluable resource for a growing variety of medicines.
They're not the swimmer-attacking beasts the movies would have you believe. A few people are nipped or worse by sharks each year in the Carolinas, but nearly all strikes are unintentional, with the animal mistaking humans for prey fish in the roiling surf.
South Carolina hasn't had a fatal attack since the 1850s. Statistically, you're more likely to be killed by a popping champagne cork than a shark.
The sharks aren't so lucky. Most species are in decline worldwide, overfished for food and their fins, which are considered a delicacy and thought to be aphrodisiacs in some cultures. 
Surveyors this year found evidence that South Carolina's own shark, the recently identified Carolina hammerhead, is interbreeding with the very closely related scalloped hammerhead. Eventually, the Carolina shark might disappear, and the remaining species become a slightly different scalloped hammerhead.
Of course, "that might take 10,000 to 20,000 years," Frazier said.