None of it had worked.
Not the group therapy sessions where he was compelled to describe his fantasies about other men. Not the thousands of dollars he spent on over-the-phone counseling. Not the rituals to exorcise the gay demons at war for his soul.
Being gay, Mitchell Reid was told, made him an outcast among men and a deviant in the eyes of God. Twice, he considered taking his own life.
Throughout his three decades in conversion therapy, counselor after counselor promised what they hailed as a breakthrough cure-all: a road map to heterosexuality.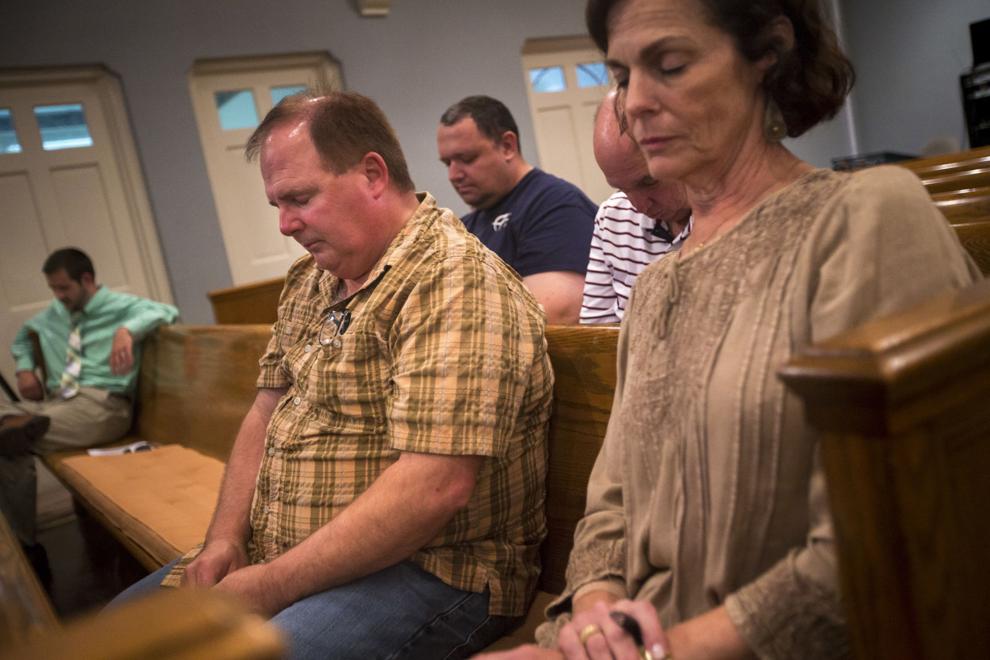 "You feel your soul is distorted and evil and broken because of something you can't change. What do you do?" Reid said. "You do everything you can to change yourself. That's why I went into all these therapies."
Conversion therapy, also called reparative therapy, is designed to suppress or eradicate a person's LGBTQ identity. The practice has flourished for decades, despite legislative and legal efforts to stamp it out.
Still, the movement has ardent supporters who are convinced these practices can cure sexual attractions or behavior they view as a sin and a moral affliction. UCLA researchers estimated earlier this year 57,000 teenagers across the nation will receive conversion therapy from a religious figure before they turn 18.
Though some states have banned the practice, such policies don't apply to faith-based counselors or religious organizations, which has emboldened the movement. Particularly in the Deep South.
South Carolina has never introduced legislation to curb or end conversion therapy. In fact, the state is home to one of the nation's most expansive networks of ex-gay ministries and counseling practices.
Over the course of seven months, The Post and Courier identified 22 of these ministries, churches and practitioners across the Southeast. At least nine of these groups operate in South Carolina.
Reid, 58, never felt close to piecing together why he wasn't attracted to women. The counseling sessions, he said, offered varied rationalizations: He'd disengaged with his masculinity because he wasn't close enough with his father; he'd become too close with his mother; he had repressed traumatic memories.
"I had been hoodwinked," Reid said. "Not only was I spiritually abused, it was emotional abuse."
Joshua Crocker and Mitchell Reid tell their stories about reparative therapy, also called conversion therapy, and how it did not work as young gay Christians in South Carolina.
A changing movement
Conversion therapy has its roots in the mid-20th century, when psychology was modernizing. Researchers then considered homosexuality a mental illness.
That gave rise to some grim treatments in the 1950s. Clinicians used electroshock therapy. Or, they would administer nausea-inducing medications to create negative associations with same-sex attractions.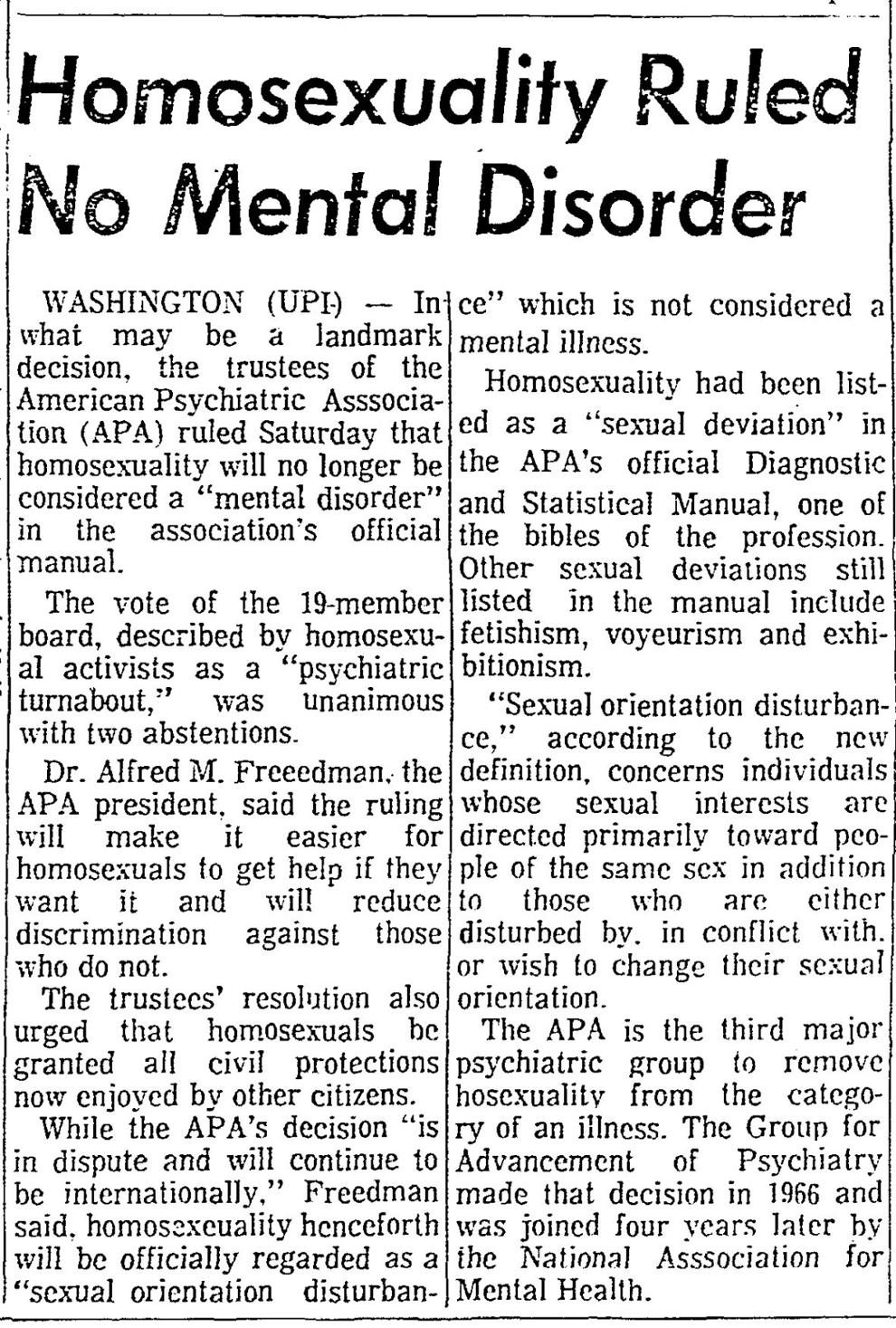 In 1973, the American Psychological Association struck homosexuality from its manual of disorders following intense pressure from the gay community, which argued the classification was prejudiced.
But in 1976, a major network aimed at curing homosexuality began to gain steam.
Orlando-based Exodus International served as an umbrella for groups devoted to eradicating homosexuality, boasting more than 120 local ministries in the United States and Canada.
Founder Michael Bussee wrote that it began as a prayer circle for "same-sex attracted Christians like me."
Bussee, however, broke from the group in 1979. He came out to his family and committed to a same-sex relationship with another Exodus founder. Years later, he wrote in a blog post that he had "never met a gay person who became heterosexual through conversion therapy or ex-gay programs."
Still, Exodus' growing popularity gave rise to other groups in the 1990s, including the National Association for Research and Therapy of Homosexuality. Founded in 1992 in Encino, Calif., NARTH is credited with popularizing ideas about changing sexual orientation. More groups emerged in the decades that followed.
Then, a bombshell in 2013: Exodus closed after its decade-long president, Alan Chambers, publicly denounced the group. Chambers apologized during a speech at an Exodus conference, saying he was "sorry some of you spent years working through the shame and guilt when your attractions didn't change." He now supports same-sex marriage.
Many of the organization's offshoots remain, including one in Spartanburg. Across the country, nearly 700,000 LGBTQ adults have received conversion therapy at some point, according to the UCLA study.
Today, most of those offering a path away from homosexuality avoid the term conversion therapy, preferring to tie their mission to Judeo-Christian values. Homosexuality is immoral, they say, and overcoming same-sex attractions is an outcome possible through God.
That's how two survivors of the 2016 massacre at Pulse nightclub in Orlando framed their journey after a gunman killed 49 people at the gay nightspot. Luis Javier Ruiz and Angel Colon proclaimed that faith helped lead them away from being gay in the aftermath of the shooting.
"In the midst of that, I was able to repent, and I was able to find the love of Christ," Ruiz explained in a video testimonial on Facebook. "I went running into that, no looking back."
Conversion therapy today can be found in many forms. It takes place in quiet conversations with spiritual leaders, in support groups of people hoping to move past same-sex attractions and in sessions with religious therapists. One man described group sessions in a Columbia church basement followed by one-on-one time in a counselor's office, where he was compelled to watch heterosexual pornography in an effort to cultivate a desire for women. 
Critics have intensified their efforts to outlaw the practice in recent years as broader acceptance of the LGBTQ community has grown, signaled by such developments as the legalization of gay marriage. About two-thirds of Americans now think society should accept homosexuality, according to the Pew Research Center.
In addition to state bans on conversion therapy, some local governments — Tampa, Fla., Columbus, Ohio, and New York City among them — have passed their own laws barring the practice.
The Southern Poverty Law Center decided the time was ripe to challenge conversion therapy through the courts as well, said David Dinielli, deputy legal director for the nonprofit civil rights group.
In 2012, Dinielli and his team filed a lawsuit against a New Jersey group named JONAH, alleging that the conversion therapy it offered was fraudulent because it is impossible to change someone's sexual orientation.
A court ordered JONAH to close three years ago, but it continues to operate under a different name. Legal advocates are still fighting to have the court order enforced. 
Meanwhile, unflattering portrayals of conversion therapy have found their way into popular culture. Two films this year, "The Miseducation of Cameron Post" and "Boy Erased," chronicle the plights of teenagers forced into the therapy.
These cultural shifts have caused organizations that believe in the practice to redouble their efforts, Dinielli said.
An expansive network
Though it's counted among the nation's most prominent ex-gay groups by critics and followers, Spartanburg-based Hope for Wholeness grew from humble beginnings, rising from the ashes of Exodus International — at first as a sister ministry and later as a clear successor.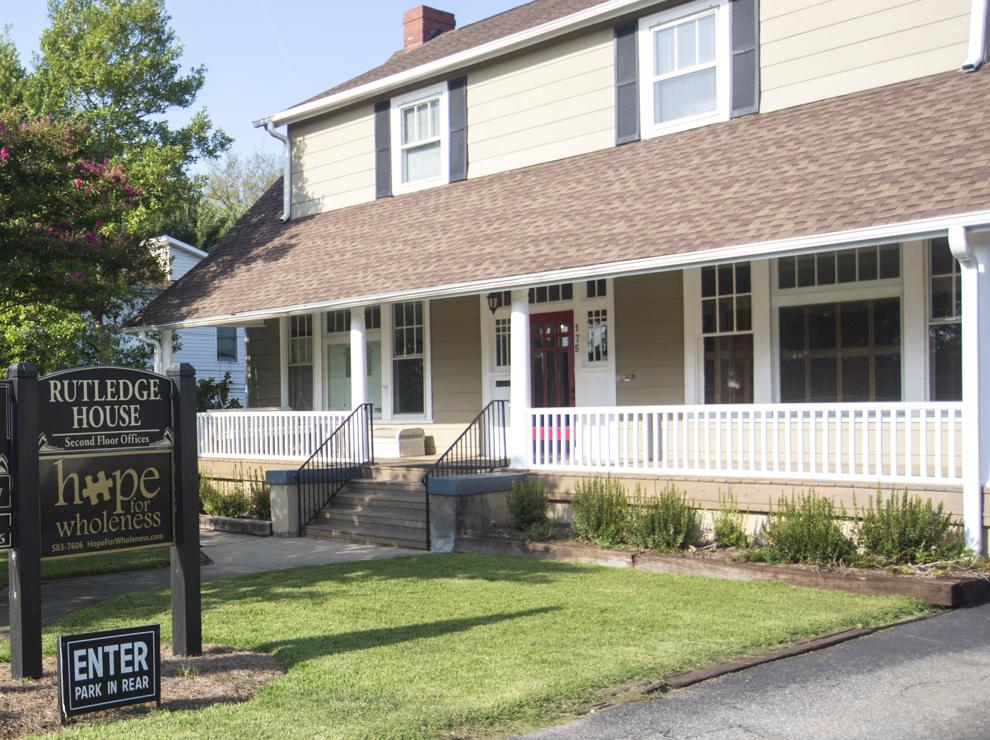 Spartanburg resident McKrae Game, now 50, founded the organization as Truth Ministry in 1999 and charted its expansion over two decades to comprise member ministries, groups and counselors across 15 states.
As a young man, Game began a relationship with a gay neighbor following his parents' divorce, but the experience left him a wreck, his biography on the group's website stated.
"I had never been so confused and my body was telling me that this was what I had always wanted," Game wrote. "My mind and soul was telling me that this was wrong."
Game went on to marry a woman and father two children as he worked to steer others away from gay life through his growing ministry.
Game resigned from Hope for Wholeness in late 2017. He said in a recent statement to The Post and Courier that he is "completely burned out and am glad to be away" after more than 20 years with the group. He also expressed doubts about its mission.
"I have come to realize that ex-gay ministry is not the best choice for most. But for some, it can serve as a community of like-minded persons who choose to live by a traditional interpretation of biblical sexuality," he wrote. "I strongly encourage anyone taking that journey to learn to accept and love themselves. I believe God loves us regardless of our attractions or relationships."
The group is not required to report how many people it helps treat each year, but in 2007 the ministry said it provided 528 counseling sessions and orchestrated at least 60 group meetings for those seeking freedom from their LGBTQ identities, according to tax filings.
Truth Ministry rebranded as Hope for Wholeness in 2011, adopting the title of its newly developed ex-gay curriculum.
The curriculum teaches that same-sex attraction is "a multi-causal developmental disorder and that an individual can experience transformation through the healing power of Jesus Christ."
Featured lessons from its video series and corresponding workbooks include "From Brokenness to Beauty," "I'm Not Going Back" and "Am I Born Gay?" 
The Southern Poverty Law Center, which tracks ex-gay groups across the United States, characterized the ministry as a "key network" for conversion therapy practitioners. Hope for Wholeness states on its directory that it aims to connect those seeking "freedom from homosexuality" to like-minded ministries, counselors and public speakers.
Each year, Hope for Wholeness welcomes hundreds to its national conference — held in July this year in Ridgecrest, N.C., near Asheville — where attendees participate in counseling and break-out sessions and hear from ex-gay speakers.
Post and Courier reporters asked to observe the 2018 conference and interview its leaders, but the ministry's office manager, Nylene Wilds, said she was wary of allowing journalists to attend. She said participants needed privacy as they struggled with daunting questions about their sexuality or gender identity — much like alcoholics in a 12-step meeting or cancer patients in a support group.
"As an organization Hope for Wholeness does not engage in this kind of public dialogue," the group said in a statement after declining multiple interview requests. "We acknowledge that individuals have had differing experiences in attending the varied ministries within our network. It is always our desire to learn and to offer a safe environment for those who seek the services of referral ministries."
Its website features testimonials from individuals and families who tout their confidence in Hope for Wholeness' mission and ideals, offering themselves as proof that change is possible. Among them is Alyssa Parker.
Parker, who realized she was attracted to other women in her early teens, embraces Hope for Wholeness' teachings and sees the group as a refuge.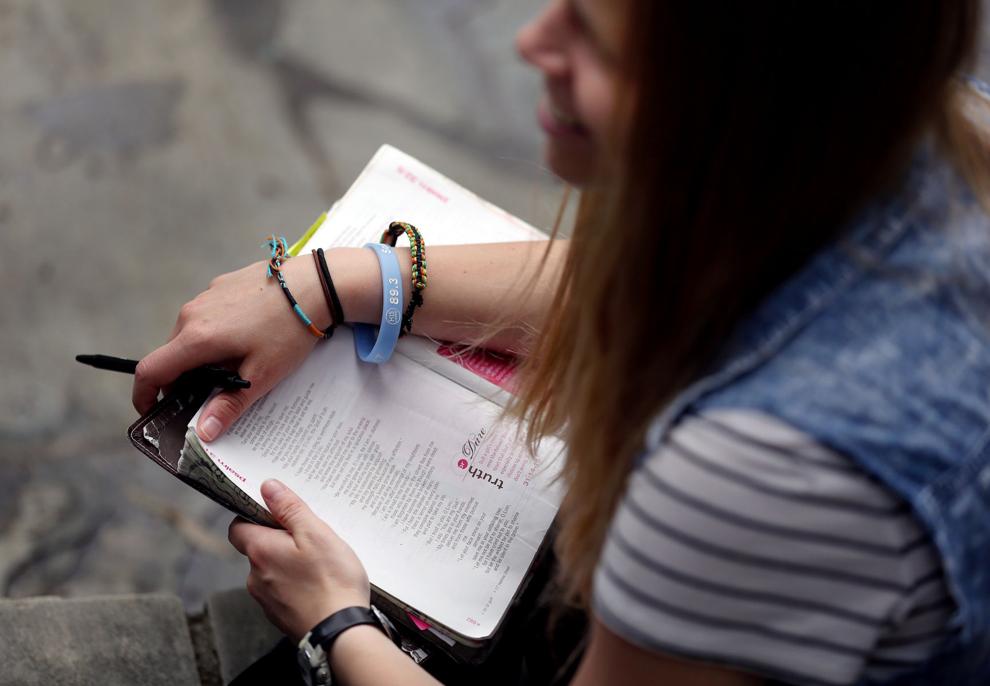 "We all struggle," she said, "but we're all marching toward Jesus together."
Parker, now 23, was raised in Greenville with her twin sister in a devout Christian home. She buried feelings about her sexuality after she came out to her mother toward the end of high school.
Her mother Jill questioned what she had done raising her daughter to make her gay.
"As a parent, I was in denial. I wanted to stick my head in the sand and act like it wasn't true. Not my daughter!" her mother recounted in a testimonial published last year by Hope for Wholeness. "She loved Jesus! Why would He allow this to be in her life?"
About two years later, in 2015, Parker began college at North Greenville University, a Southern Baptist school. It wasn't long before she realized she had feelings for one of her female classmates.
"I felt ashamed and depressed," she said. "I was in my room, just yelling at God."
Ultimately, Parker said she professed her feelings to the young woman, who did not reciprocate.
Parker said she lost many friendships over the episode and became suicidal.
A school counselor referred Parker to Hope for Wholeness, and she and her mother attended the group's national conference in 2017. "Hope Rising" was that year's theme.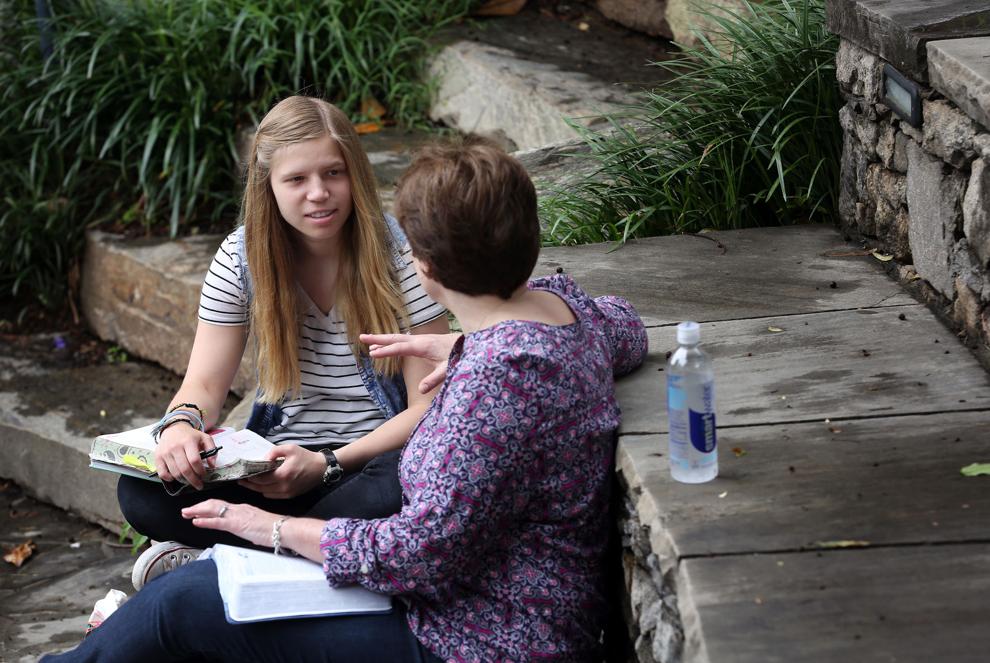 Parker is steadfast in her belief that change in one's sexuality is attainable through faith in a higher power and ample prayer. Her attractions to other women haven't subsided, she said, and she doesn't pretend otherwise. But she meets with an ex-gay mentor on a weekly basis.
"I wouldn't say it's not a struggle; it still is," Parker said. "I still have to be really, really, really conscious about boundaries."
When she feels herself being drawn to another woman, Parker questions whether she's spending too much time with that person. 
"It's just a constant inward battle," Parker said.
Spanning institutions
Beyond ministries and counselors' offices, the battle is waged in institutions as well, at places such as Bob Jones University, where steering people away from same-sex attractions is a matter of school policy.
The Christian liberal arts college in Greenville is a bastion of conservative belief and has hosted the likes of Ronald Reagan, George W. Bush, Gov. Henry McMaster and U.S. Sen. Lindsey Graham. It also has zero tolerance for same-sex relationships. 
School officials declined multiple requests for interviews, but former students spoke with The Post and Courier to shed light on the practices there.
Amanda Koth was a peer counselor at Bob Jones before graduating in 2012. She said she was asked to counsel students suspected of being attracted to the same sex. This could include sessions with Koth and university leaders that featured Scripture readings, workbooks and interviews.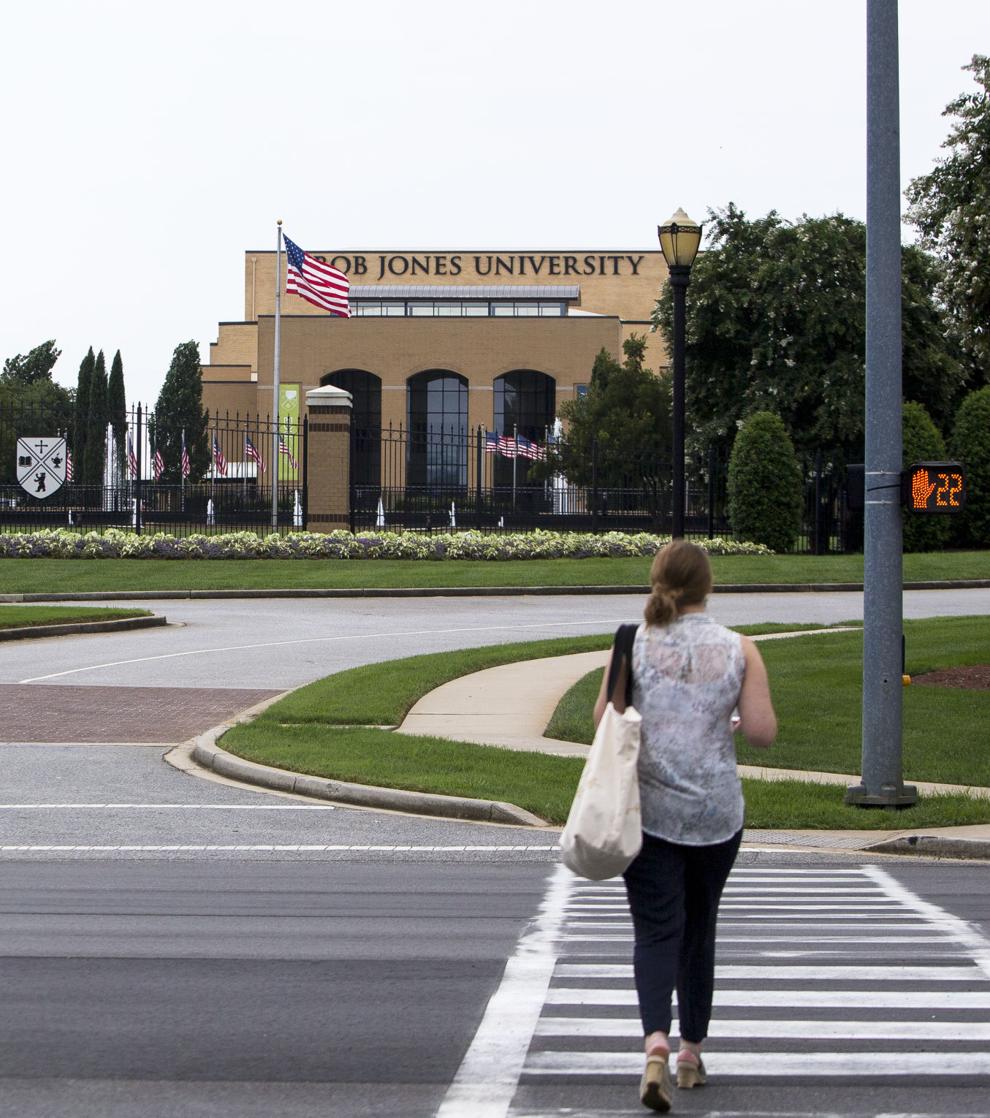 If the students didn't show improvement or admit wrongdoing, they could be expelled, Koth said.
Koth counseled peers in her dorm room, where she had a comfy blue chair to make the space welcoming. On one occasion, she and a dorm supervisor asked a female student to distance herself from another young woman, sensing they had an emotional connection.
"(The student) seemed excited about making some changes," Koth wrote in her notes from the session. "My only concern is that she hasn't reached the truly broken point where she realizes she cannot have all the answers."
Meanwhile, Koth was suppressing her own same-sex attractions.
Knowing how the university viewed homosexuality, Koth said she learned to bury her feelings and dismiss her desires. But after graduating, she found it impossible to maintain that façade. She came out as gay. And she now views her time at Bob Jones in a different light.
"It breaks my heart to think so many people are going through things we went through," said Koth, now 29 and living in Colorado Springs. "What a horrible place it is to know that you didn't fit in and to think there's something wrong with you."
Rev. John Daulton's sermon on the biblical view of homosexuality. He is the Dean of Men at Bob Jones University.
Katie Collins and Sheila Allenbach became friends while attending Bob Jones University. School leaders suspected they were attracted to one another and called them into meetings and biblical counseling sessions. They were told to denounce same-sex attraction.
Feeling pressured, Collins left the school after the spring 2015 semester. Allenbach stayed, and the pair quietly began a romantic relationship a few months later. Collins said the conflict with the university pushed them together, as they were each other's primary source of comfort.
School leaders caught on, and an assistant dean pulled Allenbach out of class one day to confront her about the relationship. Allenbach confessed and said she was quitting school. The administration said it was too late for that: They were kicking her out.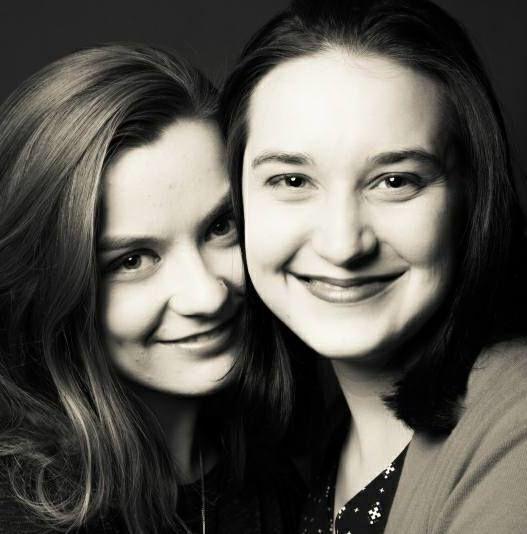 Soon after, Collins and Allenbach got letters from the dean of women explaining that their "lifestyle contradicts our biblical position on same-sex relationships." They were banned from campus.
The couple married in August 2016 and moved to Vancouver earlier this year. Collins is now studying theology, which she said has led to revelations about God's love.
"It's been incredibly freeing to learn that God is so much more open to me, and to loving not only me, but everybody," she said. "I absolutely do not believe that God puts any caveats on his love for us."
Dealing with damage
Melissa Moore runs the only LGBTQ resource center for youths in South Carolina. She estimates 20 to 30 percent of the young people she works with at the Charleston nonprofit We Are Family have been through conversion therapy.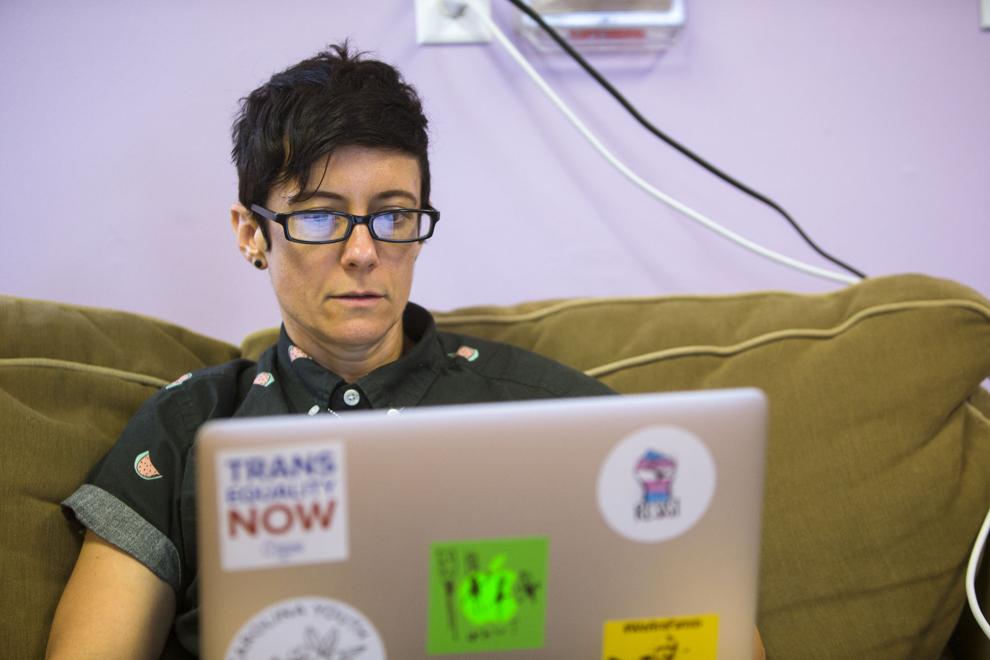 Moore sees familiar narratives play out time and again: youths asked to leave home after coming out to their families or being taught who they are is not natural.
"Parents think that (being gay) is a choice and that it's something that needs to be corrected," Moore said. "That being gay is as easy as saying, 'I like chocolate or vanilla.'"
The struggle to reconcile faith and identity can be daunting. The number of high school-age students who contemplate suicide is nearly 30 percent higher for gay, lesbian and bisexual teens compared with their heterosexual peers, according to the Centers for Disease Control and Prevention.
Alexandra Karydi, program director for the Department of Mental Health's Youth Suicide Prevention Initiative, said families seldom realize the grave effects that conversion therapy can have on their loved ones. Many end up even more torn and disillusioned trying to suppress who they are, she said.
Joshua Crocker spent years working to change himself, through therapy and through marriage to a woman.
Crocker, 31, was introduced to Hope for Wholeness in 2006 when he was studying at Anderson University to become a preacher. It was a billboard outside a Spartanburg burger joint that stole his attention.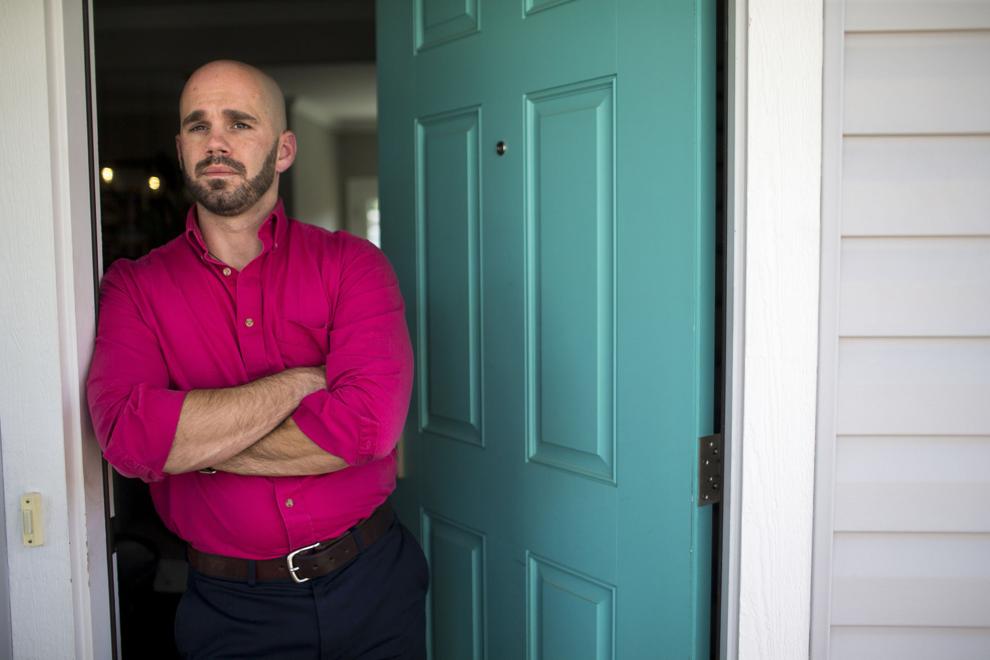 "Are you gay or lesbian and don't want to be?" the display read, featuring a woman with her eyes closed and head slightly bowed. "There's HOPE for change."
Crocker wondered if the group might some day help him deal with his own attraction to men.
The message stayed with him. It was in 2009 when he confided in a worship leader at church that he liked men but was ashamed. He wanted to change but didn't know how. There was a ministry, he was told, that could help convert him.
Crocker attended several sessions with a Hope for Wholeness-affiliated counselor. At times, it helped to distract from his own desires. But he said he never came close to isolating the root cause of his homosexuality.
He eventually stopped seeing the counselor, resolving to address his issues on his own.
Crocker married a woman in the fall of 2015. He was open about his attraction to men, he said, and it was something he and his wife thought they could navigate together.
Then, after nearly two years of marriage, came the breaking point.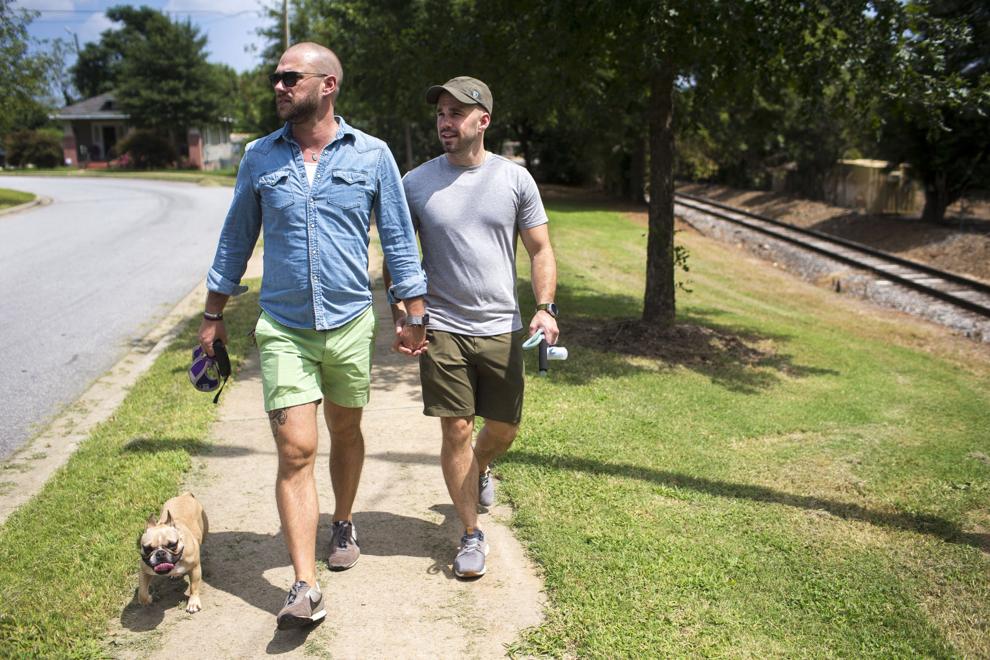 One morning in March 2017, Crocker climbed into his SUV and sped off. Shame and rage welled inside him as he imagined the different ways he could crash his car. If he could ensure he didn't walk away from the wreck, he thought, the burden of coming to terms with his sexuality would disappear. His attraction to other men would disappear. The anguish and confusion he associated with months of conversion therapy would disappear.
In the end, he returned home, sat his wife down that evening and told her he had to leave if he was going to survive. They finalized their divorce this summer.
He has since come out as gay. He and his boyfriend are moving into a house together this fall.
"I say I'm the healthiest I've ever been, and I am the healthiest I've ever been, but ... I've still got damage to work through for years and years and years of being essentially taught to hate myself," Crocker said in his Greenville home.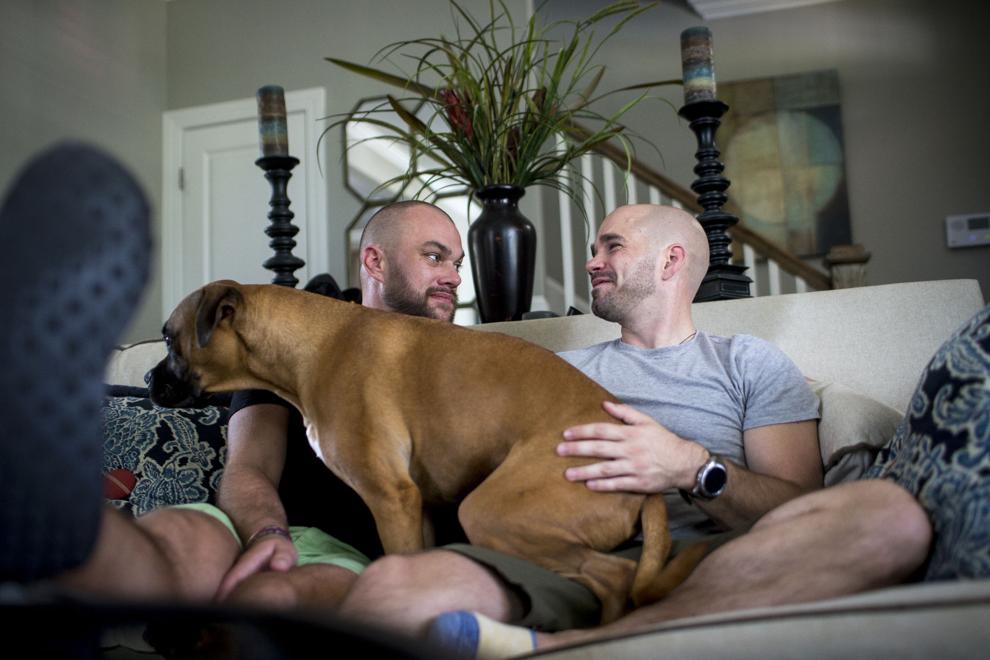 Nick Fager, a therapist with the LGBTQ-affirming Kull Initiative for Psychotherapy in New York, has heard many similar stories. Conversion therapists reinforce a client's worst feelings about themselves in hope the patient will abandon same-sex attractions, he said, but the result is often depression or worse.
"It condemns what the person is already condemning about themselves," he said.
'Struggle to understand'
It was a sunny, warm day in May 2015 when the red-headed teenager walked into the minister's office. Avoiding eye contact, 18-year-old Cody Roemhild spoke softly and said little.
Roemhild and the minister, Hope for Wholeness founder and then-president McKrae Game, talked about why the young man was seeking the ministry's support. Roemhild had left home after telling his family he was gay.
"He did not want to talk about anything of any significance. He talked a little of his family, but he really didn't want to go deep," Game later recounted in the organization's newsletter. "That is not unusual for teenage guys who are trying to find their place in life, who struggle to understand who they are and where they are going."
A month later, Roemhild attended the ministry's annual national conference. There, he found a place with others like him, a place where people embraced the idea of change.
A photo from the conference shows Roemhild standing next to other ministry members, flashing nervous smiles, arms around each other. Another shows the young man and Game sporting matching lime-green conference T-shirts. "Masterpiece in Process," the shirts read.
The conference featured more than three dozen sessions for the teenager and his peers:
"How to Overcome Same-Sex Attractions"
"When Your Child Breaks Your Heart: Coping With Gay and Transgender Kids"
"True Masculinity"
Roemhild seemed to take what he learned from the sessions in earnest.
"I'm not gay I obey!!" he tweeted during the conference.
A year's worth of photos, published on Roemhild's social media pages after he joined the ex-gay ministry, offer glimpses of vacations, high school graduation and prom. In one snapshot, apparently before the dance, Roemhild stands on a porch by himself as he sports a royal-blue bowtie, slinging a tuxedo jacket over his right shoulder and smiling into the camera.
In another, he's dressed as Santa Claus, helping others hang Christmas lights and decorations.
Days before Christmas 2016, members of his family went to the 20-year-old's Spartanburg apartment after they couldn't reach him. A maintenance man kicked in the dead-bolted door, police reports show.
They climbed the stairs leading to his living room. The walls were decorated for the holidays, and an illuminated Christmas tree stood before them.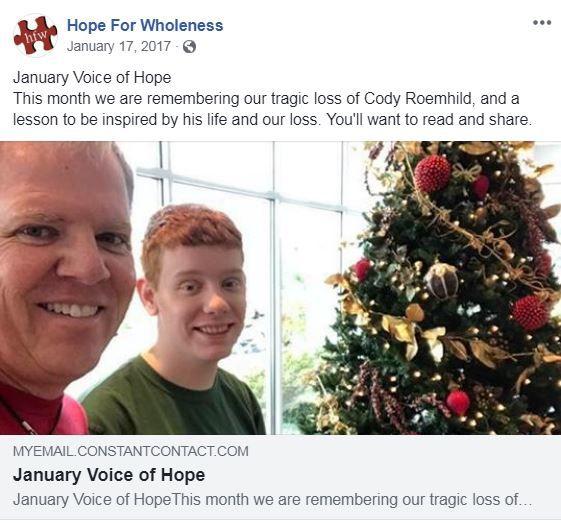 Roemhild lay on the floor in a hallway near his bedroom. Authorities noted the near-empty pill bottles sitting open on a table. The coroner would rule his death a suicide. 
Investigators combed through Roemhild's apartment, trying to piece together what compelled him to take his life. They found few clues. 
His bed was made. His room was tidy.
On a table was an open Bible. Psalms 23 was circled in red.
"Even though I walk through the valley of the shadow of death, I will fear no evil, for you are with me."
'Burnt offering'
Each conversion therapy participant interviewed for this story walked through the doors of these programs of their own volition. 
Religion was at the root of their decisions to submit to the therapy. Each struggled to reconcile faith and sexual identity. But their choices also came at the urging of the people closest to them, at home and at church. 
In South Carolina, there are no regulations governing conversion therapy, no safeguards or penalties in place to protect those who submit to its practices. And there is little recourse for those who feel they were wronged or damaged.
Mitchell Reid, for instance, spent most of his adult life in counselors' offices and church basements trying to erase a part of himself that felt natural — the part of himself he was told for three decades was an abomination that could be changed through prayer.
Months after his final counseling session, he gathered three decades' worth of ex-gay readings he had amassed in his home. One by one, he tossed them into a fire. "A burnt offering to God," Reid called it.
"I had been lied to my whole life by people and a church that should have been my support, instead of my source of greatest pain and hurt and abuse," he said.
Seven years after he stopped trying to change his sexuality, Reid still believes in God. A God who won't condemn him for living openly as a gay man.
He's even returned to church — to Augusta Heights, a congregation in Greenville that broke away from the Southern Baptist Convention in 2015 after it married two gay men. Reid attends services each week, and he belts hymns in the choir.
Reid said God has no qualms about allowing him to love another man. But he hasn't allowed himself to do so. Not yet.