At first glance, Aragon Avenue looks like another poorly maintained road off Spruill Avenue, peppered with concrete rubble and cracked asphalt.
But inside a pale blue house at the end, the buzzing of a tattoo gun and Depeche Mode's "Enjoy the Silence" underscore a generational shift sweeping Park Circle — one of North Charleston's oldest neighborhoods. 
Roses & Ruins Tattoo — which opened a few weeks ago at 1019 Aragon Ave. — is helping to breathe life back into a once-thriving but recently depressed block of the city. And it's not alone.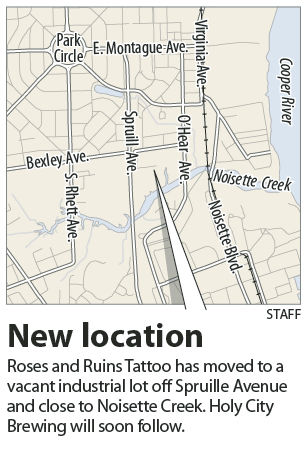 Next door, at 1021 Aragon Ave., Holy City Brewing is renovating the city's former public works facility. Around the corner, The CODfather converted a former Spruill Avenue nightclub into a British fish and chips restaurant. Firefly Distillery plans to open across the street.
Chris Zealy and Kevin Vandwaye grew up in North Charleston during the 1980s. As children, they said they saw a bustling East Montague Avenue, where Zealy said he drank malts at a diner counter next to a full-service gas station. Children biked late into the night and played foosball at the Park Circle community center. 
In the 1990s, the Navy closed its base on the Cooper River, and an economic downturn hit Park Circle. In recent years, the area has begun a turnaround, with rising housing costs, bars, restaurants, and yoga and fitness studios filling the storefronts on East Montague Avenue.
"To play a part in bringing this area back to life is huge," Vandwaye said. "It's kind of like we're hometown heroes." 
Not everybody, particularly long-time residents, agreed. 
City Councilman Bob King, who also has deep roots in Park Circle, does not see a new tattoo shop as a step toward revitalization. 
A city ordinance prohibits tattoo shops within 1,000 feet of churches, schools and neighborhoods. King said the law is meant to keep children away. In this case, 1019 Aragon Ave. is technically within 1,000 feet of a few dozen homes along Bexley Street, a road in the Olde North Charleston neighborhood. 
Vandwaye and Zealy sought a variance from that law, given that trees, marsh and industrial warehouses separated the neighborhood from their desired spot. In February, after heated arguments among city leaders, a city zoning board granted their wish in a 4-1-1 vote. Ralph Calhoun voted against it and Zachary Closser recused himself. 
King, whose district includes Park Circle, was not pleased with the outcome. "I worry about the hygiene of it," he said. 
But Vandwaye feels King has nothing to fear. "There are no health concerns," Vandwaye said. "We treat everybody like they have Hepatitis. And we treat everything like it's dirty."
And Vandwaye said his clientele are becoming as diverse as the neighborhood's demographics. They include not only Hell's Angels bikers but also doctors and pilots. 
King said he recognizes that tattoo parlors and breweries draw more young people to Park Circle, and he welcomes that surge.
"What we've found out, with the 'millenians,' as I call them — they want to be near the Village," he said. "People wanna live here, which I'm happy about. It's the place to be."
Jerry Lahm, president of the Olde North Charleston neighborhood group, said he hasn't heard any complaints about the tattoo shop. 
"The concern seems to be that these things are not happening faster versus that they are happening," he said.