North Charleston has become the most recent South Carolina coastal city to modify its height rules.
The change came along the Ashley River, where the city is looking to spur redevelopment of a former industrial zone that dates from the heyday of 19th century phosphate mines.
City Council voted May 24 to remove a large swath of land from the Ashley River Scenic District: from Interstate 526 to the Northbridge, which links North Charleston to Charleston via S.C. Highway 7.
As a result, developers are no longer be limited by the district's current height restrictions of 50 feet.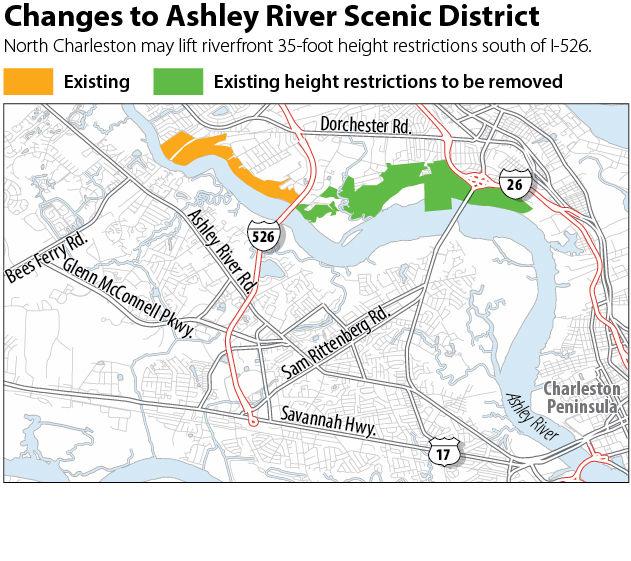 The city has not set a new limit for this land, but in a proposal to City Council, planning and zoning administrator Gwen Moultrie said that she envisions new mixed-use development that could include apartments and bike trails. 
Most of this land is within the district of Councilman Todd Olds, who said there's a lot of potential that could come from change.
"I would like to see future development go toward 'live, work play' sustainable type living," he said. "It's a very beautiful property all along there. It seems it would draw and attract some quality things."
Because much of this riverfront land is also in a flood plain, developers are required to raise new buildings to federal FEMA rules. Those rules, coupled with the former 50-foot limit, would have limited some development to as few as two stories.
Jason Crowley, program director at the Coastal Conservation League, an environmental advocacy group said North Charleston's decision to remove the district overlay south of I-526 toward Charleston would not affect the historical or cultural significance of the riverfront. (The district remains intact further north, where it has neighborhoods directly across the Ashley River from some of the Lowcountry's most historic plantation sites).
In fact, the potential for infill development in that area of North Charleston would help as the region continues to grow, Crowley said. Former industrial sites like this already have infrastructure in place to support housing. 
"Sprawl will only exacerbate the traffic problems we already have," he said. "Former industrial sites that have been appropriately cleaned up make great infill development sites, like the Magnolia development immediately north of Wagner Terrace in Charleston."
It is unclear whether the city also may rezone the area to encourage mixed use. Some other coastal cities have taken that step: For example, the town of Hilton Head the Parks created a Parks and Recreation District where developers are capped at 35 feet. 
Hilton Head's manual says the district's purpose is to minimize the impact of development on the natural environment and the community. 
The town of Surfside, just south of the city of Myrtle Beach, contains one district that obverses a 55-foot limit and another that observes a 35-foot limit. These rules protect the family-oriented aspect of the town, Mayor Bob Childs said. 
"We want to keep it that way," he said. 
In the Myrtle Beach, however, the city prioritizes tourism and promotes beachfront hotels and condos. Its zoning rules were recently adapted to take the cuffs off of developers, city spokesman Mark Kruea said. 
Charleston redid its height rules downtown last year. They weren't a dramatic change but instead were designed to limit buildings based on the number of building stories, not on the number of feet.
Charleston City Councilman Peter Shahid represents the side of Ashley River opposite from where North Charleston removed its overlay. He also resides in the North Bridge neighborhood and regularly visits the North Bridge Park at the base of the river and Sam Rittenburg Boulevard. 
If North Charleston could move away from its industrial past and develop parks like North Bridge on its side of the river, that would be a good thing for everybody, Shahid said. 
"It's going to enhance this whole strip," he said. "I think we would all be happy with that. ... The vistas from there are beautiful." 
Olds said he has not yet heard of any proposals from developers but that he's eager to see what the city staffers propose for the area in terms of zoning when the comprehensive plan and future land use map is updated. It was last amended in 2016, according to the city's website.