Looking for a novel way to burn some calories this St. Patrick's Day weekend while learning more about Charleston's deep Irish roots?
Consider this walking — or biking — tour of downtown historic sites that bear witness to centuries of Irish presence here.
Charleston historian and professor Stephen White, who is currently writing a book about the Irish in Charleston, said a thorough tour would include hundreds of sites and even more stories, but he agreed the places listed below certainly hit the high points.
"Too often the assumption is the Irish only came during the famine," he said. "I've spent several decades trying to convince people that the Irish were here from the beginning. Eight South Carolinians combined to sign either the Declaration of Independence or the U.S. Constitution. Of those eight, four were of Irish decent.
"Most people believe we've had two Irish mayors," he added. "There actually are seven."
The first arrivals were mostly Protestant, Anglican Irish, then a wave of Scots Presbyterian Irish joined them in the mid 18th century. Both groups were relatively well off compared with the Catholic Irish who began arriving in the early 19th century, many escaping the Potato Famine at home.
By 1860, the city's Irish made up 14 percent of its white population. By 1883, Charleston had at least 17 Irish social, philanthropy, church or militia groups.
Here are some key places where they left their mark — and continue to:
Broad and Meeting streets
There is nothing overtly Irish about Charleston's famous civic square, also known as the Four Corners of Law, but subtle ties abound.
St. Michael's Church was built by Samuel Cardy, who hailed from Ireland, between 1752 and 1761. Across Meeting Street, the late 19th century Federal Courthouse has the fingerprints of architect John Henry Devereux, who was born in County Wexford, Ireland.
In the courthouse's garden sits a monument to 20th century statesman James Byrnes, whose mother was an Irish-American dressmaker and who served as a U.S. senator, Supreme Court justice and secretary of state, among other offices. (He's also the namesake for West Ashley's Byrnes Downs neighborhood).
Across Broad Street, many believe the historic Charleston County Courthouse was designed by Irish architect James Hoban. No definitive proof has surfaced, but Hoban was known to be in Charleston in the late 18th century — and the courthouse's similarity to the White House — Hoban's best known building — is tantalizing.
Across Meeting Street, Charleston City Hall has been home to seven mayors with Irish roots, including Joe Riley, who served there 40 years. City Hall also is where Mayor John Tecklenburg will make history Saturday when he presents the South Carolina Irish Historical Society's first heritage award to Tommy Condon, who founded his namesake Irish pub at 160 Church St.
Cathedral of St. John the Baptist, 120 Broad St.
John England, a native of Cork, Ireland, became the first Catholic bishop of the Charleston diocese, which at the time covered Georgia, South Carolina and North Carolina.
He first bought property here in 1821 as a site for a cathedral and christened an existing home on it as a temporary chapel, naming it in honor of St. Finbar, the patron saint of Cork, where England also was ordained a priest. In 1854, the first cathedral, then called the Cathedral of St. John & St. Finbar, was consecrated. It burned down seven years later.
The current Cathedral of St. John the Baptist was built on the charred foundations beginning in 1890. England's rich legacy helped open up Charleston society to Irish Catholics, and it lives on at Bishop England High School. England also was the first priest invited to address Congress, where he talked about how Catholics could be loyal U.S. citizens.
Bonus: While you're here, note that just across the street at 117 Broad St. is the Governor's Inn, former home of Irish-American Edward Rutledge, the youngest signer of the Declaration of Independence; both he and his brother John were founders of the Friendly Sons of St. Patrick in the 1770s, White said.
Hibernian Hall, 105 Meeting St.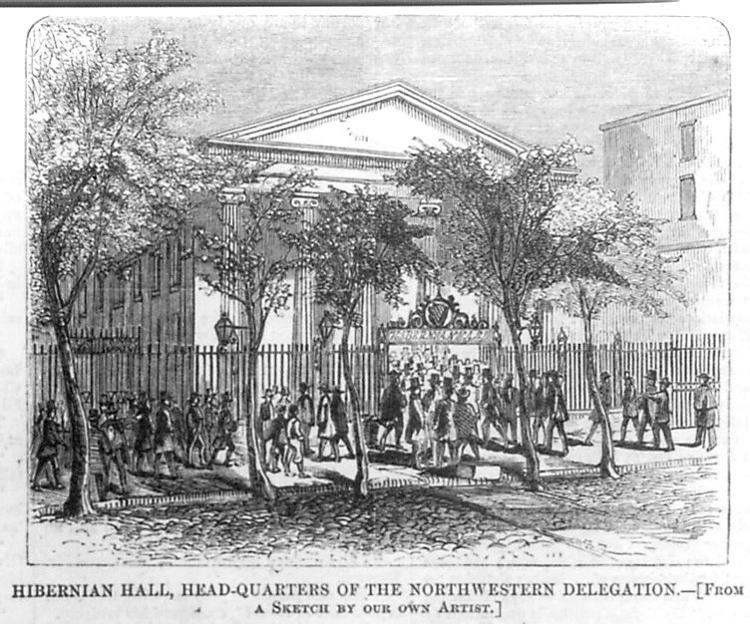 Hands down the most overtly Irish historic site in Charleston, this landmark was built around 1840 for the Hibernian Society, which formed in 1801 to help Irish immigrant families.
Over time, its members were wealthy men, both Protestants and Catholics, and not necessarily of Irish backgrounds. Architect Thomas U. Walter designed the Greek Revival building (and would later design the U.S. Capitol Dome). Its exterior includes a gilded Irish harp over the door and a stone brought from County Antrim in northern Ireland in 1851.
Hibernian Hall also played a historic role housing the Northwestern delegation to the 1860 Democratic National Convention held just across Meeting Street.
St. Mary's the Annunciation, 89 Hasell St.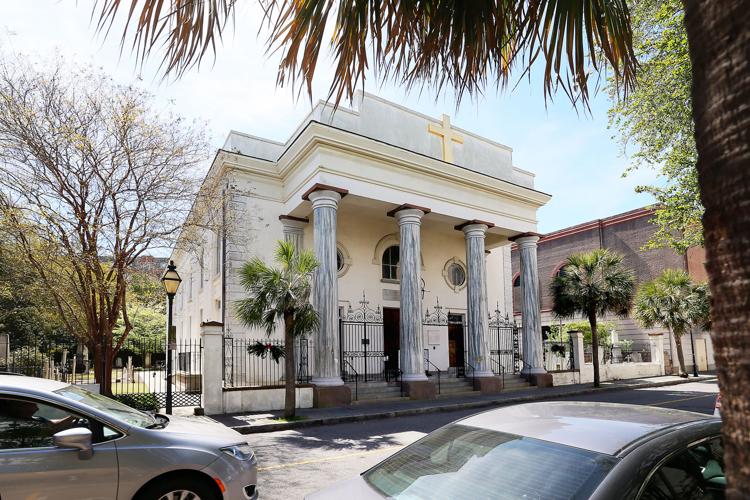 Catholics weren't welcome during Charles Towne's earliest decades because two Catholic nations, Spain and France, were the prime enemies of the young English colony.
But once the United States was formed, they began to worship here openly. Before Bishop England's arrival, a mix of French and Irish Catholics joined forces to establish this city's first Catholic Church here in 1789.
The Rev. Matthew Ryan, a priest of the Diocese of Dublin, was sent to Charleston and first rented a wood-frame meeting house on Hasell Street that had used by a sect of Calvinistic Methodists. The current building dates from 1839.
St. Matthew's Lutheran Church, 405 King St.
While the Lutheran denomination has its roots in Germany, this Marion Square landmark was designed by Devereux, an Irish-American (who also did the federal courthouse and post office at the tour's start).
Devereux, one of the city's most prolific architects in the late 19th century, also designed the Masonic Hall at the southeast corner of King and Wentworth streets.
This church might be his best-known work: Its spire is the tallest point in the city.
Irish Volunteers Armory, 12 Vanderhorst St.
The Irish Volunteers, a militia company, formed in Charleston in 1798 and built this Gothic-style armory around 1888.
The company served in the War of 1812, the Seminole War of 1836 and the Civil War. While the building has been extensively rehabilitated and now serves as architect offices, the façade has been preserved. Those who peer up through the tree branches can see a harp and shamrocks that speak of its Irish roots.
McCabe Tenements, 51-59 Chapel St.
These five Victorian homes are known as the Benjamin McCabe Tenements. They were built around 1890 by McCabe, a captain with the Irish Volunteers (whose headquarters building was built a few years earlier just a few blocks to the west).
McCabe lived at the corner, at 59 Chapel St., which still retains its original single-story piazza, according to "The Buildings of Charleston." His investment company also built the three similar Victorian homes around the corner at 24-28 Elizabeth St.
These homes are included to show the Irish influence wasn't limited to churches, armories and civic monuments.
Irish Memorial, eastern end of Charlotte Street
This memorial to the city's Irish signifies not only how established that history but also how it's still being written.
The memorial features a 28-foot by 30-foot chunk of granite carved into the shape of Ireland. Those who wander down to the waterfront can glimpse Sullivan's Island in the distance. That island was named after Irish immigrant Capt. Florence O'Sullivan, who arrived here in 1671, one year after the Carolina colony began, and served on the island as a sentinel.
The memorial reflects the contemporary vibrancy of the city's Irish community: It was dedicated and opened to the public only six years ago.
Irish Memorial, St. Lawrence Cemetery, 60 Huguenin Ave.
OK, so the St. Lawrence Cemetery isn't an easy walk from Charlotte Street — it's more than 2 miles north, a bit longer than you've walked so far.
But those who make the trip to the cemetery on Huguenin Avenue will find one of the city's oldest surviving Irish monuments.
The obelisk, topped with a Celtic cross, towers over the heart of the historic Catholic cemetery. It honors the volunteers, whose former armory was one of the tour's earlier stops. A metal plaque includes rifles, shamrocks and a sort of angelic mermaid.