The war on plastic straws is gaining momentum, but there are still some skeptics.
Order a drink in any of the 130 bars and restaurants that have signed up for Strawless Charleston so far this summer, and you won't get one unless you ask. Some of the establishments won't give you a plastic straw at all, bringing out paper or even metal straws instead, especially for those heavy frozen drinks.
Beverage giant Starbucks gave the campaign a boost earlier this week with the announcement that it will quit using plastic straws by 2020. They will be replaced by a sippy cup that will take more than 1 billion straws a year out of circulation, according to Starbucks. 
The trend was gaining momentum even before Starbucks' move:
Seattle, the company's home city, enacted a ban on plastic straws, cups and utensils that took effect July 1.
American Airlines, the world's largest carrier, announced this week that it will eliminate plastic straws and stir sticks from its flights and lounges, eliminating 71,000 pounds of plastic a year.
Alaska Airlines announced in May that it would replace plastic straws with biodegradable alternatives. The airline reported using 22 million of them in 2017.
Volvo Cars announced in June that the company will completely eliminate single-use plastics such as eating utensils, cups and straws from all its offices, cafeterias and events across the globe by the end of 2019. That includes its Berkeley County plant near Charleston, which will start cranking out S60 sport sedans in September.
McDonald's, the world's biggest user of plastic straws, announced in June that its restaurants in the United Kingdom and Ireland will switch to paper straws by next year, eliminating 1.8 million plastic straws a day. At this point, nobody is able to make enough durable paper straws to replace the demand worldwide. The franchise serves 60 million customers a day.
This is the second year for Strawless Charleston. The campaign started on Memorial Day and continues through Labor Day. Bars and restaurants are asked to sign a pledge that they will include a straw with drinks only to patrons who ask for one. A link is on the Strawless Charleston Facebook page. Some have gone the extra mile and switched to paper and metal straws.
It would seem that plastic straws wouldn't be a problem in places where they are used inside and can be put in a recycling bin. But they actually end up in landfills anyway because they are too small for the sorting machinery and fall through the cracks, according to Charleston County recycling coordinator Christina Moskos.
"That is absolutely the case," she said. "They're just too small."
The Charleston chapter of the Surfrider Foundation, which coordinates beach cleanups, estimates that 660,000 plastic straws are used every day in the hundreds of bars and restaurants in the Charleston area. They say 500 million straws a day are used across the country, which adds up to quite a mountain of plastic if that estimate is anywhere close.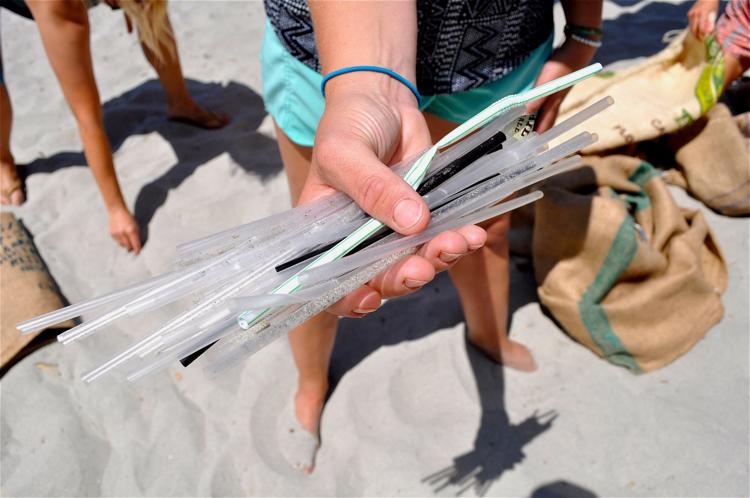 Kate Dittloff, Surfrider's Rise Above Plastics coordinator, said every beach cleanup nets a big pile of plastic straws and cigarette butts.
"If we trash up our environment, tourists are going to stop coming, and that won't be good for anybody," she said.
A gut-wrenching video of a marine biologist pulling a plastic straw from a sea turtle's nostril with a pair of pliers that was posted on YouTube in 2015 energized a movement that had been percolating around the country for a couple years. The clip, which is not recommended for the squeamish, has garnered more than 30 million views.
Before Strawless Charleston was conceived last spring, the South Carolina Aquarium was already encouraging restaurants to eliminate not only plastic straws but cups, utensils and containers. The aquarium has a list of its Platinum Partners on its website.
Narrowing the focus to plastic straws was an easy first step in getting people thinking about the problem, according to campaign coordinator Megan Deschaine, a bartender at Macintosh in downtown Charleston and vice president of the Charleston chapter of the U.S. Bartenders Guild.
"Baby steps are baby steps," she said. "People are talking about it."
She's hoping 200 bars and restaurants sign up by Labor Day, but admits she's getting some resistance. 
It's been a topic of discussion on the Chucktown F&B Collective Facebook page, a closed group that's not public.
"Lots of uninformed bleeding hearts," according to one comment. "Straws are so low on the dangerous list a strawless summer is nothing more than making dumb people think they are doing something."
Charleston Music Hall has switched to paper straws, and not everybody likes them.
"It is surprising how many people get angry at us for not having plastic straws," Director Charles Carmody said. "We politely explain why, and they still just do not care. It is almost always a demographic older than 45 that makes a fuss. One guy cussed at me and said the paper straw will be gone by the time he finishes his soda because it will have dissolved."
Most of the patrons at The Getaway on King Street appreciate the effort, but there's always that one at the end of the night who starts demanding a plastic straw, according to Chef Emily Hahn.
"That one gal or guy, just the one towards the end of the night that needs to power down their last call," she said. "Some will never be changed but it's small victories ... and for the most part our guests are stoked to support."
John Keener, owner of the Charleston Crab Shack and president of the Greater Charleston Restaurant Association, said most people recognize that plastic waste is a problem, but going straw-free is not always feasible.
"We recognize each restaurant has to carefully evaluate participation in the context of its operating structure, costs, existing inventory, supply availability, as well as patron feedback and needs," Keener said. "Availability of paper straws is proving to be a challenge. The order fulfillment window for some distributors could be 12 weeks for paper straws."
Aardvark, a company based in Indiana, makes a durable paper straw that's guaranteed to hold up for hours in a drink, but demand has become so great lately that it takes four to six weeks to fill new orders. The company added more machinery last month to ramp up production, according to Kara Wooding, Charleston sales representative.
Durable paper straws are significantly more expensive than plastic. For instance, you can easily find 7.75-inch plastic straws on Amazon for a penny each or less. Aardvark paper straws of the same length cost a nickle or more, depending on the design and quantity.
The cost difference can add up for venues serving hundreds of drinks a day, although giving out straws only to patrons who ask for them could make up for some of the difference. 
Macintosh has been testing Klean Canteen's steel straws in frozen drinks, which come with washable silicone tips in bright colors. They plan to switch to steel straws from Healthy Human, a 3-year-old Mount Pleasant company that started out selling insulated water bottles and tumblers and added steel straws last month. 
The company sells them on its website and through Amazon in packs of three for $8.99 or five for $12.99.
"They're really a hot-button product right now," said Brittani Biederman, the company's social media and marketing manager.
The downside for restaurants, other than the cost, is that metal straws need to be cleaned with a pipe cleaner before being sterilized in the same way as silverware.