Charleston-area commuters Wednesday morning were yet again forced to reckon with congestion and alternate routes after a broken cable on the James B. Edwards Bridge closed westbound lanes of Interstate 526 in addition to possible rain showers.
Traffic as of 1:45 p.m. was congested all along the Arthur Ravenel Jr. Bridge as well as on southbound U.S. 17. Traffic was moving, on average, between 11 and 25 mph. Both north and southbound U.S. 17 are part of detour suggestions outlined by the S.C. Department of Transportation:
•Southbound US 17 across the Arthur Ravenel Jr. Bridge to I-26 in Charleston.
•Northbound US 17 to Highway 41 to Clements Ferry back to I-526.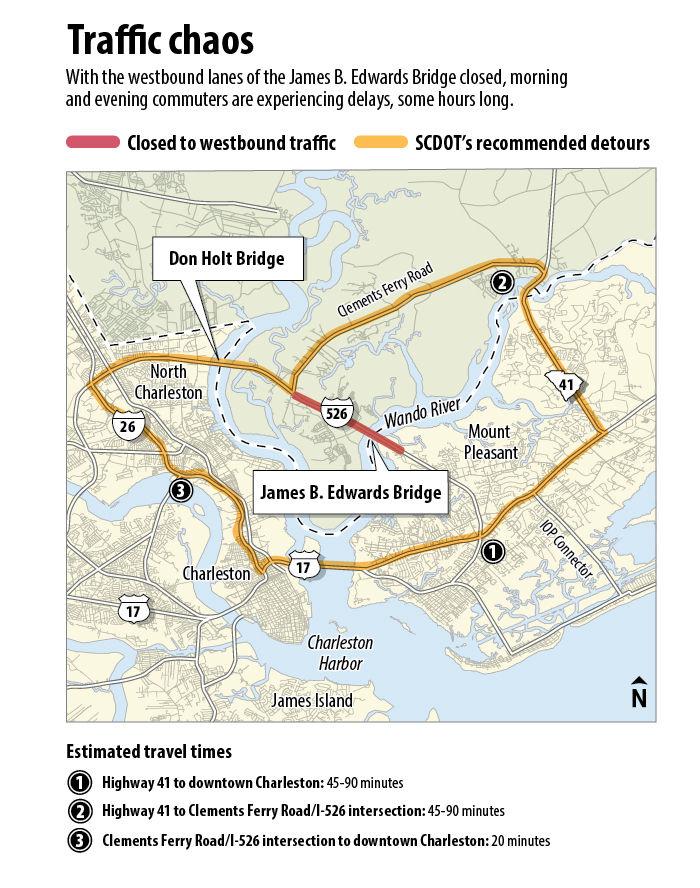 State and local law enforcement agencies, including the S.C. Departent of Public Safety and the Charleston County Sheriff's Office has assigned additional troopers and deputies, respectively, to assist with traffic-detour control.
What exactly is causing the traffic headache?
South Carolina transportation officials on Monday closed westbound Interstate 526, citing a broken cable on the Wando River bridge.
DOT tweeted on Wednesday that Charleston County will fly a helicopter for a traffic flow management team. Engineers will then assess traffic patterns on and off the detour routes.
You can view select areas of DOT roads, including areas experiencing delays, here via above-street cameras.
I think my nose is running faster than I'm moving. 😋 #chstrfc #momlife

— Joyce Flower (@joyceycouture) May 16, 2018
A news conference with state transportation officials at 4:30 p.m. on Wednesday is expected to yield more information regarding a timeline for repairs and how much longer the colossal traffic snafu is expected to last.
Since Monday evening, traffic has crawled through the East Cooper area and along detour routes during peak travel times.
The forecast
Motorists who were stuck in the morning rush-hour traffic were, for the most part, spared rainfall.
Throughout Wednesday afternoon and evening, however, there's an increased chance of showers and thunderstorms. The National Weather Service predicted a 60-percent chance of showers in the afternoon, turning into a 50-percent chance of thunderstorms in the evening.
Until then, expect mostly cloudy skies with a high near 83.
The Weather Service expected the heaviest rainfall to stay along and inland of Interstate 95, although it is not forecast to exceed a quarter of an inch.
Widespread flooding won't be likely, although drivers should be wary of low-lying areas that typically flood during high tides or rain.
This story will be updated.