"Omar," the opera by Rhiannon Giddens and Michael Abels commissioned by Spoleto Festival USA, has won the 2023 Pulitzer Prize for music.
The opera premiered at the Sottile Theatre on May 27, 2022, after years of development and then delay because of the COVID pandemic. It is the first opera written by Giddens, who is best known as a Grammy-award winning roots music artist, though she is classically trained. Abels is an accomplished Los Angeles-based composer of concert and film music, including the scores to Jordan Peele's "Get Out," "Us" and "Nope."
Of "Omar," the Pulitzer Prize committee said in its May 8 announcement, it was "an innovative and compelling opera about enslaved people brought to North America from Muslim countries; a musical work that respectfully represents African as well as African-American traditions expanding the language of the operatic form while conveying the humanity of those condemned to bondage."
Mena Mark Hanna, Spoleto Festival's general director, helped usher the production onto the stage, ensuring that Giddens and Abels were unhindered in realizing their vision.
"A hearty congratulations to Rhiannon and Michael for this well-deserved recognition," Hanna said. "From the extraordinary autobiography of Omar ibn Said, they composed an opera of searing beauty and profound meaning."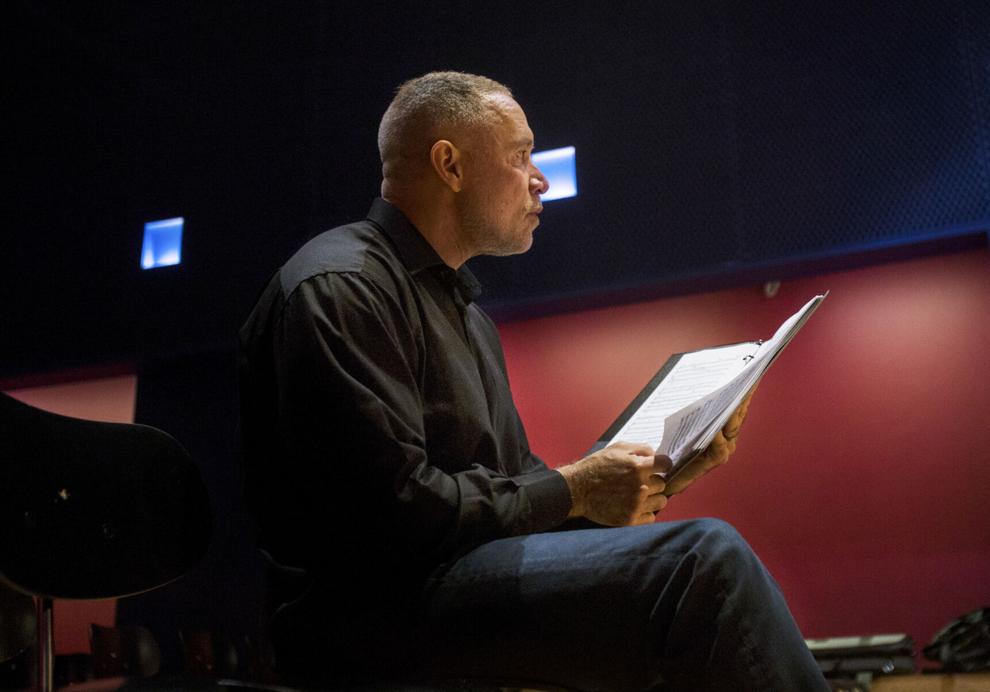 The opera is inspired by a text written when Omar was in his later years. It tells of his capture by the shores of the Senegal River in 1807, trauma of the Middle Passage, arrival in Charleston and enslavement. After a short time in Charleston, he escaped the cruelty of his master and fled north to Fayetteville, N.C., where he was imprisoned and nearly returned to South Carolina but for the intervention of James Owen, a prominent slave owner and brother of a future governor.
Owen was fascinated by Omar's deep faith and his ability to read and write. On the plantation, Omar was granted his own small dwelling and a good dose of autonomy. He transcribed verses of the Quran from memory in an elegant script. He learned to speak in broken English. He became known locally thanks to newspaper articles. He was an exotic curiosity due to his refusal to eat pork, his dress, his education, his religious devotion and adherence to Sufism, his elder status and his noble manner. White people assigned him the disparaging nickname Uncle Moro.
Owen, a devout man, figured he might convince Omar to relinquish Islam and embrace Christianity. Omar's writing indicates he did embrace Christianity — though it is disputed whether he ever allowed it to replace his own faith.
Omar was 93 when he died in 1863, as the Civil War raged.
Giddens embraced the idea of writing the opera and decided to take charge of the libretto as well as the music. Because she had little experience with large-scale orchestration, she sought out Abels as a partner. The score began with some plucking and strumming on her banjo.
Giddens would create short, rough recordings of her musical ideas, send them to Abels in California, and await his feedback. "This is good!" he would declare, and she would heave a sigh of relief. The ideas traveled back and forth — sometimes in a flurry, sometimes only occasionally, depending on their other commitments — for many months.
Spoleto Festival arranged a series of workshops in New York City. The opera was cast, a director secured. Then the pandemic disrupted the momentum. Giddens was not altogether disappointed; now she would have more time to refine the work.
When the production was back on track after a two-year delay, it had a new director — Kaneza Schaal — with a strong vision, innovative set and costume design, and motivated cast of singers, including tenor Jamez McCorkle.
It didn't seem to matter much that during a dress rehearsal McCorkle twisted an ankle and spent the first act of opening night seated.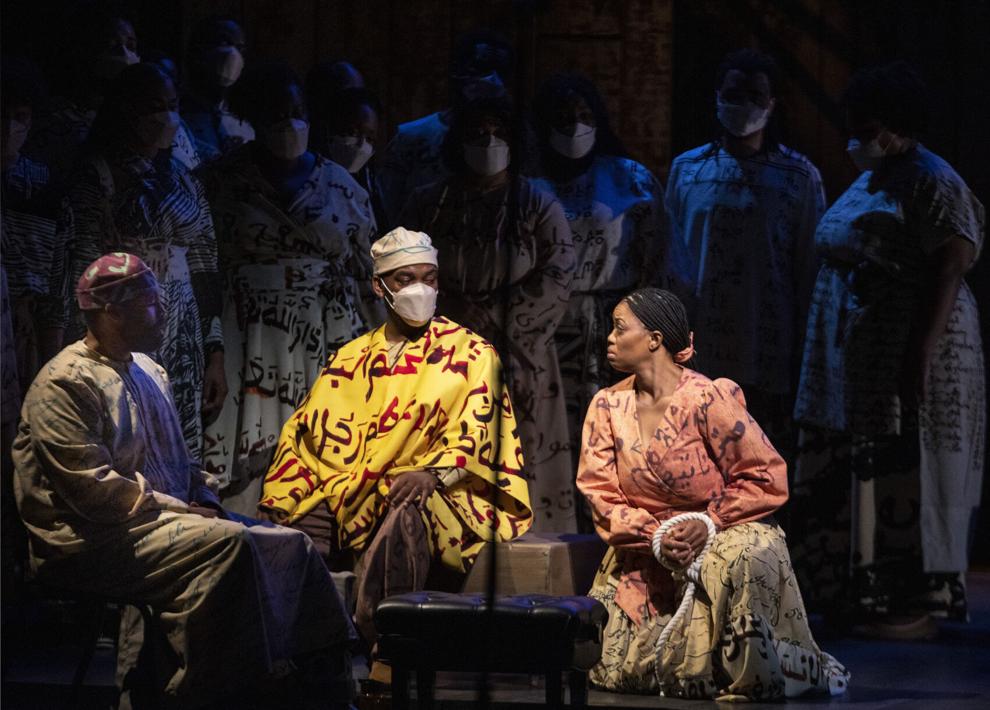 Nigel Redden, general director of the festival when the opera was commissioned, had been introduced to Omar's autobiography, translated into English and housed at the Library of Congress. He obsessed over the work, wondering what could be done.
Nicole Taney, festival producer at the time, broached the idea of asking Giddens to write an opera. The folk musician, who had devoted much of her career to excavating African American songs and contextualizing them within American history, quickly agreed. This was a way to share Omar's story broadly, she said.
Redden and Taney threw all their weight behind the project.
Redden's enthusiasm also inspired The Post and Courier to send a reporter and photographer to Senegal and North Carolina in search of Omar's true story — a journey undertaken with support from The Pulitzer Center, which is not affiliated with the prizes. The newspaper's journalists also chronicled the opera's formation over three years, from early rehearsals in New York City to the final unveiling at last year's Spoleto festival.
"That is so fabulous!" Redden exclaimed upon hearing the news of the Pulitzer. "I thought that it should win, and I thought it should win for a number of reasons. It's wonderful, accessible, and the story is extraordinarily gripping."
He and Taney attended a performance of "Omar" at Boston Lyric Opera on May 4 (the production has toured since its premiere in Charleston), and could enjoy the work stress-free, they said.
"I have a big, stupid grin on my face," Taney said. "I'm so happy for Michael and Rhiannon. And now Omar's story has even more visibility."
Giddens said it's unusual for opera-makers to have the support, time and flexibility that she and Abels enjoyed. "It's an opportunity that not a lot of people who write opera get," she said.
There was a lot to be nervous about during the whole experience. Besides typical production concerns (Would it come together? Would the work do justice to Omar's story? Would the musicians embrace the project?), Giddens and Abels questioned whether they had the authority to write about an enslaved Muslim from West Africa.
The public response has been gratifying, Abels said.
"You can't have the expectation that any work you do will find its audience," he said. "It's remarkable how many people it touches in one way or another. You see people — you see Muslim women in headscarves coming out to the opera. … I feel really lucky and proud to be part of something that opens up the opera space to so many different people."
In Los Angeles after a performance of the opera, a Muslim woman with her son tapped Giddens on the shoulder. She turned and thought, "Oh God, this is the moment of truth."
"I just want to know when are you writing the sequel?" the woman said, adding how much she appreciated the depiction of her religion on stage.
"Forget the reviews and applause," Giddens said. "This means so much to me."
The collaboration between the co-composers was remarkably fruitful, if unusual. Giddens shared melodic and rhythmic ideas and Abels would orchestrate them, providing feedback and adjustments. They purposefully decided to use a traditional orchestra because they wanted the work to become part of the standard repertoire, accessible to opera companies everywhere. And they wanted to create music — arias, choruses, duets — that singers in the future could learn.
"There were enough barriers," Giddens said. The protagonist was a Muslim man; the story was about slavery and religion; the cast was mostly Black; the score called for a large chorus. "Why add more problems?"
The writing process was challenging. Giddens maintained a busy schedule, firing off musical sketches and melodies when she could, sometimes from home during a break, sometimes from a hotel room. "Got it," Abels would say. "What's next?" He pushed her along, always exhibiting what she called "mental implacability."
Rehearsals, therefore, came as a relief. The work was essentially finished and mostly out of their hands now. They watched as it came to life.
The Pulitzer is a welcomed validation. And it has provided a bit of encouragement. Should she consider another such project? After her first child, she swore she was done. After a few years, the memory of the pain of childbirth faded and she decided otherwise, she said. Perhaps birthing an opera is not so different.
But if Giddens' body of work is any indication, she would once again embrace a project that told a story not well-known, a story that illuminates our history and our nature.
She would do her part, then step back and let it sing.