Just after school on March 24, 1944, two little white girls growing up in a segregated mill town set out sharing a bicycle and plans for a springtime hunt for maypops, the tart fruit of a pretty wildflower.
Betty June Binnicker, who was 11, followed the railroad tracks with her friend, 7-year-old Mary Emma Thames. They strolled past the busy lumber mill where just about everyone in Alcolu worked, including their fathers. They spotted two black children ahead.
George Stinney Jr., a seventh-grader, had taken his family's cow out to graze with his little sister, Amie.
Betty June and Mary Emma paused near them, asking where to find maypops. George and Amie didn't know. The girls walked on. A lumber truck rumbled by.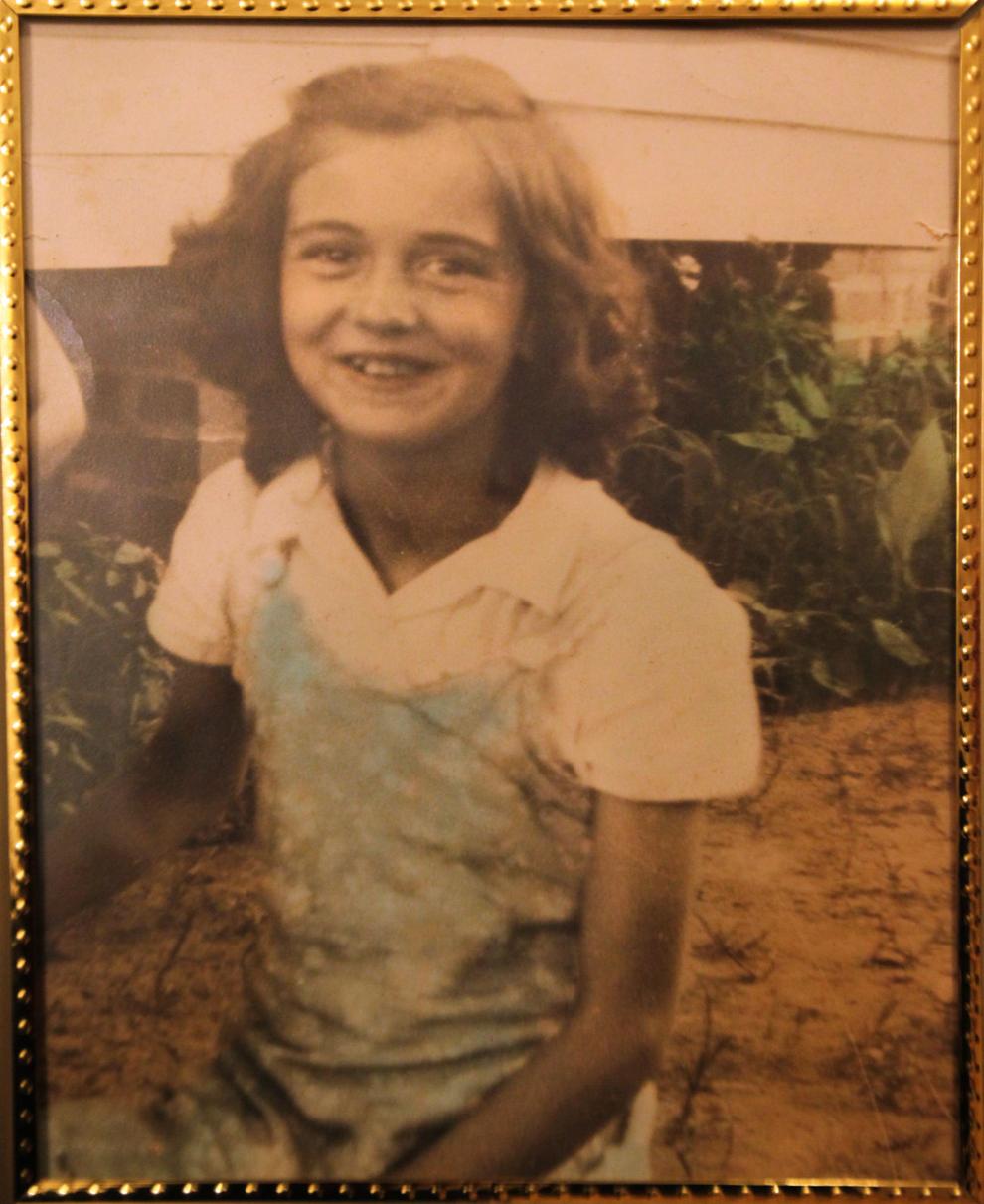 A deadly mystery that has haunted Alcolu for 74 years since began then, in the moments that the two girls stepped onward in their quest.
One version of the story, the one George would soon die for, said he followed the girls and single-handedly bludgeoned them both to death with a railroad spike.
Another version, still whispered through Alcolu today, said the girls also stopped at the home of a prominent white family to see if the sweet wife of a lumber mill boss could join them. She begged off. Her son, however, drove up in his logging truck. He offered to take the girls to find their maypops while he unloaded.
They jumped in.
But the police didn't look for a white killer; besides, someone fingered 14-year-old George as the meanest kid in town. White men showed up and whisked him away. Alone with the white authorities, he quickly confessed. Or so they said.
After an unjust trial and gruesome execution, George too was never seen again.
Not that anyone with much power seemed to care. George was poor and black. A depraved child-killer to his executioners. A savage rapist to the governor. An unrepentant predator in the press.
Until new evidence revealed he probably wasn't.
Three dead children, one undying mystery.
Alcolu 1944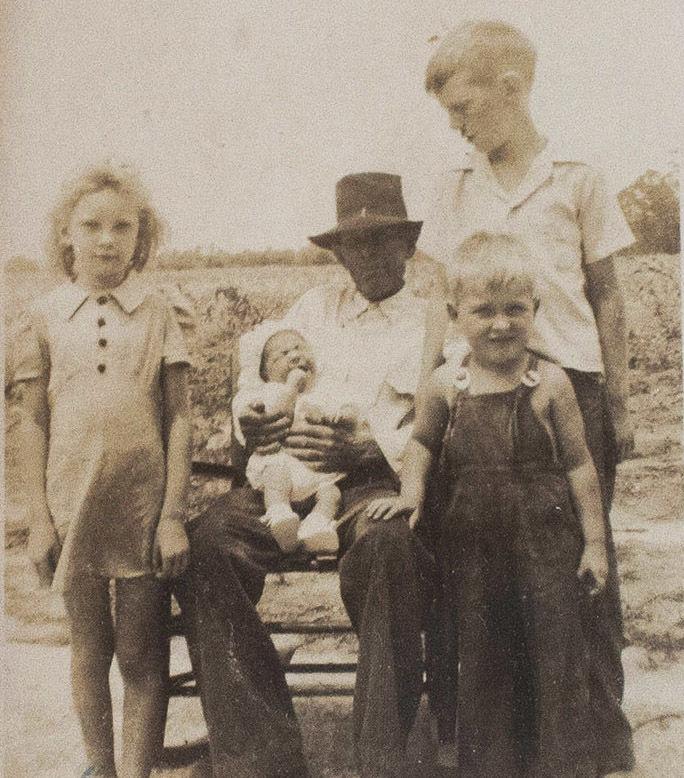 The girls' bodies were stiff when the preacher's boy found them in a shallow, waterlogged ditch in the woods. They were on their backs, like a pair of discarded dolls, bruised and broken beyond repair. On top of them lay a bicycle, its front wheel gone from the frame.
There were no signs of a struggle when Dr. Asbury Cecil Bozard examined the bodies, but it was clear they'd met cruel and violent ends. Mary Emma had a jagged, two-inch long cut above her right eyebrow and a hole boring straight through her forehead into her skull. Betty June suffered at least seven blows to the head, so punishing, the doctor noted, the back of her skull was "nothing but a mass of crushed bones."
Nothing like this had ever happened in Alcolu, a sawmill village along the northern hill of the Pocotaglio Swamp in rural Clarendon County, some 80 miles north of Charleston. Alcolu was a place anchored by the lumber mill, where men and women went to church twice on Sundays, and green fields teemed with bolls of cotton every summer before bursting into clouds of white fuzz each fall.
For the most part, black and white families lived separately on opposite sides of the railroad spur. But at the mill, men of both races toiled side by side for the D.W. Alderman and Sons Company from the first blow of the mill whistle each morning until the last sent them home at night.
Betty June and Mary Emma had gone missing a day earlier while foraging for maypops after school. That evening, when they failed to return home, a search party of 100 to 200 men fanned out across town.
The Stinney family had gotten word of the missing girls that evening while attending a neighborhood party. George told his parents that he and Amie had seen them earlier, and he left with his father to join the search parties.
With darkness covering Alcolu, nobody could find them.
As sunlight swelled above the treeline the next morning, George Burke Sr., one of the big bosses at the lumber mill, led a search party as they continued their work.
His group found the girls. They were dead in a soggy ditch on property he owned.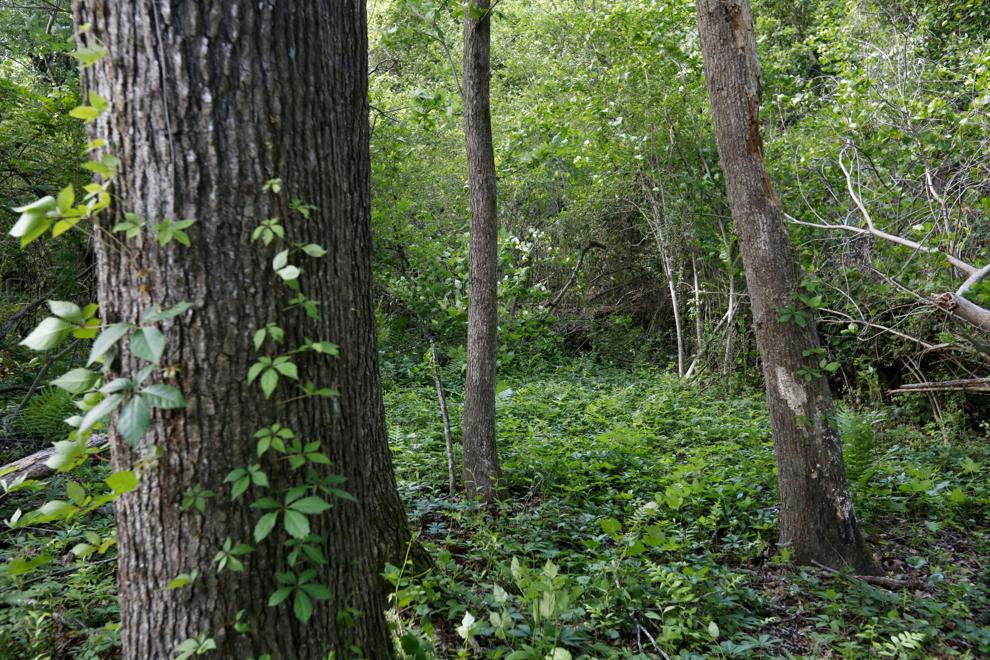 ***
That afternoon, George and Amie were home with their half-brother, Johnny, who was visiting from their grandmother's house in the nearby town of Pinewood before reporting for military duty. Their parents were away, and their brother Charles had gone with their sister Katherine to the beauty parlor.
George shared a humble three-room company house with his parents and three younger siblings near the railroad tracks in a part of Alcolu reserved for black families. His mother was a cook at Alcolu's school for black children and his father, George Sr., a former sharecropper, worked for the mill.
Like most families in Alcolu, they were poor, but they were fed and clothed. The Stinneys grew vegetables in the garden and drank fresh cow's milk in the morning. Whatever else they needed — with whatever extra money they had — they purchased from the Company Store on Main Street. On Sundays, they walked to church with the rest of Alcolu's black families at nearby Greenhill Baptist Church.
Amie, who was 8, played in the yard with a young brood of Rhode Island Red hens as a pair of black cars drove up their street. She watched as white men in suits stepped out of them and walked into the house through the backdoor. Amie hid in the chicken coop as they hauled George and Johnny away in handcuffs.
George, she cried, why you leaving me?
George hollered back.
Go get Kat and Charles! And get Ma!
Then George disappeared into one of the black cars. It was the last time she saw her brother alive.
That night, George Sr. was fired from his job at the mill. His wife sobbed.
They heard a lynch mob was coming.
We gotta leave, George Sr. said. We gotta get out of here.
The family fled to their grandmother's house in Pinewood, taking with them just a few things and leaving the rest behind. Sheriff's deputies released Johnny later, dropping him on the side of the highway.
Meanwhile, news of the double murders spread to Columbia and Charleston, fueled by the vicious nature of the crime — plus another salacious detail: Clarendon Deputy Sheriff H.S. Newman told the papers that within 40 minutes of his arrest, George had confessed to killing the girls. He added that George fatally struck them after they resisted his sexual advances. When they threatened to tell their parents, George picked up a foot-long railroad trestle spike and attacked the younger girl first, bashing her several times on the head before turning his weapon on the other.
After confessing, Newman said, George led officers to the spot in the woods where he had hidden the spike.
Newman refused to reveal where George was detained as talk of lynching the boy swirled around Alcolu. Not even George's parents knew where he was. Days turned into weeks as the trial approached, and neither parent saw nor spoke to George.  Mrs. Stinney prayed furiously. They didn't have any money. What could do they do?
Whatever happens to George, his father said, is in God's hands now.
***
At that point, George Burke Sr. should have been a witness, and a witness only, given he was in the search party that found the girls' bodies. Yet, four days later, he served as foreman of the coroner's inquest jury. The group recommended the prosecutor send charges against George to a specially convened grand jury.
Burke served on the grand jury, too.
Third Circuit Solicitor Frank McLeod and a local state senator then appealed for a special term of criminal court to expedite George's trial. Their request was granted.
A mere 31 days after his arrest, George appeared at the Clarendon County Courthouse in downtown Manning, the county seat, dressed in jeans and a faded blue shirt. A reporter from The State newspaper in Columbia noted that George looked calm and "apparently little concerned."
The 14-year-old had not seen or spoken to his parents for weeks, and they were too terrified of the white mob to show up at the trial. Instead, strangers surrounded him. Fifteen hundred people swelled into the courtroom, too many to fit. They flowed out of every door.
Burke also testified at the trial, which began at 2:30 p.m. and ended less than three hours later.
A jury of white men deliberated just 10 minutes before returning with a verdict: Guilty with no recommendation for mercy. Judge P.H. Stoll of Kingstree handed down his sentence immediately: Death by electrocution.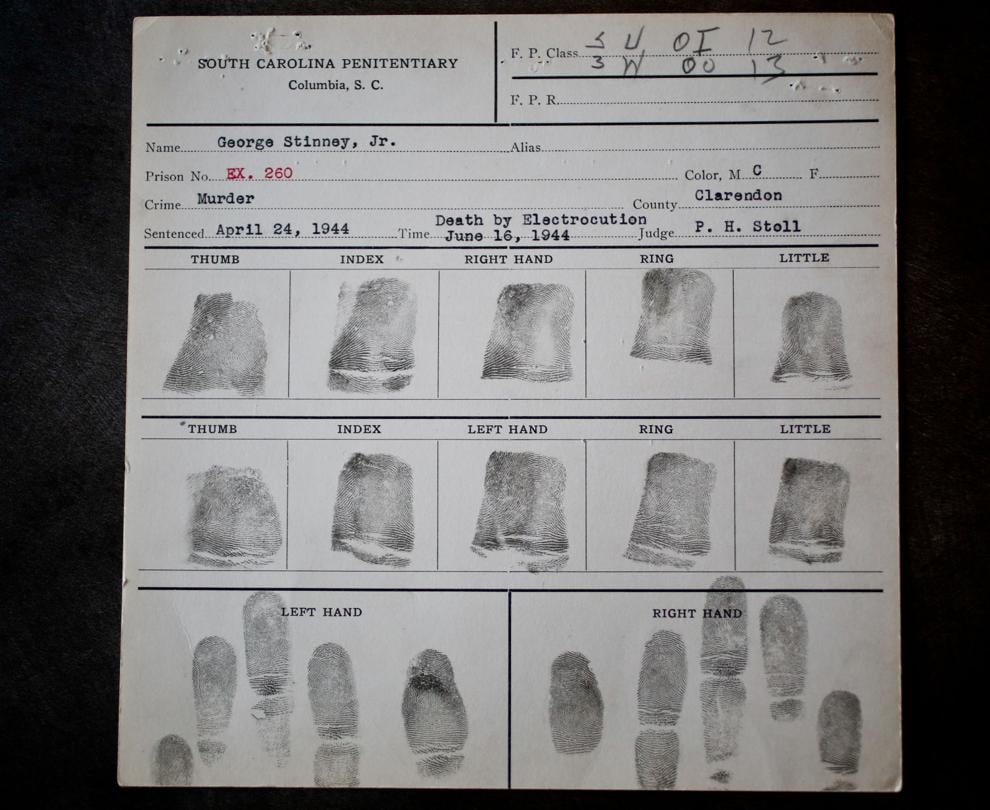 Protests mounted as the date of George's execution neared. In Charleston, organizers for both the white and black ministerial unions petitioned Gov. Olin Johnston to grant George clemency on the basis of his age and commute his sentence to life imprisonment. Hundreds of letters and telegrams inundated the governor's office from all over the state and across the country, most of them begging for mercy on George's behalf.
People appealed to Johnston's sense of fairness and Christian justice. They noted similarities to another high-profile case that same year involving a white Parris Island teenager, Ernest Feltwell Jr., who pleaded guilty in federal court to the murder of an 8-year-old girl. Feltwell, the 16-year-old son of a marine corps warrant officer, attempted to rape the girl in the woods on Dec. 3, 1943. When she started to scream, he admitted to covering her mouth with his hand until her body went limp.
After Feltwell's arrest in February 1944, no expense was spared in his defense, including the appointment of three attorneys. They consulted a nationally known criminologist, employed a lie detector test and committed Feltwell to a state hospital in Columbia to determine his sanity. He was sentenced to 20 years in prison.
Others warned Johnston that executing George would only embolden black activists at a time of already heightened racial tensions. "His execution will give the negroes of South Carolina a 'martyr' and another battle cry with which to arouse their followers," cautioned W.R. Pettigrew, minister of Citadel Square Baptist Church in Charleston.
Johnston would not budge. He was locked in a bitter battle against ardent segregationist Sen. Ellison "Cotton Ed" Smith in the Democratic primary race for U.S. Senate and could not afford to look weak on issues of race. Besides, he had concluded the brutality of George's alleged offense outweighed any consideration for his age. To those who demanded clemency, Johnston responded with a letter, describing in grisly detail one version of the crime.
"I have just talked with the officer who made the arrest in this case. It may be interesting for you to know that Stinney killed the smaller girl to rape the larger one. Then he killed the larger girl and raped her dead body. Twenty minutes later he returned and attempted to rape her again but her body was too cold. All of this he admitted himself."
The governor's decision was final. With no appeal in sight, the execution would move forward.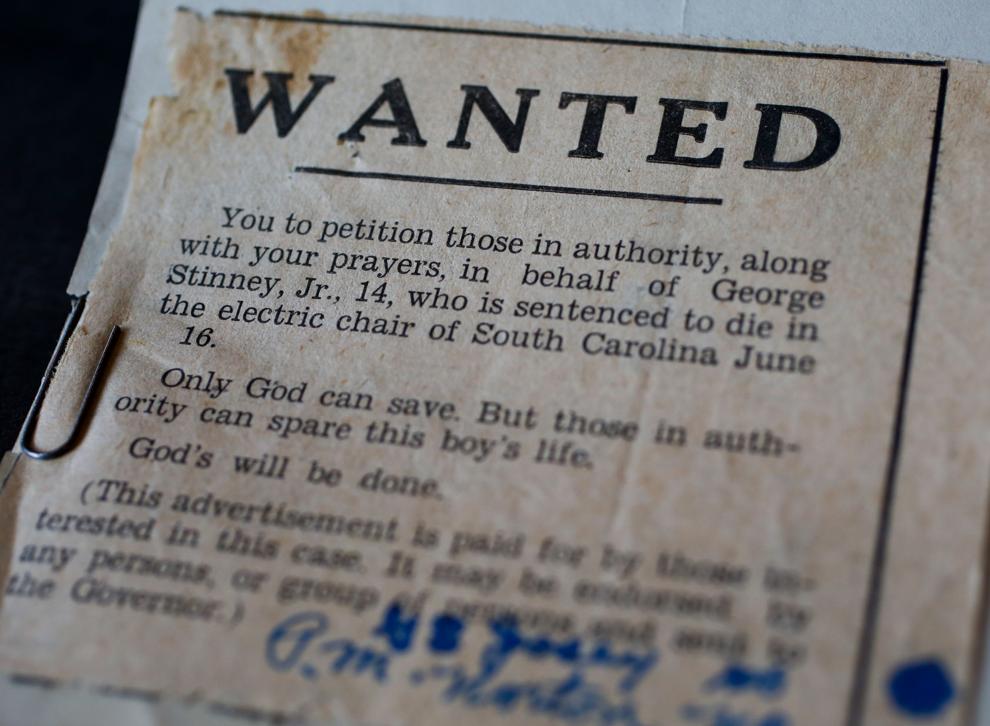 ***
Seventeen-year-old Wilford "Johnny" Hunter got arrested for joyriding in a stolen car with a couple of friends in Sumter, about 35 miles away. The ensuing police chase left Hunter with a bullet in his abdomen and a stint at Sumter's Tuomey Hospital in grave condition.
When he recovered, he wound up at the "big jail" in Sumter with George, who arrived looking frail and underfed.
Hey kid, Hunter asked, What they got you for?
They're going to electrocute me.
Shocked, Hunter steadied himself on a bench. Over the course of three days, George found a friend and confidante in the wounded man. To Hunter, George was "the kid," who liked to sing country songs from The Grand Ole Opry — one favorite was Ernest Tubb's "Walking the Floor Over You" — and play hide-and-seek in the bunks.
Once, George told him, Johnny, when they electrocute me, I'm coming back and I'm gonna haunt you!
Hunter told George not to talk like that.
George asked Hunter to write a letter to a preacher in Florida named S.P. Rewell, whom George said had helped his brother back when he was in trouble. Hunter did so on a penny postcard, telling him it was "a matter of life or death."
Johnny, why do they want to kill me for something I didn't do? Why?
Hunter couldn't answer him.
Keys rattled then. A gate creaked open. Heavy footsteps plodded up the stairs. George grew quiet. It was their last day together. George grabbed Hunter, and Hunter flung his arms around the boy.
George whispered: Bye.