When she was 5 or 6, her first foster mother beat her and locked her in a closet. Then she moved to a nice foster mom's house. Then back to her biological mother, back to the nice foster mom, back to her biological mom, then back to foster care, this time a group home.
Five group homes, three foster homes. One childhood.
Children in foster care suffer even more trauma and upheaval after their removal from biological families because the state is woefully short of quality foster homes to house them.
"There was no love at all."
Katarina Wilkerson tears up saying this now, at 20, given she is the provider of that love, a young mother herself.
One in four other women her age who grew up in South Carolina's foster care system also had children by the time they turned 19, the fourth-highest rate in the nation. It's just one of many disturbing statistics that lurk in the early adulthoods of children raised by the foster care system.
For years, advocates and journalists have paid much-needed attention to children in foster care. But once those children become adults and age out, they go largely forgotten, often cast into the world with little more than traumatic memories and mistrust to guide them.
Nationally, one in five will become homeless by age 19. 
In South Carolina, it's one in four. 
"That's a disgrace," said Ira Lustbader, litigation director at Children's Rights, a New York-based advocacy group. "Where's the accountability? The system is designed to provide support and caring, yet for so many kids it inflicts more trauma than where they came from."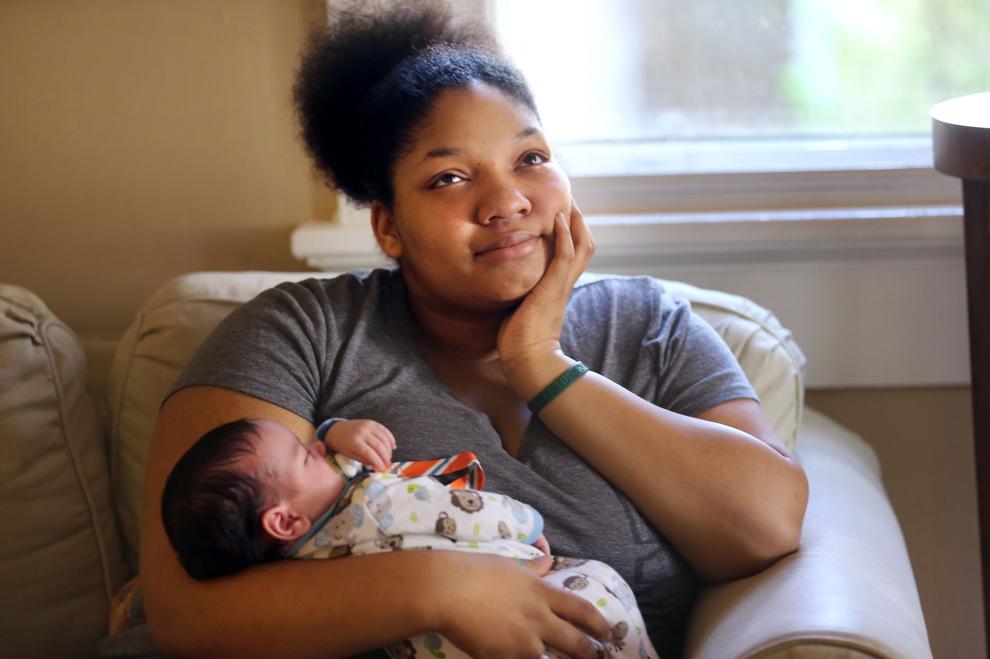 Indeed, after aging out of foster care, one-third report no job by age 21 — not even a part-time one, according to a Post and Courier analysis of a national database that tracks those who have aged out of foster care. 
Almost 40 percent had been incarcerated.
And college? Barely a blip on the radar of their futures.
From the rusting trailer she now calls home, Katarina sleeps on the floor by a space heater with her spry 1-year-old boy, Sebastian. From him — and for him — she finally feels that unconditional love. But when important parenting issues arise, like when he recently spiked a high fever, she could think of no trusted adult to call for advice or support.
Instead, she clicked on a search bar.
"Google is my role model," she said.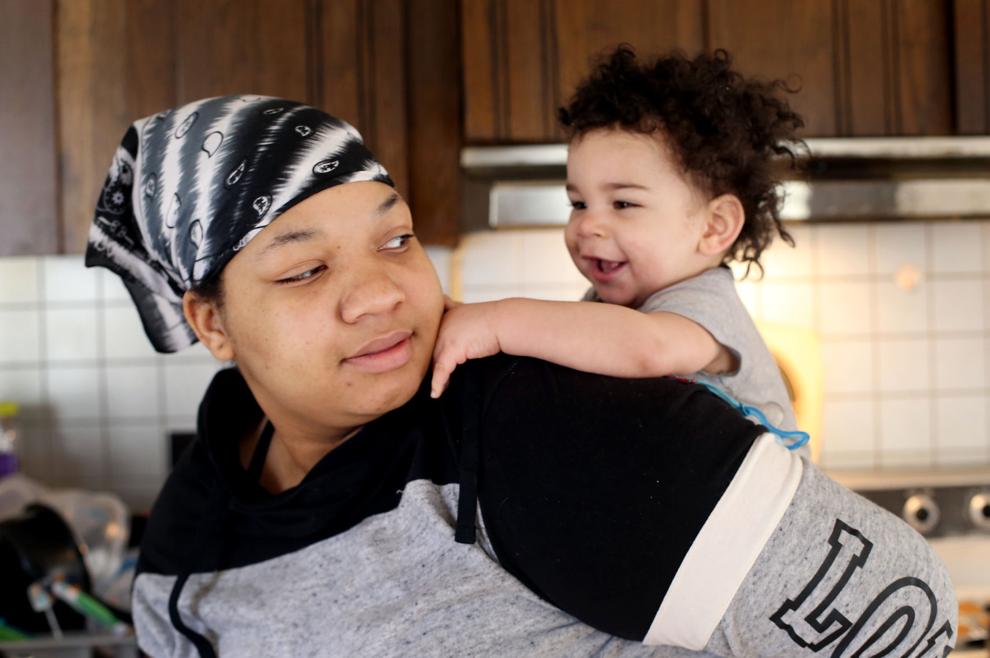 'It's a cliff'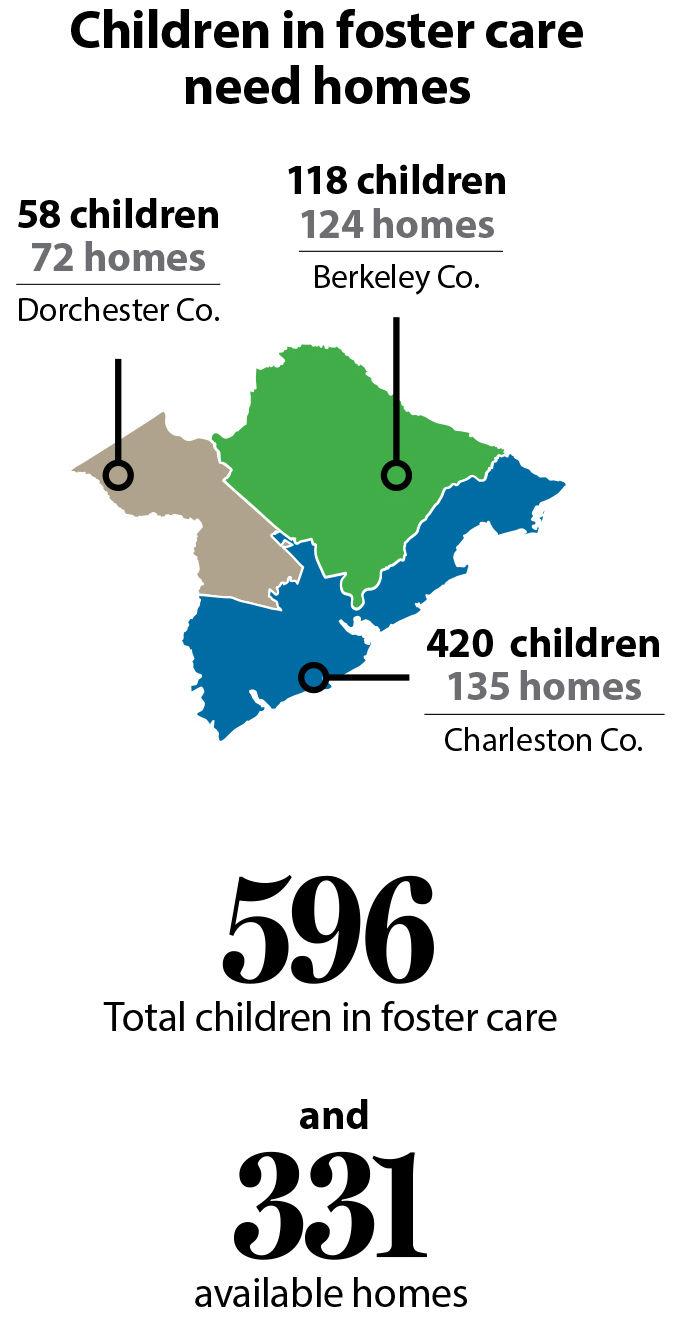 Across South Carolina, the number of children being raised in foster care has grown 25 percent over the past five years. In mid-April, the state had custody of 4,509 abused and neglected children even as it struggled with a critical shortage of foster homes — especially those willing to care for teenagers.
About 200 of those children will linger in care each year until they turn 18.
By that time, they will have been moved six to seven times on average in a system that remains under the scrutiny of court-appointed monitors. The oversight began in 2016 when the state Department of Social Services settled a class-action lawsuit that alleged an array of unsettling problems.
Among key issues: Dire shortages of foster homes cause DSS to move children repeatedly from one inappropriate home or facility to another, separate children from their siblings, and raise far too many in group homes where the only adults to bond with are shift workers. So much instability and lack of attachment creates emotional and psychological stress in young, developing brains — on top of the abuse and neglect these children endured before landing in the state's care.
"How DSS cares for its foster children now will have enormous consequences for them as adults," said Lustbader whose Children's Rights brought the lawsuit. "Trauma from a dysfunctional system can last a lifetime."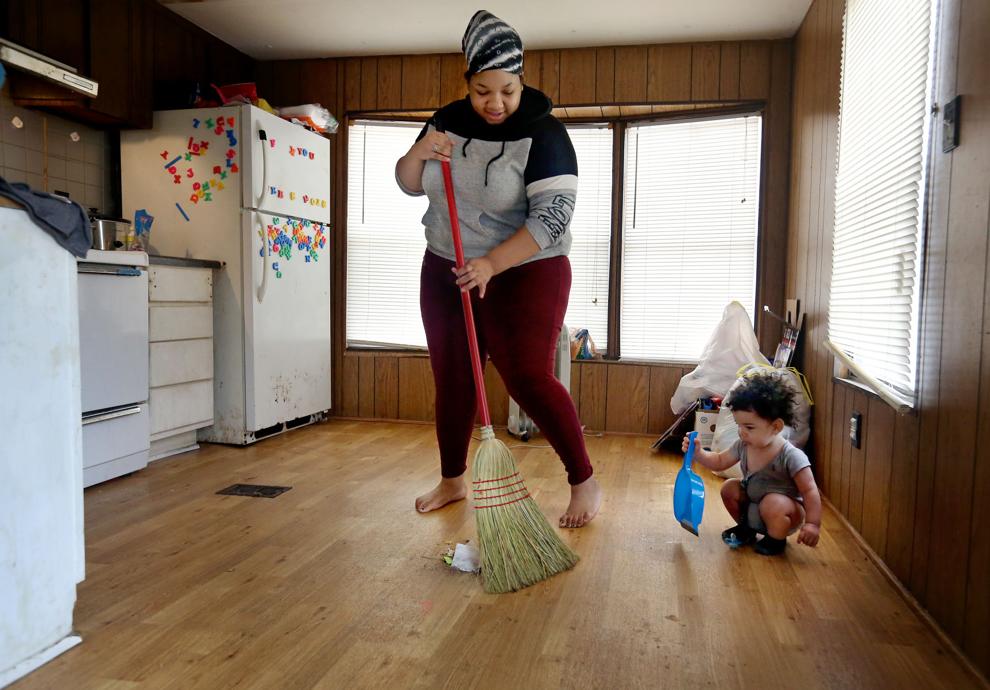 Dawn Barton is DSS' new director of permanency management. She acknowledged a challenging job ahead.
"While we have made progress toward improving some things, we have more work to do," she said in an email. "Over the past several years, our department has been working hard to reform the foster care system and better serve children in care."
To help, South Carolina allows these young adults to stay in care until they turn 21. That way, they can remain in foster homes, access more resources, and transition to adulthood with more guidance and support.
But last year, half still left when they turned 18. Many were too fed-up with the system to stay any longer, then fell off the radars of those once charged with their care.
"We have dropped the ball for these kids over the years," said Sue Berkowitz, executive director of the S.C. Appleseed Legal Justice Center, a partner in the class-action lawsuit.
35 percent were unemployed and not in school | Visualization by J. Emory Parker
That case focused on children in foster care, but Berkowitz said they haven't ruled out future litigation focused on teenagers who age out. They are particularly concerned about those who don't receive transition plans and aren't told about government resources available to help them.
When these young adults don't succeed, we all pay, whether it be in the cost of supporting them on public assistance or housing them in a county jail. 
The most costly outcomes — homelessness, teen pregnancies, incarceration, dropping out of school — often occur within the first days and years after they leave care, according to a 2013 report by the Jim Casey Youth Opportunities Initiative. The group is part of a Baltimore-based foundation that helps foster children transition to adulthood.
For every youth who ages out, taxpayers and their communities pay $300,000 in added costs over the person's lifetime, the report found.
Beverly Hardin sees these risks firsthand as chief executive of Carolina Youth Development Center, a nonprofit that operates group homes in North Charleston and Moncks Corner. She and her staff routinely watch helplessly as youth sign themselves out the day they turn 18 — and then leave.
"It feels like a very abrupt end," Hardin said. "It's a cliff."
Nichole Johnson grew up in foster care. After marrying and having two biological sons, she and her husband mentored boys at a local group home and served as foster parents. She has tried to talk young adults out of bolting cold-turkey, often without success. 
"They're done," Johnson said. "They're counting down the days until their 18th birthdays."
She and her husband adopted another teenage foster son, Jay. Until meeting them, he too had planned to flee from care. Why not? Most foster parents and group home staff don't often see the children in their care as lifelong investments the way permanent families do.
"You kind of feel like a rock in someone's shoe," Jay said.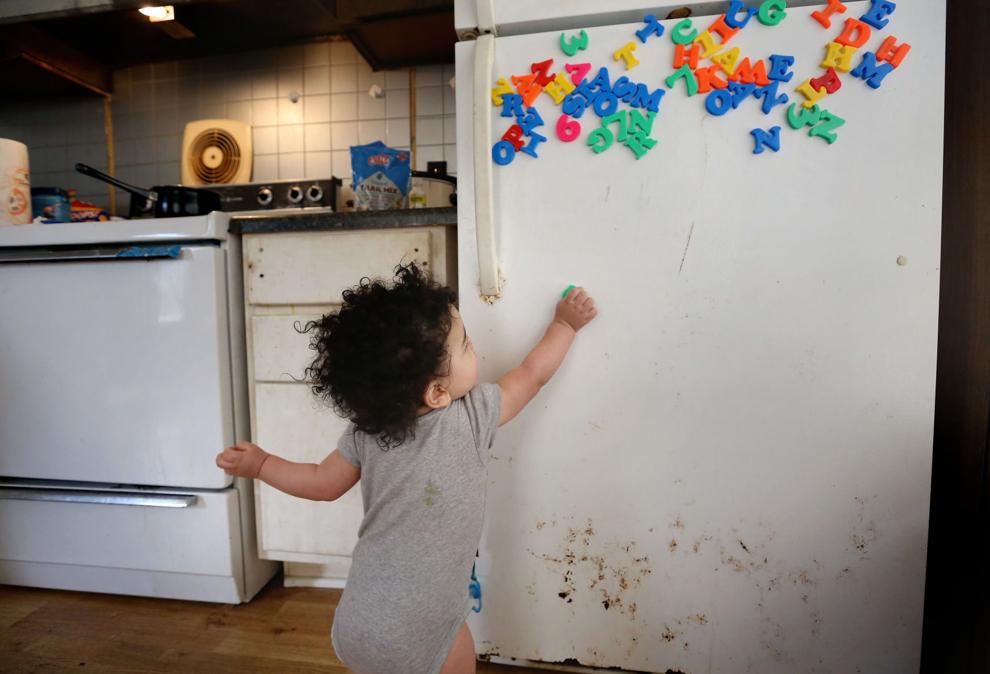 Get me out of here 
By 17, McKenzie McKean was among those done with the system. Done with broken promises, endless moves and bureaucratic runaround.
After almost five years in care, she couldn't count how many foster and group homes she'd lived in. She'd get bullied, get her stuff stolen, get in fights, run away. 
When a friend in Georgia offered a place to stay, McKenzie jumped.
"Honestly, I just wanted to get out of there."
But after traveling from North Charleston to Georgia, she quickly realized that she couldn't stay with her friend for long. Then she had nowhere to go. 
With long, blond hair and a tough demeanor, McKenzie lived in a tent for several months. Fear settled in. Fear for her safety. Fear for her future. Then she met a man, also homeless, and soon they shared a tent. They spent hours walking around, filling out job applications.
She landed a job and got her own place, which lasted until the landlord suggested she pay for her rent with sex, and she fled. She moved to work in Gatlinburg, Tenn., where a woman she worked with opened up her home.
McKenzie breathed. She had a job, a place to stay and a boyfriend who told her how special she was. But when a pregnancy test brought life-altering news, he blocked her number.
Although she'd been taken into foster care at 14, McKenzie had stayed Facebook friends with her mom. Where else could she turn? 
Soon, she packed what little she owned and traveled to the small North Carolina town where her mother lived with her husband and younger children. Yet, the chaos of their home jangled McKenzie's nerves, and she felt increasingly unwelcome.
She had no job, no car, and few clothes. She tried a crisis center, but they had no beds.
"It's just been a downfall. I can't get things I need. I can't get a job. I haven't been to a doctor in months."
Then, her mother decided to move to a small Upstate town. She couldn't support McKenzie and a baby.
Four months pregnant, McKenzie had nowhere to go.
Her baby is due next month. She's having a girl.
34 percent had children by age 21 | Visualization by J. Emory Parker
Trying to help
Help is available — for those with the grit to get it, if they even know how.
Two decades ago, federal lawmakers passed the John H. Chafee Foster Care Independence Act to address the obstacles youth face when they age out of care. It expanded federal money for states to help these teens and young adults pay for things like their initial rent, a computer, tutoring and furniture.
Two years later, lawmakers also created the Education and Training Voucher program to pay up to $5,000 a year toward tuition, books and other higher education costs.
South Carolina receives about $1.1 million a year in Chafee independent living funds based on the number of foster children in its care and almost $400,000 a year in ETV college funds to dole out, DSS spokeswoman Chrysti Shain said.
The legislation also requires states to report what independent living services they had provided using the Chafee funds. A Post and Courier analysis of the results found that among 432 eligible young adults who were 18 or older in fiscal year 2016:
• About 5 percent received help with room and board — things like rent deposits, utilities and other household start-up costs. However, those numbers don't include 171 young adults who remained in foster care after turning 18 and whose living, education and medical expenses therefore were paid for using state money rather than Chafee funds.
• Barely 16 percent received help with education costs, including textbooks, computers, tuition assistance and GED fees. 
• Slightly more than one in four received help finding or keeping a job.
Many young adults told The Post and Courier that the cumbersome process to apply for Chafee resources proved an insurmountable barrier to seeking them. Staff members at local group homes echoed that.
"They are very daunting for us even — professionals in the field," Hardin said. For youth, "it's intimidating. Kids feel like they're bothering someone, so they give up."
Many also don't know what's available to them. Three-quarters reported that they didn't know anything about their transition plans — when DSS staff is supposed to sit down and plan for their futures — or didn't know what role they played in them. 
However, DSS' Barton said the agency is researching more streamlined electronic systems for applying for resources and is establishing transition specialists around the state to help.
"That will make it so much easier for our youth to get what they need."
More headaches, more delays
Last summer, a thick cord of families lined St. Philip Street and around the corner as heat built toward the big moment: graduation. They arrived wearing summer dresses, straw hats and light suits. Siblings and grandparents thickened the line of loved ones who had helped to carry the graduates to this threshold of their adult lives.
Inside the College of Charleston, Mikayla Jones waited, exhausted, although her white dress was beautiful, her nails done, her curly, black hair perfect around a model-beautiful smile. She was happy. But she mostly just wanted to get this formality done so she could relax.
Did she even remember how? Her entire life had been a race to survive.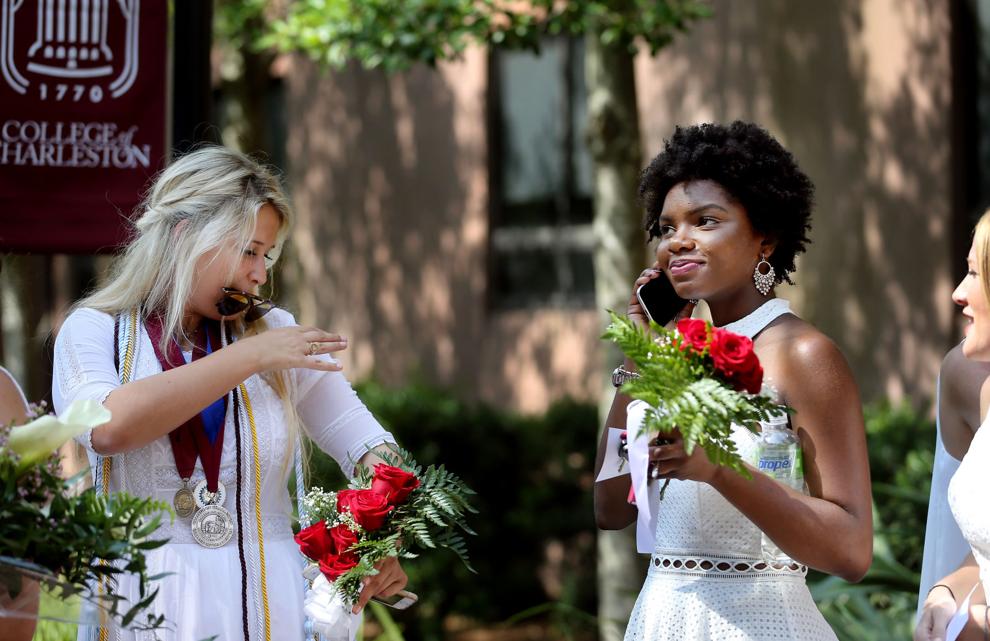 Her mother had her first child at 14. Mikayla was her fifth. When she accidentally shut her sister's finger in the car door, a beating left Mikayla with an injured bladder and a hernia. The water and power got shut off. A teacher began to ask things like, "What did you eat last night?"
When DSS came in April 2004, Mikayla was 9 years old. After that, she didn't live anywhere for longer than about six months until she was 15. She turned inward to school, to books, to the musings of her poetry.
She also met a teacher who became an informal godmother. The woman bought her a coat after she saw Mikayla walking to school in the cold. Later, she urged Mikayla to go on college tours.
Mikayla enrolled at the College of Charleston, became a dual major, and applied for Chafee funds. They were the only reason she stayed with DSS.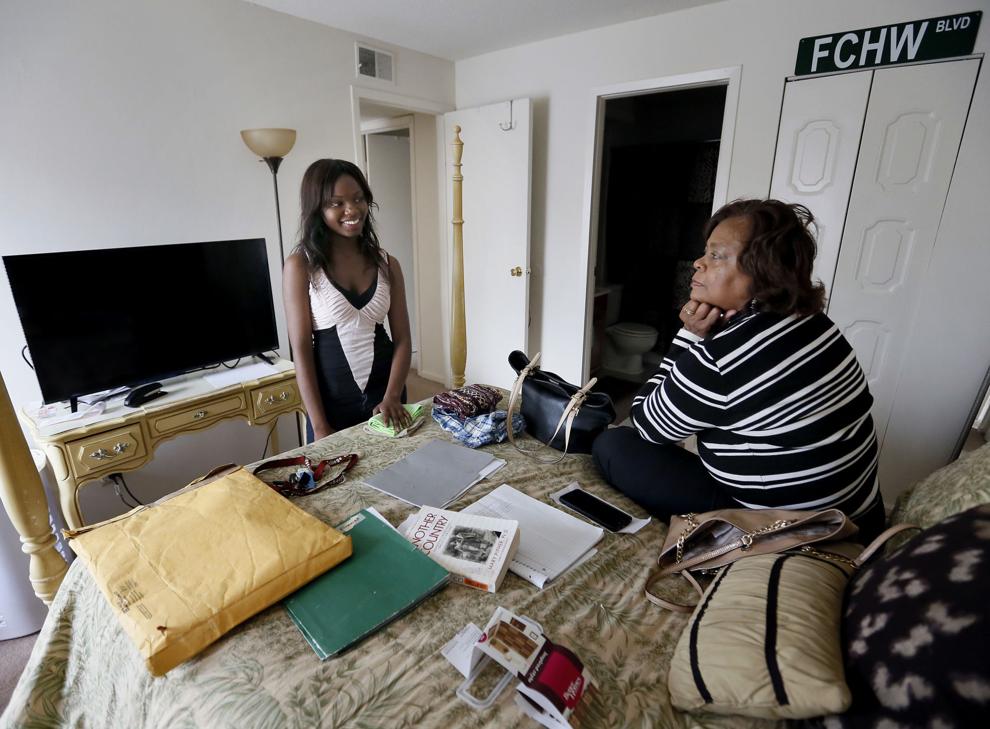 Then, more disappointment.
The application process proved an onerous maze of collecting receipts and estimates, filling out forms, and awaiting approvals that sometimes didn't come. Her caseworker often didn't return calls. Money came late or not at all.
The packet that DSS gave foster kids explaining how to request these resources advised what to do "if you do not receive a response from your case manager after leaving a third message." (Call your local DSS office and ask the operator to connect you to a supervisor. If that person doesn't answer your call, leave a voice message. Wait 24 hours — three times. Then email the independent living program directly.)
Mikayla created a complex color-coded spreadsheet on her cellphone to track every fund she had applied for — dozens of entries — and the status of each. She kept every receipt. She noted every phone call to her caseworker. She got a job, two jobs, took classes, got leadership roles.
She suffered her first panic attack.
But throughout college, that spreadsheet kept her abreast of the endless forms, permissions, reminders, due dates, phone calls.
Mikayla often wondered: Why couldn't DSS put all of this onto a cellphone app? So many more teenagers would apply if they could just open an app, screenshot receipts, fill out forms and submit them right then and there.
But it might not help the delays.
Her first summer in college, Mikayla applied for summer housing funds aimed at helping foster children bridge the gap between school years.
But the money didn't come in time to pay rent, and she couldn't go home for the summer like most college students do. Without it, Mikayla faced homelessness. Thankfully, she had saved enough for an extended-stay hotel. It wasn't how she'd hoped to use the money, but she had no choice.
"I've been working my butt off, and I'm not getting the resources that are available to me because it's so messed up," she said at the time.
"I just feel kind of forgotten."
Her July housing payment arrived in October.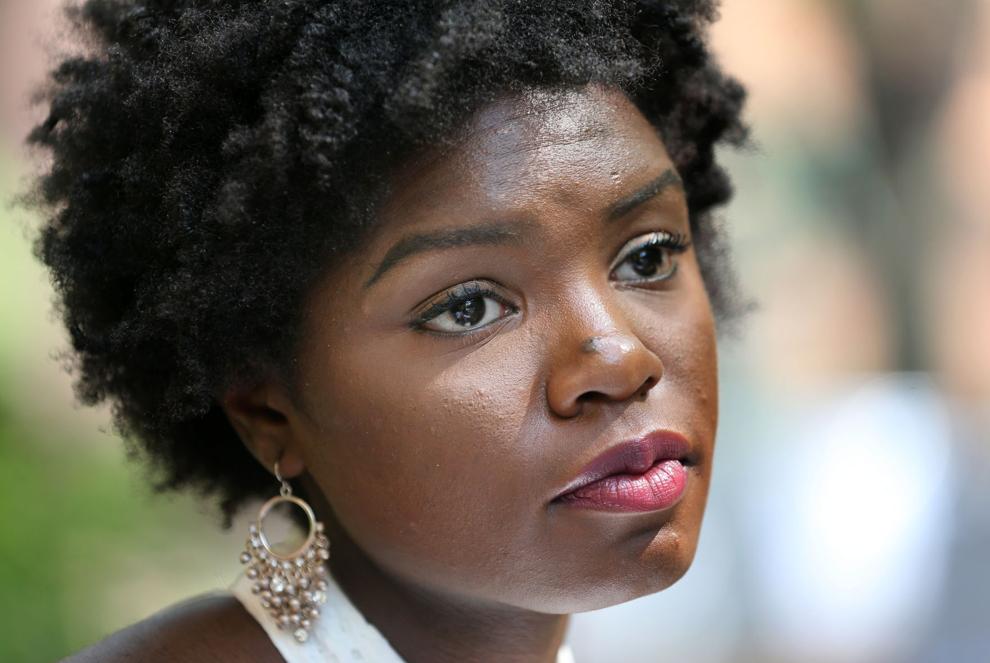 Mixed bag of results
The Chafee legislation required that states measure how well youth who age out fare as adults through a series of periodic surveys starting at age 17. Their responses, thousands of them tallied since 2010, are warehoused in what is called the National Youth in Transition Database.
Despite spending millions of Chafee dollars on everything from rent to class rings, the outcomes remain a mixed bag in South Carolina, judging by results of the most recent group of young adults surveyed.
More — almost one in three — had been homeless by 17.
Far fewer were by 19.
More had become parents by 19. But fewer had been incarcerated, and more had full-time jobs (although 83 percent still did not). The results came with a healthy state economy and increasing benefits, such as being able to stay on Medicaid longer under the Affordable Care Act. 
South Carolina leaders also have made their own improvements. They created a youth advisory board to share information about resources. Gov. Henry McMaster signed into law a measure aimed at making it easier for foster children to get driver's licenses. And the state's foster parent association launched a program that provides donated cars to older foster children.
"Those are just the basic things they need," said Carl Brown, the association's executive director. "That's what parents do, and these kids don't have that."
But the most enduring challenge remains: finding caring adults to connect with them. Otha Meadows sees this in teenage foster children who come to the Charleston Trident Urban League, where he is president: "They are totally disconnected from a stable environment."
33 percent have been homeless by age 21 | Visualization by J. Emory Parker
Grit is required
In middle school, police officers came to Sage Cowans' school, gathered him and his siblings, and told them they were going to live in a group home. Nobody told him why. Thrust into the transiency of foster care, Sage soon became untethered from his siblings, until years later when an older sister in her early 20s got custody of him.
She was young and liked to party. He was young and wanted to graduate. She lived in North Charleston; he attended West Ashley High School. 
After so much instability, he desperately wanted to graduate from there. The endless succession of new schools not only disrupts foster children's social connections but also their academic credits. 
Sage's sister didn't always get him across town to school. So, his sophomore year, he began riding CARTA buses to get there. It meant rising at 4 a.m. and walking a mile to catch the first of three buses. Each route took almost 40 minutes. He downloaded an app to track them. Remount to Rivers to Citadel Mall to a bank near his school.
He routinely arrived two or three hours late. He missed 30 to 40 days in his first and second periods — and risked failing. 
Who could he turn to for help?
By the time they are 21, about one in five former foster kids in South Carolina cannot name a single caring adult they feel connected to, the highest rate in the nation. Indeed, Sage had not seen his mother in a half-dozen years. He had no real connection with his father, who was in prison, or any foster parents or group home staff members. 
One day in 2016, his assistant principal called him into her office. On paper, he looked like a discipline problem, another student falling through the rabbit hole of habitual truancy.
But instead of disciplining him, Gayle Morris asked:
"Why are you so mad?"
Sage, a snappy dresser who closely guards his wounds, paused. Nobody had asked him that before, not so bluntly. And he'd never trusted anyone enough to share his whole story.
Now he would. In return, she made it her mission to find him help — and did so.
But not every child aging out of care finds that critical advocate.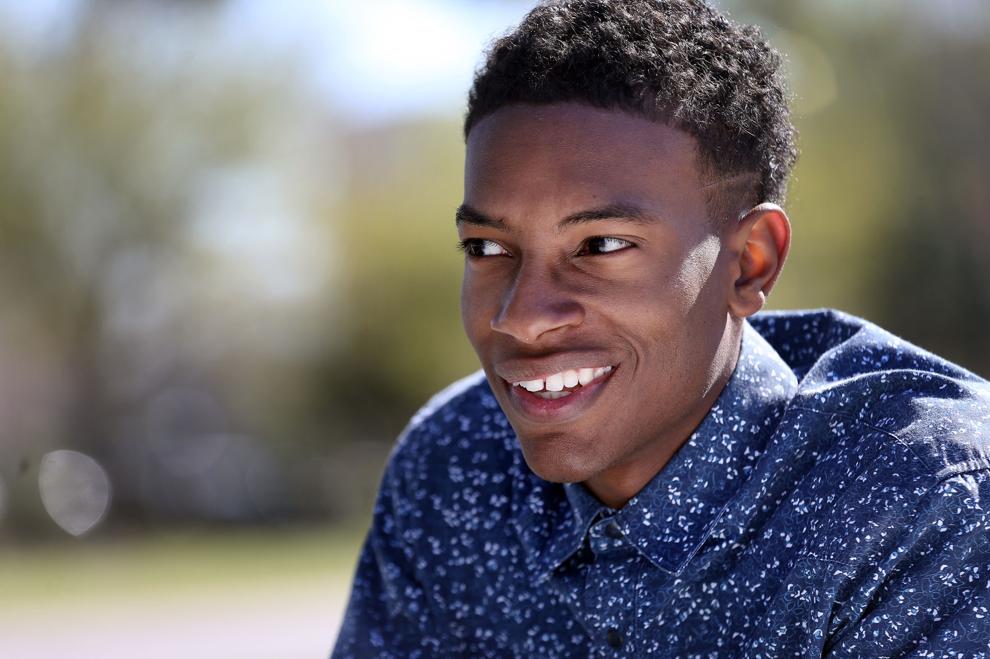 Remodeling transition
Along a well-traveled residential street in North Charleston, a critical option for foster children in the state looks like a small neighborhood of brick homes. In fact, this is where Carolina Youth Development Center offers an emergency shelter and group homes for about 30 children, most of them teenagers.
Now, after years of fundraising, one of its houses is about to become a transitional living home for foster youth ages 18 to 20, a place to live while learning job and adult life skills from its staff, the first of its kind in the Lowcountry.
The goal: provide a slope to the cliff of aging out.
"The need is great," said Hardin, CYDC's chief executive. "There is really a sense of urgency around transitional housing." 
CYDC is about $40,000 away from raising more than $300,000 from private donors and businesses needed to gut and furnish the house so that up to a dozen young adults can live there, perhaps starting in August.
The nonprofit already offers an innovative program to prepare the teens on its campus for adult life. Its Bakker Career Center, the only independent living training center of its kind in South Carolina, has a computer lab, library, kitchen and the Cummins Automotive Shop. Starting at 14, children begin learning work skills here.
Why aren't there more places like it? Cost.
This year, CYDC has budgeted $219,000 to run the Bakker center.
Two 18-year-olds living at CYDC have decided to stay in care with hopes of moving into the house.
Another recently signed himself out and returned to his biological father. He found the dysfunction that caused DSS to take him into care remained. Soon, other youth on the campus heard familiar rumors: The teen was couch-surfing among friends, no real place to live, no one to guide him.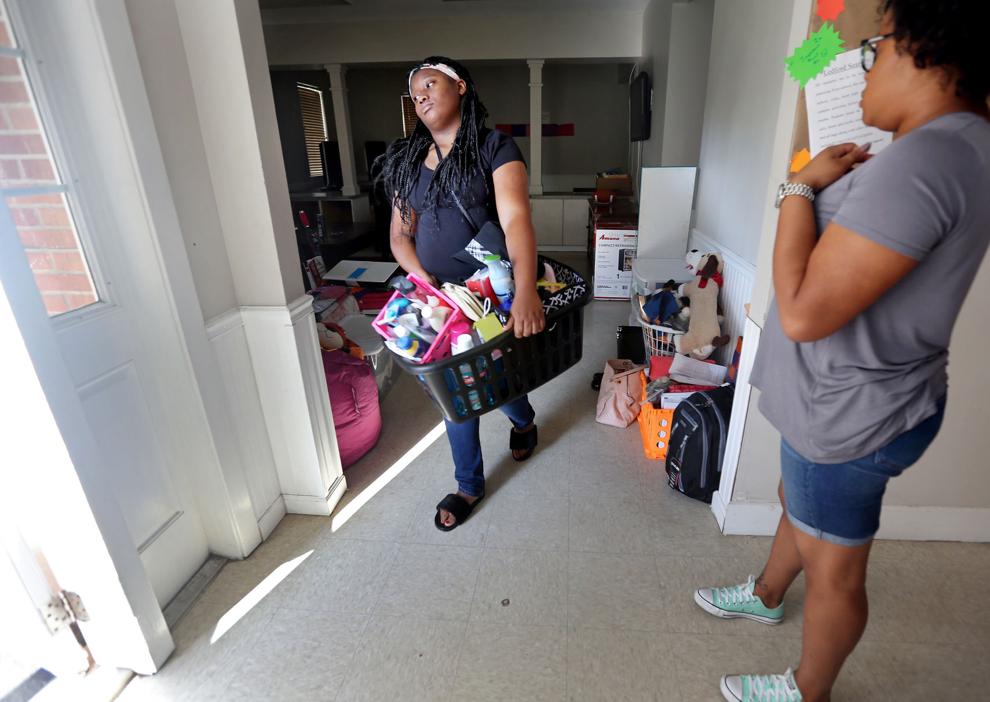 Leaving the system
It was time to leave.
Shawnta Campbell had piled her stuff just inside the front door of her group home at CYDC, one called Ledford House.
Laundry baskets filled with clothes, bins of toiletries, bags of shoes, an afghan in Clemson University orange and purple. College stuff. Just like thousands of other young adults were loading into cars this August morning.
Her caseworker, Taylor Brown, pulled up with another DSS staffer. 
Brown walked in and eyeballed Shawnta's stuff.
"All this not even going to fit in her room."
It also wouldn't fit in the silver state-owned van parked out front waiting to take Shawnta to her new life.
Shawnta stood in jeans with fuzzy, black slides on her feet, tearful eyes staring at the floor. She didn't want to hear this woman criticize her packing. And she didn't want to leave. Her name was still written in red on a whiteboard of house chores hanging beside her, and her friends — the other teenagers growing up here — hovered with morose expressions.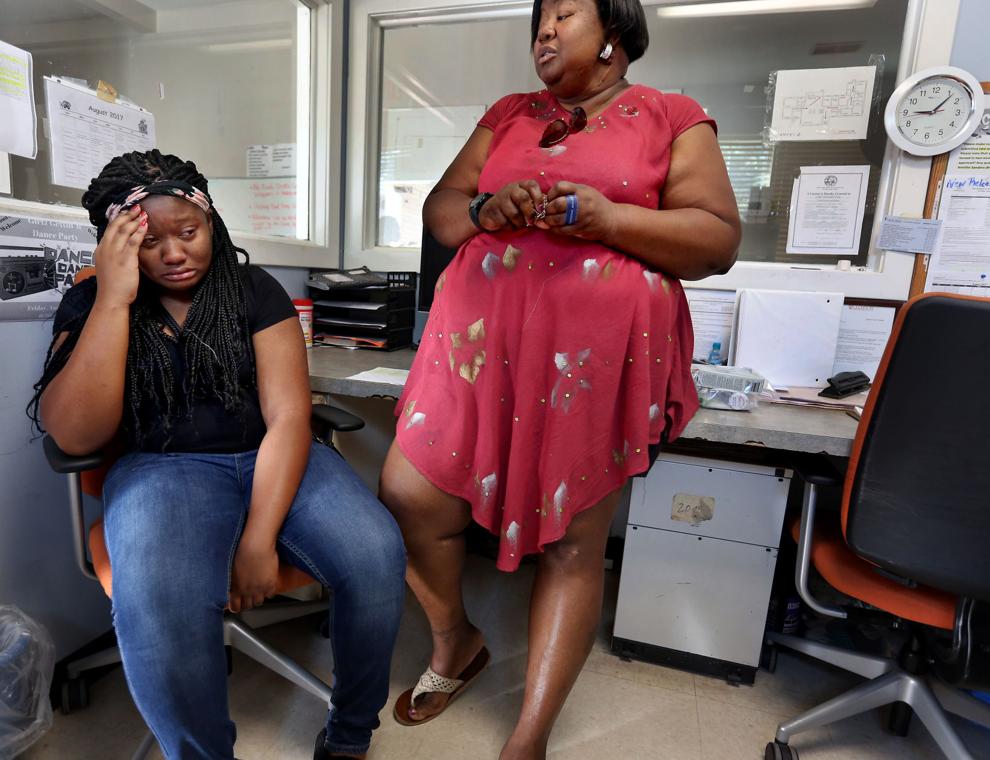 But it was time. Shawnta was taking a step almost no foster child still in care at 18 managed to take. The other kids helped carry her stuff out to the van, setting it near the hot road. Shawnta stood back, alone.
She had never seen her dorm room. She had no idea what to expect at Clemson. And once she left, a new foster child would sleep in her bed.
"I really don't even want to do this no more. I really don't," she cried.
Outside, the DSS women dissected her stuff, which sat out on the curb like the belongings of someone freshly evicted. Brown pointed at what could come. "This is fine. That's fine."
Stuffed animals, no. Decorative pillows, no. Bedding, yes. Toiletries, yes. Boots, maybe.
"OK, we got to get this rolling," Shameka Conyers, director of residential services, nudged.
"Discharge paperwork."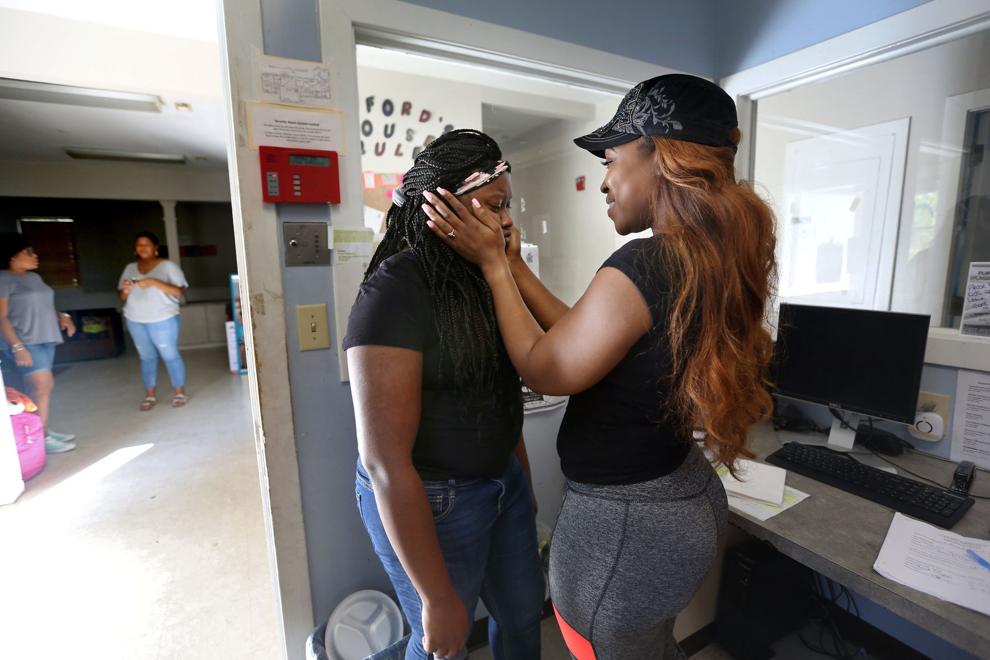 Another staff member led Shawnta to an office inside Ledford House's front door. It was like a command center, wrapped in a big desk lined with white binders, a computer on one corner.
Shawnta plopped into a chair, frowning. The staffer slipped a paper in front of her, the one that allowed her to leave CYDC.
With no fanfare, Shawnta signed it. Her slip of freedom.
Then she walked out into her new life.
She was simply Shawnta now, adult, free in the world.
32 percent have been incarcerated by age 21 | Visualization by J. Emory Parker