Twitter accounts linked to Russian trolls amplified divisive messages about the 2016 presidential election and the Charleston church shooting, a Post and Courier analysis shows.
The examination represents a small window into the Russian government's sophisticated campaign to sow division in South Carolina and the rest of the nation. Among the findings:
Kremlin-backed Twitter accounts retweeted inflammatory comments from South Carolinians who favored Donald Trump and held anti-Muslim views.
The trolls occasionally veered away from politics but still showed a knack for identifying local hot-button issues. One account tweeted about a carriage horse that had collapsed. The tweet included #BanHorseDrawnCarriageRides hashtag.
The troll window opened wider on Friday when special counsel Robert Mueller filed a 37-page indictment that says Russia tried to encourage a Trump election and "spread distrust towards the candidates and the political system in general."
Researchers who track disinformation and Russian meddling have said trolls are quick to pounce on divisive issues and deploy swarms of bots to stoke incendiary messages.
This was the case in South Carolina, where the bulk of the social media comments analyzed by The Post and Courier involved highly charged issues involving politics and race.
The messages are in a database compiled recently by NBC News, which made their data public. 
Twitter had given information to congressional investigators about thousands of bogus accounts but then suspended those accounts and deleted associated tweets. NBC, however, managed to recover nearly 203,000 messages by sifting through archived data. The Post and Courier analyzed the database for South Carolina connections.
One message warned that then-President Barack Obama was "shipping Hundreds of Muslims to Idaho and South Carolina" and linked to a conservative website.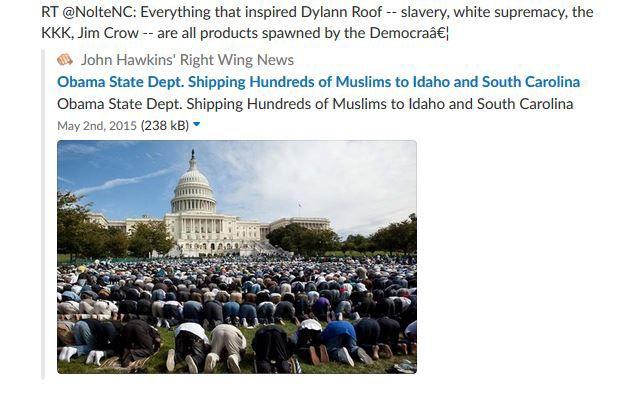 Another blamed Democrats for "Everything that inspired Dylann Roof -- slavery, white supremacy, the KKK, Jim Crow."
The South Carolina messages highlight how the Russian disinformation campaign began before the 2016 election was in full swing. 
For instance, in 2015, Kremlin-backed accounts tweeted and retweeted dozens of messages about the mass shooting at Emanuel AME Church in downtown Charleston.
Two days after Roof killed nine black parishioners, a troll retweeted #DylannRoof is a "Real American."
This has become increasingly common after devastating events, said Karen North, professor of digital and social media at the University of Southern California's Annenberg School for Communication and Journalism.
"The motivation is not to promote any ideology, policy or person, but rather to create discontent and division," she said. "That's the goal."
Russian bots are still at it, she and other experts say. After last week's school shooting in Florida, trolls stoked social media sites using the #Parklandshooting hashtag.
North said that if trolls create enough energy behind an issue it becomes a "trending topic" that potentially affects the attitudes of millions of people.
"The issue here is they've realized they can create real discord in the United States," she said.
The newspaper analysis showed that trolls tweeted messages from South Carolina politicians, including attacks by Republican U.S. Rep. Trey Gowdy on Hillary Clinton.
They retweeted U.S. Sen. Lindsey Graham's message that he had voted for Evan McMullin for president instead of Trump. 
They also amplified messages from ardent Trump supporters.
One example is the Twitter account holder named Carolinagirl63 who has more than 58,700 followers. In her profile, Carolinagirl63 calls herself a "Christian Conservative Patriot" who is "Thankful Trump is #MAGA." Russian trolls retweeted her 66 times.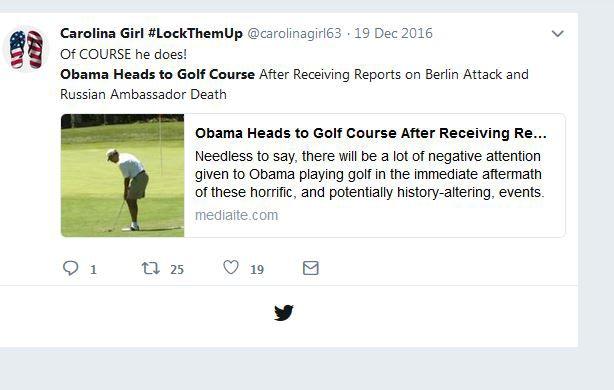 In Twitter messages to the newspaper, Carolinagirl63 declined to give her name or hometown because of what she said were past threats.
"As you know, politics is very polarizing and that is what I tweet most about," she said.
She wrote she was a "true Carolina Girl" who was born and raised in South Carolina who graduated from the University of South Carolina. The Post and Courier was unable to independently verify these statements.
Carolinagirl63 wrote she had no idea Russian bots had retweeted her messages.
"Seriously, except for the verified accounts or personal acquaintances, none of us know who's behind any of the Twitter accounts," she said.
Of the Russian retweets, Carolinagirl63 sent an emoticon of someone laughing.
"I just hope they RT some of my good tweets and not my lame ones."
Emory Parker contributed to this report.