When the sun shines down on W.E. Parker Elementary School in Edgefield or Town Hall in Saluda, solar panels installed there silently do their work but it's easy to imagine they make a sound like Cha-Ching.
The Edgefield School District's solar installation at a single elementary school is expected to save the district more than $900,000 over 10 years.
Not many local governments and school districts in South Carolina have embraced solar power, which can involve navigating utility incentives and state Energy Office loans, but several that have taken the plunge couldn't be happier.
"I wish we had done more," said Saluda Administrator Tom Brooks. "We just did Town Hall."
The small town, about 50 miles west of Columbia, was among the first in the state to install rooftop solar panels more than a year ago. With a low-interest ConserFund loan and a 10-year deal with SCE&G, the project is expected to pay for itself in just over three years, then save the town money going forward through lowered power bills.
"We're well on our way to meeting our goals," Brooks said.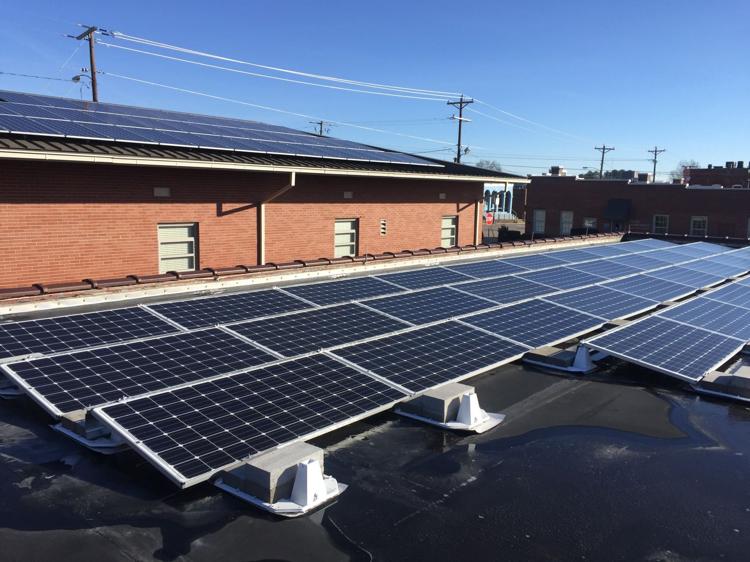 In tiny Cottageville, a Colleton County town with about 750 residents, Mayor Tim Grimsley said he's still pursuing a plan to power the town's government entirely with solar panels but there's been a setback since the goal was announced.
The roof where the solar panels were going to be installed burned down.
The building used to be the gymnasium at a former elementary school that's now used for the town's offices. Grimsley's mother went to school there and his grandmother taught there.
"The solar panels were slated to go on top of the gym," he said. "It had a lot of sentimental value for the town."
Grimsley said the town hopes to get the project back on track with solar panels on the property this year if possible. It won't take many for the small town.
"I'm not an environmentalist or anything but if we can do a little bit to help the environment I think we should do it," he said. "And it's cheaper."
Grimsley said the town expects to save between $400 and $500 monthly, which is real money in a town with a $600,000 annual budget.
In Edgefield, the ground-mounted solar panels near the entrance of W.E. Parker Elementary are expected to pay for themselves in four-and-a-half years, then save the Edgefield School District $165,000 yearly for the remainder of a 10-year agreement with SCE&G.
"We were just proud that a small, rural district was able to accomplish this," said James Courtney, the district's director of facilities, maintenance and transportation. "A lot of them (other school districts) missed it."
School districts can borrow money through the S.C. Energy Office at super-low interest rates — 1.5 percent, in Edgefield's case — and 30 percent of the loan doesn't have to be repaid at all.
"We feel like it's attractive," said Trish Jerman, manager of energy programs and the S.C. Energy Office. "One of the advantages of it is, you don't have to (begin to) pay it back until a year after the project has been completed."
The loan money became available during the recession as federal stimulus funds and keeps being recycled through South Carolina's economy as the borrowed money is repaid and then loaned out again. There's also a loan program for businesses, the Energy Efficiency Revolving Loan.
When Edgefield and Saluda launched solar power projects there were extra utility company incentives to go solar which are no longer available. Regardless of incentives, they can keep generating free power long after the solar equipment has paid for itself.
"We have it fixed such that we can power our entire school with the solar farm," said Courtney.
Isle of Palms doesn't have solar panels but is getting some of the town's power from solar all the same. The city signed up in 2017 for SCE&G's Community Solar program in which Isle of Palms "subscribes" to power from the utility's solar farm and gets credits on the city's power bill in return.
Over the course of a year the city expects to save about $13,000.
"There's no cash out, only savings," said Isle of Palms Administrator Linda Tucker. "Ultimately, environmentally it's going a good thing and it's going to save money."