South Carolina's graduating class of 2018 came close to dead-last in the nation on the ACT college readiness test, painting a grim picture of a state that has languished near the bottom of education rankings for decades.
This year's graduates placed 50th among the states and Washington, D.C., on the ACT, according to composite scores based on the test's English, Reading, Math and Science sections.
Only Nevada's students did worse.
Most states don't require all of their students to take the ACT. At the low end of the spectrum, Maine reported only 7 percent of its students took the test. But even among the 17 states where 100 percent of 2018 graduates took the test, South Carolina came in 16th place with a composite score of 18.3, ahead of Nevada (17.7) and behind Mississippi (18.6).
In practical terms, the new test results show that despite high school graduation rates that inch upward year after year, most South Carolina students finish high school unprepared to succeed at a four-year college.
Statewide, 42 percent of graduating students met the ACT's college readiness benchmark for English, along with 30 percent for Reading, 24 percent for Math and 20 percent for Science.
Only 14 percent were ready for college in every subject area, despite 63 percent saying on an ACT survey that they aspired to earn a bachelor's or graduate degree.
"I am disappointed to see that fewer of our graduates are meeting the benchmarks for college readiness set by ACT," said State Superintendent of Education Molly Spearman. "It is clear that the disparity gap between our high-performing schools and districts and our low-performing continues to widen."
Most students take the ACT in 11th grade. In South Carolina, where the 11th-grade assessment was provided free of charge, only about one-quarter of the class of 2018 took the test more than once. The results released this week are largely based on the test given in the spring of 2017.
The ACT scores come on the heels of recent results from the 2018 Ready to Work test, which showed that fewer than two-thirds of the state's 11th-graders had the job skills necessary for 65 percent of certain jobs.
Wide disparities
Black students scored far lower than white students in South Carolina, with an achievement gap similar to other states. Only 5 percent of African-American students, 16 percent of Hispanic or Latino students, and 33 percent of white students met three or more of the benchmarks for college readiness.
"I believe that by shining a light on our problem areas and focusing on high-quality classroom instruction and student achievement, we will begin to see improvements across our state," Spearman said.
Statewide, 30 students earned a perfect score of 36. The districts with the highest composite scores were York 4 (21.1), Lexington 5 (20.1), York 2 (19.8), Lexington 1 (19.6), Charleston County (19.5) and Dorchester 2 (19.3).
Local school districts Berkeley County (17.8) and Dorchester 4 (16.3) trailed farther behind.
While Charleston County students fared well, the district's average score obscures some wide disparities between schools. Five of Charleston County's high schools ranked in the bottom 30 statewide: Baptist Hill High (14.9), Burke High (14.4), Garrett Academy of Technology (14.1), North Charleston High (13.1) and Greg Mathis Charter High, whose 12.1 score was the state's lowest. All five schools are majority-black with high levels of poverty.
The school districts of Lee County and Hampton 2 tied for the lowest composite score in the state (13.1), scoring lower than students housed in the S.C. Department of Juvenile Justice (13.5).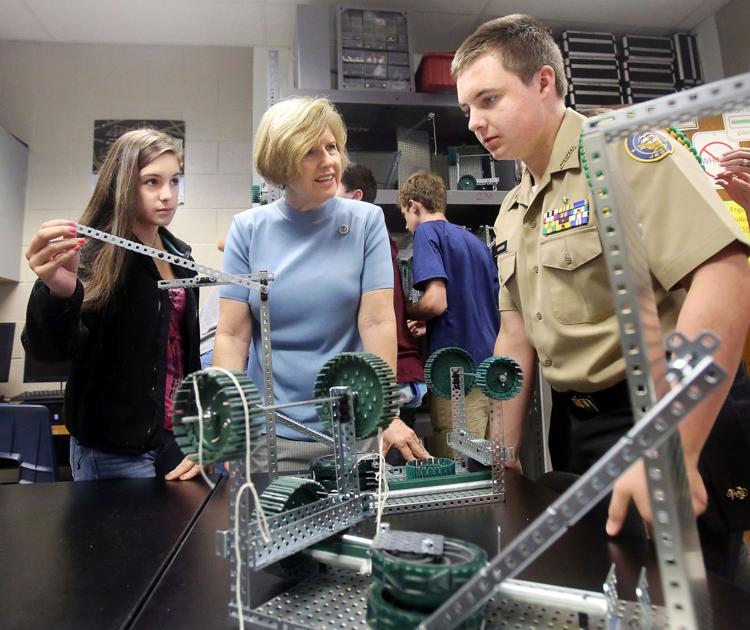 Technical glitches
Spearman has criticized the ACT results from 2017, when most of this year's graduating class took the test. The test was marred by technical problems nationwide that year as its makers, ACT Inc., transitioned to an online system. Among districts that tested online, 96 percent reported having technical difficulties, including frozen screens and errors.
"I do not feel that the scores we release today are an accurate portrayal of the abilities of many of our students," Spearman said last year.
South Carolina was not alone in experiencing technical difficulties in 2017. The first day of ACT testing in South Carolina that year, Feb. 28, coincided with a massive Amazon Web Services outage that affected internet connections nationwide. ACT Inc. spokesman Ed Colby also blamed some of the problems on flaws in South Carolina school districts' computer systems. 
From 2015-17, the state required every 11th-grader to take the ACT, and those scores provided a rare, comprehensive look at the state's failure to produce college-ready graduates.
South Carolina's overall score barely budged: 18.5, 18.7 and 18.3 over the three years, respectively.
The makers of the ACT encourage educators to focus on longer-term trends rather than yearly fluctuations, but South Carolina will have only three years of apples-to-apples data.
The state began allowing 11th-graders to choose between the ACT and SAT for the mandatory college-entrance exam in 2018; results of those tests are expected to be released later this month.