After four years and $214 million of state spending, South Carolina's Read to Succeed Act has made no measurable improvement in South Carolina children's reading skills.
The state's fourth-graders slid from 39th to 47th in the nation on the reading portion of the NAEP, known as the "Nation's Report Card," between 2015 and 2017. Fewer than one-third were proficient in reading.
By the state's own standards, the picture remains bleak.
Fewer than half of students in grades 3 through 8 met state standards on the SC READY English Language Arts test in the spring. While the state saw a slight uptick in the percentage of third- and fourth-graders passing the test since 2016, it also saw growth in the percentage of students at every grade level earning the lowest possible score, "Does Not Meet."
Aiming to improve South Carolina's bottom-of-the-barrel child literacy rankings, the lawmakers who pushed Read to Succeed focused on early prevention. But aside from more standardized testing , most provisions have had no direct effect in the classroom.
'An insane waste' 
The law set aside millions of dollars to hire reading coaches who train classroom teachers to teach literacy but are forbidden to spend the bulk of their time working with students. It required teachers to earn a new literacy certification by 2020, even if they taught upper grades or subjects other than English. And it created summer reading camps to help struggling students gain ground between school years.
This year saw the final, most controversial part of the law take effect: Schools must now hold back certain students who fail a state reading test in third grade, keeping them behind for another year to receive special intervention before they pass to fourth grade.
But because of a long list of exemptions and a low bar for failure compared to similar laws in other states, only about one-half of 1 percent of the state's third-graders — 354, by last count — were actually retained this fall.
An April 2017 report by Florida-based RMC Research declared that it was "too soon to determine the impact of South Carolina's Read to Succeed Act on student reading achievement," but it said many district leaders and teachers spoke highly of the new initiatives. Actual survey results from the 359 teachers involved in the study were not available this week; only an executive summary is available on the S.C. Department of Education website.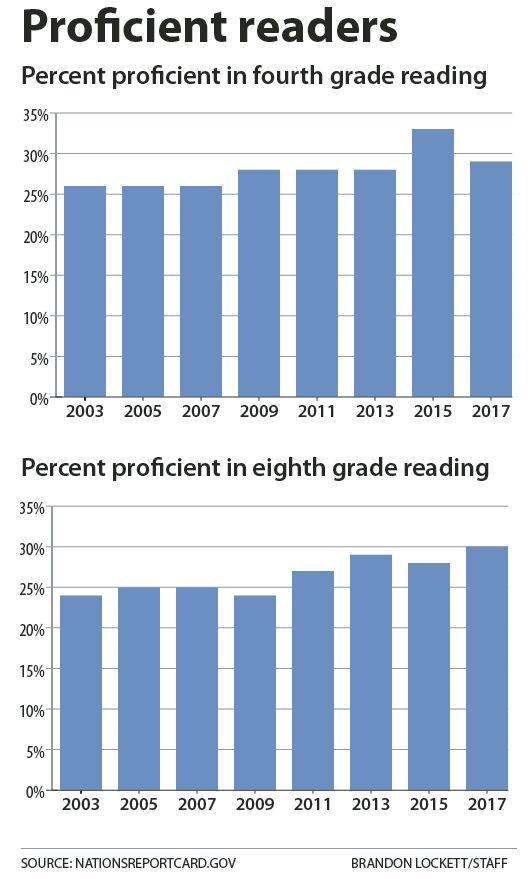 Charleston-area teachers, for their part, were not clamoring for a policy that generated more high-stakes testing or paperwork, or one that built up an ever-thickening layer of bureaucracy.
When the Charleston Teacher Alliance surveyed local English and elementary teachers last winter on one key component of the law, the hiring of reading coaches, few were happy about it.
Two-thirds of the 436 respondents said the reading coach at their school should be either eliminated or converted into a position that works with low-performing students. About one-quarter of the teachers said their reading coach provided "critical professional support," while literally none of the teachers described the position as "critical to my students' improvement in reading."
Jody Stallings, a Moultrie Middle School teacher and director of the teacher advocacy group, argued that the money would have been better spent hiring more teachers to teach reading immersion programs or simply hiring more teachers to shrink class sizes.
Instead, the state has granted school districts waivers on classroom size caps since the straitened Great Recession budget of 2010. Republican Education Superintendent Mick Zais, who was in office when lawmakers passed Read to Succeed, attempted in 2013 to eliminate almost all of the state's caps on classroom sizes, prompting an outcry from teachers and parents. Zais now serves as deputy education secretary in the administration of President Donald Trump.
"The bottom line is that Read to Succeed is an insane waste of resources," Stallings said. "Reading is too critical a skill to suffocate under the weight of more bureaucracy, but that is exactly what is happening."
Following the money
The lion's share of state spending on Read to Succeed — $182 million — went to pay salaries for reading coaches. As of 2017, the state reported it was funding 653 reading coaches.
Christina Dennard is one of them, and she expected to meet skepticism.
Dennard started her career as a teacher in third- through fifth-grade classrooms, and she now works as a reading coach at Springfield Elementary in West Ashley. Her current job involves teaching teachers and helping them pinpoint students' individual needs through "data meetings" about their test scores. She does not work one-on-one with students, but she sometimes teaches "model lessons" in tandem with classroom teachers as a training exercise.
She said she finds the work rewarding, and that one of her first tasks was to build trust with the teachers at her school.
"I get to have far wider of an impact than I did when I was just teaching in my classroom, and I get the opportunity to learn from my teachers," Dennard said. "Some of them have just amazing things to offer."
By spending so much on reading coaches, the lawmakers' 2014 bill that became Read to Succeed was betting on a model that was popular elsewhere, but not proven. A widely cited 2010 report for the U.S. Department of Education looked at reading coaches working in 17 states, including South Carolina, and concluded that "the research documenting the impact of coaching on classroom practices and in turn on student achievement is still emerging, yet promising."
The second largest chunk of the spending paid for six-week summer literacy camps in every school district. The camps catered to struggling readers — and gave some third graders a second chance to pass on to fourth grade. Staffing, training, materials and other expenses related to the camps have cost the state more than $32 million to date, according to the S.C. Department of Education.
According to a 2017 report on the implementation of Read to Succeed, lawmakers left some of their own mandates unfunded. For example, they did not provide salaries for additional staff positions to run the new state-level Read to Succeed Team, so the Department of Education had to pull staff from other offices.
The law also provided no money for districts to develop their own reading plans or conduct required testing of pre-K and kindergarten students, which costs about $18 per student, according to the bill's fiscal impact statement. Using that estimate along with pre-K and kindergarten enrollment figures for the past three fiscal years, Read to Succeed-mandated testing has cost school districts at least $4.4 million to date.
To try to boost early literacy, local school districts and philanthropic organizations have kicked in money beyond the $214 million of state spending. In the Charleston area, for example, Trident United Way committed $1.5 million to a new Reading by Third initiative that launched pilot literacy programs in tri-county schools.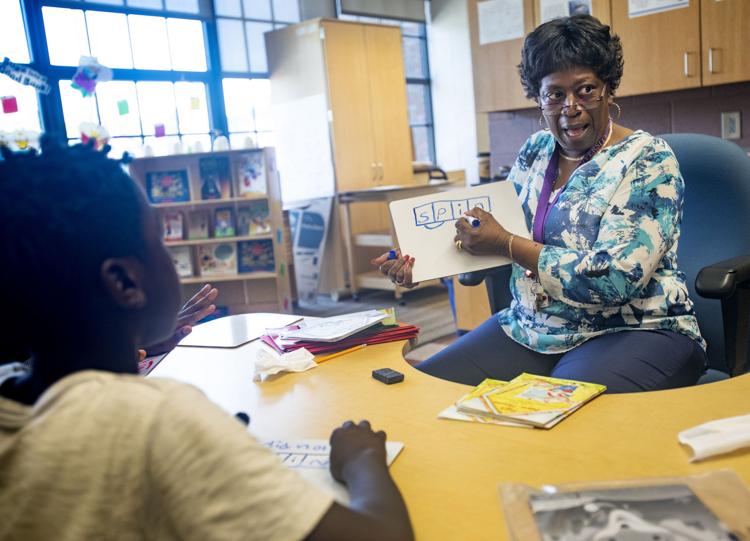 A trendy law
A 35,000-pound model of a child loomed over Gov. Nikki Haley's shoulder as she signed the 2014 Read to Succeed Act with a dash of optimism.
"This really is history in the making, when we suddenly stop everything and say that now we are focused on education and we're focused on children," said Haley, flanked by a coterie of grinning elementary students and a 40-foot-tall model named Eddie at the EdVenture children's museum in Columbia.
Lawmakers later held up the new act as a defense when challenged by the state Supreme Court to repair the rampant funding inequities between the state's poorest and richest districts in the landmark November 2014 decision Abbeville County School District v. South Carolina.
Rather than alter the decades-old education funding formula, state lawmakers appointed two new Supreme Court justices who voted to cease enforcement of the Abbeville decision in November 2017. The state's public school system remains mired in poverty and racial segregation, and South Carolina public school teachers remain among the nation's lowest-paid. Adjusted for inflation, the average teacher in the state makes less today than in 1990.
Meanwhile, the final piece of the Read to Succeed Act — the third-grade retention policy — is anemic at best, harmful at worst, critics say. This component of the law does not have a price tag attached to it, although taxpayers will pay for an additional year of education for any student held back.

Third-grade retention policies were in vogue at the time Read to Succeed was written, often echoing the education initiatives of Florida Gov. Jeb Bush as well as a 2011 "model bill" called the A+ Literacy Act published by the influential and moneyed American Legislative Exchange Council (ALEC). 
Sixteen states and the District of Columbia have now adopted third-grade retention policies, according to a June 2018 report from the National Conference of State Legislatures.
Paul Thomas, a Furman University professor of education, said the legislation solved a political problem, not an educational one.
Third-grade retention policies are popular with Republican lawmakers' conservative base, Thomas said, even though research shows they disproportionately affect minority students and often do more harm than good. Students who are held back are more likely to drop out of high school and have lower rates of self esteem and school attendance.
The Brookings Institution reviewed long-term studies on third-grade retention policies in 2016 and portrayed them as more of a mixed bag. Since literacy is only one part of a third-grader's school day, and because reading is taught more intensively in earlier grades, making a child repeat third grade might not help much.
"While these studies find that retention per se is not nearly as harmful as prior research suggests, they also do not find significant and lasting benefits," researcher Brian A. Jacob wrote in the Brookings report.
While the retention law was popular with Republicans, Democrats signed on only after their Republican colleagues promised permanent funding for 4-year-old pre-kindergarten in certain poor and rural districts.
Sen. Nikki Setzler, D-West Columbia, called the bill's approach "holistic" and said it has helped by placing more focus on the early grades and reducing summer learning loss through the camps.
Sen. Harvey Peeler, R-Gaffney, an architect of the Read to Succeed Act, said lawmakers and education officials may need to tweak some parts of the law. One thing he won't budge on is the need to retain students in third grade.
As the long-held teaching wisdom goes, third grade is when students go from learning to read, to reading to learn. After that, those who can't read are going to fall behind.
"You say, 'Well, retaining a student in the third grade makes that student feel bad'? That student knows whether he or she is tracking or not. They know, their peers know, and by the eighth grade, they're going to drop out if we don't address these kids that can't read," Peeler said.
"And no professor is going to change my mind on that."