South Carolina's underfunded pensions, which roughly one in nine state residents are counting on, had a good year according to a recent accounting report, gaining billions of dollars from investments.
Many challenges remain, not the least of which is a $25.4 billion pension funding gap. But for the 12 months ending June 30, investments in South Carolina's five pension funds increased in value by 11.88 percent, the Public Employee Benefit Authority reported in October.
Going forward, requirements for larger pension contributions from public employers, including towns and school districts, that began July 1 are expected to help close the gap at great cost to South Carolina governments at all levels.
Some state lawmakers want to close the pension plans to new employees, in favor of a 401(k)-style plan that doesn't require the government to pay for promised benefits.
The pension plans cover local and state government employees, from teachers and police officers to state university and hospital employees, judges, and elected officials. Most employees contribute 9 percent of their pay to the pension system — 9.75 for police officers and firefighters — and their tax-funded employers contribute larger amounts.
Add it up, and for every $100 most public employees earn, $22.56 is contributed to the pension fund. For police officers, it's $25.99.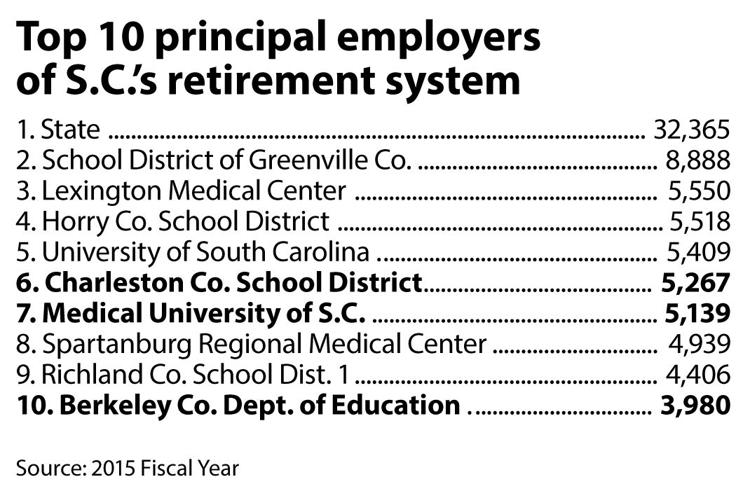 For a pension system that's frequently missed investment targets, lost money on pension investments the previous year and has been criticized for paying some of the nation's highest pension investment management fees, the latest results were a standout. For the first time in three years, the pension funds did not pay out more in benefits than they took in from contributions and investment gains.
The 11.88 percent return on investments is close to the average return seen by public pensions that fiscal year. Bloomberg reported the median public pension fund saw a return of 12.4 percent, which means half the funds did better than that, and half did worse.
Bloomberg reported that public pension plans with more than $5 billion in assets, which would include South Carolina's, saw a median return of 12.9 percent. That would mean South Carolina's fund underperformed most of its peers.
Michael Hitchcock, CEO of the S.C. Retirement System Investment Commission, said pension systems report data in different ways. An apples-to-apples comparison of South Carolina's returns would have shown it above the 12.4 percent median return for public pension systems reported by Bloomberg, he said.
"Obviously, close to a 12 percent return is fantastic," he said. "I'm very encouraged by where we are."
Hitchcock said the RSIC adjusted the pension funds' investment mix around the end of 2015, primarily by shifting more money into domestic stocks, and that boosted investment gains during the past fiscal year.
As of June 30, South Carolina's five pension funds were worth $30.2 billion, up from $28.1 billion a year earlier. To be fully funded in order to pay promised benefits long term, they would need another $25.4 billion.
Despite the outsized investment gains, the pension plans ended the year with a larger dollar shortfall than before because the pension systems' liabilities increased as well.
The increase was partly attributed to having about 3,000 more retirees collecting benefits, a cost-of-living benefit increase worth no more than $500 per retiree and "a surge" in distributions to pension system members ending participation in the Teacher and Employee Retention Incentive, according to financial statements released by the South Carolina Public Employee Benefit Authority.
The average employee in the pension system earns around $40,000, and the 164,000 retirees currently receiving checks collect roughly half that amount every year.
South Carolina's pension system has faced criticism for paying large investment management fees, while also seeing smaller investment gains than comparable funds that paid less. For the 2016-17 fiscal year South Carolina's pension system spent $302.9 million for investment management fees, according to PEBA.
Those fees "were 23 percent higher than the prior fiscal year 2016 total of $246.9 million," said PEBA in the management discussion section of the financial report. "The increase is largely attributed to higher performance fees as a result of strong performance for the fiscal year in the asset classes that incur performance fees."