The sun isn't up yet and raking machines are sifting piles of seaweed out of the sand, but Lorna Sheets and Penny Verbos are still eager to get to the beach. 
The two women are members of the North Myrtle Beach Sea Turtle Patrol, an all-volunteer group that scours 4 miles of the shore every morning for signs of a sea turtle nest or stranded animal. They walk a 1-mile section every Tuesday morning starting around 6 a.m. from May to mid-August — nesting and hatching season — to try to flag nests before they can be trampled or otherwise disturbed. 
Both women are retired nurses and neighbors that live just a few blocks away from their designated starting point at Main Street. Both joined the patrol for the first time this year. They bought themselves matching leggings, with turtles printed on them, to celebrate. 
"We're excited. We want to find a nest," Verbos said. 
The turtle patrol is just one of more than 30 groups across the South Carolina coast that scan the sand for turtle nests every summer. The earliest groups started around 1982, according to Michelle Pate, coordinator for the state's Marine Turtle Conservation Program. 
The groups are essential, wildlife officials say, to helping researchers protect and track the reptiles, including the loggerhead sea turtle, the most common nester in the state. All seven species of sea turtles seen in South Carolina are considered threatened or endangered species.
"There's over 300 kilometers of ocean-facing beach that my staff of five just can't do every day for five months straight, so we rely heavily on these folks," Pate said. "They're long term, they're dedicated, (and) they're passionate, very great beach stewards."
The volunteers try to protect the nests from threats of all kinds: human interference, animal predators and the possibility of being suffocated by the ocean itself. Pate said that after the groups started spearheading conservation efforts, the percentage of hatchlings making it off the beach skyrocketed — from 10 percent to as much as 88 percent.
'I got hooked'
At the end of their morning walk on May 29, Verbos and Sheets meet up with Melissa Fitzwater, another first-year volunteer, and compare notes: no tracks or stranded turtles. The women send a text to another volunteer and quickly move on to swapping pictures of their grandchildren.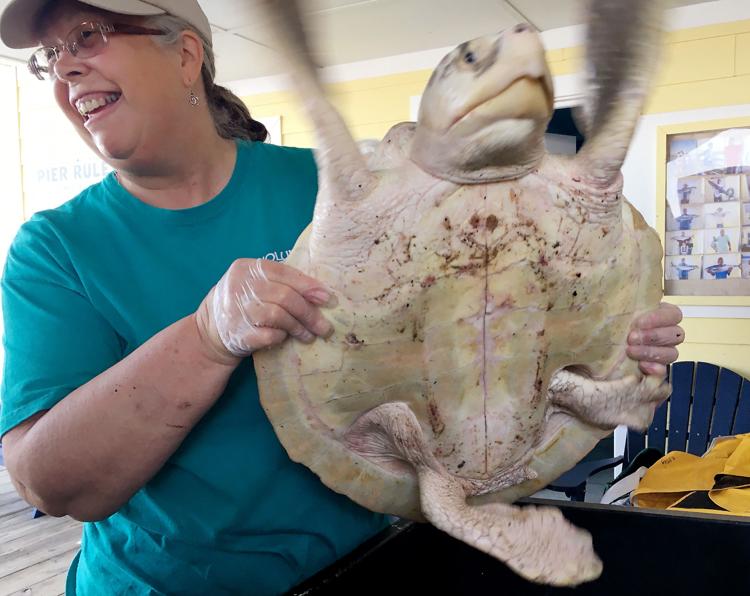 Fitzwater, a Massachusetts native, has had a life-long love of the ocean. But it wasn't until a family vacation in the 1990s, when she spotted a set of turtle tracks on the beach in Topsail Island, N.C., that her passion for the reptiles began. When she came to the Grand Strand, she stumbled upon a nest hatching, the first time she'd seen it in person.
"It was the coolest thing I've ever seen in my life," Fitzwater said. 
Many volunteers who work with turtle patrol groups have a story about the moment they got sucked into conservation work.
Tee Johannes, who helped locate a rare leatherback turtle nest on Isle of Palms recently, doesn't remember exactly how her love of sea turtles began, but she does remember her very first day of volunteering 21 years ago.
"My first day of my walk I came out of 26th Avenue, and there was a track right there. It was meant to be. And I got hooked ever since," Johannes said.
Kelly Bragg, of Kiawah Island's Turtle Patrol, was taking a midnight walk on the beach with family in 1997 when she saw a mother loggerhead dig and lay a nest.
She became a volunteer shortly after. In the intervening time, she's also seen a relatively rare event — a "boil," when all the hatchlings burst out of the nest at the same time. 
"All of a sudden, poof, all of them (came out), and it was like a giant jumble of baby parts, flippers and shells and heads in heaps, all jumbled on top of each other, scrambling to get out," Bragg said. "You want to talk about a reward for getting up early, that's it."
Protecting the nest
Volunteer groups mark off turtle nests when they find them, posting signs so that the public knows what area to avoid. Disturbing a turtle nest, a federal offense, carries a maximum $15,000 fine and potential prison time. 
Specially trained volunteers in groups permitted by the S.C. Department of Natural Resources move nests only if they're in a location that's hard to protect. One danger is the possibility that the nest is inundated by the ocean at higher tides, which suffocates the eggs. 
Those who get involved in the turtle protection groups don't leave their responsibilities behind when they finish a morning search for nests. Many become informal public educators, reminding beach-goers that humans have to share the sand with other creatures.
Volunteers also pick up plastic debris from the beach. Plastics are a particular problem for sea turtles, according to Joe Nairn, a professor at the University of Georgia. Turtles often ingest plastics like single-use shopping bags and discarded balloons, which look like food.
"Turtles are kind of opportunistic feeders," Nairn said. "They're going to eat anything that looks like food."
Among the most exciting experiences for turtle patrol volunteers is the search for a nest. While tracks make it evident where a turtle came ashore, a metal probe has to be used to find the chamber under the sand where the eggs are hidden. The process of testing the sand is a delicate one.
"The first few times you do probe, you absolutely are terrified," Bragg said. 
If the sand feels loose, it's time to start digging.
Tracking turtles
A single egg is sacrificed from every nest recorded in South Carolina and sent to researchers in Georgia, including Nairn. The team tracks mother turtles from Georgia to North Carolina by testing the DNA in eggshells, enabling scientists to identify which animal laid which nest. 
The program, which has been happening across the three states since 2009, is heavily dependent on coverage of the entire coast.
"The volunteers are like the heart and soul of this," Nairn said. "If we had to have a professional on every kilometer of beach, we would never be able to do this. ... I don't think you can even put a price on the work they do."
Data from the study so far shows that multiple generations of turtles have nested in the same year — in a few cases, three generations might all lay clutches.
Because female loggerheads can't reproduce before the age of 30, that means some turtles lay nests for at least 60 years. It's estimated that loggerheads can live as long as 100 years, but, Nairn said, "we don't really know" the full extent of their lifespan.
The project has also shown that about a quarter of the mothers that lay clutches each year are never seen again. Turtles face threats at every stage of their lives, from natural predators on the beach at youth to getting caught in fisheries in international waters in adulthood. 
Still, loggerhead populations today are relatively stable after a 20-year trend of decline started to reverse about six years ago, Nairn said.
"Every time we think we are starting to get an idea of how things work with these turtles, we always are surprised at how much more complex it is than we maybe originally thought," he said.