Columbia-area prosecutor Dan Johnson signed office checks for thousands of dollars to fitness centers, favored charities and sometimes simply to "cash," newly released spending records show.
Johnson, the 5th Circuit solicitor for Richland and Kershaw counties, wrote checks to Columbia-area sororities and fraternities, writing "sponsorship" on the checks' explanation lines, copies of deposited checks show.
He doled out more than $18,000 to Gold's Gym between 2012 and 2014, with annual payments ranging from $5,900 to $6,400.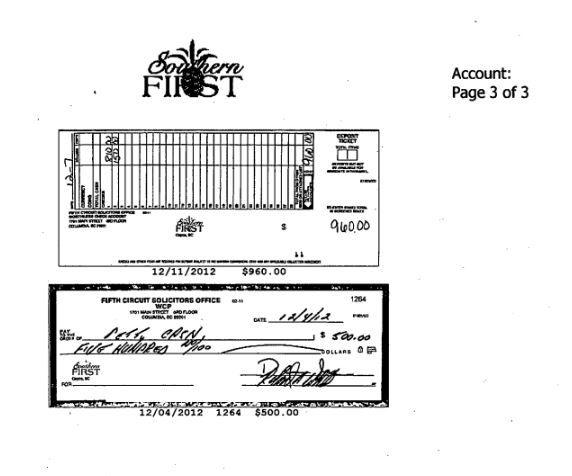 Other checks were simply labeled "cash," often for several hundred dollars and with no explanations on the checks of how the cash was used.
And much of this money came from an account with cash earmarked to help victims of check fraud.
Released by PAPR.org, a watchdog group organized to acquire public documents, the expenditures expose another gray area of accountability in Johnson's office.
The Post and Courier's previous reviews of his spending revealed Johnson's penchant for expenses such as hailing premium Uber Black rides to casino hotels and an overseas trip to the Galapagos Islands.
After The Post and Courier report, S.C. Attorney General Alan Wilson asked the State Law Enforcement Division to review the matter and determine if a larger investigation is warranted.
In previous statements, Johnson defended the use of his office's purse strings for the community.
"We spend money with organizations that are helping our youth," was one response.
At a campaign fundraiser last week, he told the newspaper "To the extent that anything happened that is wrong, I'm gonna make it right. That's a fact."
Neither Johnson nor his communications director, Nicole Holland, responded to questions about the check copies released Monday by PAPR.
Johnson, a Democrat, is up for re-election this year but has not formally filed as of Monday. He has no announced competition. 
The latest set of documents shows in vivid detail the outflow of money from the 5th Circuit Solicitor's Office to favored charities, large and small.
His office cut checks worth $1,960 to the Columbia City Ballet between 2012 and 2014. He wrote six checks between 2011-17 to the Delta Sigma Theta Sorority totaling $2,380, records show.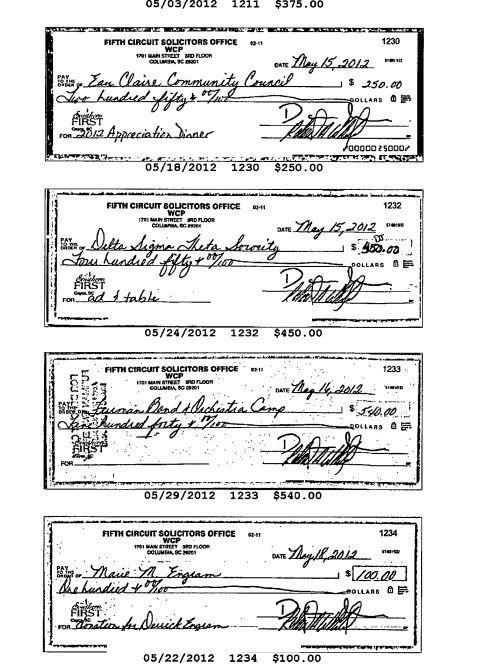 Checks also went to the Blaney Elementary archery team ($100); Furman Band & Orchestra Camp ($450); and the Auntie Karen Foundation ($600 in 2012 and $100 in 2014).
Frequent recipients included groups that threw fundraising celebrations and organized golf tournaments.
In 2012, Johnson wrote a $500 check to the Black Alumni Council, writing "Platinum Cocky Sponsorship" in the lower left hand corner.
Other sponsorship checks went to "Mentoring for Success" ($300 for "Golf tour. nonprofit"); Saint John Baptist Church ($300 for "Israel Brooks Golf Tourney"); and Allen University ($1,500 for "table sponsor").
Many of the payments came from a checking account labeled "Worthless Check Account." Johnson's worthless check program was set up to reimburse people who receive bogus checks, according to his office's website.
Donations to pet community projects can blend with political campaigning and could be an improper use of tax dollars, said John Crangle, who as former director of Common Cause has studied South Carolina corruption for three decades.
"I don't think there's a clear bright line between trying to be a good citizen on one hand and on the other trying to promote your campaign," he said.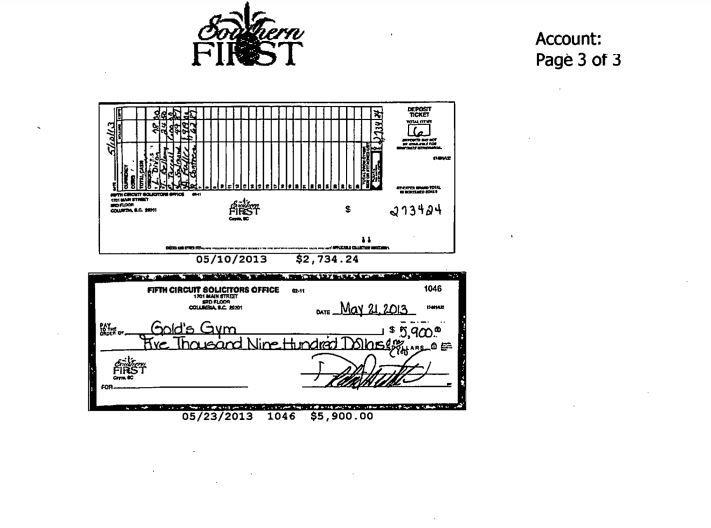 Other expenses released Monday highlight Johnson's day-to-day use of his office credit card. Card statements show a $2,750 charge from Johnson in October 2016 to the Columbia Fireflies, a minor league baseball team. The records don't detail the purpose of the expense, but the charge is the same amount as the cost for season tickets to a spot in the Fireflies bullpen box along the third-base line. It's the costliest option among the team's season ticket plans.​
Meanwhile, Johnson's office routinely wrote checks to gyms and fitness centers.
Along with the Gold's Gym payments, he wrote a $6,000 check to MUV Fitness in 2016 and an $8,000 check to St. Andrews Fitness Corporation in 2017 with a memo stating "Training MOA 2017-2018."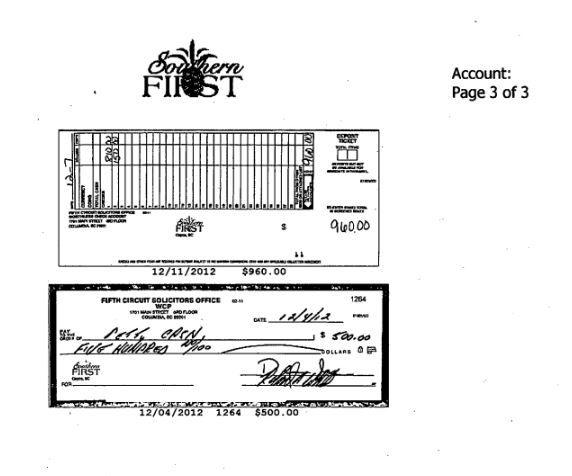 Johnson, an Iraq War veteran, also cut a $250 check to the Honor Flight of South Carolina in 2011.
Johnson often paid checks for as much as $1,000 to William Wesley that were labeled "petty cash." Wesley is an investigator for the 5th Circuit Solicitor's office.
Reached by phone, Wesley referred questions to Holland, the office communications director.
Crangle said, taken together, the expenditures reflect a lack of oversight and monitoring in South Carolina.
"Theoretically, solicitors are under the attorney general, but in practice they pretty much call their own shots," he said.