Moratoriums are what can happen when residents and local officials feel like they're getting too much of something too fast and feel overwhelmed.
Increasingly, residents of fast-growing areas across South Carolina have been calling for temporary freezes on certain types of development — sometimes lasting years — and local governments have been approving them.
The idea is to take a pause so that governments can potentially put new rules in place. That's supposed to be the purpose because a town or city can't simply say "no more apartments" or "no more adult businesses" without running afoul of the law.
But do they work?
Issues prompting moratoriums in recent years have ranged from rapid residential construction generally (Lancaster County) to apartment buildings (Mount Pleasant, Rock Hill, James Island), concerns about developing flood-prone areas (Charleston, Mount Pleasant) or too many late-night bars (Charleston), adult businesses (Myrtle Beach), taxis (Columbia) or used car lots (Greenville).
Kendra Stewart, College of Charleston professor and director of the Joseph P. Riley Jr. Center for Livable Communities, said moratoriums can solve problems if used correctly. She cited Charleston's 2014 moratorium that temporarily prevented new bars that would operate past midnight from opening in the entertainment district of the downtown peninsula.
During the moratorium, she said, the city set up a task force that developed policies people on both sides of the issue — downtown residents and the food and beverage industry — could live with.
"That was very effective," she said. "If it's solely political, just to please constituents, that's not as effective as when a community decides something is a problem and there are ways to deal with it better."
"Often, in the short term, they help diffuse public distress or anger," Stewart said. "Frequently the issue is a lot of growth."
Weeks, or years
A moratorium might only last for weeks, giving a government breathing room to tweak regulations. In Myrtle Beach, a 2014 moratorium on adult-oriented businesses "was very brief, while we updated zoning for the district that allows that activity," city spokesman Mark Kruea said.
"Once the zoning was updated, that moratorium went away," he said.
Something similar happened this year in Greenville County, where a moratorium on used-car lots in certain locations lasted just over a month. Passed in June, the moratorium ended in July when new zoning rules were approved.
In Mount Pleasant, a moratorium blocking any building permit that would increase the impervious surface on properties in a flood-prone section of town known as the Old Village is scheduled to expire after just 60 days. The town began working on a plan to address flooding in the meantime.
"It allows a little bit of time for the elected body to decide where to go," said Mount Pleasant Assistant Town Administrator Christiane Farrell.
But for less specific challenges, usually involving very rapid residential development, moratoriums can last years.
Mount Pleasant currently has a two-year moratorium on apartment developments, which followed a previous half-year moratorium. Rock Hill had a year-long apartment moratorium. Lancaster County had a 20-month moratorium on all rezoning in the Indian Land area, which like Rock Hill has been turning into a suburb of Charlotte.
"It was necessary because as planners we had to work on this for 20 months and wanted people to get more involved with planning the codes," said Lancaster County Planning Director Penelope Karagounis. "We had to rezone 40,000 properties."
Too late?
Scott Slatton, legislative and public policy advocate for the Municipal Association of South Carolina, said calls for moratoriums are continuing in fast-growing parts of the state. York County and Clemson have been discussing them, and a petition drive in Clemson has been demanding a moratorium aimed at apartment buildings.
The thing is, if the issue boils down to area residents feeling overwhelmed by rapid development, that usually doesn't happen until residents can see the development. And by the time that happens, chances are additional developments have already been approved, which a moratorium wouldn't cover.
"Whatever's in progress has to be allowed to continue, and by the time you have a moratorium the horse is already out of the barn," Slatton said.
In Mount Pleasant, for example, the town hasn't seen an application to develop apartments since the first half of 2015, and a moratorium is now in place until the spring of 2019. But apartment buildings continue to rise, and some of them were approved before the recession.
A town or county can use zoning rules to determine where different types of development can go, but developers decide when it's financially attractive to build what's allowed. The result can be a rush of development — hotels in Charleston, apartments in Mount Pleasant, used car lots in parts of Greenville County and so on.
"The timing of it is something you can't really address," Farrell said. "The market can obviously affect a lot, as far as whether development may or may not be occurring."
Commercial real estate broker Mike Ferrer, of Rock Creek Real Estate Advisors in the Charleston area, said in a YouTube video that market forces can sort things out, given time.
"I think these things (moratoriums) are short-term solutions, and most of the time an efficient marketplace will find the places to put the resources," he said in a video criticizing Mount Pleasant's apartment moratorium.
"When you reduce supply, all that happens is you increase the demand for the existing product," Ferrer said.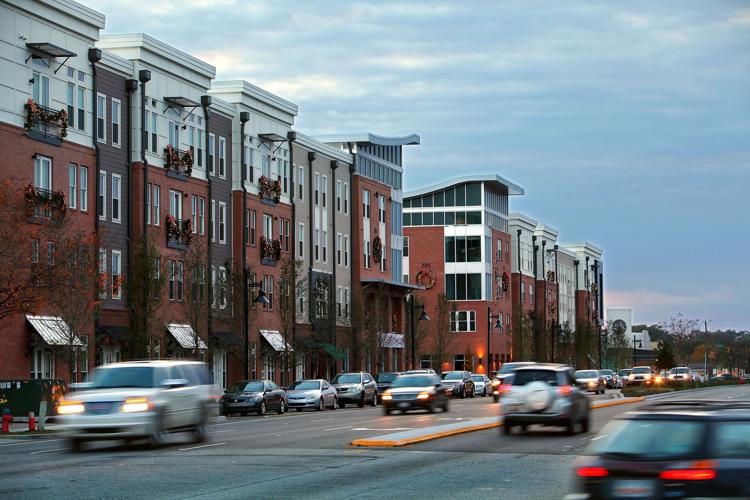 Mount Pleasant Town Council members heard such arguments while considering the apartment moratorium. Several said recent construction of many apartment buildings did not lower rents, but rather created apartment complexes with some of the highest rents in town.
Solutions differ
One complication with moratoriums is local governments can reach the opposite conclusions to address similar problems, and people will disagree about which conclusion is best.
In Rock Hill and Lancaster County, both governments decided during growth-related moratoriums to encourage more urban-styles apartment developments.
"The bottom line is, we went from a system that fostered pretty typically suburban-type apartment buildings and now fosters more urban multi-story apartments in walkable settings," said Rock Hill Planning and Development Director Bill Meyer.
"In our case, I think it's worked," he said. "We were able to redefine the regulations for multi-family, and the development we have seen since then has been infill in our downtown."
In Mount Pleasant, the town used an advisory board that included residents and business owners to develop a plan to revitalize a key thoroughfare, Coleman Boulevard. That plan called for more urban-style, walkable developments — like Rock Hill and Lancaster County are now encouraging — but many town residents expressed horror when a multi-story apartment complex was built on the boulevard.
Mount Pleasant's apartment moratorium and other growth-restricting measures, such as sharply higher impact fees and limits on building height, are a backlash to the earlier plan, which was completed in 2007.