South Carolina stopped enforcing its size limits on most public school classrooms in 2010, bowing to the financial pressures of the Great Recession.
Nearly nine years later, the state still does not enforce those limits.
The teachers have noticed.
"Right now, it feels like in order to save money people put as many students in a classroom as they can," said Dottie Adams, a science teacher at Hand Middle School in Columbia. 
By most measures, classroom sizes across South Carolina started to grow during the global economic recession that began in late 2007, and the sizes continued to grow as the tax-averse state legislature failed to fund its own education mandates.
Some indicators show classrooms are starting to shrink slowly, but veteran teachers say it's been a long, difficult slog. Teachers' workloads still have not returned to pre-recession levels. Adding insult to injury, South Carolina teacher salaries have not kept up with inflation, so teachers are effectively earning less now than they did in 2008.
Between 2008 and 2018, the number of schools where the average classroom size exceeded 28 students per teacher almost doubled to 110 from 60, according to state report card data. Most of those classrooms were in high schools, although at least 32 elementary schools have passed that threshold since 2010.
If the state were enforcing its 28-student cap on average class sizes for elementary schools, most of those elementary schools would have been breaking the law.
Addressing classroom size is one of several education reforms state lawmakers are eyeing this year following The Post and Courier's five-part series "Minimally Adequate," which outlined persistent problems that leave thousands of students unprepared for college or the modern workforce. The series also detailed how classroom pressures and pay concerns have helped fuel a crippling teacher shortage across the state. 
In the absence of a mandate to enforce classroom size rules, the S.C. Department of Education has not kept track of how many schools are violating the limits.
But teachers, such as Adams, have a sense. Seven years ago, while working a previous job at Berkeley County's College Park Middle, she taught an astronomy class with 39 eighth-graders. The state limit on eighth-grade classroom size is 35.
Adams said she struggled to give every student enough attention and support. Lab groups had to include five students instead of three. Adding to the challenge, most of her students happened to be boys.
"Thirty-six. Eighth-grade. Boys," she said.
'Class size does matter'
Adams sits on the board of SC for Ed, an independent activist group of more than 20,500 teachers, educators and political leaders who have been pushing for a slate of education reforms. One part of their platform is shrinking classroom sizes to more manageable levels.
She recently asked fellow teachers from across the state in a Facebook survey to share the largest classroom size they could remember. The horror stories keep coming in.
Teachers talked about elective classes with 50 to 60 students crammed into a classroom, when the state limit is 35. One teacher reported 86 middle schoolers sweating it out in a single PE class, even though the state caps those at 40 students.
Many of the teachers said their worst years came during the recession; others said things had gotten worse in the last two years.
State records show some extreme ratios in high schools, as well. State regulations say that most high school class sizes may not exceed 35 students per teacher, but in the 2017-18 school year, six high schools reported an average student-teacher ratio above 35.
They include: Horry County's Conway High (35.1 students per teacher), Greenville County's Woodmont High (36.4), S.C. Public Charter School District's Gray Collegiate Academy (36.6), Horry County's North Myrtle Beach High (36.7), Williamsburg County's C.E. Murray High (37.8) and Sumter County's Lakewood High (39). (Some charter schools like Gray Collegiate reported unusually high ratios because the state's formula only includes certified teachers in the denominator. Charters are allowed to hire some non-certified teachers under state law.)
An Horry County schools spokesperson did not respond to questions about the district's high schools, which have reported sky-high class sizes for multiple years.
"Large classes may save money in the short term, but the long-term detriment is less student focus, increased student discipline infractions, poorer student-teacher relationships, and lower teacher job satisfaction," Adams said.
State Education Superintendent Molly Spearman, a Republican, said the real problem driving the growth in classroom size is South Carolina's ongoing teacher shortage, as well as some districts' decisions to cut positions.
Spearman has suggested addressing the teacher shortage by passing a 5 percent pay increase and reducing the state's burden of standardized testing on teachers.
"We should look at student to teacher ratios, particularly in the lower grades where studies have shown lower class sizes to promote student achievement, and come up with a common sense ratio that provides a manageable classroom size while allowing districts to offer innovative approaches to classroom instruction," Spearman said.
While classroom size limits are set by the State Board of Education, the Legislature sets funding levels and could decide to resume enforcement of the existing caps. At a recent legislative workshop, Senate Minority Leader Nikki Setzler, D-West Columbia, noted that class sizes "continue to get bigger and bigger."
"We need qualified, quality teachers in every classroom," said Sen. Brad Hutto, D-Orangeburg. "Class size does matter." 
Hands tied
Even if South Carolina schools were able to get their classrooms down to the current legally mandated sizes, some teachers say they would still encounter headwinds.
In his four years of teaching, Fort Dorchester High School teacher Damon Weinhold has seen classes of as many as 30 students in freshman English I. While that number falls below the state limit of 35, he said he has sometimes found himself unable to manage the pure logistics of maintaining order, grading papers and meeting the individual needs of students.
"You often feel like you're falling short, even if you're doing a good job at helping most students on most days," Weinhold said. "It seems impossible, and it is impossible at times."
Analyzing the rhetoric of Malcolm X and Dr. Martin Luther King, Jr. and using what we learn to respond to last year's events in Charlottesville. pic.twitter.com/bjvAc31oOb

— Damon Weinhold (@WordsofWeinhold) January 24, 2018
His principal's boss, Dorchester School District 2 Superintendent Joe Pye, agreed that 30 students in a freshman English class is an untenable situation. Pye said freshman classes should ideally have no more than 20 students.
"That is a very difficult year for students. That's usually the grade they begin to decide to drop out of school," he said. "When kids who have had learning problems are now put in a classroom where they're packed in like sardines, the teacher just doesn't have the quality time to differentiate instruction."
Pye said state funding formulas often prevent him from raising teacher pay or hiring enough new teachers to reduce classroom sizes. He has met regularly with teachers, including members of SC for Ed, hammering out an agenda to push for change in Columbia this year. 
"We've been fortunate to have so many teachers that can roll with the punches and then hope the next year is different," Pye said.
Legislative inaction
In some ways, the growth of South Carolina classrooms since the Great Recession mirrors national trends. Most states face a critical shortage of teachers. The national ratio of students to teachers grew after the recession, crested in 2013 and slowly tapered off since, according to annual reports from the National Education Association.
South Carolina's teacher shortage keeps getting worse, fueled in part by bottom-of-the-barrel pay rates, crushing morale issues and an annual mass exodus of young teachers who quit the profession. The state started the 2017-18 school year with 550 vacant teaching positions, up 16 percent from the previous year, according to the most recent report from the Center for Educator Recruitment, Retention and Advancement.
While every state's budget took a hit following the real estate crash and economic downturn from 2007 to 2009, South Carolina lawmakers blew a hole in their own budget thanks to Act 388, a 2006 law that upended South Carolina schools' funding system.
The law swapped out a stable revenue stream (homeowner property tax) for a volatile revenue stream (sales tax) to fund school operations. When the economy tanked, so did school funding.
The Legislature has not funded its own promised per-pupil amount, called the Base Student Cost, since 2009. The shortfall came out to $497 million in the last school year alone.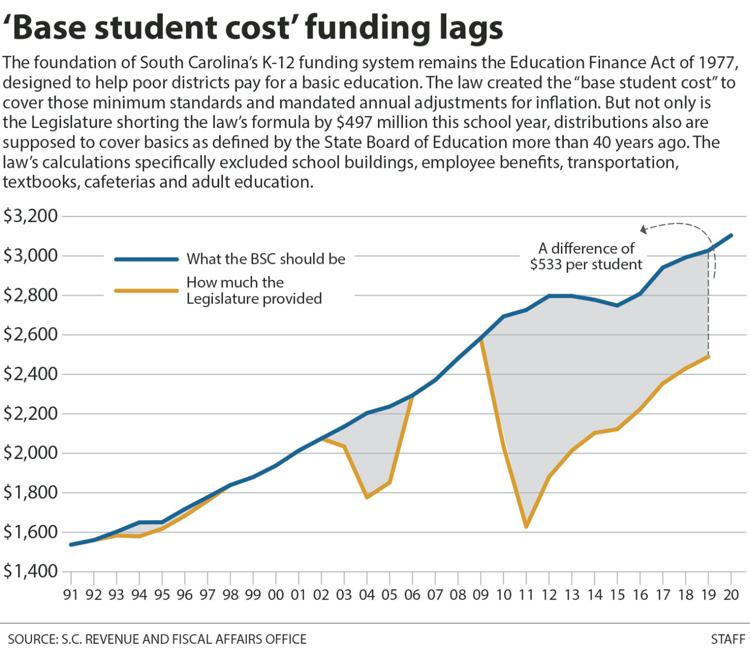 Unwilling to pass tax increases or repeal Act 388, the Legislature has consistently underfunded its own mandates since 2009 on everything from teacher salaries to school bus replacements.
In the tight financial year of 2009, lawmakers passed a joint resolution that allowed districts to exceed the maximum staffing ratios in every area except 4-year-old pre-kindergarten programs and certain programs serving students with disabilities. The proviso took effect in 2010 and has been re-upped each year since.
Classroom sizes have swollen and fallen since then, but they have not returned to pre-recession levels. Meanwhile, South Carolina teachers have said they could do better jobs if their attention weren't divided among so many students.
When the Riley Institute at Furman University recently surveyed teachers across the state and asked them to circle the most essential change they would like to see, teachers in elementary, middle and high school all chose "smaller class size" as their top priority.
Republican state education leaders have sometimes taken the opposite stance. In 2013, then-State Superintendent Mick Zais introduced a plan to erase nearly all classroom size limits as well as caps on teacher workloads, citing a need for flexibility at the district level.
The State Board of Education rejected his proposal after board members received an onslaught of angry calls from parents and teachers.
"Some have stated that suspending some staffing requirements would lead to packed classrooms," Zais said at the time. "This misinformation is motivated simply by pure, partisan politics."
Zais now serves as U.S. Deputy Secretary of Education under President Donald Trump.