Across South Carolina, cotton bolls have just begin to open, lose their leaves and defoliate. 
At this point in the harvest, growers are weary of forceful winds, which have the potential to rip white whisps of cotton from their hollow shells and scatter them across the fields, blowing in different directions.
An even stronger wind — say, one with hurricane strength — could pull the cotton from its bolls and send it flying, and leave the plant itself in a tangled mess. In a worst-case scenario, the plants become so intertwined that a farmer could hardly walk through them.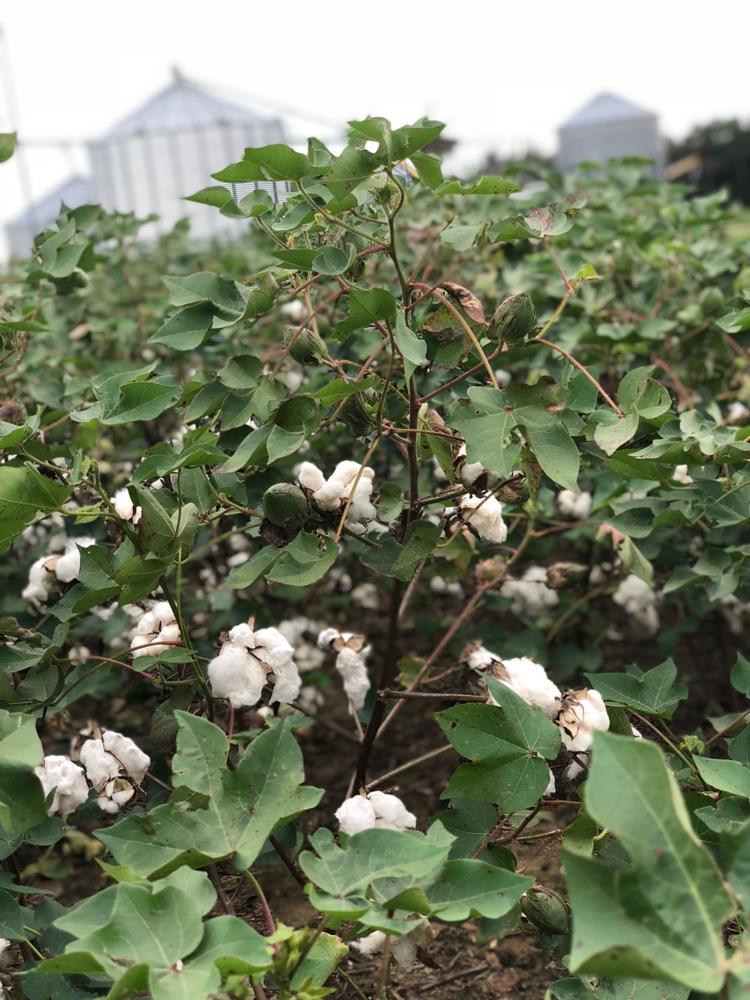 The Pee Dee region, nestled in the northeast corner of the state and up against the North Carolina border, is responsible for 157,400 acres of cotton — roughly 52 percent of the state's average production, according to the Farm Service Agency. The region also grows 70 percent of the state's soybeans and 43 percent of its peanuts. These three crops are all in the ground, yet to reach peak harvest season in October. 
Only 28 percent of cotton in the Pee Dee had seen its bolls open, and zero percent had been harvested. 
Only 1 percent of peanuts had been harvested.
Only 4 percent of soybeans had dropped their leaves, and 75 percent were still setting pods. 
 

 

 

View this post on Instagram
And they are right in the path of Tropical Storm Florence. 
On Friday, growers of peanuts, soybeans and cotton — all crops that have yet to be harvested — waited with anxiety as Florence thrashed farm fields in North Carolina.
Even if the storm downgrades to a Tropical Storm, experts said, it will still have the potential to devastate hundreds of thousands of acres of specialty crops, cotton, soybean and peanuts across the Pee Dee's 12,200 farms. After the storm makes its way through the Pee Dee, it will hit farms in the Midlands and possibly the Upstate. 
On Friday morning, cotton growers in Bishopville and Newberry took photos and a video of their cotton crops blowing back and forth in the wind.
JC Carroll is the co-owner of Agriliance Insurance Group, which provides about 100 family farms in North and South Carolina with crop insurance.
Insurance prices are based on crop prices, which have been low the last few years. Most of his clients borrow money to cover input costs at the start of each harvest. And on top of economic woes, a natural disaster — like Hurricane Hugo in 1989, or the "1,000-year flood" of 2015 — has the potential to wipe out already cash-strapped farmers. 
 

 

 

View this post on Instagram
"If our farmers go out of business in rural areas, that ripple effect is going to be one that our small towns across South and North Carolina are not going to be able to withstand," he said. 
Nathan Smith, an agriculture professor at Clemson University, studies the economics of crops. 
The Pee Dee, which includes Chesterfield, Clarendon, Darlington, Dillon, Florence, Georgetown, Horry, Kershaw, Lancaster, Lee, Marion, Marlboro, Sumter and Williamsburg counties, is home to about 12,200 farms, Smith said. (Multiple farms are owned by single farmers, and it is difficult to estimate exactly how many farmers are in the region, Smith said.)
The crops at greatest risk for storm devastation are cotton, soybeans and peanuts, he said. Most of the region's tobacco crop has already been harvested. 
As of last week, 78 percent of corn in these counties had been harvested, according to the National Agricultural Statistics Service. Farmers rushed to harvest corn ahead of the storm, and relied on each other for help, said corn farmer and state Rep. Russell Ott, D-St. Matthews.
Charles Davis, an extension agent with Clemson University since 1979, said he was based in Calhoun County in 1989, and remembered how the wild winds of Hurricane Hugo tore apart crops. 
By comparison, the dangers posed by Florence lie in flooding, he said.
With 295,000 acres, the Pee Dee is responsible for 70 percent of the state's soybean production. Soybeans are a standing crop that will sway and bluster in the wind, but unlike cotton, soybeans are not as open and vulnerable. 
Some varieties of soybeans in the region are near-harvest ready, which means they have begun to turn brown and dry out. With unexpected water and humidity, those pods, which are about 10 to 15 percent moisture, could soak, Davis said. 
 

 

 

View this post on Instagram
"We saw this after 2015," he said. "We just had so much water for so long, the beans stayed wet, and the vast majority of that crop was useless." 
If one picked up a plant, sat it in a bathtub for three days and without access to oxygen, it would drown, Davis said. 
"Just like we would," he said.