SUMMERVILLE — A document proposed to guide new development here could turn "Hometown USA" into Anytown USA.
The ordinance would allow multistory buildings in the historic downtown, a move some say could lead to streets lined with large buildings, much like downtown Charleston or parts of Mount Pleasant.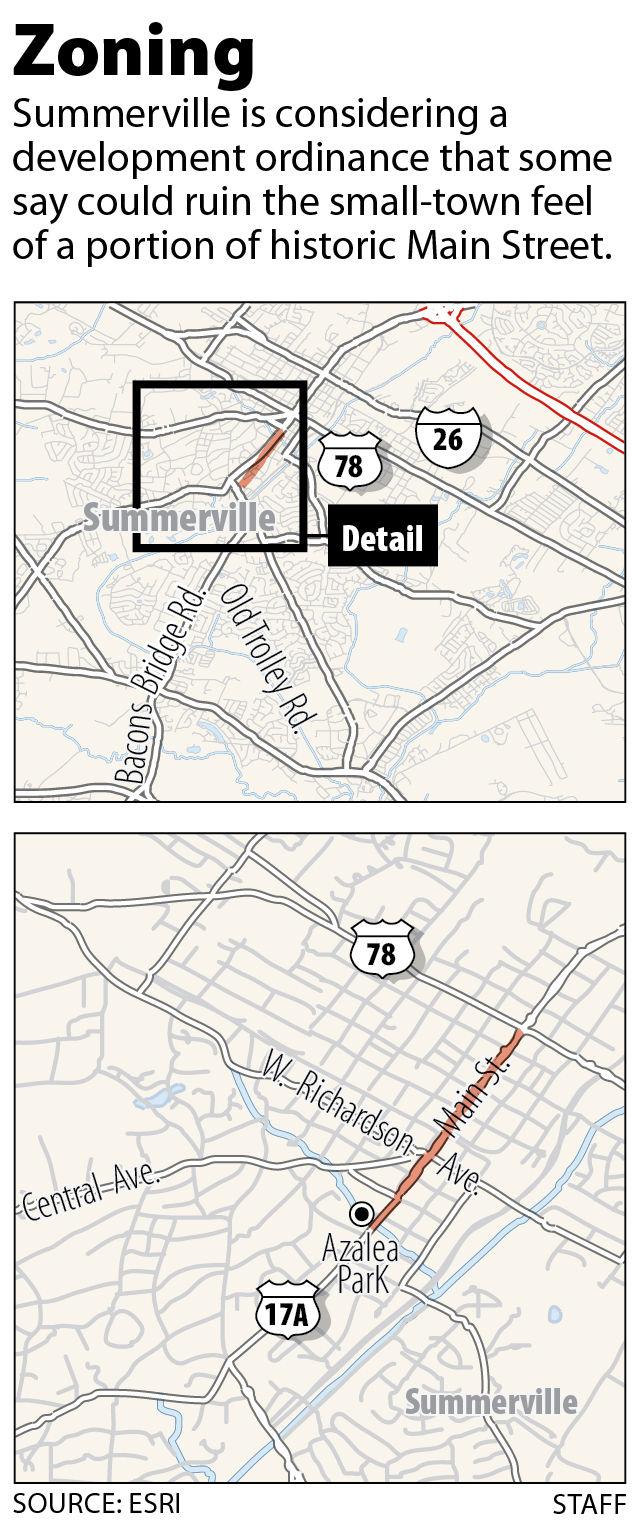 "When you first come into the center of town and see Hutchinson Square and all the buildings around it, it's sort of Hometown USA," said Mayor Wiley Johnson, who often refers to Summerville as a "city" during council meetings.
"Summerville is unique," he added. "Sure, other places have downtowns and historic areas, but they're not Summerville. We have got to maintain our identity."
The town is one of the largest municipalities in the state, population-wise, eclipsing the 50,000 mark during the past few years. But it has kept a tight grip on its designation as a town.
"We're probably always going to call ourselves a town because that is appealing," said Johnson, whose 2015 campaign centered on keeping the small-town atmosphere and successfully opposing plans to build a boutique hotel and retail center only a block from Town Hall.
Now, with the Dorchester hotel project seemingly dead, attention has turned to the Unified Development Ordinance, a $223,000 study whose purpose is to preserve the town's charm and enhance its downtown while also helping it grow.
For two years, town officials have worked on the nearly 300-page document, an overhaul of the town's zoning and development ordinances. It consolidates town laws governing tree protection, storm water, zoning and more.
The new ordinance also would consolidate and refresh development regulations, many of which date back almost 40 years. It also would eliminate inconsistent and confusing ordinances, officials said.
While the document sets the guidelines for everything within town limits, some worry particularly about how it could change the historic core.
Under the plan, properties fronting Main Street from 2nd South Street to 5th North Street, currently zoned general business, would be changed to allow a range of housing, businesses, bars and lodging.
Opponents are concerned that a denser downtown would bring more traffic, flooding and tax already overstressed infrastructure.
"It's sort of this Utopian idea that you live where you work," said resident Peter Gorman, a frequent confidante of the mayor's. "Is that suitable for Summerville? I don't think we're there yet."
The plan calls for "form-based zoning" instead of the current "use-based zoning."
Use-based generally separates different uses, typically requiring people who live in neighborhoods to drive to get to stores or restaurants, while form-based promotes mixed uses that allow people to work, play and live in the same area.
"Zoning doesn't mean much to me," said resident Jessie Prescott, "but when people say the historic district could look like Mount Pleasant or downtown Charleston, that I understand, and I don't like."
That's the comparison being made by those wary of the plan.
"This urban model as it is applied to Summerville not only fundamentally ignores our local traffic and drainage problems, it promises to compound them, as it has in Mount Pleasant, Charleston and West Ashley," Gorman said. "These towns are now trying to unwind their density and height ordinances. We must look to our neighbors to learn from their mistakes."
The form-based concept was proving popular before the Dorchester project failed. More than half of its 27 planned condominiums were reserved with deposits — later returned — while the project was still being designed.
"There were multiple objections to the Dorchester project, and the opponents were not in lock-step agreement with each other," said Councilman Bill McIntosh. The biggest complaints were using taxpayer money to finance the project through a public-private partnership and the sheer size of the building.
"There are a lot of folks who generally supported the idea of bringing more overnight guests into town," McIntosh added. If the project had been smaller and financed solely by the developer, "it probably would be standing right now."
The ordinance could be presented to council in April but will take months of discussion, officials said.
"As drafted, I don't think it has much chance of passing," he said.
McIntosh said he believes in form-based zoning but feels that the proposed UDO is "kind of cookie-cutter stuff. The consultants really did not spend enough time with boots on the ground looking at what makes Summerville, Summerville."
Council could discuss the changes for the rest of the year, Johnson said. 
"Change is coming to Summerville, and how we deal with that change is going to determine what the town looks like in the future," he said. "We are not going to rush through approving a massive overhaul like this when we have lots of questions."