As results from several hotly contested South Carolina races started to trickle in Tuesday night, voters in some precincts were still waiting to cast their ballots. 
Throughout the day, residents were confronted by wrap-around lines, delays, lack of parking and other issues as they headed out to vote amid what officials are calling higher-than-normal turnout for a midterm election. Despite some frustration, officials and voters alike said they were happy to see enthusiastic participation at the polls.
"I'm really excited about the turnout," said Todd Billman, executive director of the Dorchester County Elections Commission. "If delays are the biggest issue, I'll take it." 
As polls closed at 7 p.m., lines in some precincts showed no signs of letting up.
At St. Johns High School on Johns Island, the last voter cast their ballot shortly before 10 p.m., said Joseph Debney, executive director of the Charleston County Board of Elections and Voter Registration.
The St. Johns polling place historically has had high turnout and county elections officials singled it out for more equipment and workers, but a significant staffing shortage proved to be challenging, Debney said.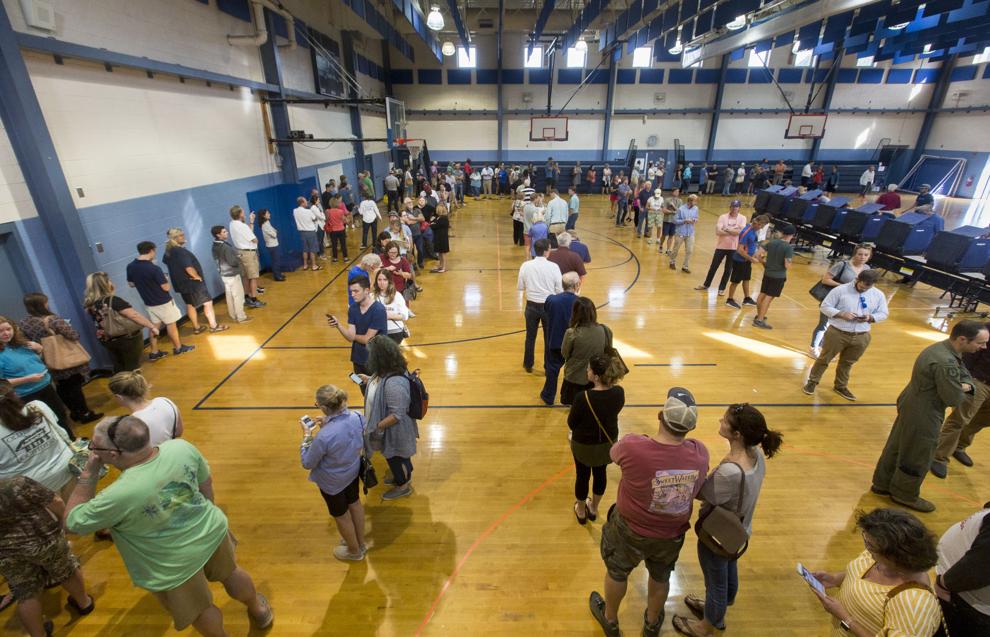 Polling places in Charleston County were short 200 workers, he said. Of the 800 poll workers expected on Tuesday, only 600 showed up.
"We had people who had trained who didn't show up," Debney said. "It's our goal not to have voters wait for hours to have to vote."
Just before polls closed, there were more than 100 people in line at Charleston Charter School for Math and Sciences.
Checking in voters slows the line at Charleston Charter School for Math &Sciencs as the time for polls to close approaches, over 100 voters wait in line #scvotes #chsnews pic.twitter.com/tQlnZVIXtt

— Grace Beahm Alford (@GraceBeahm) November 6, 2018
Poll workers at West Ashley Advanced Studies Magnet passed out pizza to waiting voters shortly after 7 p.m., including some who had been in line for nearly two hours.
"A poll watcher for the (Katie) Arrington campaign told me at the door that he estimated I'd be leaving at 8:30 p.m.," said Sylvia Folk, a voter at the school.
An hour after polls closed, results are finally starting to trickle in. (Voters are still in line in some places.) In Dorchester, with 5 of 81 precincts: Holman leads the Dist. 1 race, 84%, to Gadol's 16%. #chs #chsnews

— brenda rindge (@brindge) November 7, 2018
Some polling places saw minor equipment issues throughout the day including a faulty power strip at one precinct that slowed the voter check-in process. Other issues included aging equipment and bad batteries, but the delays did not lead to any major disruptions, officials stated.
At least one local election official pointed to competitive races and compelling candidates drawing voters out to the polls. 
Ellie Tiffany, who waited an hour and a half to vote at Grace on the Ashley Baptist Church, said she doesn't always vote in midterm elections but this year felt important "because there's just so much bad stuff going on."
"If I had had to stand much longer I don't think I could've done it, but I would've," said Tiffany, 79. "This is not an election that I would've missed."
Berkeley County Elections Director Adam Hammons said despite some long waits, lines had dissipated by around 8 p.m.
Official turnout numbers were not available Tuesday night but Hammons said he would not be surprised to see turnouts of above 50 percent. Such a turnout would be higher than any other midterm election since 2002, when Berkeley County saw 57 percent of its voters head to the polls.
Turnout above 50 percent in Charleston and Dorchester counties would also mean the highest voter participation in a midterm election in at least a decade. The last time Charleston broke 50 percent was 2006. Dorchester last surpassed that threshold in 2002.
Debney said he did not have any turnout estimates Tuesday night but that he knew that Charleston County led the state in absentee voter participation and that he would not be surprised to see the county leading the state in Election Day turnout as well.
Earlier in the day, after hearing another woman say she'd waited about four hours to vote at Grace on the Ashley Baptist Church, Kecia Hollington shook her head, announced that she'd come back later and turned back toward the parking lot.
Despite the wait, Hollington said she was encouraged by the sight of so many people, a big change from recent elections where she was "in and out" of her precinct.
"Everybody's voting," she said. "Years ago, this line was never like this."