At least 2 million gallons of raw sewage, and possibly much more, flowed into marsh near the headwaters of the Stono River because of a broken pipe that is part of the Hollywood sewer system.
Authorities estimate that the spill went on at least a week but could have lasted for nearly two months.
NEW - Charleston-area restaurants scramble to buy out-of-town oysters in wake of sewage spill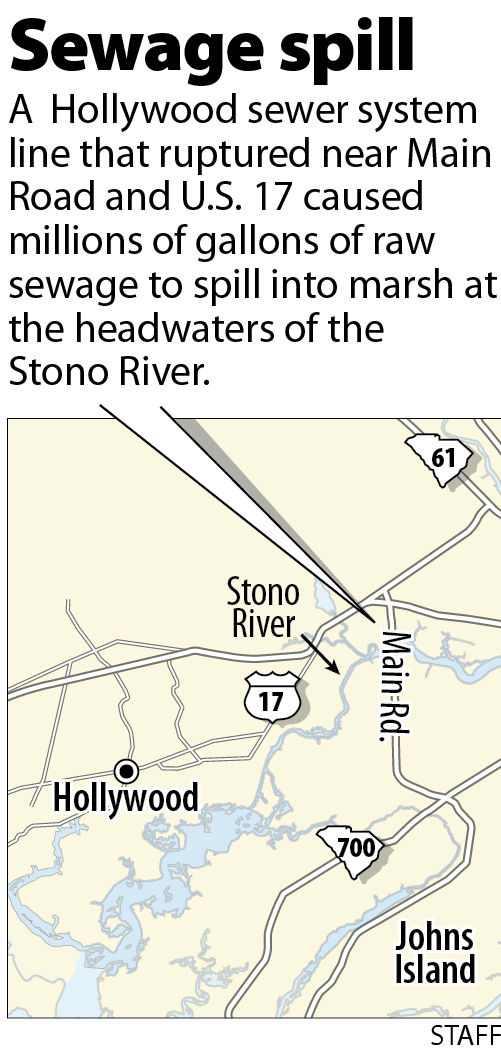 In response to the ecological accident, health officials have recalled oysters harvested in the affected area from Charleston Harbor south to the North Edisto River between Feb. 19 and Wednesday.
The state Department of Health and Environmental Control estimated the sewage spill at 2.4 million gallons from Feb. 19 to Monday when the ruptured pipe was repaired.  Charleston Water System, which processes Hollywood wastewater, calculated it could be as much as 10 million gallons, based on reduced wastewater flow measurements it recorded since Jan. 4.
"We can't definitively say there was a leak during that time (Jan. 4 to Monday), but we assume there was," said Mike Saia, water system communications manager.
Charleston Water first notified the town on Jan. 8 that it observed flow readings about half of normal. The flow meter was recalibrated, but on Jan. 22, readings had dropped to 25 percent of normal.
The meter was replaced on Feb. 5, but the low flow readings continued. On Feb. 6, Charleston Water notified the town that it was 100 percent sure the low flow readings were not because of a meter malfunction.
On Feb. 20, the flow meter recorded a reading of zero, said Kin Hill, Charleston Water chief executive officer. In early January, the low flow reading raised no real red flags because meter readings can fluctuate, he said.
"That's not that unusual," Hill said. At the time, Charleston Water was also dealing with the effects of the deep freeze that hit the area.
On Feb. 22, the town notified DHEC there appeared to be a problem with its sewer collection system based on disrupted wastewater flow readings detected on Feb. 19, DHEC said.
Contaminated oysters
The affected shellfish beds were closed to harvesting on Tuesday. The oyster harvesting closure and recall are necessary to protect public health.
"Wastewater may contain viruses that can be transferred to people if they consume contaminated oysters," DHEC said in a statement Thursday.
A spokesman for Roper St. Francis said the hospital system's emergency rooms hadn't heard of any recent cases of food poisoning related to tainted shellfish.
DHEC and the U.S. Food and Drug Administration determined through modeling and evaluation that the area of concern for public health impact was Charleston Harbor south to the North Edisto River. DHEC staff has reached out to the organizers of the Charleston Wine + Food Festival out of an abundance of caution to ensure they are aware of the recall and notify their vendors.
DHEC staff have also contacted oyster harvesters and dealers individually to ensure they are aware of the recall and to determine if they harvested oysters from affected areas during the leak. If that's the case, DHEC is requiring harvesters to implement written recall procedures.
The sewage spill, DHEC said, is a little more than 3.5 times the volume of an Olympic-size swimming pool. So far, five oyster distributors are known to have been affected out of 68 distributors statewide. The total number of recalled oysters was not immediately available.
Water quality tests on Tuesday did not raise concerns for recreational water use, the agency said.
"However, because of the nature of the wastewater discharge, it is recommended that bathing or swimming be avoided in the area until the shellfish harvesting closure is lifted," DHEC said.
Dealing with it
The closure, which will last at least three weeks, has disrupted the oyster business across a wide area. 
Crosby's Seafood has notified customers that orders will be filled temporarily with Chesapeake Bay oysters from Virginia, said Dan Long, the company's president and buyer.
"It seems like they could have figured that out earlier," said Jamie Westendorff of Charleston Outdoor Catering about the delays in discovering the sewage spill. "This comes as a little bit of a shock." 
He will likely get his oysters from Virginia.
But there are local oysters available from areas north of Charleston that the sewer spill did not affect. Livingston's Seafood in McClellanville has plenty of Bull's Bay oysters, said operations manager Jeff Massey.
Hollywood officials located the breach in a 10-inch force main sewerline near U.S. Highway 17 and Old Charleston Highway around 8 a.m. Monday, and the damage was quickly repaired. The breach was difficult to pinpoint because it was under a small creek, and divers were sent out as a part of the search, he said.
The rural Charleston County town of about 5,000 residents is nestled between the Edisto and Stono rivers. It has had issues with its sewer system in the past.
In 2006, Hollywood was fined $24,000 and put under a consent order by DHEC after 11 spills in the prior two years released more than 340,000 gallons of sewage into the environment. 
Bo Petersen and Lauren Sausser contributed to this report.