After a former death row inmate from Dorchester County became the latest killer to get a reprieve because South Carolina doesn't have the means to execute him, a prosecutor on Friday suggested an alternative for others who deserve the ultimate punishment: firing squad.
And lawmakers might consider it.
John Edward Weik had been sentenced to death for murdering his former girlfriend, Susan Hutto Krasae, at her Knightsville home in 1998. But the S.C. Supreme Court in 2014 found issues with the penalty phase of Weik's trial and ordered a new sentencing.
As the victim's family faced the lengthy proceeding and the fact that South Carolina ran out of the ingredients for lethal injections a year before Weik's successful appeal, 1st Circuit Solicitor David Pascoe decided earlier this month to agree to a lifetime prison term for Weik, now 50.
"He absolutely deserves the death penalty, and I was willing to pursue the death penalty," Pascoe said. "But we live in a state that doesn't have the capability of executing someone, so I think we should bring back the firing squad."
Lawmakers already are considering a bill to make electrocution the primary means of execution if the dearth of the drug cocktail persists, but Pascoe, a Democrat, said a firing squad might be a more effective and humane option.
It isn't a novel concept, Pascoe noted. Two states already allow it: Oklahoma and Utah, which brought back the method because of the injection shortage. Other prosecutors here have discussed it, Pascoe added.
South Carolina last considered a legislative proposal on the firing squad alternative in 2015. The measure never gained steam.
Its original sponsor, Rep. Josh Putnam, R-Anderson, said Friday after learning of Pascoe's support that he would likely reintroduce the bill in the coming week.
"People might think it's crazy," Putnam said. "But if I were a death row inmate, I'd much rather be put to death by firing squad."
Family members of Weik's victim also did not want to again endure the lengthy courtroom ordeal of re-sentencing, and they urged Pascoe to accept life, the prosecutor said. Weik was sentenced Jan. 11 by Circuit Judge Diane Goodstein.
Fewer capital cases
Many prosecutors statewide in the past year have agreed to similar guilty pleas in exchange for lifetime terms for killers who might otherwise be eligible for the death penalty.
In April, 9th Circuit Solicitor Scarlett Wilson said a guilty plea on Emanuel AME Church shooter Dylann Roof's nine state murder charges was the "surest way" to see that he's executed by federal authorities, who had already won a death verdict. Roof is currently on death row in Terre Haute, Ind.
Wilson also planned to pursue the ultimate punishment against Kenneth Ancrum, who in May 2016 fatally shot three members of his girlfriend's family in Hollywood, including a woman pregnant with twins. But the lack of the injection cocktail weighed heavily in her decision not to.
Admitted Upstate serial killer Todd Kohlhepp got seven lifetime sentences in May as 7th Circuit Solicitor Barry Barnette noted that the state "doesn't have a functionary death penalty."
South Carolina ran out of the drugs in 2013 as more pharmaceutical suppliers cited ethical concerns in holding them back. The state's last lethal injection came in 2011.
Only one person has been added to death row since 2009: Ricky Lee Blackwell Sr., who was sentenced in 2014 for kidnapping and killing an 8-year-old girl in Spartanburg County.
And with various appeals in the works, inmates already on death row are either dying on their own or getting their sentences overturned at a much faster clip than South Carolina can carry out the punishments.
By Friday, the prisons department said, 34 inmates were housed on death row, which is now at Kirkland Correctional Institution in Columbia. In early 2013, before the state ran dry of the drug, there were 51.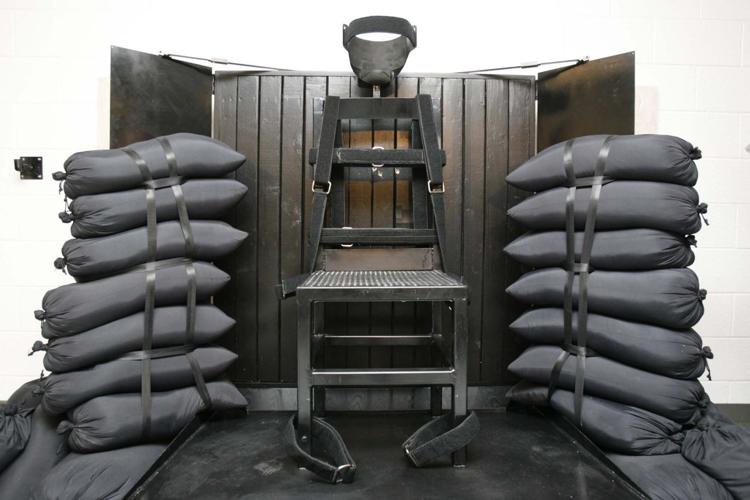 'Some closure'
Weik broke into his ex-girlfriend's home and fired four shotgun blasts into Krasae as her young daughter watched.
His lawyers during a 1999 trial presented testimony about his paranoid schizophrenia, but they failed to delve into his chaotic childhood and physical abuse by his father. Because that crucial mitigation evidence was never offered, the state's high court said it had no choice but to overturn Weik's sentence.
But a new penalty phase could stretch for weeks, essentially amounting to a second trial nearly two decades after Weik's first, Pascoe said at the time.
Pascoe said Friday that Weik will now have to spend time in a prison's general population.
"And the (victim's) family won't have to come back to court," he said. "They can finally get some closure.
"I couldn't tell them I would get closure for them if (Weik) got the death penalty again."
Putnam, the Upstate lawmaker, had envisioned the state's current problems with carrying out executions when he made the "forward-thinking" proposal on firing squads three years ago, he said. He wanted to start a debate about the alternatives.
From a scientific standpoint, he said, it's a sound means that causes instant death. But electrocution and lethal injection can go horribly wrong and cause prolonged suffering, he said.
Such squads never have been an official method here. People were hanged before electrocution became the accepted means. Lethal injections started in 1995, though the condemned still can opt for the chair.
"If you just ... take the emotion out of it," Putnam said, "(a firing squad) really is the most humane method of putting someone to rest."
Even U.S. Supreme Court Justice Sonia Sotomayor,  thought to be a more liberal-minded jurist, said in a dissent to a 2017 ruling in an Alabama case that a study showed 7 percent of 1,054 lethal injections had been "botched" while none of the 34 firing squad executions in the U.S. had been.
"Some might find this choice regressive, but the available evidence suggests 'that a competently performed shooting may cause nearly instant death,' " she wrote. "Death by shooting may also be comparatively painless."